Cities with the fastest growing home prices in Huntsville metro area
Published 11:51 pm Wednesday, February 22, 2023

ungvar // Shutterstock
Cities with the fastest growing home prices in Huntsville metro area
It goes without saying that the coronavirus pandemic has sparked a wave of uncertainty across myriad industries, and no other market has quite felt its impact like that of real estate.
The pandemic has become a driving force behind the continued real estate boom, with high demand for vacation homes and a limited supply of housing that has prompted buyers and investors to bid up prices for affordable properties, causing home prices to skyrocket. The ability to work remotely played a role in the vacation home demand in mid-2020, as affluent Americans opted to ride out the pandemic with more amenities and space outside dense urban areas.
Stacker compiled a list of cities with the fastest-growing home prices in Huntsville, AL metro area using data from Zillow. Cities are ranked by 1-year price change as of January 2023. The typical home value in the United States increased over the last year by +6.2% to $329,542. All 15 cities and towns with data available were included in the list.
You may also like: Highest and lowest paying education jobs in Huntsville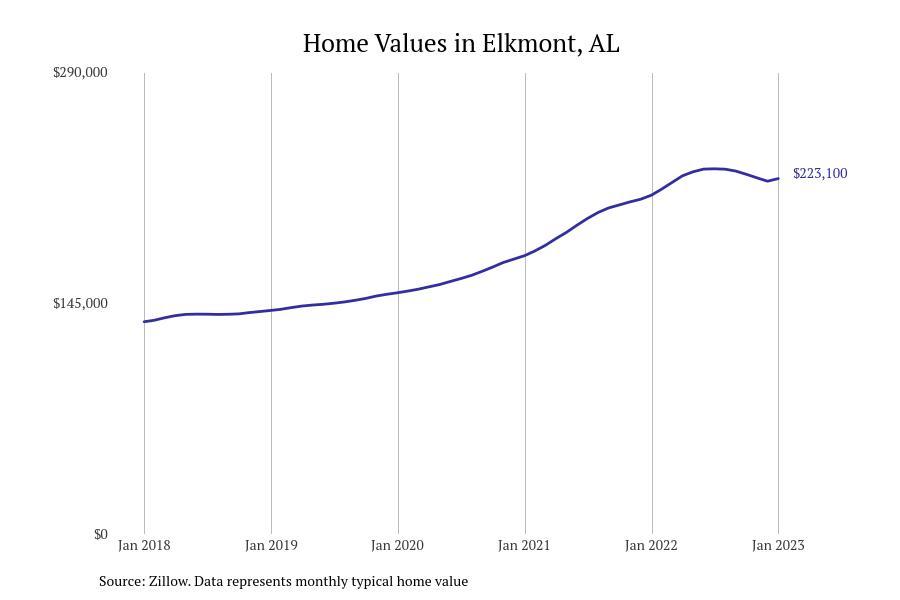 Stacker
#15. Elkmont, AL
– 1-year price change: +$10,375 (+4.9%)
– 5-year price change: +$89,873 (+67.5%)
– Typical home value: $223,100 (#11 most expensive city in metro)
Stacker
#14. Athens, AL
– 1-year price change: +$13,604 (+5.5%)
– 5-year price change: +$108,569 (+70.5%)
– Typical home value: $262,527 (#7 most expensive city in metro)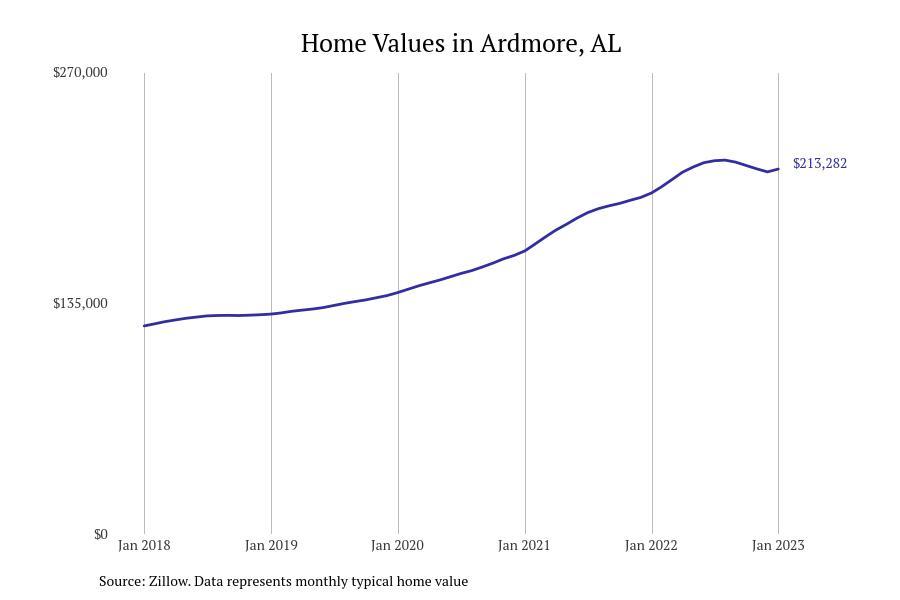 Stacker
#13. Ardmore, AL
– 1-year price change: +$13,972 (+7.0%)
– 5-year price change: +$91,677 (+75.4%)
– Typical home value: $213,282 (#13 most expensive city in metro)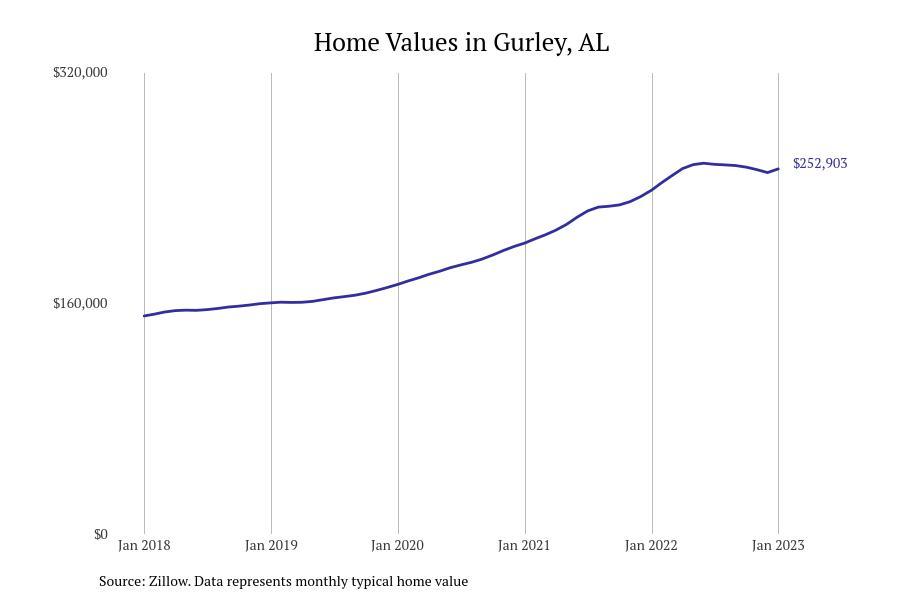 Stacker
#12. Gurley, AL
– 1-year price change: +$14,768 (+6.2%)
– 5-year price change: +$101,877 (+67.5%)
– Typical home value: $252,903 (#8 most expensive city in metro)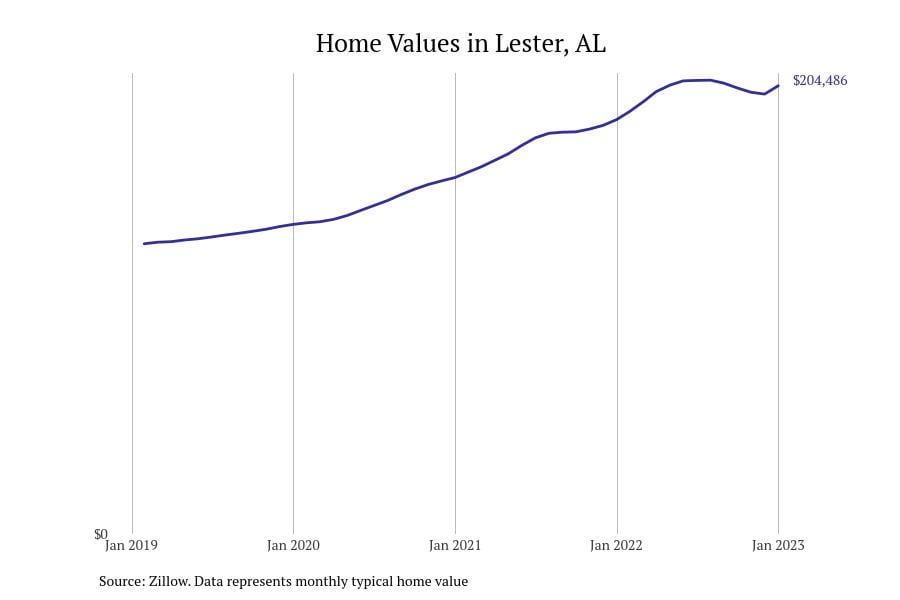 Stacker
#11. Lester, AL
– 1-year price change: +$15,396 (+8.1%)
– 5-year price change: +$101,877 (data not available)
– Typical home value: $204,486 (#14 most expensive city in metro)
You may also like: Zip codes with the most expensive homes in Huntsville metro area
Stacker
#10. New Hope, AL
– 1-year price change: +$15,680 (+9.5%)
– 5-year price change: +$81,267 (+81.7%)
– Typical home value: $180,690 (#15 most expensive city in metro)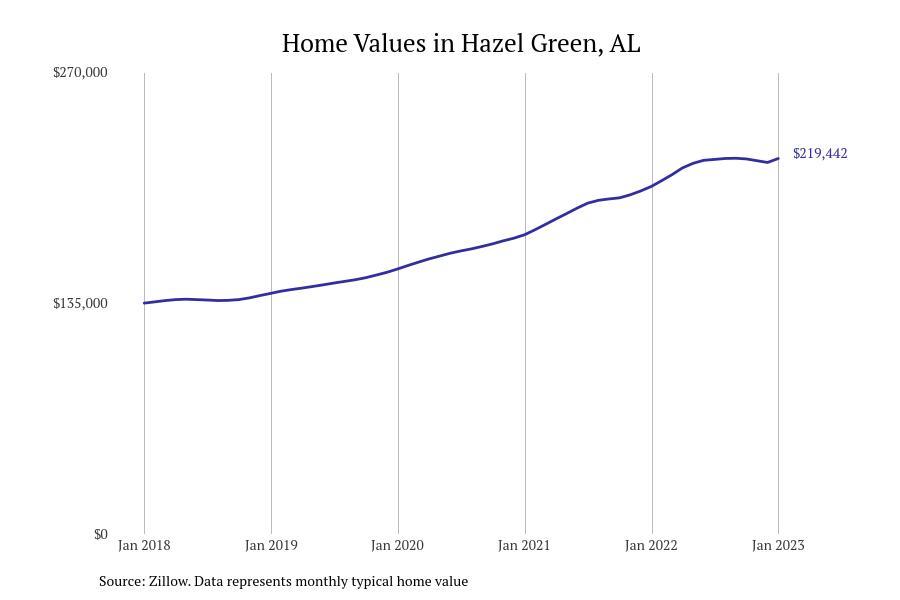 Stacker
#9. Hazel Green, AL
– 1-year price change: +$16,265 (+8.0%)
– 5-year price change: +$84,518 (+62.6%)
– Typical home value: $219,442 (#12 most expensive city in metro)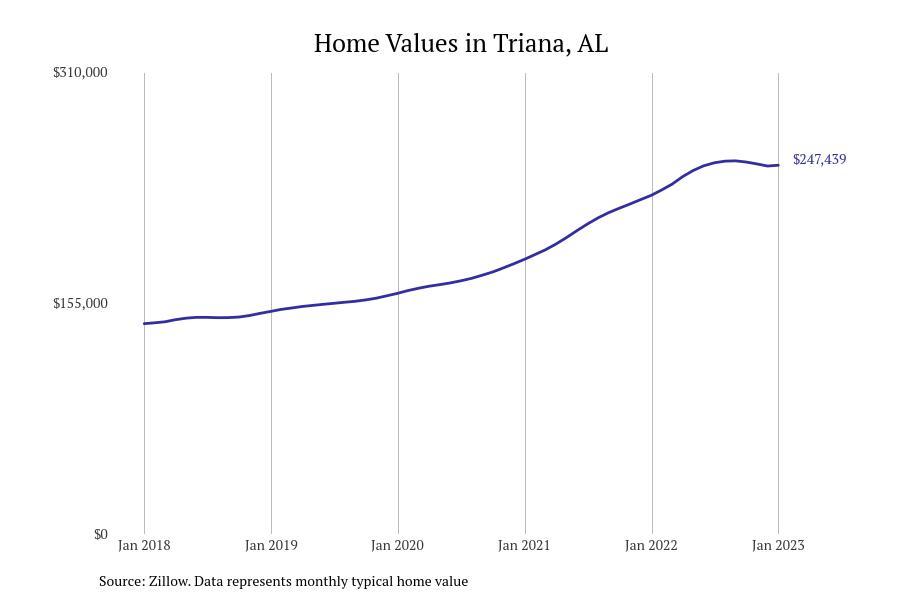 Stacker
#8. Triana, AL
– 1-year price change: +$20,097 (+8.8%)
– 5-year price change: +$106,301 (+75.3%)
– Typical home value: $247,439 (#10 most expensive city in metro)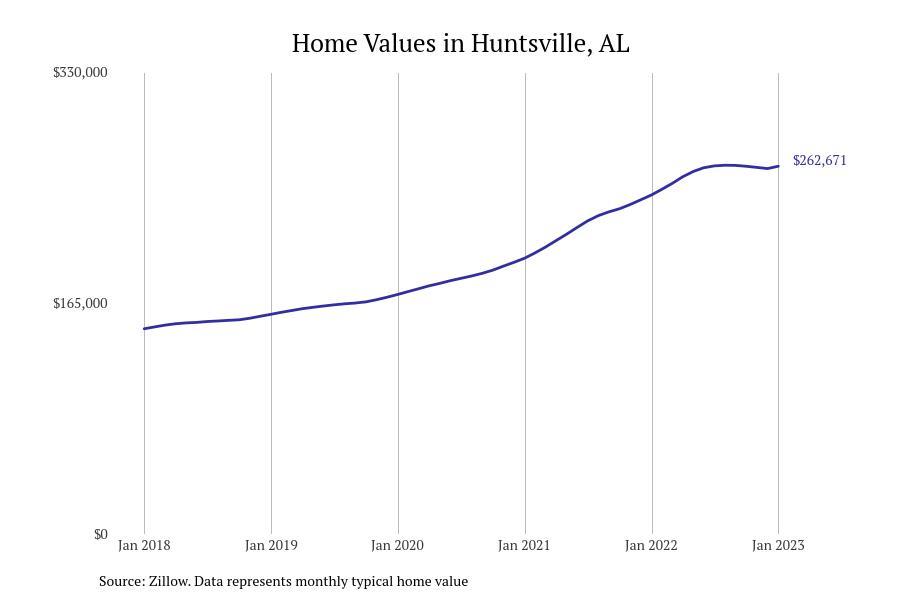 Stacker
#7. Huntsville, AL
– 1-year price change: +$20,475 (+8.5%)
– 5-year price change: +$116,076 (+79.2%)
– Typical home value: $262,671 (#6 most expensive city in metro)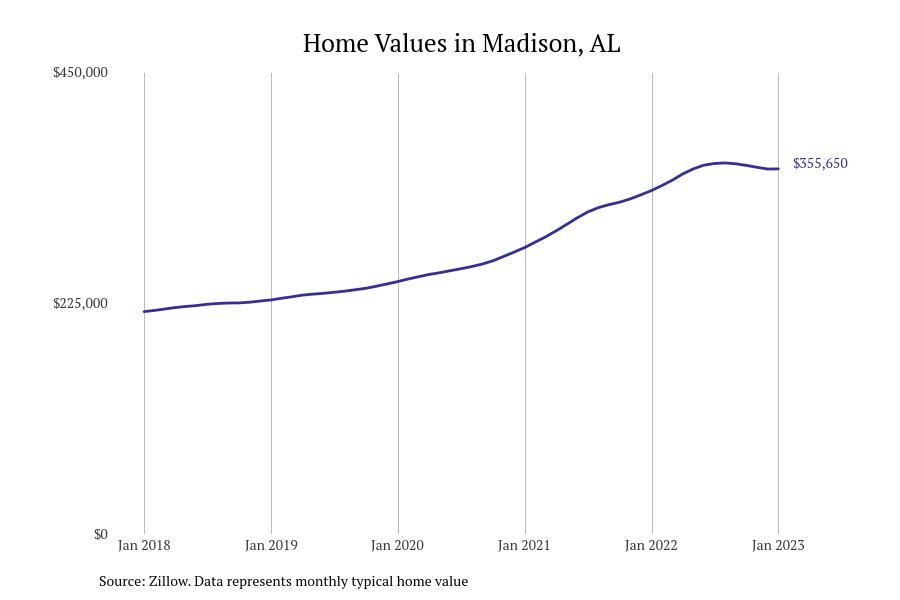 Stacker
#6. Madison, AL
– 1-year price change: +$21,090 (+6.3%)
– 5-year price change: +$139,024 (+64.2%)
– Typical home value: $355,650 (#2 most expensive city in metro)
You may also like: Highest-rated things to do in Huntsville, according to Tripadvisor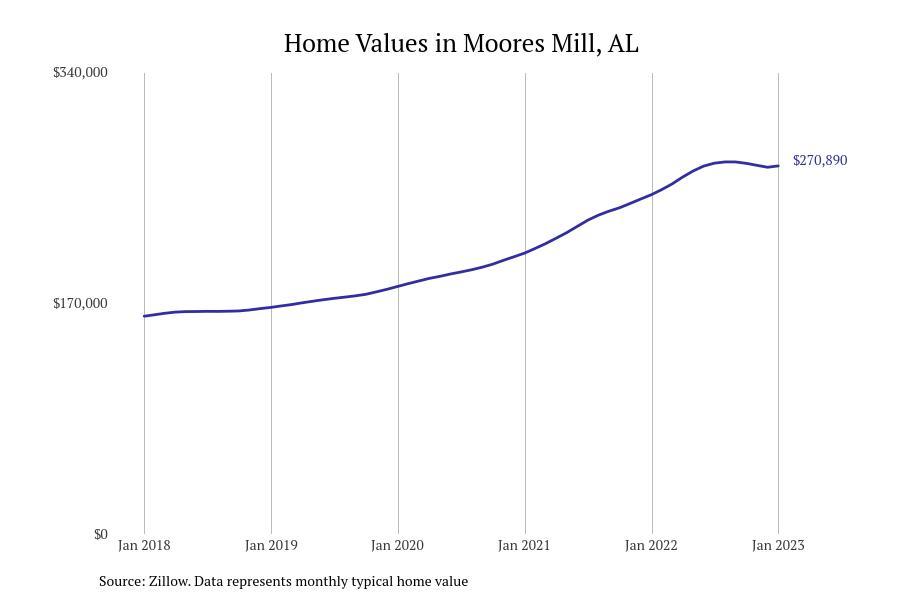 Stacker
#5. Moores Mill, AL
– 1-year price change: +$21,133 (+8.5%)
– 5-year price change: +$110,614 (+69.0%)
– Typical home value: $270,890 (#5 most expensive city in metro)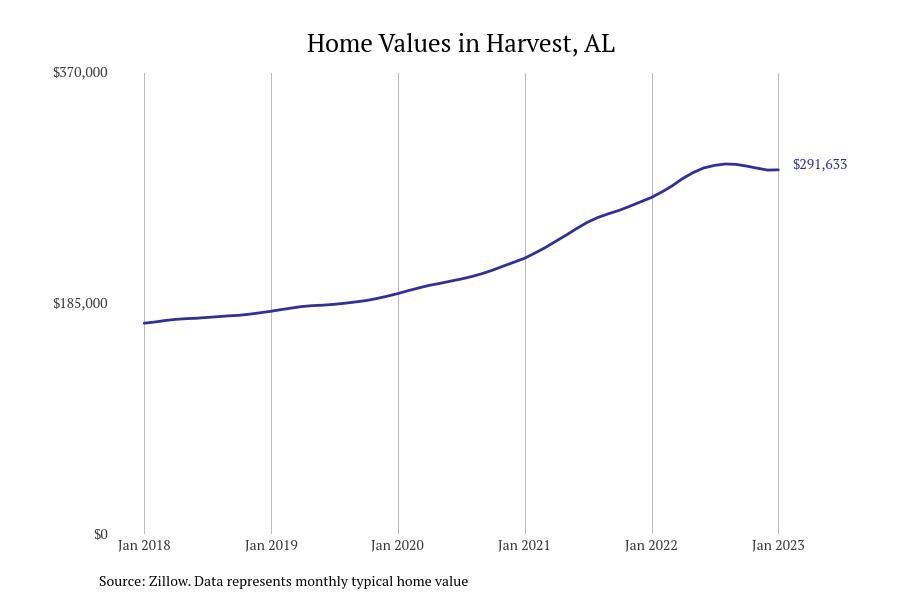 Stacker
#4. Harvest, AL
– 1-year price change: +$22,078 (+8.2%)
– 5-year price change: +$122,819 (+72.8%)
– Typical home value: $291,633 (#4 most expensive city in metro)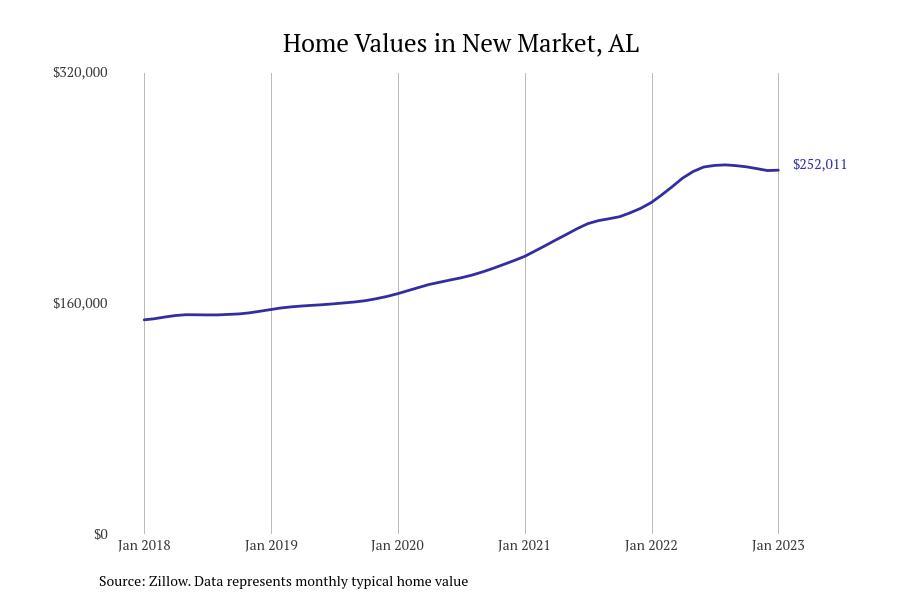 Stacker
#3. New Market, AL
– 1-year price change: +$22,304 (+9.7%)
– 5-year price change: +$103,682 (+69.9%)
– Typical home value: $252,011 (#9 most expensive city in metro)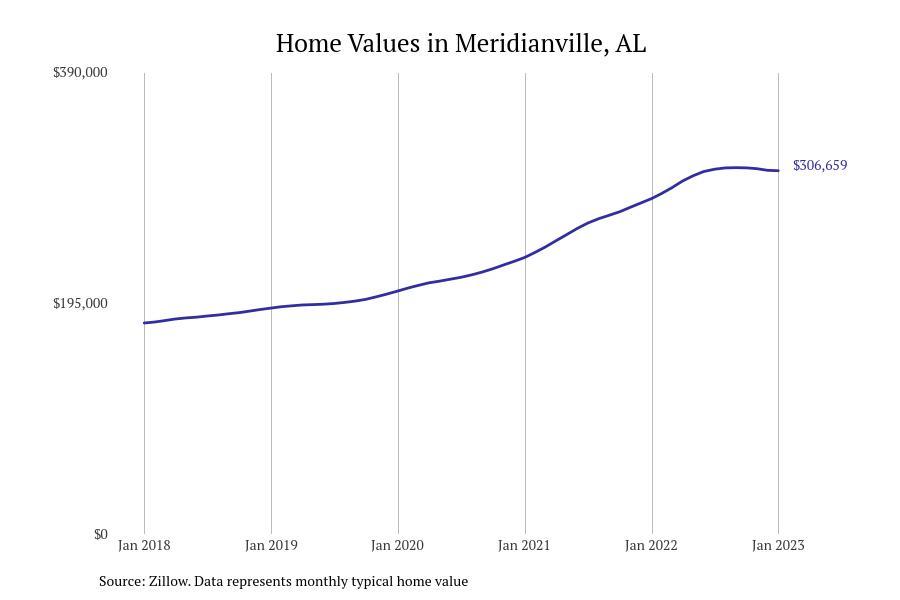 Stacker
#2. Meridianville, AL
– 1-year price change: +$23,537 (+8.3%)
– 5-year price change: +$128,539 (+72.2%)
– Typical home value: $306,659 (#3 most expensive city in metro)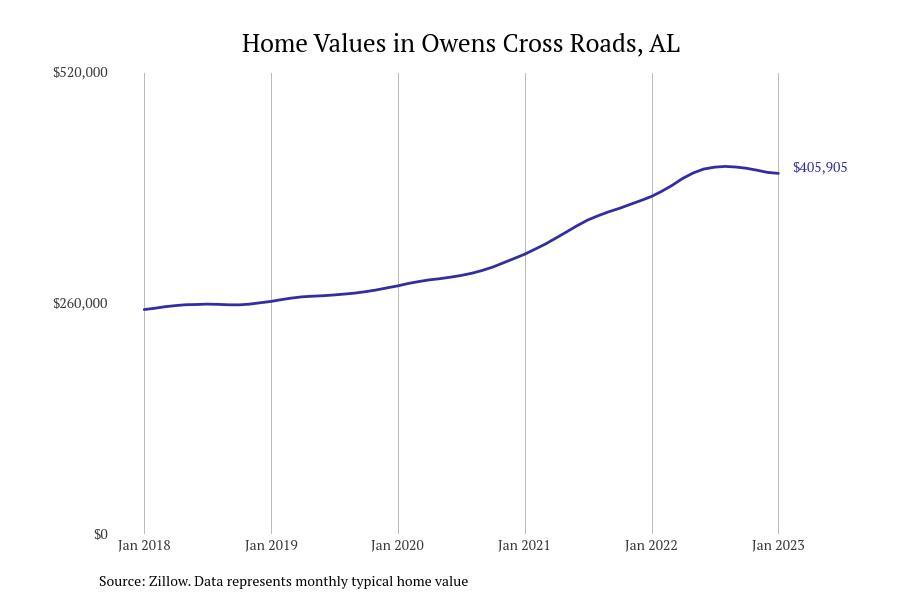 Stacker
#1. Owens Cross Roads, AL
– 1-year price change: +$25,969 (+6.8%)
– 5-year price change: +$153,279 (+60.7%)
– Typical home value: $405,905 (#1 most expensive city in metro)
You may also like: Highest-rated barbecue restaurants in Huntsville