Counties with the highest COVID-19 vaccination rate in Alabama
Published 11:01 am Sunday, August 7, 2022

RuralSWAlabama (Billy Milstead) // Wikimedia Commons
Counties with the highest COVID-19 vaccination rate in Alabama
The vaccine deployment in December 2020 signaled a turning point in the COVID-19 pandemic. By the end of May 2021, 40% of the U.S. population was fully vaccinated. But as vaccination rates lagged over the summer, new surges of COVID-19 came, including Delta in the summer of 2021, and now the Omicron variant, which comprises the majority of cases in the U.S.
The United States as of Aug. 5 reached over 1 million COVID-19-related deaths and 91.9 million COVID-19 cases, according to Johns Hopkins University. Currently, 67.2% of the population is fully vaccinated, and 48.2% of vaccinated people have received booster doses.
Stacker compiled a list of the counties with highest COVID-19 vaccination rates in Alabama using data from the U.S. Department of Health & Human Services and Covid Act Now. Counties are ranked by the highest vaccination rate as of Aug. 4, 2022. Due to inconsistencies in reporting, some counties do not have vaccination data available. Keep reading to see whether your county ranks among the highest COVID-19 vaccination rates in your state.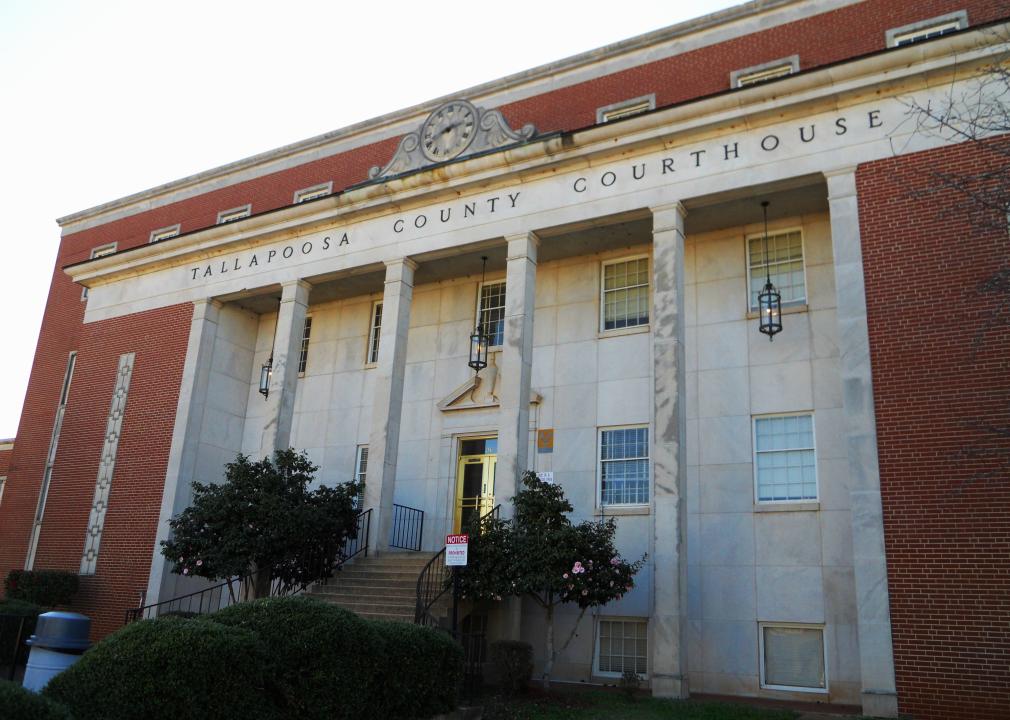 Rivers A. Langley; SaveRivers // Wikimedia Commons
#50. Tallapoosa County
– Population that is fully vaccinated: 39.1% (15,777 fully vaccinated)
— 24.7% lower vaccination rate than Alabama
– Cumulative deaths per 100k: 597 (241 total deaths)
— 46.7% more deaths per 100k residents than Alabama
– Cumulative cases per 100k: 30,931 (12,486 total cases)
— 5.6% more cases per 100k residents than Alabama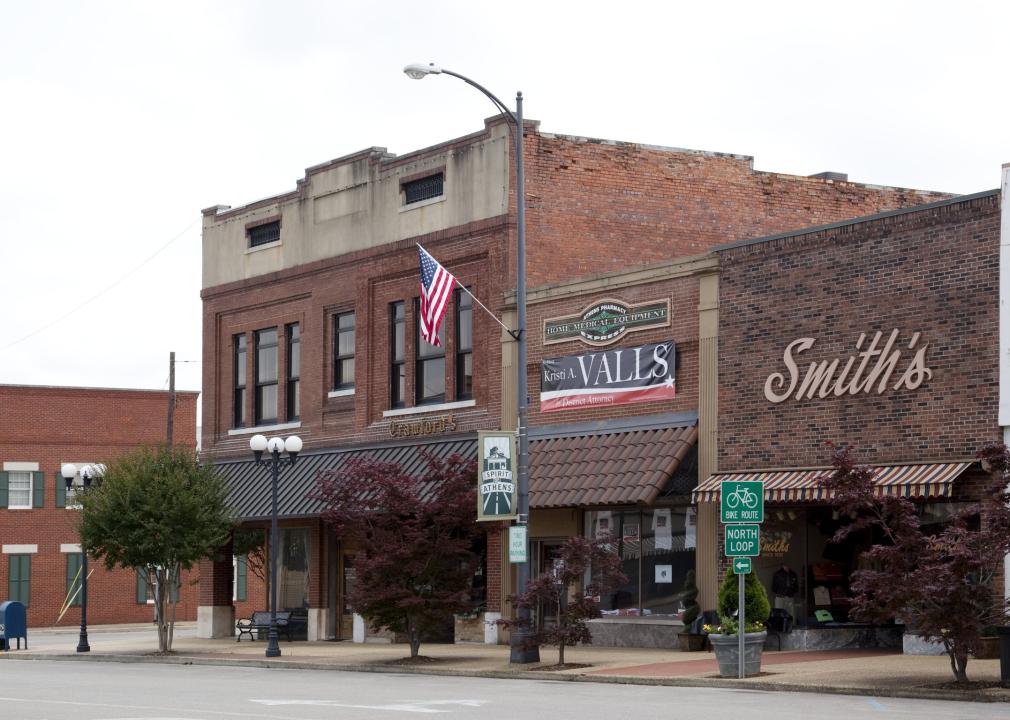 Carol M. Highsmith // Wikimedia Commons
#49. Limestone County
– Population that is fully vaccinated: 39.4% (39,001 fully vaccinated)
— 24.1% lower vaccination rate than Alabama
– Cumulative deaths per 100k: 302 (299 total deaths)
— 25.8% less deaths per 100k residents than Alabama
– Cumulative cases per 100k: 27,731 (27,430 total cases)
— 5.3% less cases per 100k residents than Alabama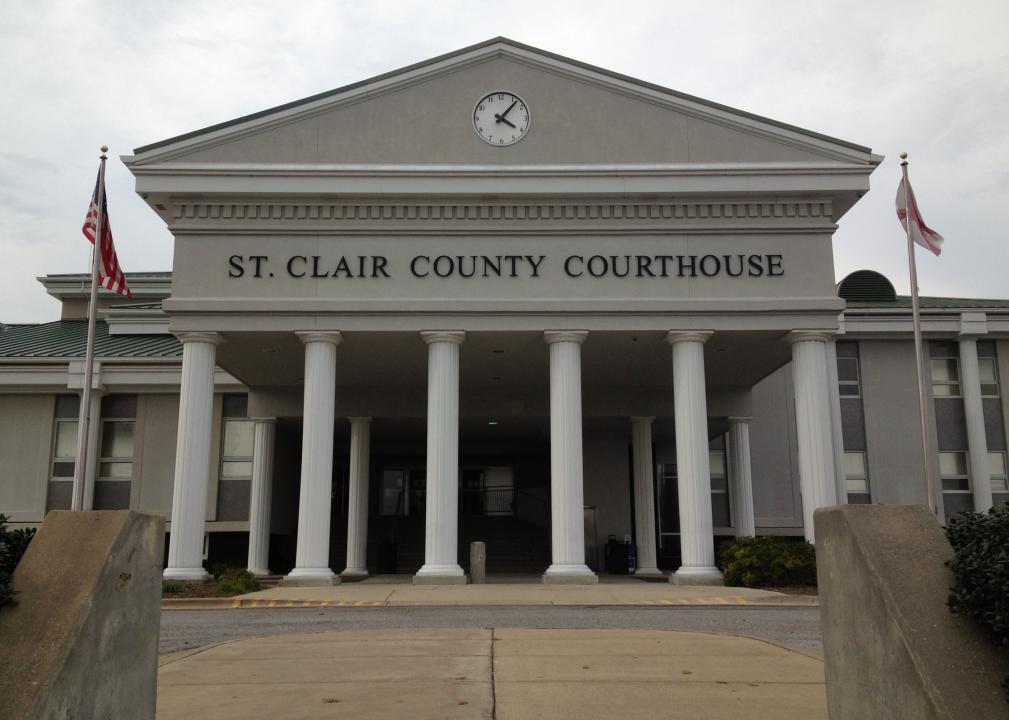 Rudi Weikard // Wikimedia Commons
#48. St. Clair County
– Population that is fully vaccinated: 39.8% (35,611 fully vaccinated)
— 23.3% lower vaccination rate than Alabama
– Cumulative deaths per 100k: 470 (421 total deaths)
— 15.5% more deaths per 100k residents than Alabama
– Cumulative cases per 100k: 31,149 (27,882 total cases)
— 6.3% more cases per 100k residents than Alabama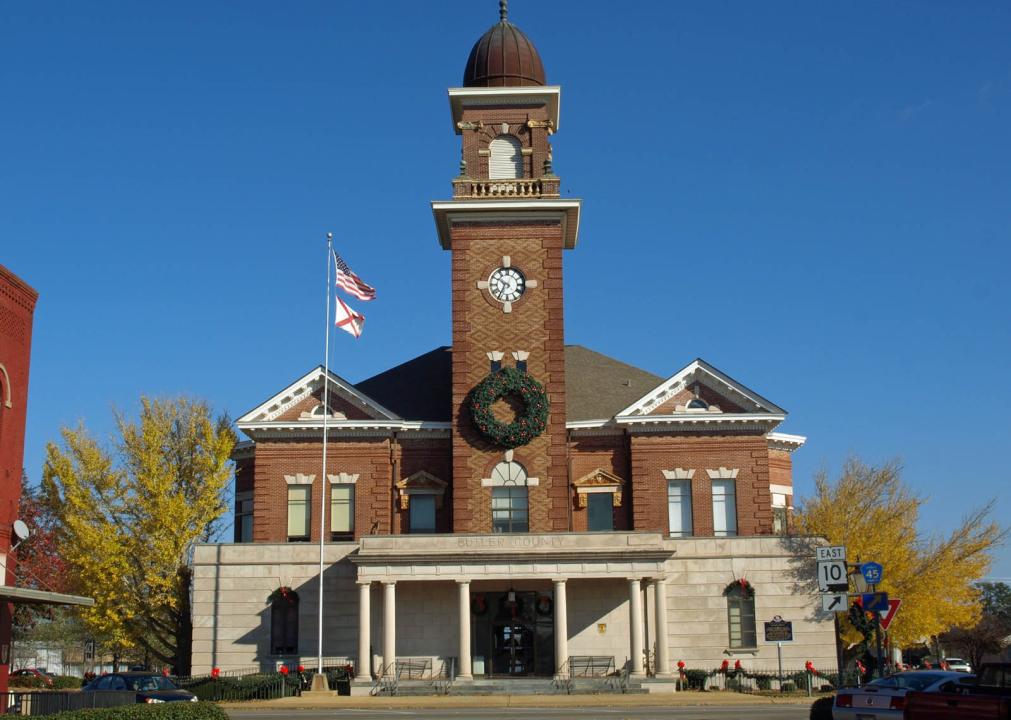 Chris Pruitt // Wikimedia Commons
#47. Butler County
– Population that is fully vaccinated: 40.1% (7,808 fully vaccinated)
— 22.7% lower vaccination rate than Alabama
– Cumulative deaths per 100k: 663 (129 total deaths)
— 62.9% more deaths per 100k residents than Alabama
– Cumulative cases per 100k: 28,522 (5,547 total cases)
— 2.6% less cases per 100k residents than Alabama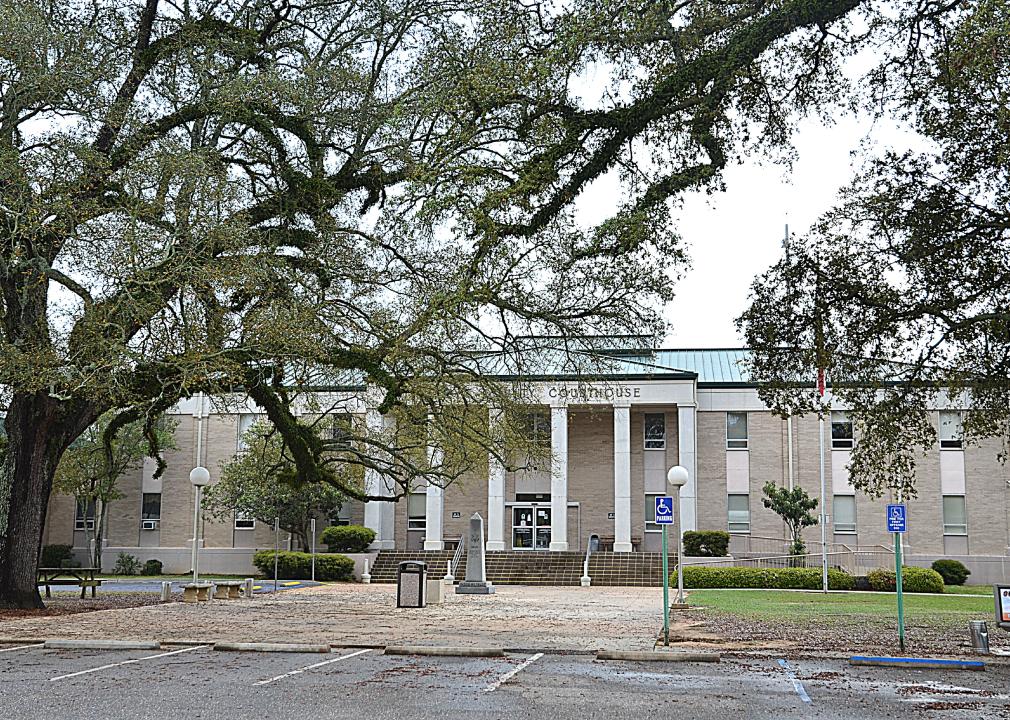 Wmr36104 // Wikimedia Commons
#46. Geneva County
– Population that is fully vaccinated: 40.6% (10,676 fully vaccinated)
— 21.8% lower vaccination rate than Alabama
– Cumulative deaths per 100k: 628 (165 total deaths)
— 54.3% more deaths per 100k residents than Alabama
– Cumulative cases per 100k: 26,649 (7,001 total cases)
— 9.0% less cases per 100k residents than Alabama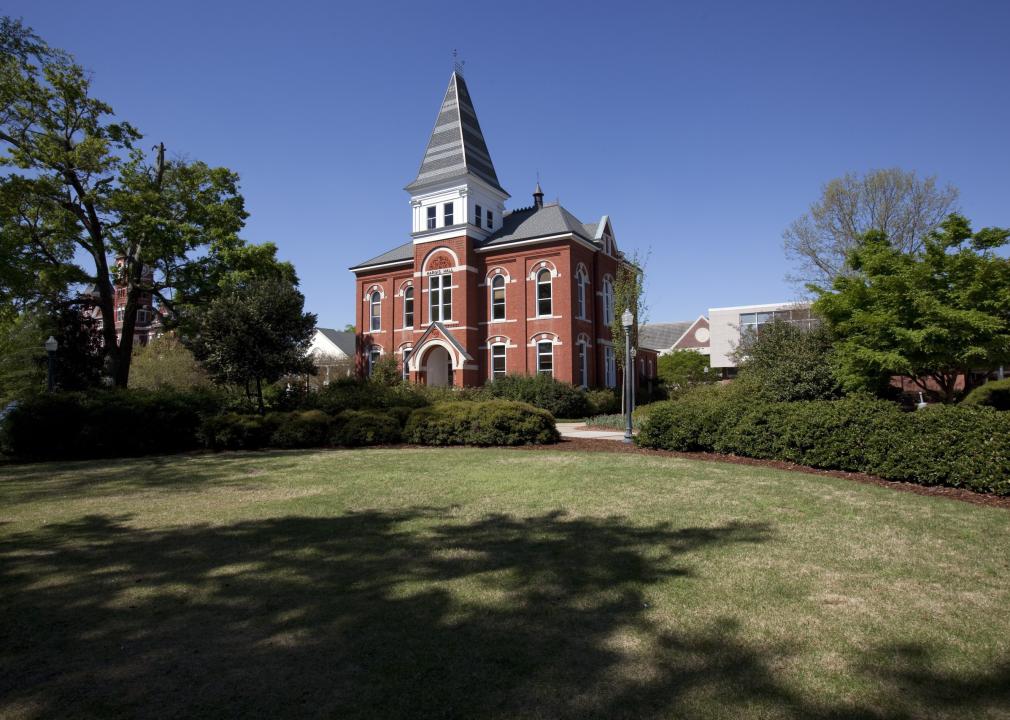 Library of Congress
#45. Lee County
– Population that is fully vaccinated: 41.0% (67,519 fully vaccinated)
— 21.0% lower vaccination rate than Alabama
– Cumulative deaths per 100k: 209 (344 total deaths)
— 48.6% less deaths per 100k residents than Alabama
– Cumulative cases per 100k: 25,197 (41,460 total cases)
— 14.0% less cases per 100k residents than Alabama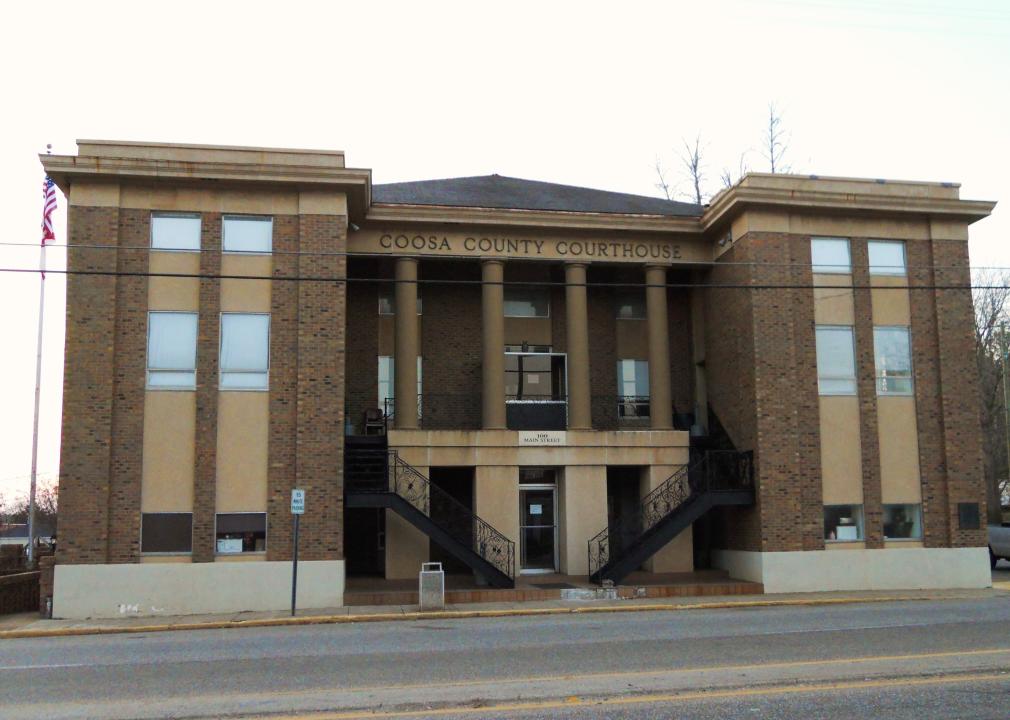 Rivers A. Langley; SaveRivers // Wikimedia Commons
#44. Coosa County
– Population that is fully vaccinated: 41.2% (4,396 fully vaccinated)
— 20.6% lower vaccination rate than Alabama
– Cumulative deaths per 100k: 553 (59 total deaths)
— 35.9% more deaths per 100k residents than Alabama
– Cumulative cases per 100k: 30,310 (3,232 total cases)
— 3.5% more cases per 100k residents than Alabama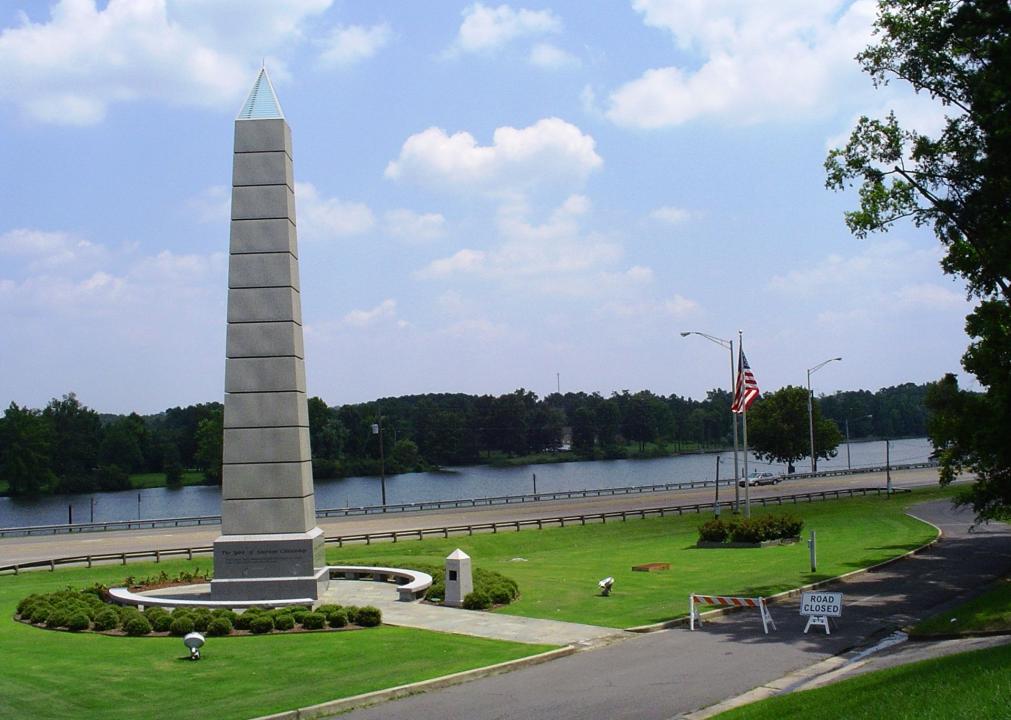 Prestinian // Wikimedia Commons
#43. Etowah County
– Population that is fully vaccinated: 41.6% (42,590 fully vaccinated)
— 19.8% lower vaccination rate than Alabama
– Cumulative deaths per 100k: 640 (655 total deaths)
— 57.2% more deaths per 100k residents than Alabama
– Cumulative cases per 100k: 29,618 (30,290 total cases)
— 1.1% more cases per 100k residents than Alabama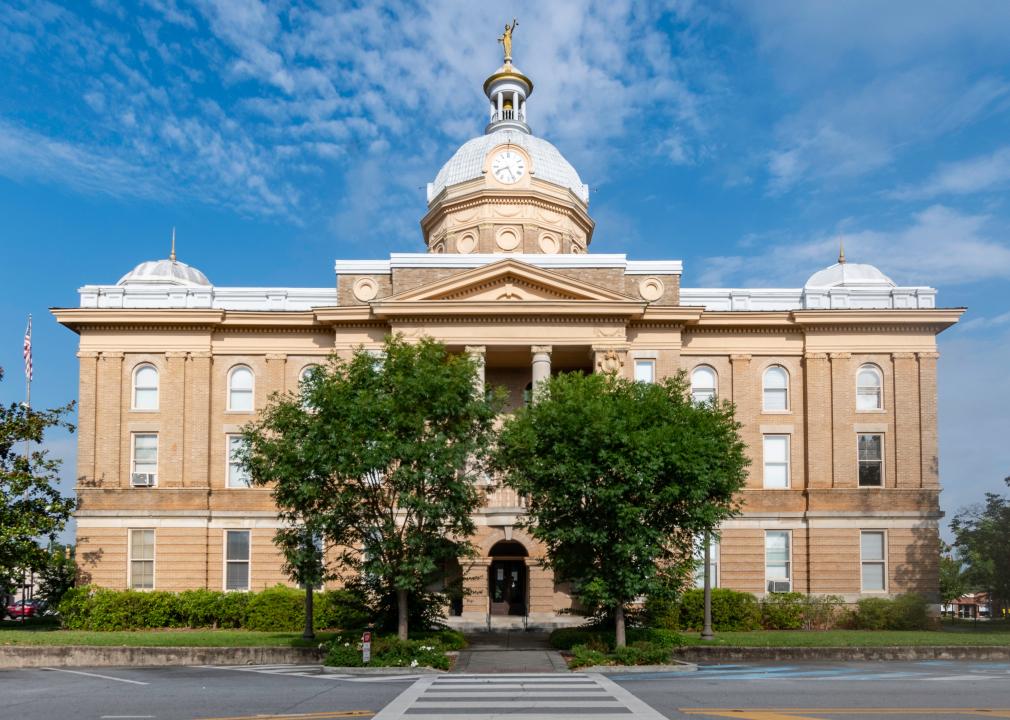 JNix // Shutterstock
#42. Clay County
– Population that is fully vaccinated: 42.6% (5,644 fully vaccinated)
— 17.9% lower vaccination rate than Alabama
– Cumulative deaths per 100k: 627 (83 total deaths)
— 54.1% more deaths per 100k residents than Alabama
– Cumulative cases per 100k: 33,434 (4,425 total cases)
— 14.1% more cases per 100k residents than Alabama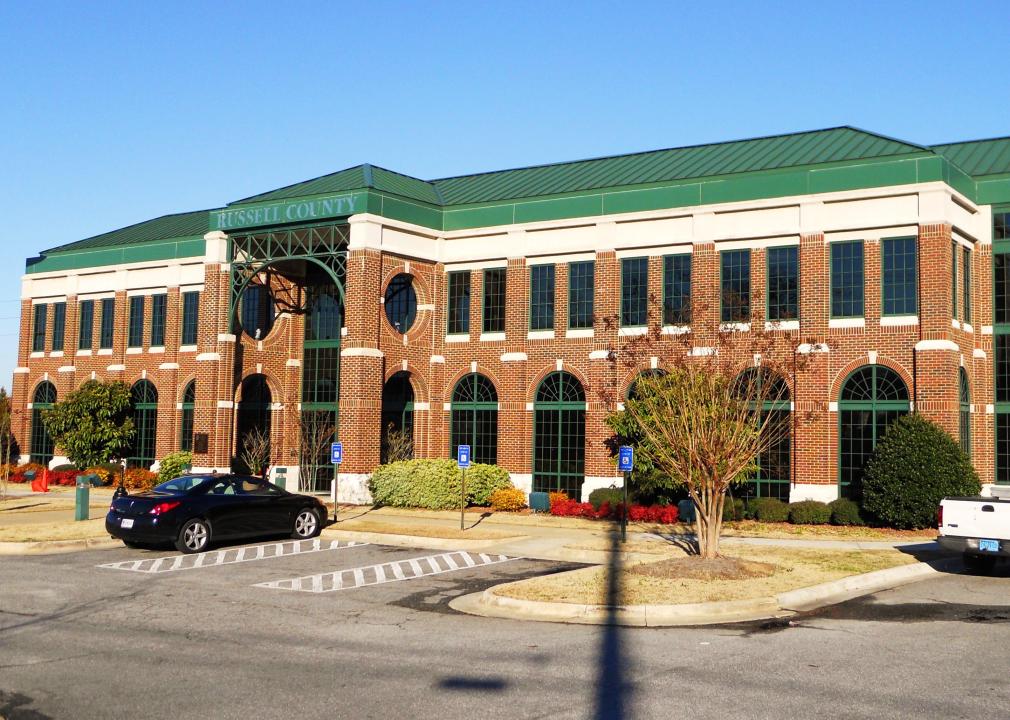 Rivers Langley SaveRivers // Wikimedia Commons
#41. Russell County
– Population that is fully vaccinated: 42.7% (24,735 fully vaccinated)
— 17.7% lower vaccination rate than Alabama
– Cumulative deaths per 100k: 166 (96 total deaths)
— 59.2% less deaths per 100k residents than Alabama
– Cumulative cases per 100k: 19,399 (11,244 total cases)
— 33.8% less cases per 100k residents than Alabama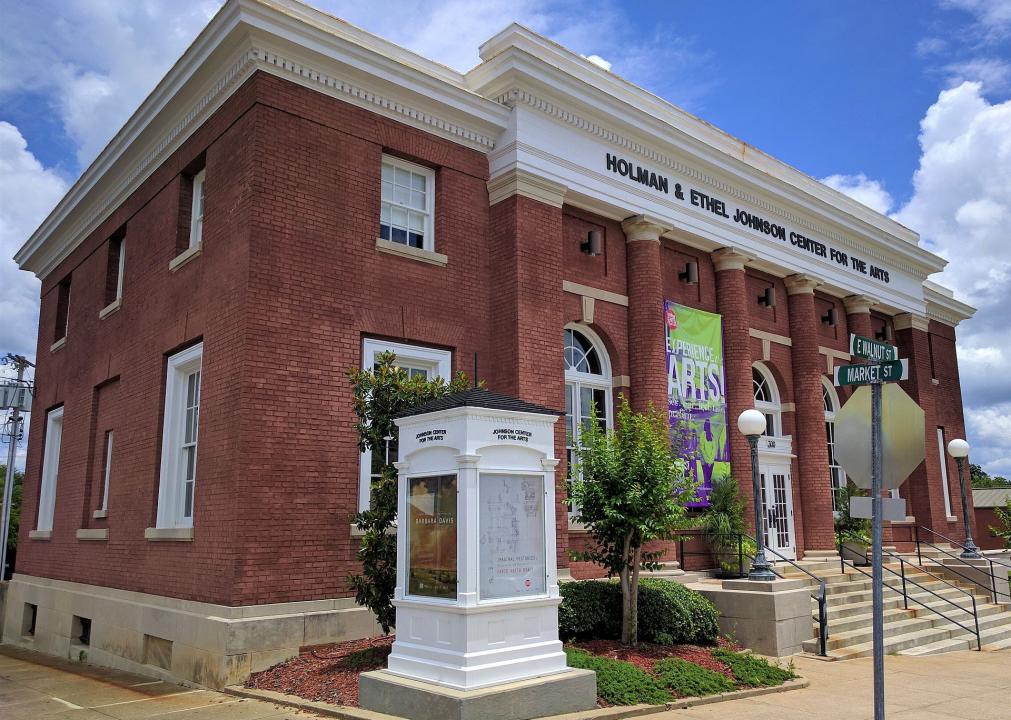 Kreeder13 // Wikimedia Commons
#40. Pike County
– Population that is fully vaccinated: 42.8% (14,183 fully vaccinated)
— 17.5% lower vaccination rate than Alabama
– Cumulative deaths per 100k: 411 (136 total deaths)
— 1.0% more deaths per 100k residents than Alabama
– Cumulative cases per 100k: 24,485 (8,108 total cases)
— 16.4% less cases per 100k residents than Alabama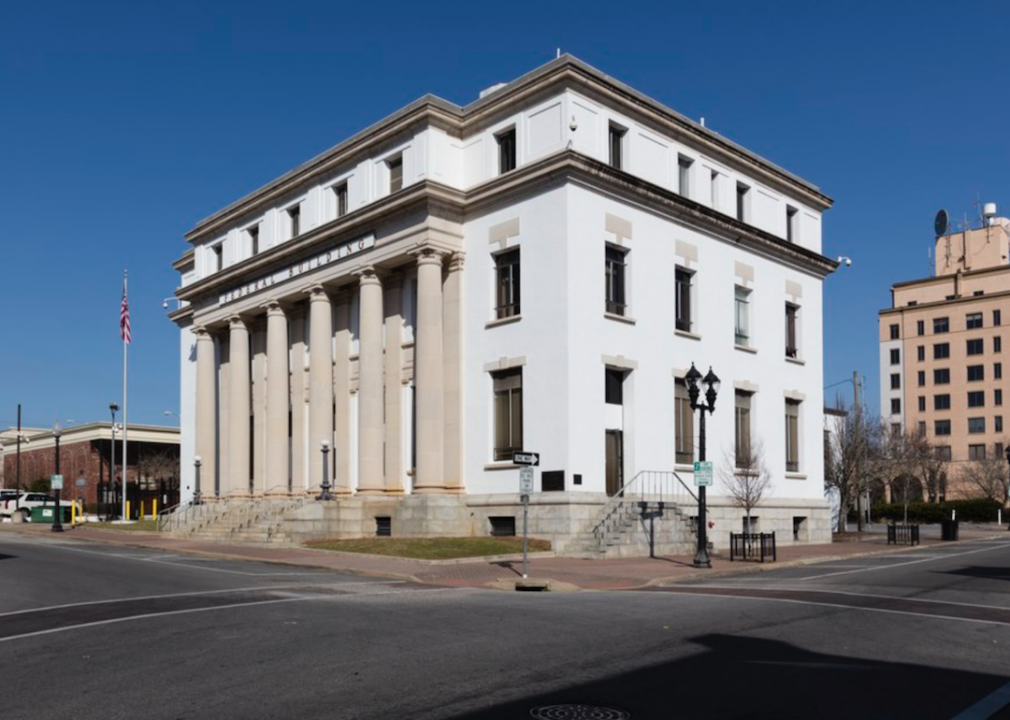 Carol M. Highsmith/Library of Congress // Wikimedia Commons
#39. Houston County
– Population that is fully vaccinated: 44.0% (46,550 fully vaccinated)
— 15.2% lower vaccination rate than Alabama
– Cumulative deaths per 100k: 484 (512 total deaths)
— 18.9% more deaths per 100k residents than Alabama
– Cumulative cases per 100k: 26,717 (28,289 total cases)
— 8.8% less cases per 100k residents than Alabama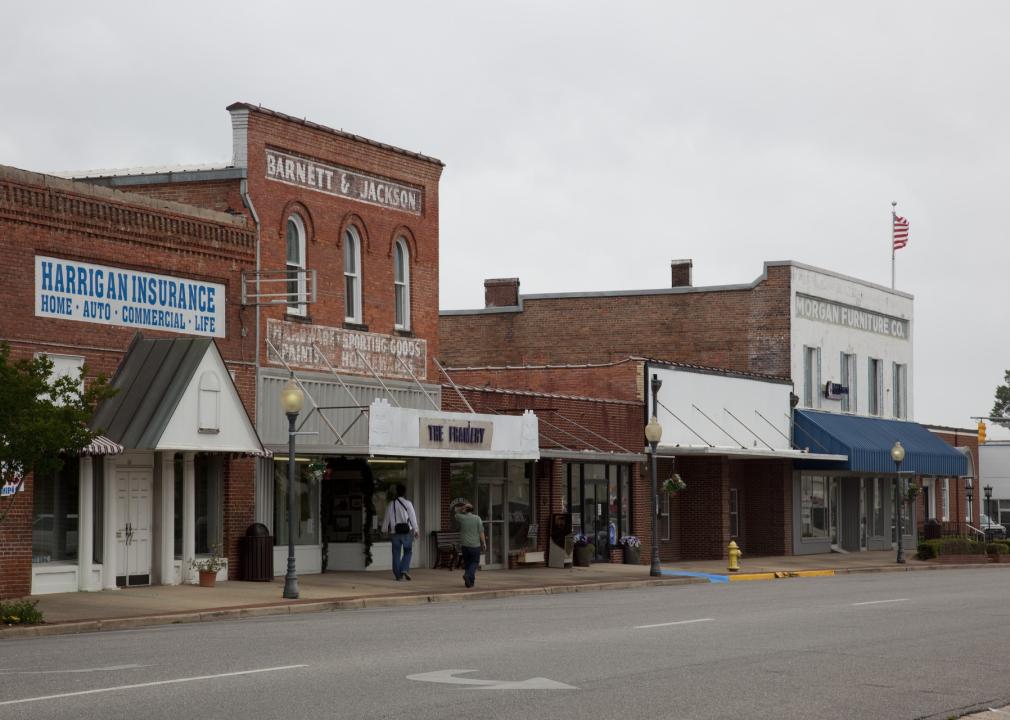 Carol M. Highsmith // Wikimedia Commons
#38. Monroe County
– Population that is fully vaccinated: 44.2% (9,168 fully vaccinated)
— 14.8% lower vaccination rate than Alabama
– Cumulative deaths per 100k: 391 (81 total deaths)
— 3.9% less deaths per 100k residents than Alabama
– Cumulative cases per 100k: 28,028 (5,811 total cases)
— 4.3% less cases per 100k residents than Alabama
MPearsallArt // Wikimedia Commons
#37. Morgan County
– Population that is fully vaccinated: 44.2% (52,920 fully vaccinated)
— 14.8% lower vaccination rate than Alabama
– Cumulative deaths per 100k: 435 (521 total deaths)
— 6.9% more deaths per 100k residents than Alabama
– Cumulative cases per 100k: 33,024 (39,523 total cases)
— 12.7% more cases per 100k residents than Alabama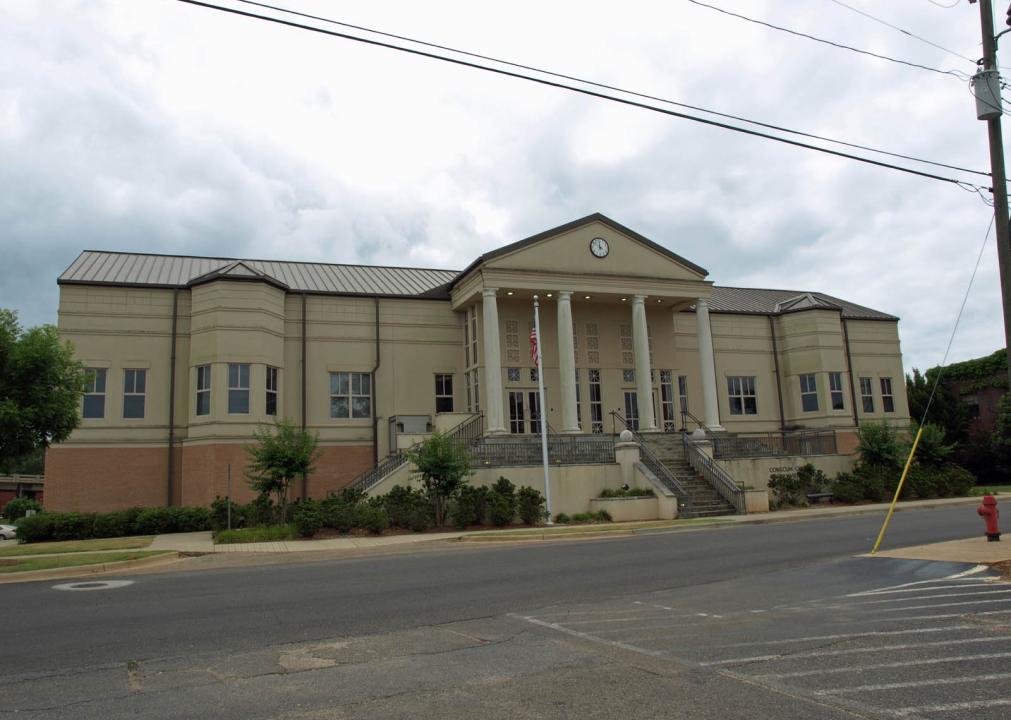 Chris Pruitt // Wikimedia Commons
#36. Conecuh County
– Population that is fully vaccinated: 44.3% (5,343 fully vaccinated)
— 14.6% lower vaccination rate than Alabama
– Cumulative deaths per 100k: 588 (71 total deaths)
— 44.5% more deaths per 100k residents than Alabama
– Cumulative cases per 100k: 26,179 (3,159 total cases)
— 10.6% less cases per 100k residents than Alabama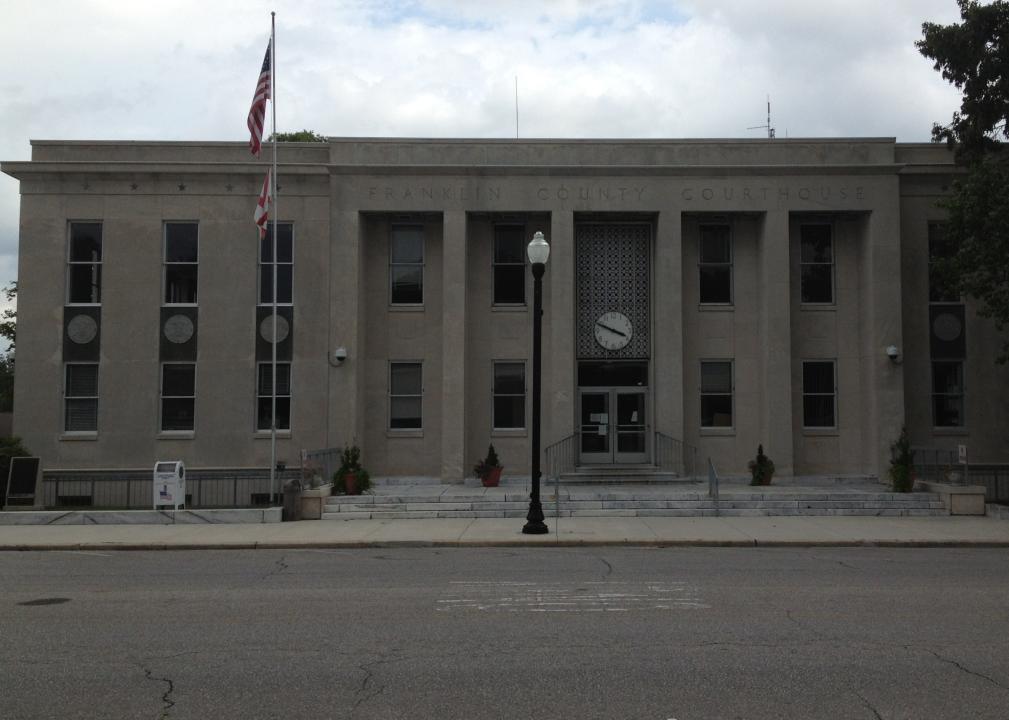 Rudi Weikard // Wikimedia Commons
#35. Franklin County
– Population that is fully vaccinated: 44.4% (13,914 fully vaccinated)
— 14.5% lower vaccination rate than Alabama
– Cumulative deaths per 100k: 446 (140 total deaths)
— 9.6% more deaths per 100k residents than Alabama
– Cumulative cases per 100k: 32,983 (10,344 total cases)
— 12.6% more cases per 100k residents than Alabama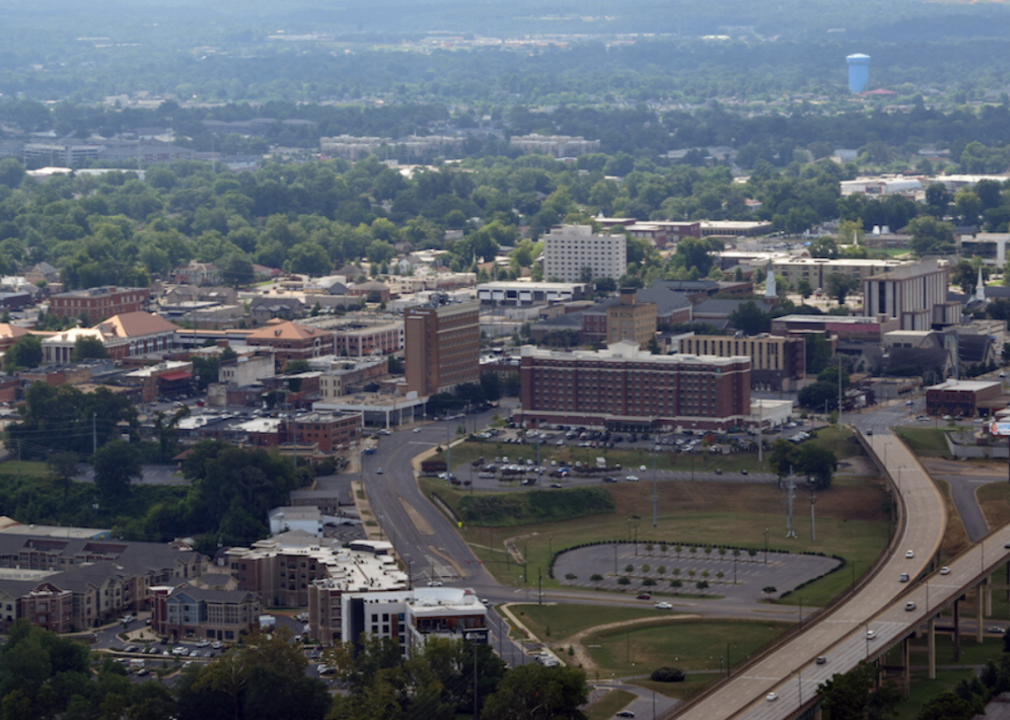 Tracy Burroughs Brown // Shutterstock
#34. Tuscaloosa County
– Population that is fully vaccinated: 44.4% (92,981 fully vaccinated)
— 14.5% lower vaccination rate than Alabama
– Cumulative deaths per 100k: 379 (794 total deaths)
— 6.9% less deaths per 100k residents than Alabama
– Cumulative cases per 100k: 29,421 (61,594 total cases)
— 0.4% more cases per 100k residents than Alabama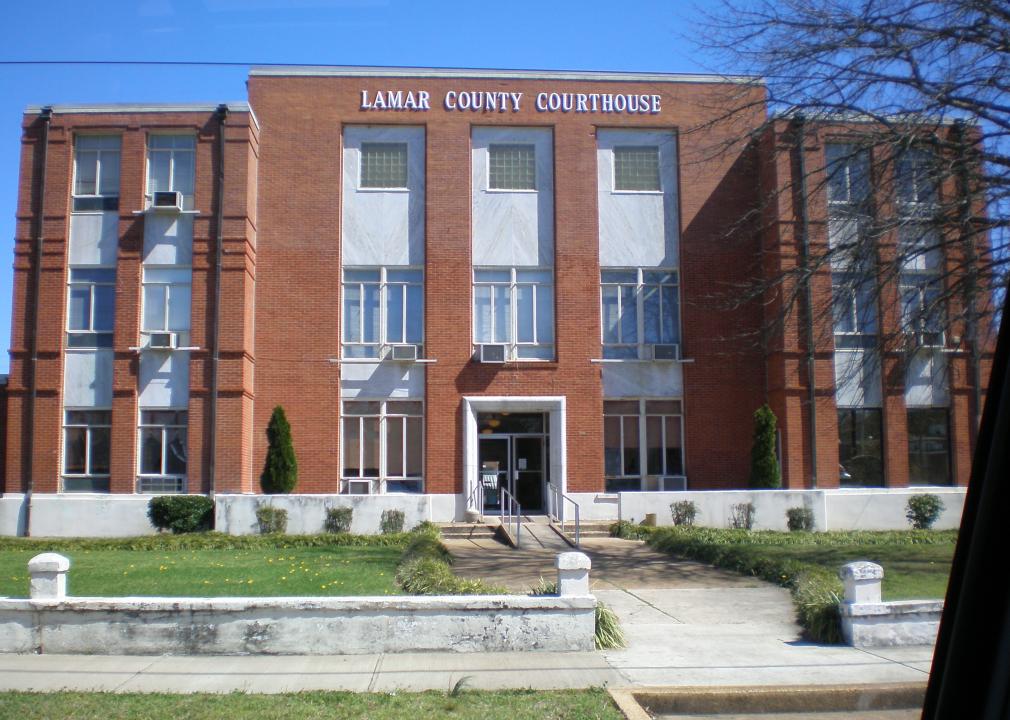 Myself – Nathon Morris // Wikimedia Commons
#33. Lamar County
– Population that is fully vaccinated: 44.6% (6,162 fully vaccinated)
— 14.1% lower vaccination rate than Alabama
– Cumulative deaths per 100k: 471 (65 total deaths)
— 15.7% more deaths per 100k residents than Alabama
– Cumulative cases per 100k: 29,388 (4,057 total cases)
— 0.3% more cases per 100k residents than Alabama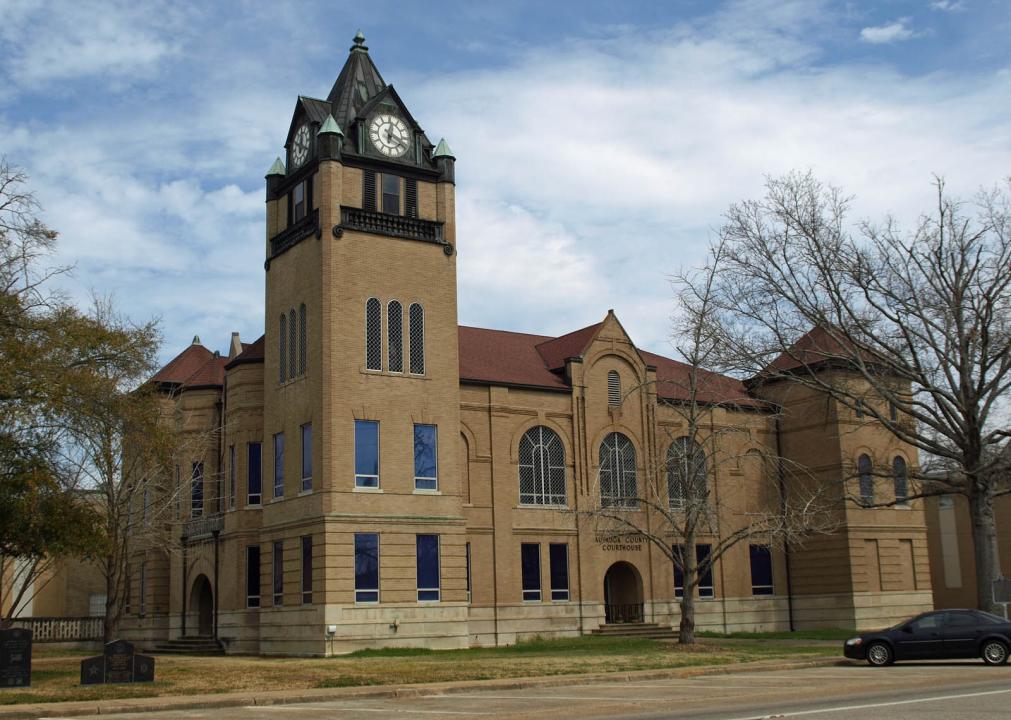 Chris Pruitt // Wikimedia Commons
#32. Autauga County
– Population that is fully vaccinated: 44.8% (25,017 fully vaccinated)
— 13.7% lower vaccination rate than Alabama
– Cumulative deaths per 100k: 394 (220 total deaths)
— 3.2% less deaths per 100k residents than Alabama
– Cumulative cases per 100k: 31,266 (17,468 total cases)
— 6.7% more cases per 100k residents than Alabama
Rivers Langley; SaveRivers // Wikimedia Commons
#31. Henry County
– Population that is fully vaccinated: 46.0% (7,916 fully vaccinated)
— 11.4% lower vaccination rate than Alabama
– Cumulative deaths per 100k: 453 (78 total deaths)
— 11.3% more deaths per 100k residents than Alabama
– Cumulative cases per 100k: 29,416 (5,061 total cases)
— 0.4% more cases per 100k residents than Alabama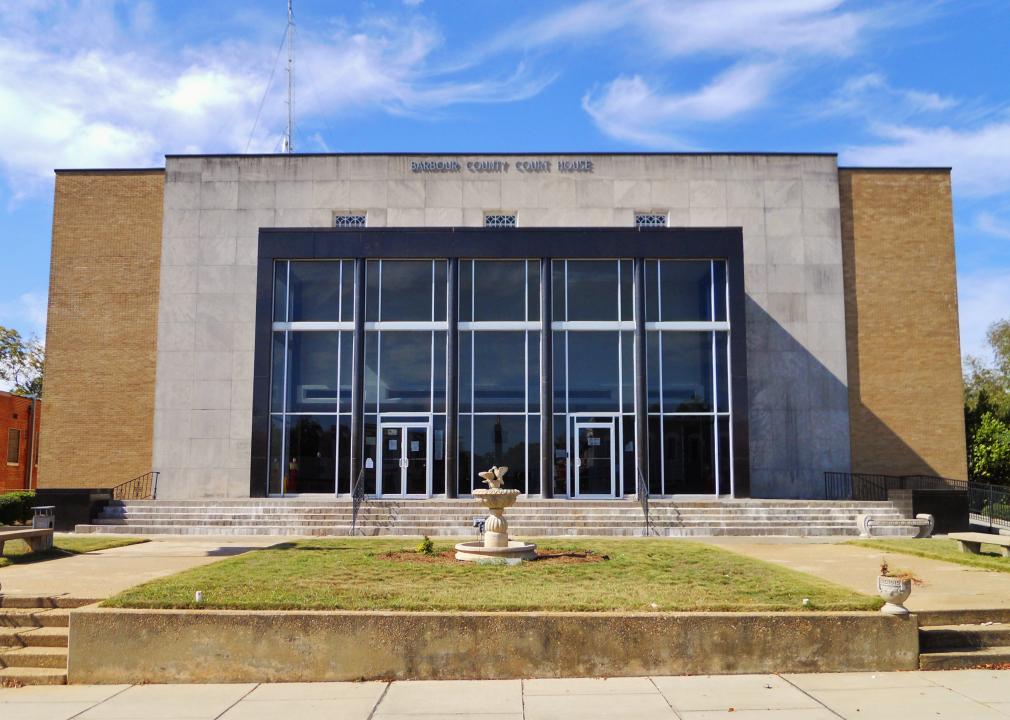 Rivers Langley; SaveRivers // Wikimedia Commons
#30. Barbour County
– Population that is fully vaccinated: 46.3% (11,433 fully vaccinated)
— 10.8% lower vaccination rate than Alabama
– Cumulative deaths per 100k: 405 (100 total deaths)
— 0.5% less deaths per 100k residents than Alabama
– Cumulative cases per 100k: 25,553 (6,308 total cases)
— 12.8% less cases per 100k residents than Alabama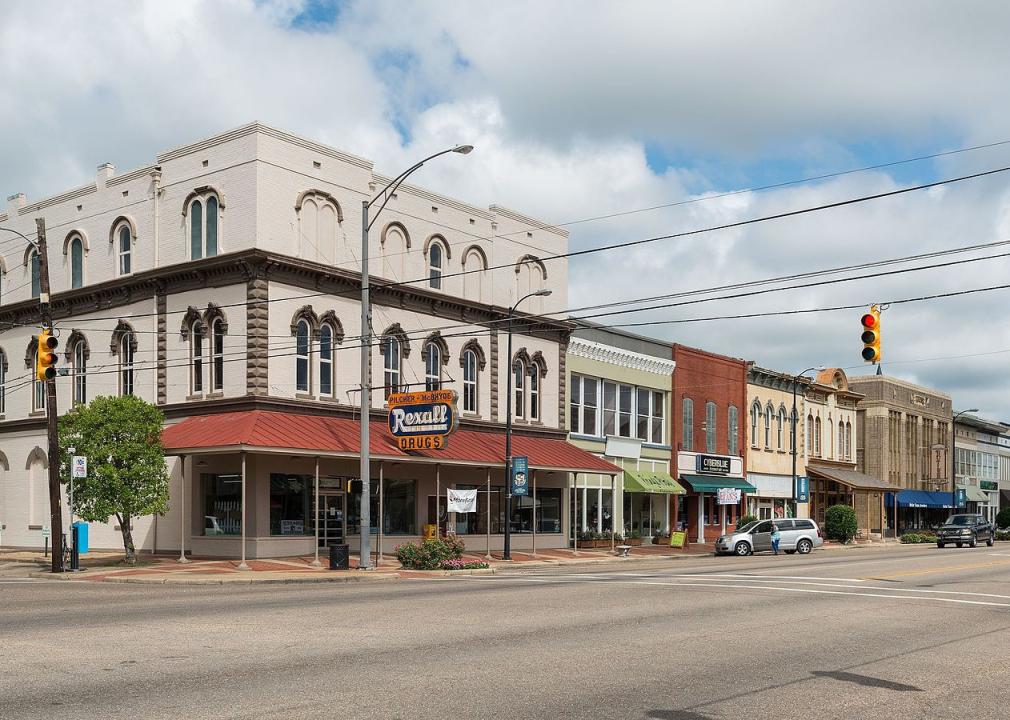 DXR // Wikimedia Commons
#29. Dallas County
– Population that is fully vaccinated: 46.3% (17,218 fully vaccinated)
— 10.8% lower vaccination rate than Alabama
– Cumulative deaths per 100k: 664 (247 total deaths)
— 63.1% more deaths per 100k residents than Alabama
– Cumulative cases per 100k: 25,570 (9,511 total cases)
— 12.7% less cases per 100k residents than Alabama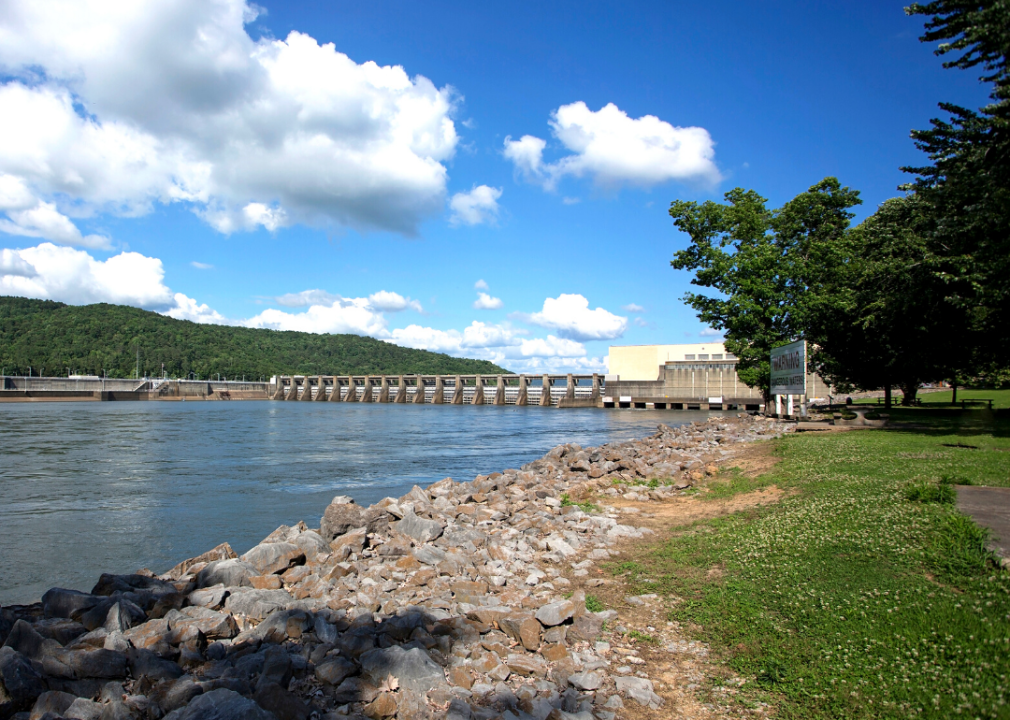 Canva
#28. Marshall County
– Population that is fully vaccinated: 46.4% (44,939 fully vaccinated)
— 10.6% lower vaccination rate than Alabama
– Cumulative deaths per 100k: 409 (396 total deaths)
— 0.5% more deaths per 100k residents than Alabama
– Cumulative cases per 100k: 29,983 (29,016 total cases)
— 2.3% more cases per 100k residents than Alabama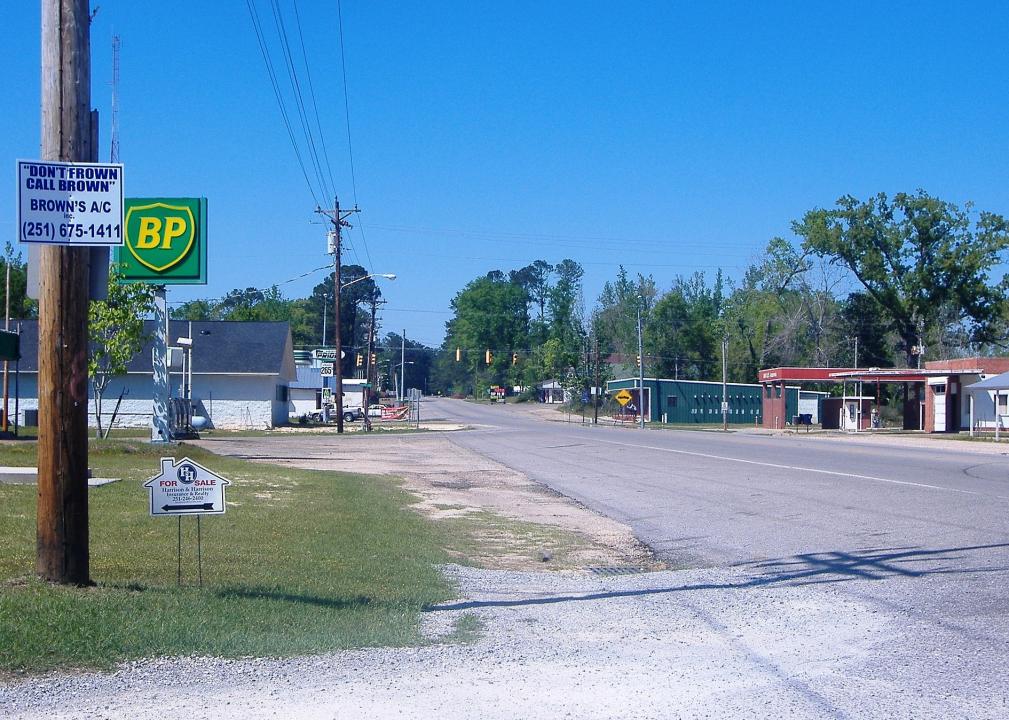 Idawriter // Wikimedia Commons
#27. Washington County
– Population that is fully vaccinated: 46.5% (7,598 fully vaccinated)
— 10.4% lower vaccination rate than Alabama
– Cumulative deaths per 100k: 361 (59 total deaths)
— 11.3% less deaths per 100k residents than Alabama
– Cumulative cases per 100k: 24,495 (3,999 total cases)
— 16.4% less cases per 100k residents than Alabama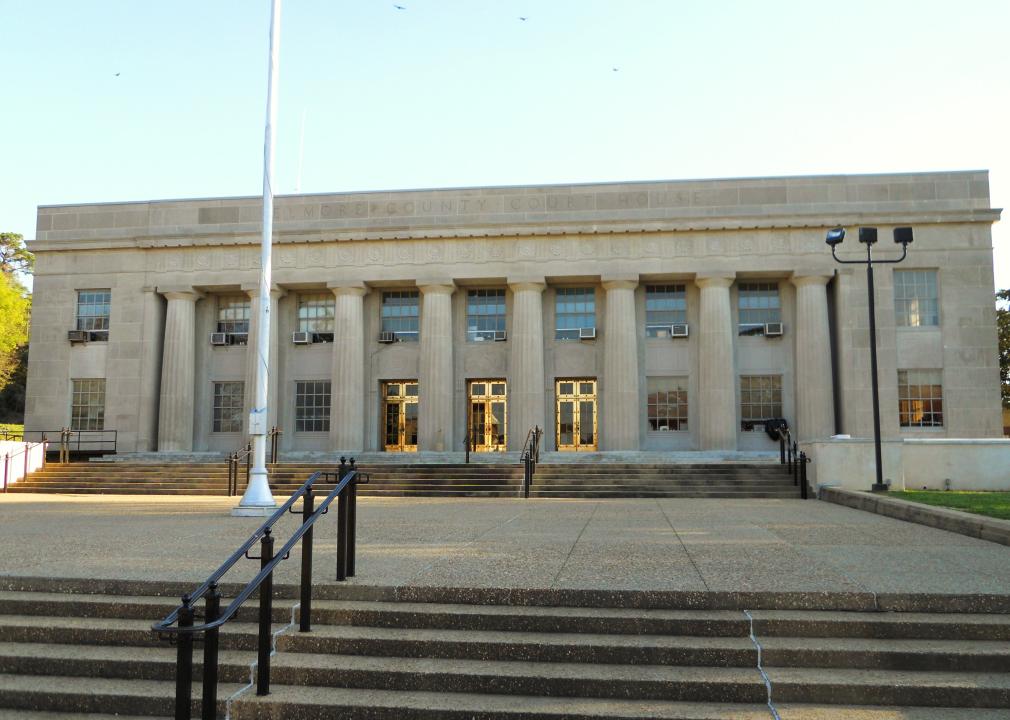 Rivers A. Langley; SaveRivers // Wikimedia Commons
#26. Elmore County
– Population that is fully vaccinated: 47.2% (38,363 fully vaccinated)
— 9.1% lower vaccination rate than Alabama
– Cumulative deaths per 100k: 433 (352 total deaths)
— 6.4% more deaths per 100k residents than Alabama
– Cumulative cases per 100k: 31,971 (25,963 total cases)
— 9.1% more cases per 100k residents than Alabama
Wayne James // Shutterstock
#25. Lauderdale County
– Population that is fully vaccinated: 47.5% (44,000 fully vaccinated)
— 8.5% lower vaccination rate than Alabama
– Cumulative deaths per 100k: 434 (402 total deaths)
— 6.6% more deaths per 100k residents than Alabama
– Cumulative cases per 100k: 28,218 (26,166 total cases)
— 3.7% less cases per 100k residents than Alabama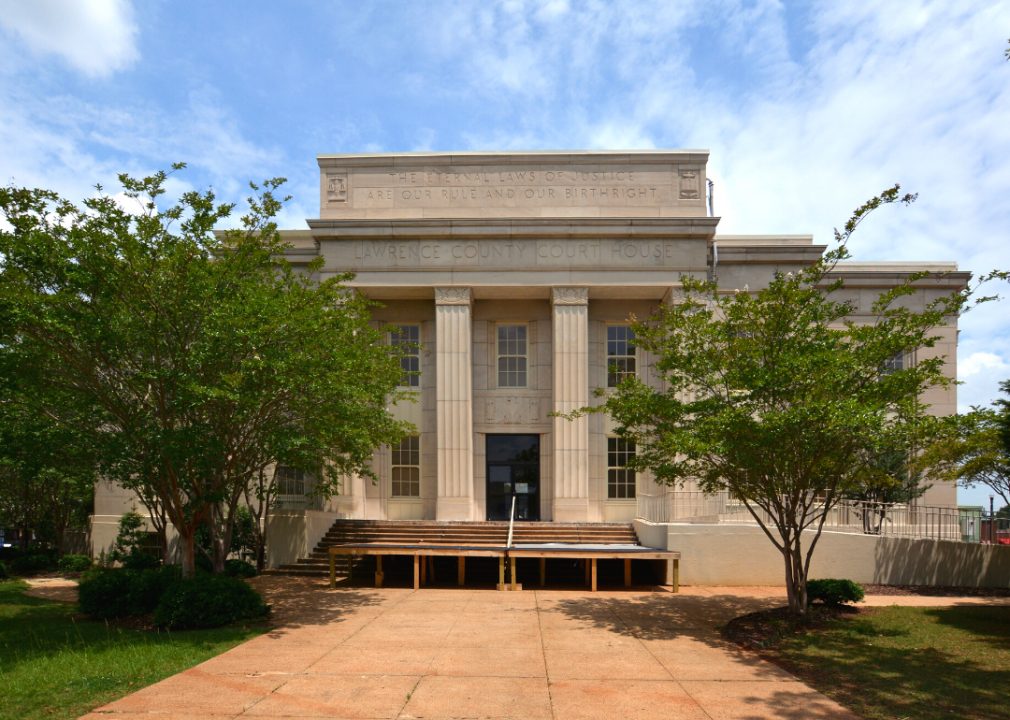 Canva
#24. Lawrence County
– Population that is fully vaccinated: 47.6% (15,683 fully vaccinated)
— 8.3% lower vaccination rate than Alabama
– Cumulative deaths per 100k: 489 (161 total deaths)
— 20.1% more deaths per 100k residents than Alabama
– Cumulative cases per 100k: 24,930 (8,208 total cases)
— 14.9% less cases per 100k residents than Alabama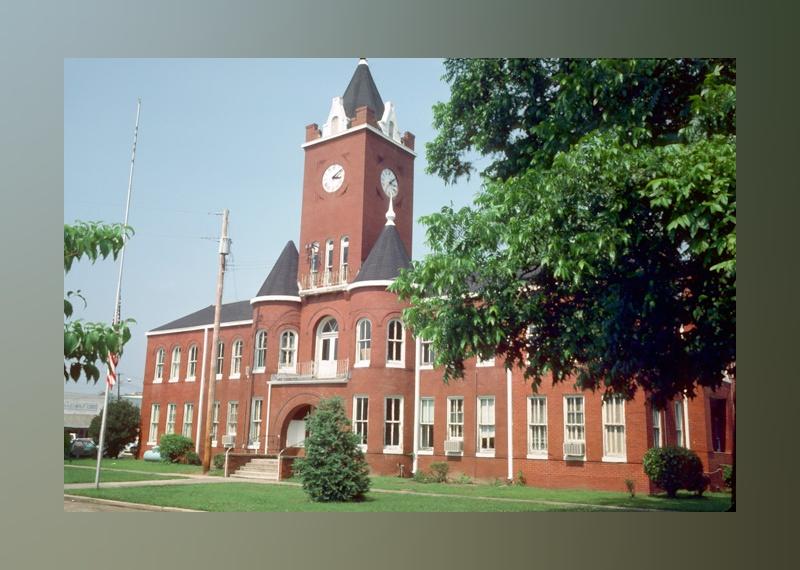 Calvin Beale // Wikimedia Commons
#23. Coffee County
– Population that is fully vaccinated: 47.6% (24,908 fully vaccinated)
— 8.3% lower vaccination rate than Alabama
– Cumulative deaths per 100k: 451 (236 total deaths)
— 10.8% more deaths per 100k residents than Alabama
– Cumulative cases per 100k: 28,520 (14,928 total cases)
— 2.6% less cases per 100k residents than Alabama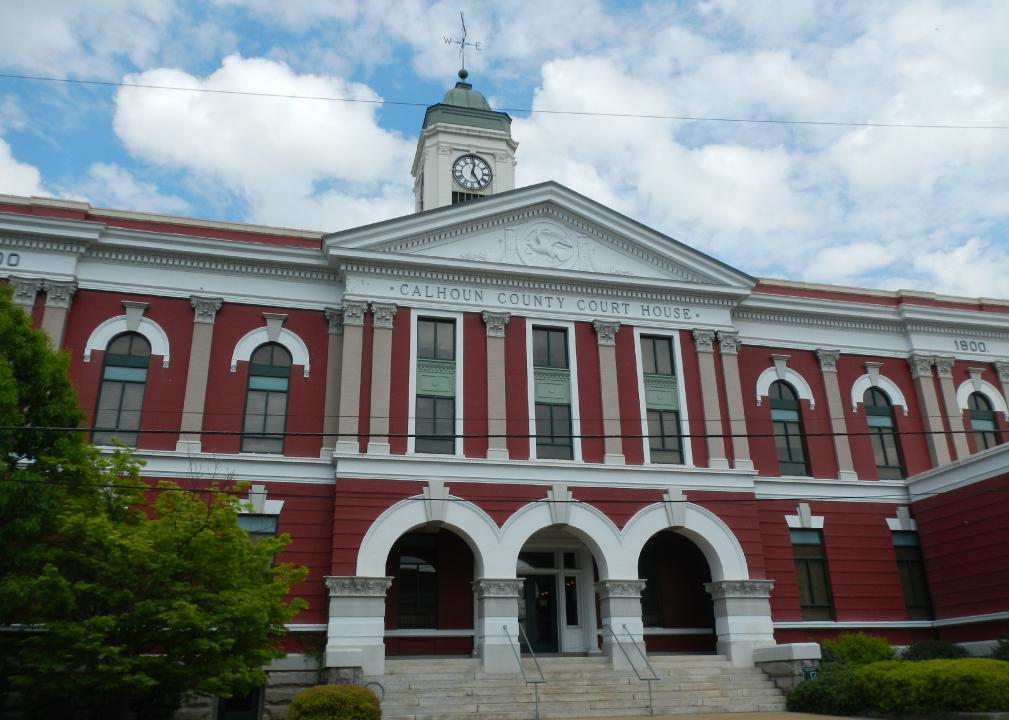 Rivers Langley; SaveRivers // Wikimedia Commons
#22. Calhoun County
– Population that is fully vaccinated: 47.7% (54,225 fully vaccinated)
— 8.1% lower vaccination rate than Alabama
– Cumulative deaths per 100k: 562 (638 total deaths)
— 38.1% more deaths per 100k residents than Alabama
– Cumulative cases per 100k: 30,415 (34,553 total cases)
— 3.8% more cases per 100k residents than Alabama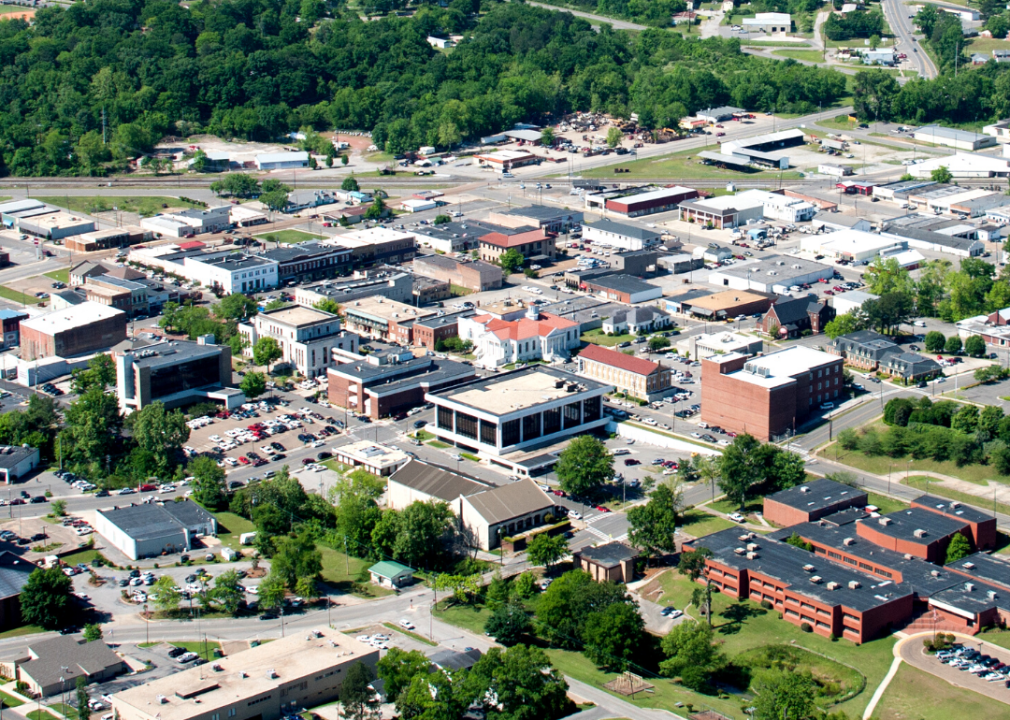 Canva
#21. Walker County
– Population that is fully vaccinated: 48.0% (30,520 fully vaccinated)
— 7.5% lower vaccination rate than Alabama
– Cumulative deaths per 100k: 713 (453 total deaths)
— 75.2% more deaths per 100k residents than Alabama
– Cumulative cases per 100k: 31,972 (20,309 total cases)
— 9.1% more cases per 100k residents than Alabama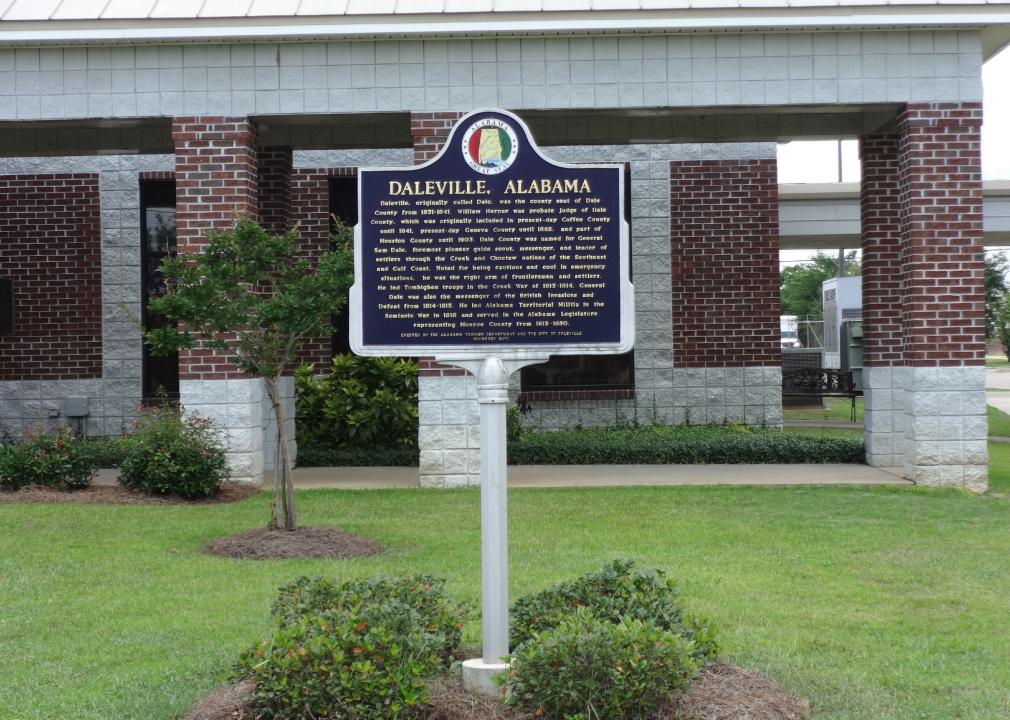 Michael Rivera // Wikimedia Commons
#20. Dale County
– Population that is fully vaccinated: 48.3% (23,756 fully vaccinated)
— 6.9% lower vaccination rate than Alabama
– Cumulative deaths per 100k: 476 (234 total deaths)
— 17.0% more deaths per 100k residents than Alabama
– Cumulative cases per 100k: 29,116 (14,317 total cases)
— 0.6% less cases per 100k residents than Alabama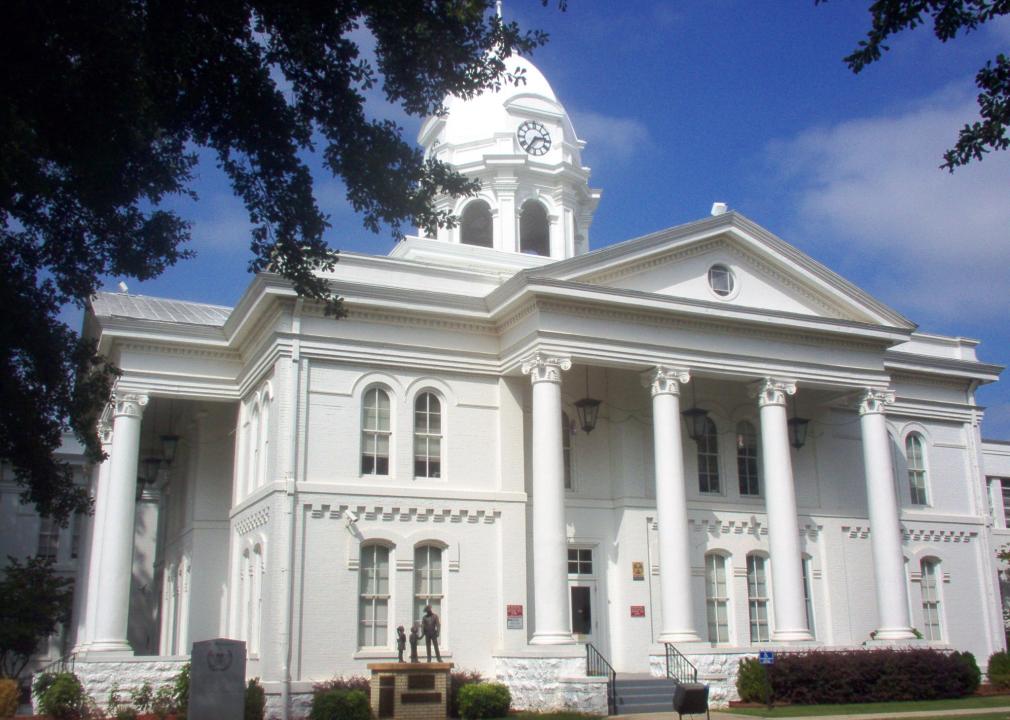 Dailynetworks // Wikimedia Commons
#19. Colbert County
– Population that is fully vaccinated: 48.7% (26,886 fully vaccinated)
— 6.2% lower vaccination rate than Alabama
– Cumulative deaths per 100k: 478 (264 total deaths)
— 17.4% more deaths per 100k residents than Alabama
– Cumulative cases per 100k: 32,485 (17,945 total cases)
— 10.9% more cases per 100k residents than Alabama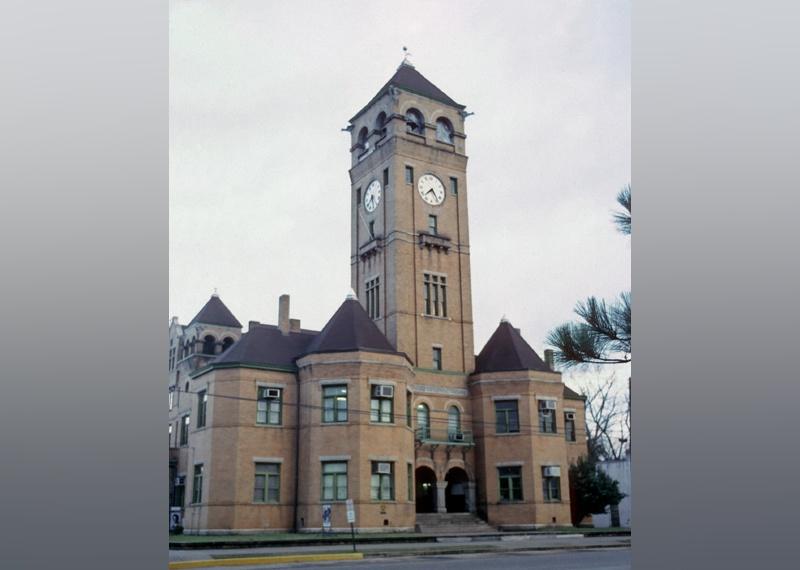 Mccallk69 // Shutterstock
#18. Macon County
– Population that is fully vaccinated: 49.0% (8,861 fully vaccinated)
— 5.6% lower vaccination rate than Alabama
– Cumulative deaths per 100k: 476 (86 total deaths)
— 17.0% more deaths per 100k residents than Alabama
– Cumulative cases per 100k: 24,386 (4,406 total cases)
— 16.8% less cases per 100k residents than Alabama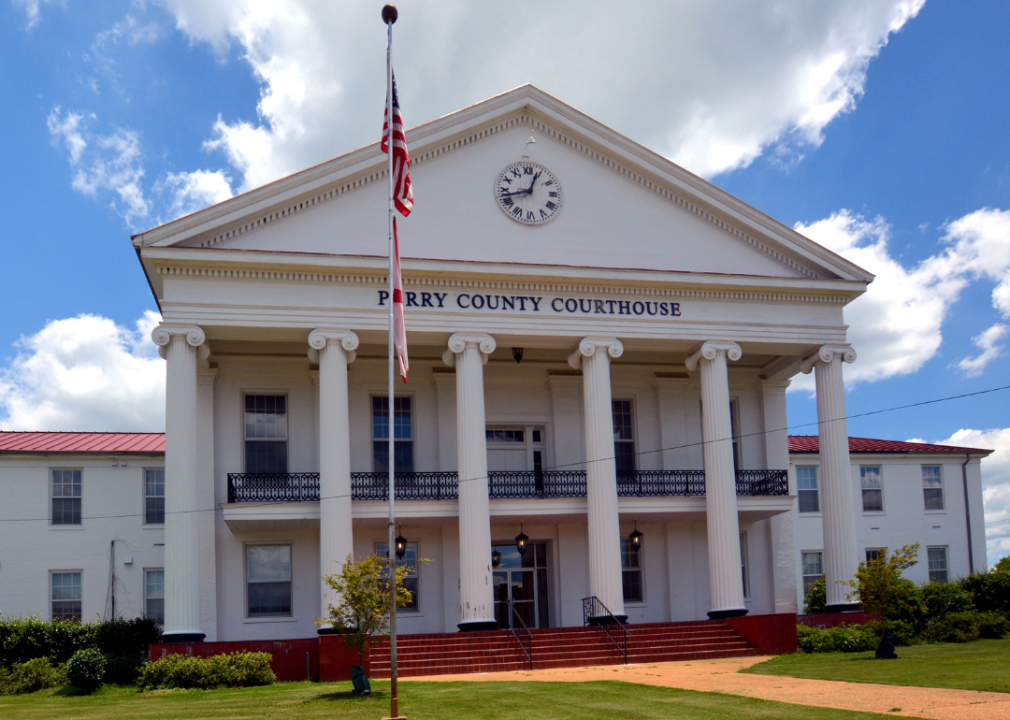 Canva
#17. Perry County
– Population that is fully vaccinated: 49.5% (4,413 fully vaccinated)
— 4.6% lower vaccination rate than Alabama
– Cumulative deaths per 100k: 527 (47 total deaths)
— 29.5% more deaths per 100k residents than Alabama
– Cumulative cases per 100k: 25,877 (2,309 total cases)
— 11.7% less cases per 100k residents than Alabama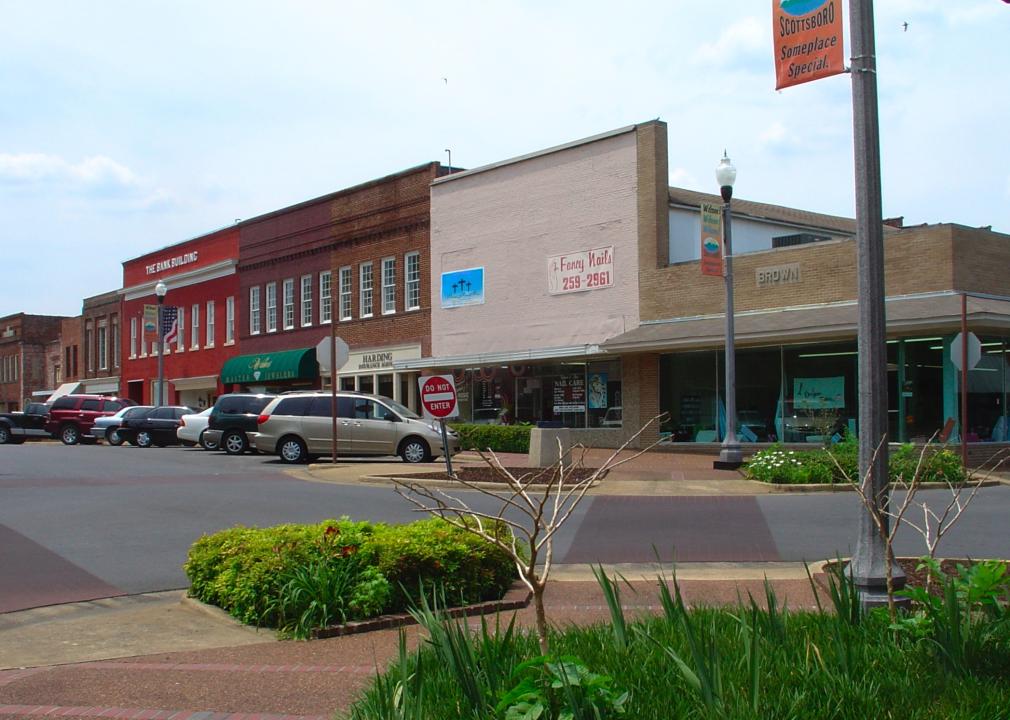 Springfieldohio // Wikimedia Commons
#16. Jackson County
– Population that is fully vaccinated: 50.3% (25,946 fully vaccinated)
— 3.1% lower vaccination rate than Alabama
– Cumulative deaths per 100k: 473 (244 total deaths)
— 16.2% more deaths per 100k residents than Alabama
– Cumulative cases per 100k: 30,955 (15,981 total cases)
— 5.7% more cases per 100k residents than Alabama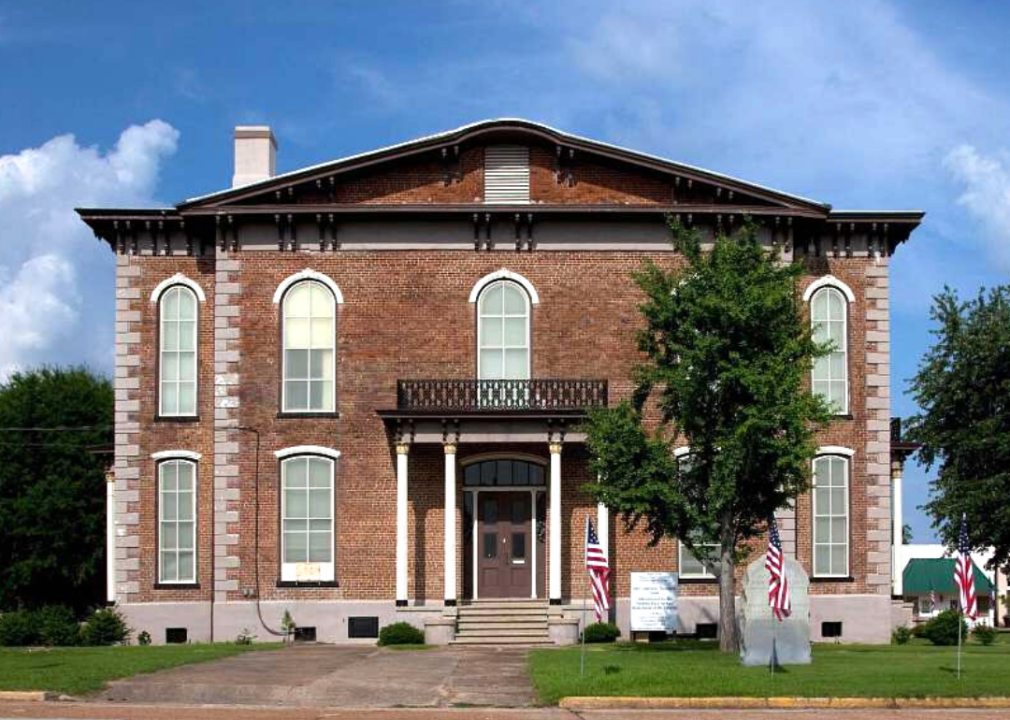 Public Domain
#15. Pickens County
– Population that is fully vaccinated: 50.6% (10,092 fully vaccinated)
— 2.5% lower vaccination rate than Alabama
– Cumulative deaths per 100k: 527 (105 total deaths)
— 29.5% more deaths per 100k residents than Alabama
– Cumulative cases per 100k: 27,958 (5,572 total cases)
— 4.6% less cases per 100k residents than Alabama
Altairisfar // Wikicommons
#14. Mobile County
– Population that is fully vaccinated: 50.8% (209,991 fully vaccinated)
— 2.1% lower vaccination rate than Alabama
– Cumulative deaths per 100k: 407 (1,682 total deaths)
— 0.0% less deaths per 100k residents than Alabama
– Cumulative cases per 100k: 29,572 (122,196 total cases)
— 0.9% more cases per 100k residents than Alabama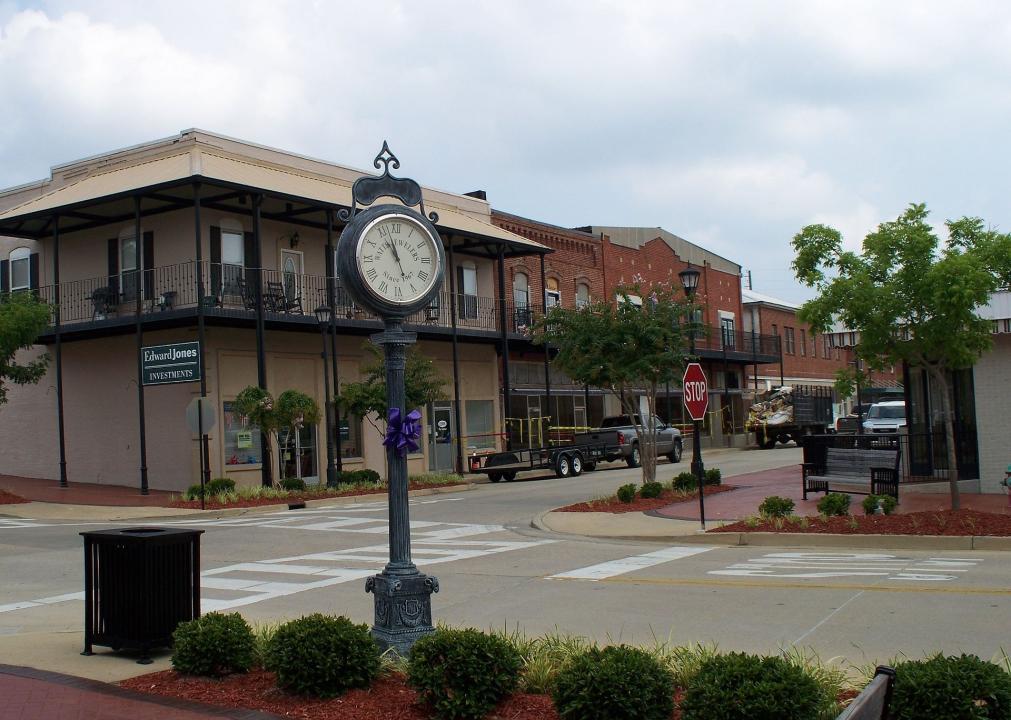 Altairisfar // Wikimedia Commons
#13. Clarke County
– Population that is fully vaccinated: 51.7% (12,210 fully vaccinated)
— 0.4% lower vaccination rate than Alabama
– Cumulative deaths per 100k: 432 (102 total deaths)
— 6.1% more deaths per 100k residents than Alabama
– Cumulative cases per 100k: 32,533 (7,685 total cases)
— 11.0% more cases per 100k residents than Alabama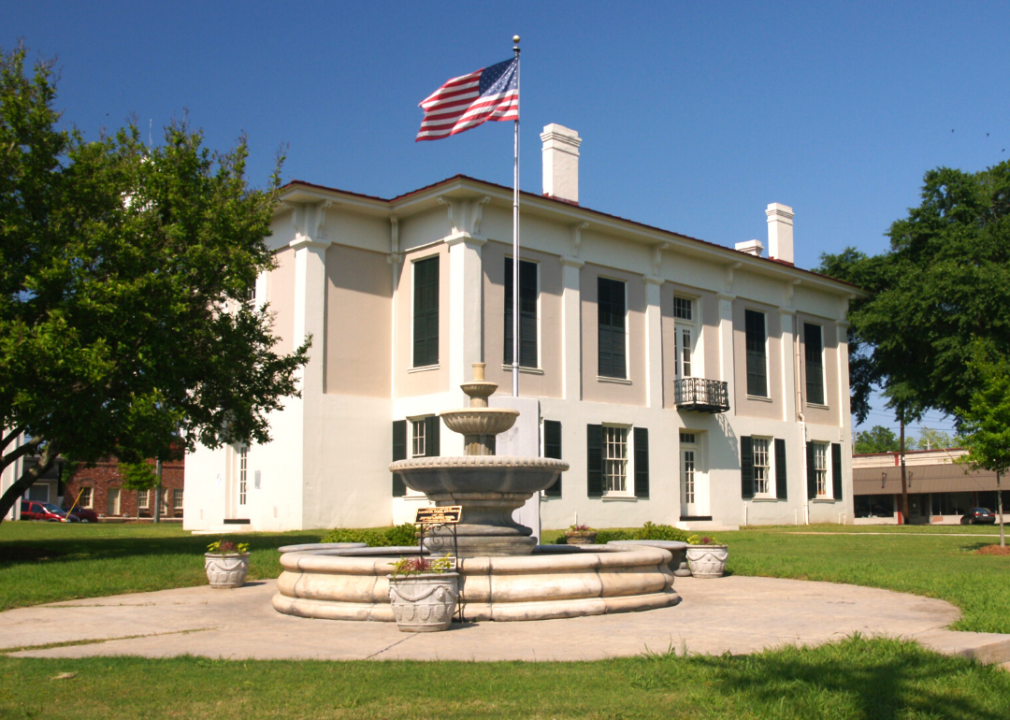 Canva
#12. Greene County
– Population that is fully vaccinated: 51.8% (4,204 fully vaccinated)
— 0.2% lower vaccination rate than Alabama
– Cumulative deaths per 100k: 629 (51 total deaths)
— 54.5% more deaths per 100k residents than Alabama
– Cumulative cases per 100k: 25,213 (2,045 total cases)
— 13.9% less cases per 100k residents than Alabama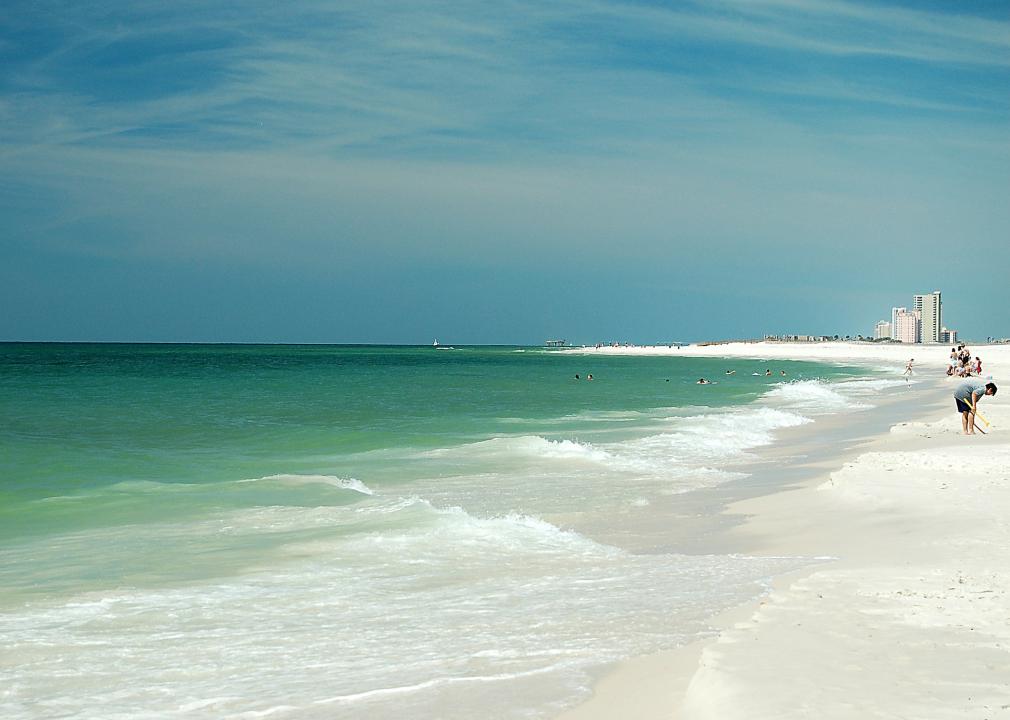 Jodybwiki // Wikimedia Commons
#11. Baldwin County
– Population that is fully vaccinated: 51.9% (115,953 fully vaccinated)
— 0.0% lower vaccination rate than Alabama
– Cumulative deaths per 100k: 308 (687 total deaths)
— 24.3% less deaths per 100k residents than Alabama
– Cumulative cases per 100k: 27,759 (61,967 total cases)
— 5.2% less cases per 100k residents than Alabama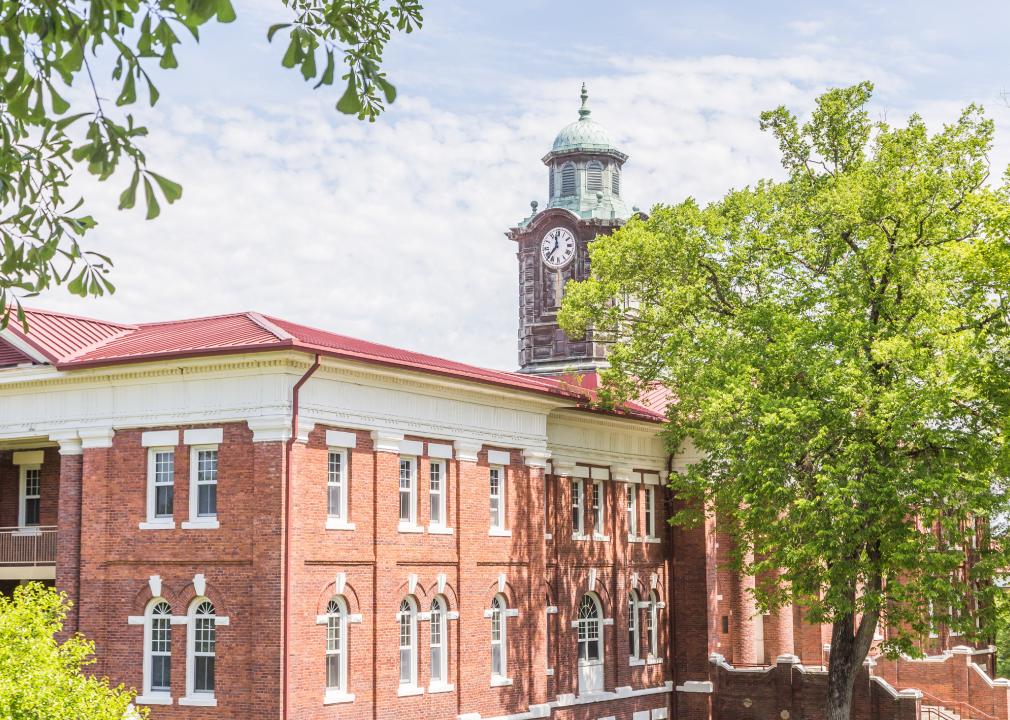 Altairisfar // Wikimedia Commons
#10. Lowndes County
– Population that is fully vaccinated: 52.1% (5,066 fully vaccinated)
— 0.4% higher vaccination rate than Alabama
– Cumulative deaths per 100k: 812 (79 total deaths)
— 99.5% more deaths per 100k residents than Alabama
– Cumulative cases per 100k: 29,714 (2,890 total cases)
— 1.4% more cases per 100k residents than Alabama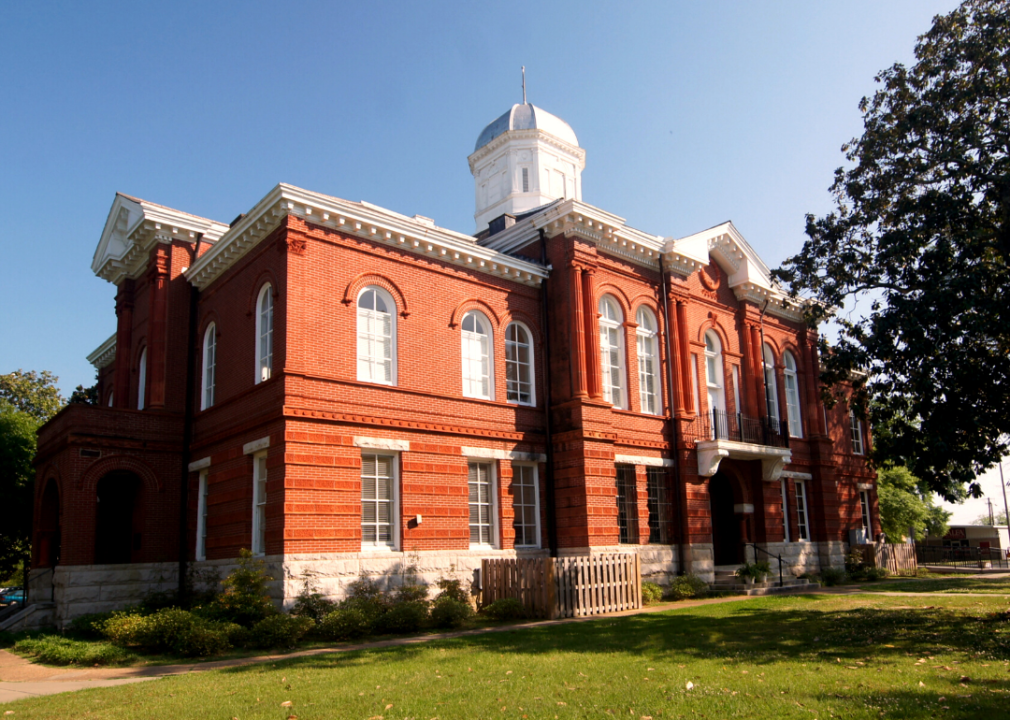 Canva
#9. Sumter County
– Population that is fully vaccinated: 52.9% (6,568 fully vaccinated)
— 1.9% higher vaccination rate than Alabama
– Cumulative deaths per 100k: 418 (52 total deaths)
— 2.7% more deaths per 100k residents than Alabama
– Cumulative cases per 100k: 22,668 (2,817 total cases)
— 22.6% less cases per 100k residents than Alabama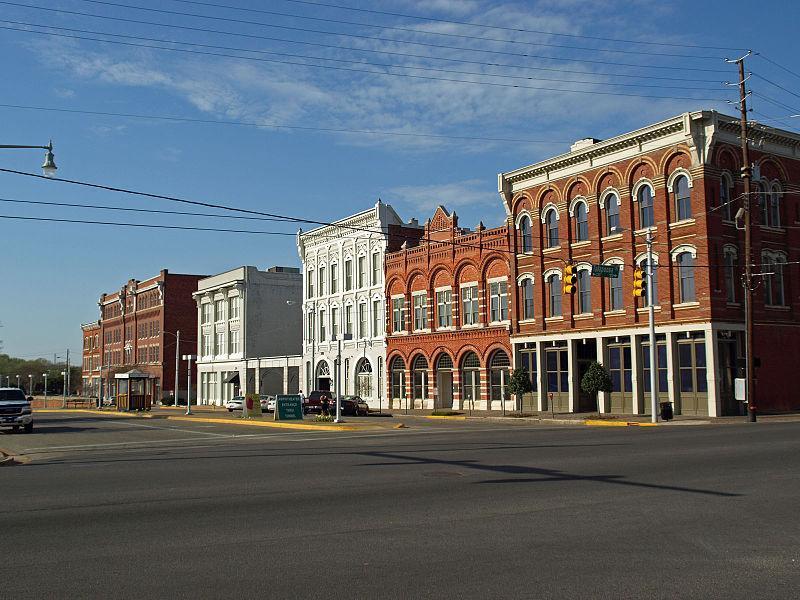 Chris Pruitt // wikicommons
#8. Montgomery County
– Population that is fully vaccinated: 53.3% (120,741 fully vaccinated)
— 2.7% higher vaccination rate than Alabama
– Cumulative deaths per 100k: 426 (965 total deaths)
— 4.7% more deaths per 100k residents than Alabama
– Cumulative cases per 100k: 27,685 (62,703 total cases)
— 5.5% less cases per 100k residents than Alabama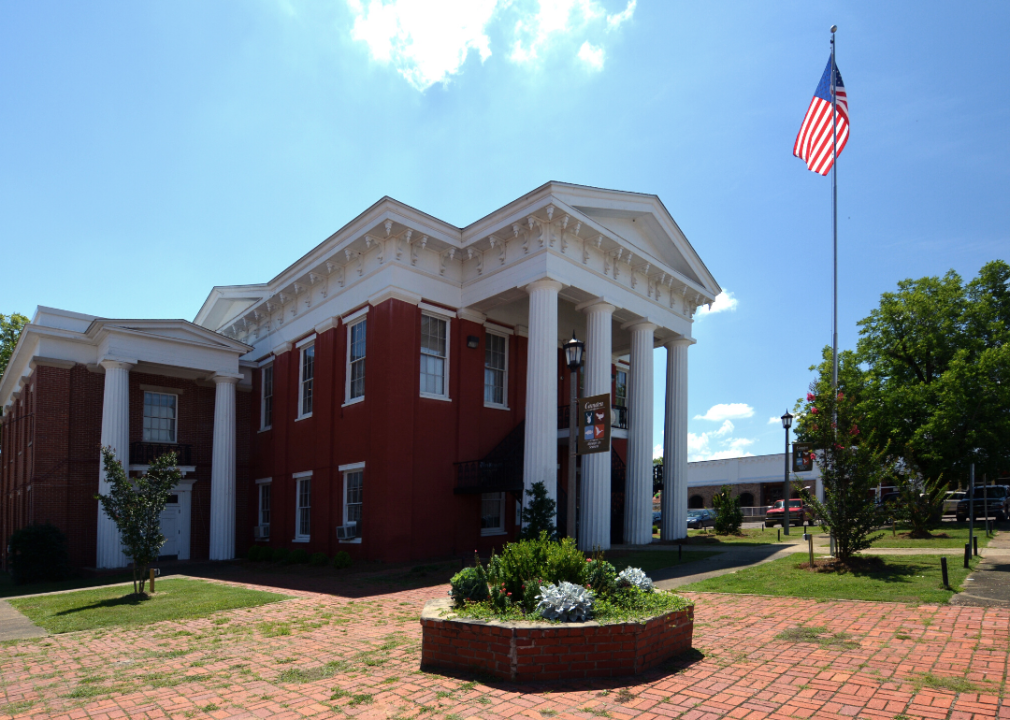 Canva
#7. Wilcox County
– Population that is fully vaccinated: 54.5% (5,658 fully vaccinated)
— 5.0% higher vaccination rate than Alabama
– Cumulative deaths per 100k: 463 (48 total deaths)
— 13.8% more deaths per 100k residents than Alabama
– Cumulative cases per 100k: 30,705 (3,185 total cases)
— 4.8% more cases per 100k residents than Alabama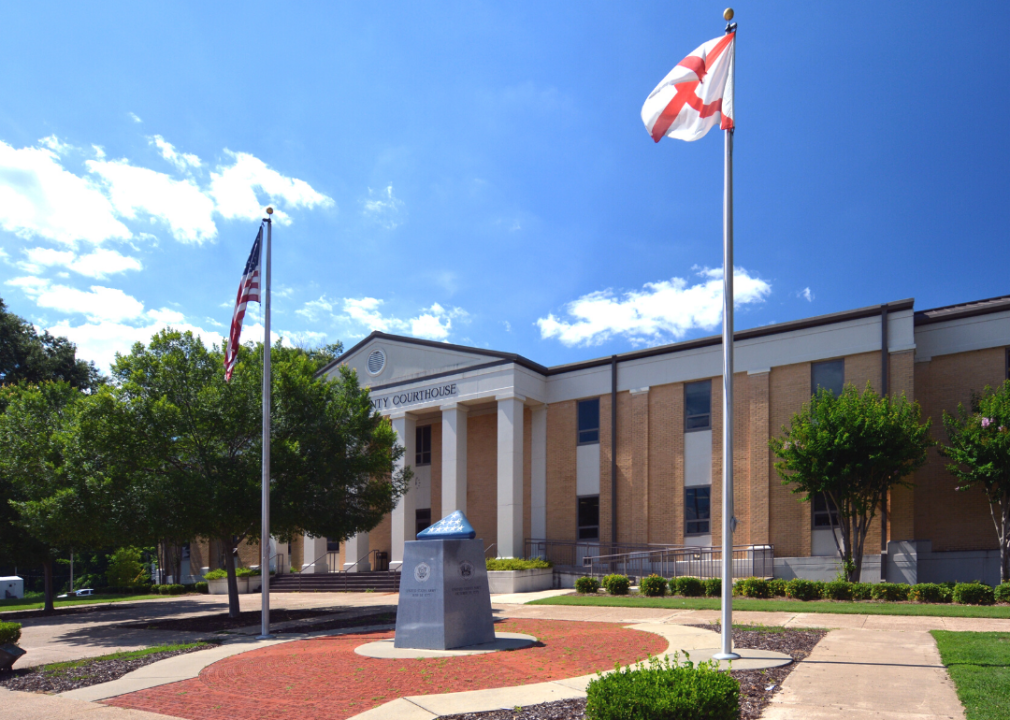 Canva
#6. Marengo County
– Population that is fully vaccinated: 55.0% (10,381 fully vaccinated)
— 6.0% higher vaccination rate than Alabama
– Cumulative deaths per 100k: 573 (108 total deaths)
— 40.8% more deaths per 100k residents than Alabama
– Cumulative cases per 100k: 29,682 (5,599 total cases)
— 1.3% more cases per 100k residents than Alabama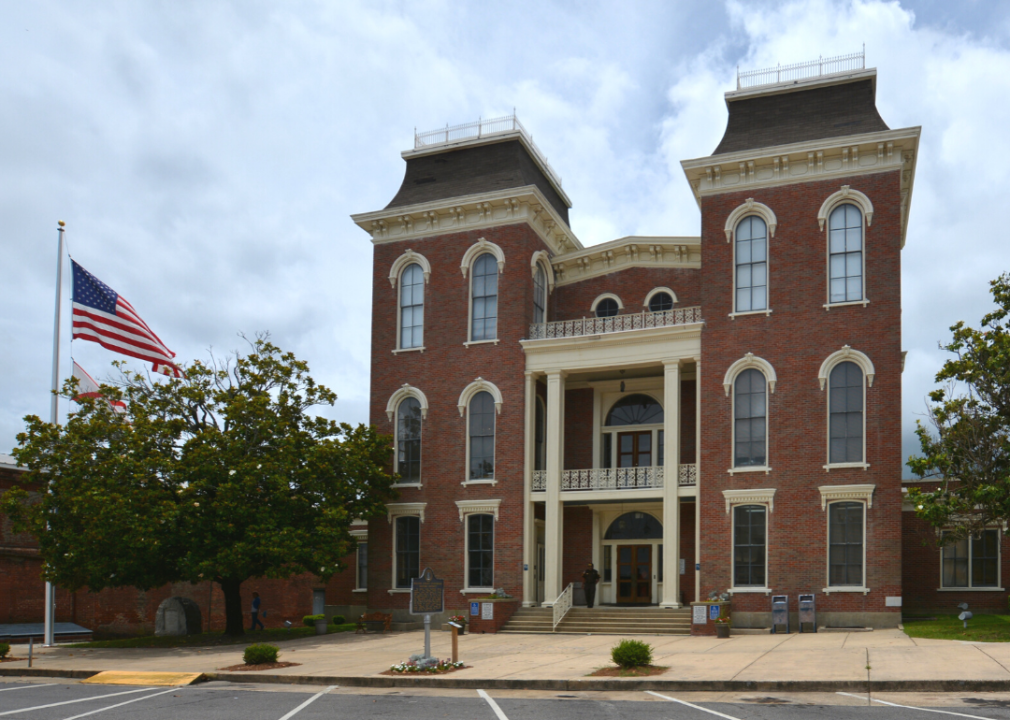 Canva
#5. Bullock County
– Population that is fully vaccinated: 55.3% (5,587 fully vaccinated)
— 6.6% higher vaccination rate than Alabama
– Cumulative deaths per 100k: 535 (54 total deaths)
— 31.4% more deaths per 100k residents than Alabama
– Cumulative cases per 100k: 25,968 (2,623 total cases)
— 11.4% less cases per 100k residents than Alabama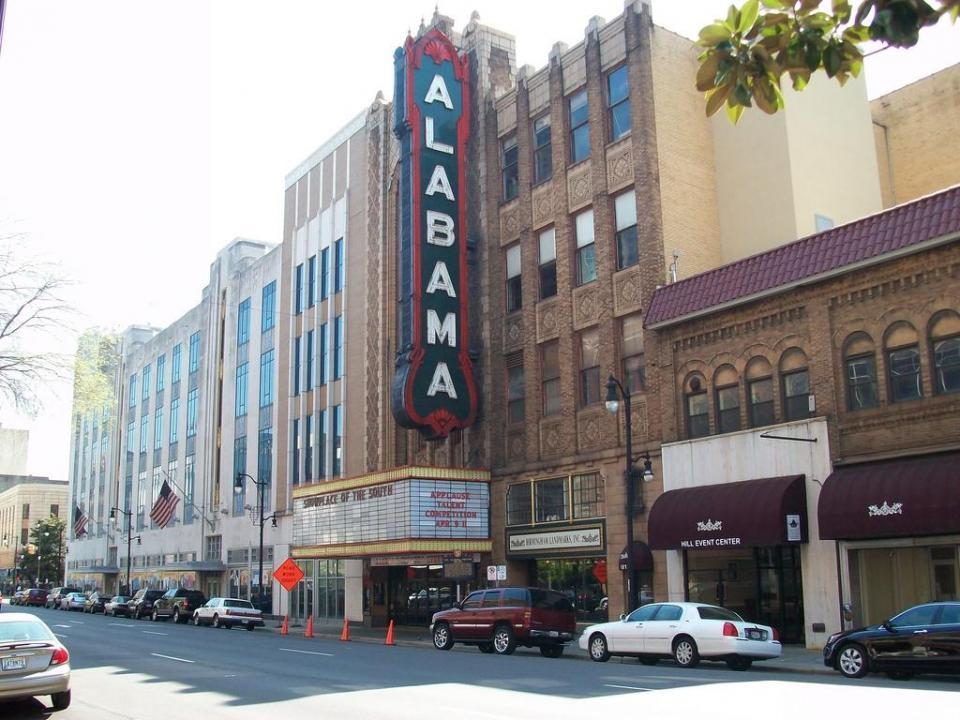 M Floyd // Flickr
#4. Jefferson County
– Population that is fully vaccinated: 59.5% (391,783 fully vaccinated)
— 14.6% higher vaccination rate than Alabama
– Cumulative deaths per 100k: 364 (2,396 total deaths)
— 10.6% less deaths per 100k residents than Alabama
– Cumulative cases per 100k: 31,227 (205,650 total cases)
— 6.6% more cases per 100k residents than Alabama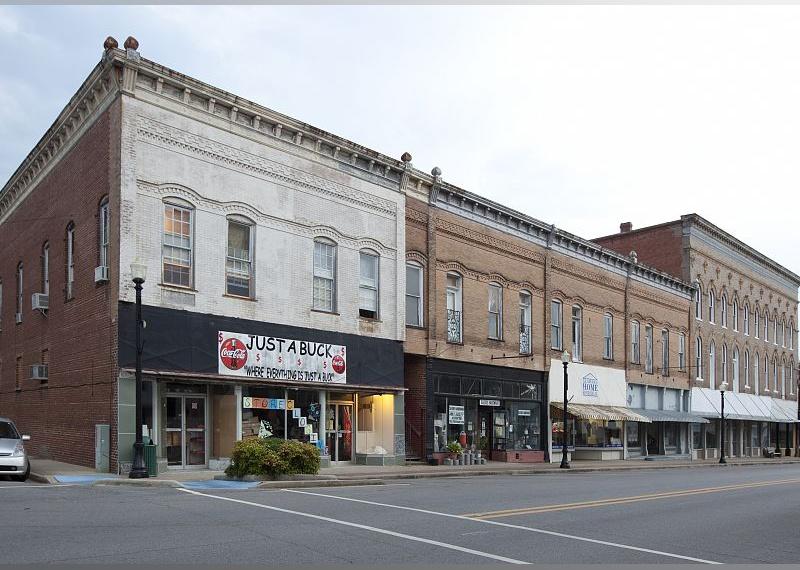 Carol M. Highsmith // Wikimedia Commons
#3. Hale County
– Population that is fully vaccinated: 62.1% (9,098 fully vaccinated)
— 19.7% higher vaccination rate than Alabama
– Cumulative deaths per 100k: 737 (108 total deaths)
— 81.1% more deaths per 100k residents than Alabama
– Cumulative cases per 100k: 35,274 (5,168 total cases)
— 20.4% more cases per 100k residents than Alabama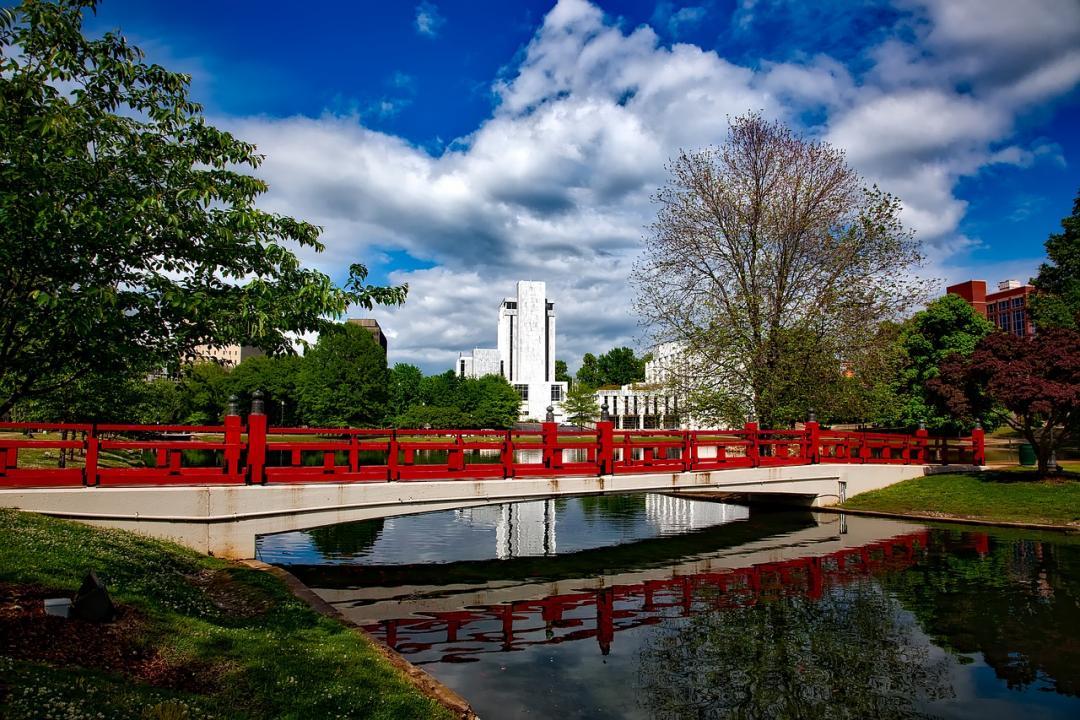 Pixabay
#2. Madison County
– Population that is fully vaccinated: 63.5% (236,684 fully vaccinated)
— 22.4% higher vaccination rate than Alabama
– Cumulative deaths per 100k: 265 (987 total deaths)
— 34.9% less deaths per 100k residents than Alabama
– Cumulative cases per 100k: 26,814 (99,992 total cases)
— 8.5% less cases per 100k residents than Alabama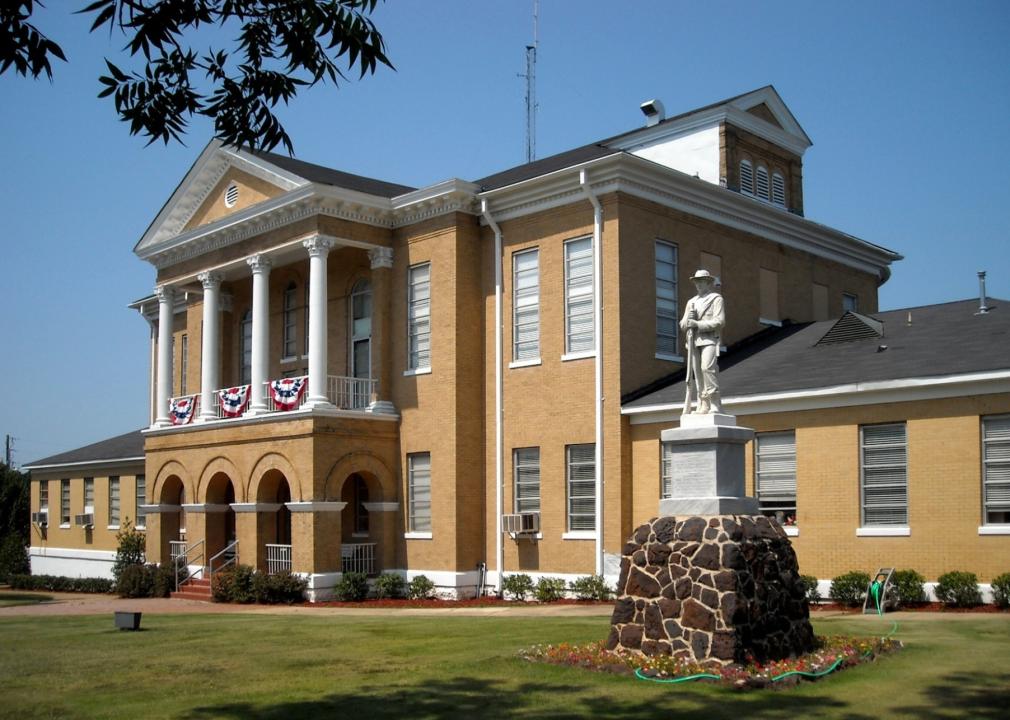 RuralSWAlabama (Billy Milstead) // Wikimedia Commons
#1. Choctaw County
– Population that is fully vaccinated: 67.4% (8,490 fully vaccinated)
— 29.9% higher vaccination rate than Alabama
– Cumulative deaths per 100k: 294 (37 total deaths)
— 27.8% less deaths per 100k residents than Alabama
– Cumulative cases per 100k: 17,031 (2,144 total cases)
— 41.9% less cases per 100k residents than Alabama
More Stacker