Counties with highest COVID-19 infection rates in Alabama
Published 1:13 pm Thursday, April 21, 2022

DXR // Wikimedia Commons
Counties with highest COVID-19 infection rates in Alabama
The vaccine deployment in December 2020 signaled a turning point in the COVID-19 pandemic. By the end of May 2021, 40% of the U.S. population was fully vaccinated. But as vaccination rates lagged over the summer, new surges of COVID-19 came, including Delta in the summer of 2021, and now the Omicron variant, which comprises the majority of cases in the U.S.
Researchers around the world have reported that Omicron is more transmissible than Delta, making breakthrough and repeat infections more likely.
The United States as of Apr. 20 reached 989,573 COVID-19-related deaths and 80.7 million COVID-19 cases, according to Johns Hopkins University. Currently, 66% of the population is fully vaccinated, and 45% of vaccinated people have received booster doses.
Stacker compiled a list of the counties with highest COVID-19 infection rates in Alabama using data from the U.S. Department of Health & Human Services and vaccination data from Covid Act Now. Counties are ranked by the highest infection rate per 100,000 residents within the week leading up to Apr. 19, 2022. Cumulative cases per 100,000 served as a tiebreaker.
Keep reading to see whether your county ranks among the highest COVID-19 infection rates in your state.
Canva
#50. Bibb County, AL
– New cases per 100k in the past week: 13 (3 new cases, -50% change from previous week)
– Cumulative cases per 100k: 28,704 (6,428 total cases)
— 8.4% more cases per 100k residents than Alabama
– Cumulative deaths per 100k: 460 (103 total deaths)
— 15.6% more deaths per 100k residents than Alabama
– Population that is fully vaccinated: 34.7% (7,770 fully vaccinated)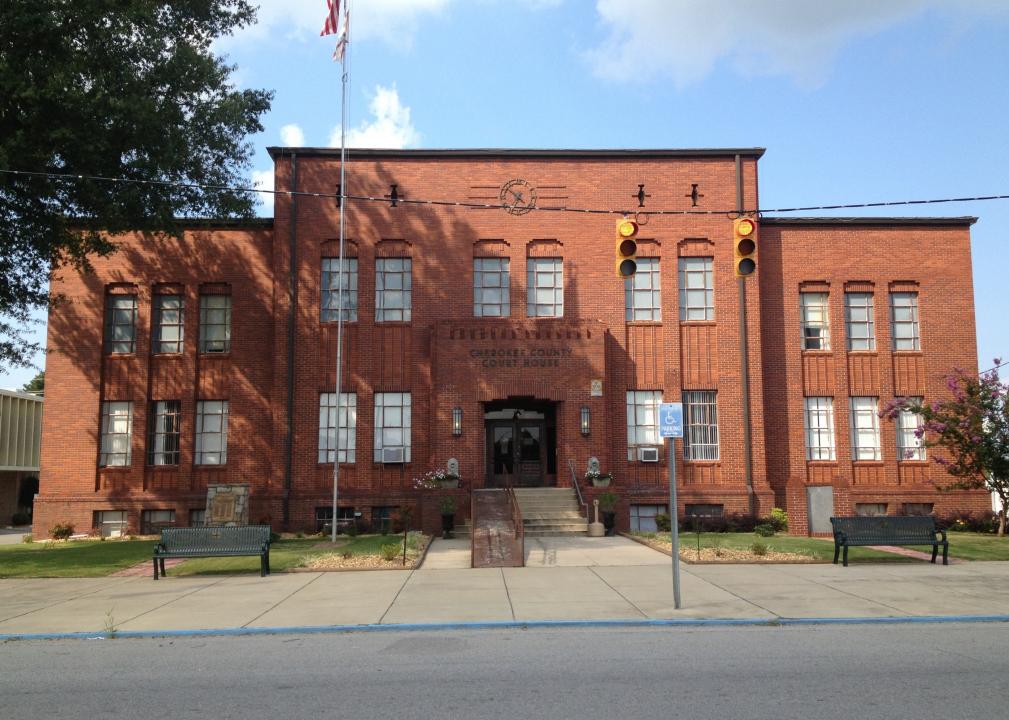 Rudi Weikard // Wikimedia Commons
#49. Cherokee County, AL
– New cases per 100k in the past week: 15 (4 new cases, 0% change from previous week)
– Cumulative cases per 100k: 19,545 (5,120 total cases)
— 26.2% less cases per 100k residents than Alabama
– Cumulative deaths per 100k: 328 (86 total deaths)
— 17.6% less deaths per 100k residents than Alabama
– Population that is fully vaccinated: 30.7% (8,036 fully vaccinated)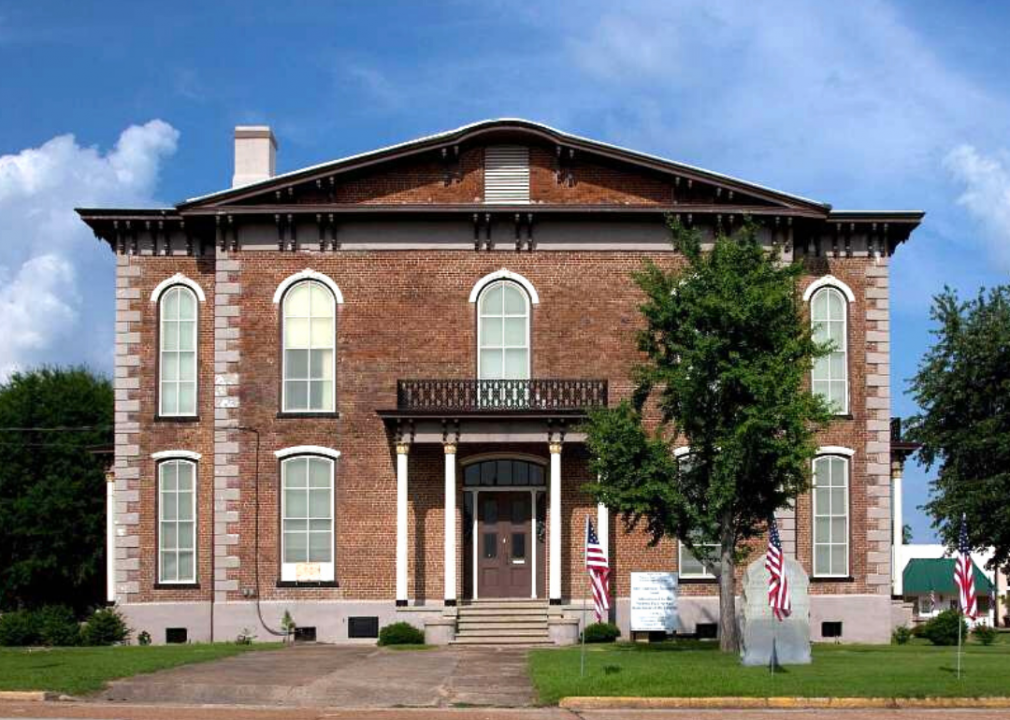 Public Domain
#48. Pickens County, AL
– New cases per 100k in the past week: 15 (3 new cases, +50% change from previous week)
– Cumulative cases per 100k: 26,377 (5,257 total cases)
— 0.4% less cases per 100k residents than Alabama
– Cumulative deaths per 100k: 512 (102 total deaths)
— 28.6% more deaths per 100k residents than Alabama
– Population that is fully vaccinated: 49.5% (9,865 fully vaccinated)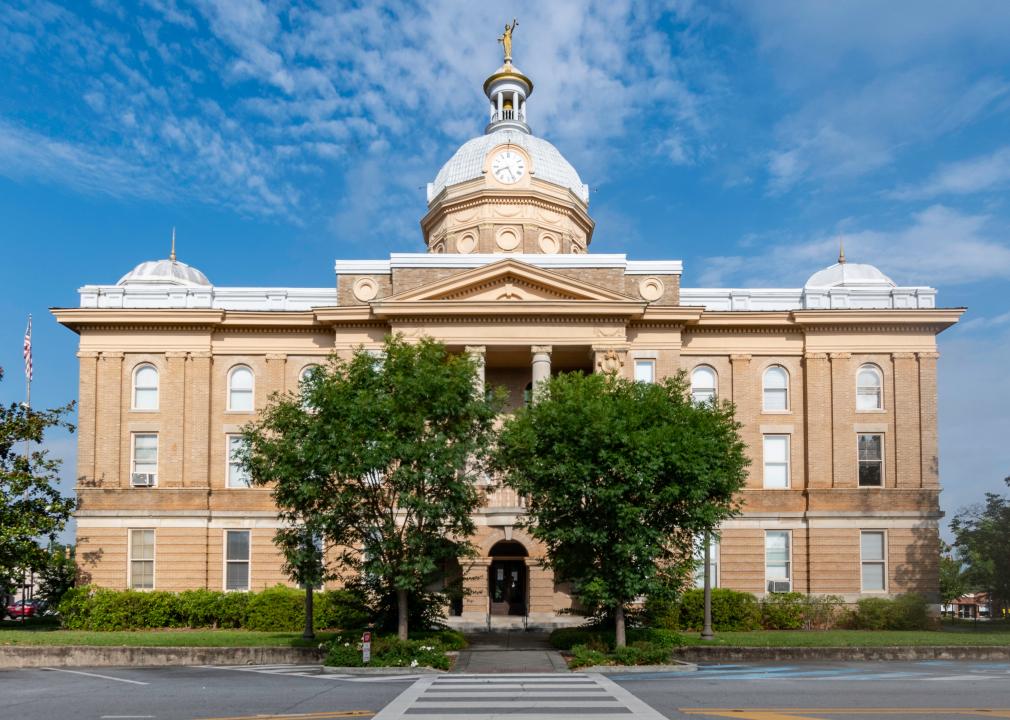 JNix // Shutterstock
#47. Clay County, AL
– New cases per 100k in the past week: 15 (2 new cases, 0% change from previous week)
– Cumulative cases per 100k: 30,842 (4,082 total cases)
— 16.5% more cases per 100k residents than Alabama
– Cumulative deaths per 100k: 612 (81 total deaths)
— 53.8% more deaths per 100k residents than Alabama
– Population that is fully vaccinated: 41.7% (5,518 fully vaccinated)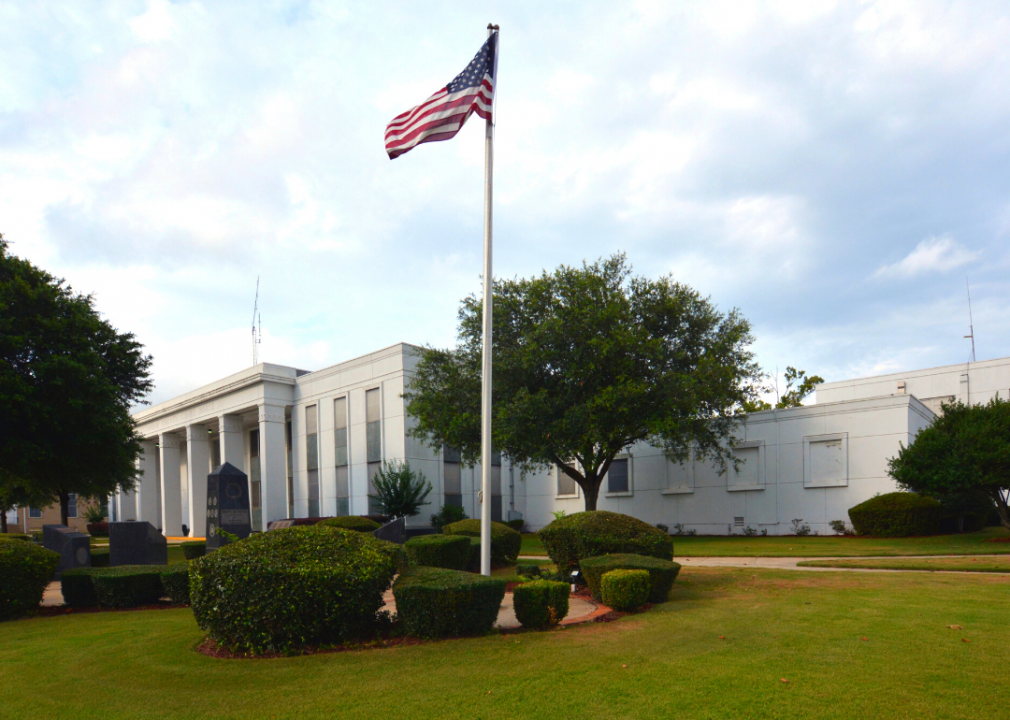 Canva
#46. Escambia County, AL
– New cases per 100k in the past week: 16 (6 new cases, -68% change from previous week)
– Cumulative cases per 100k: 27,339 (10,015 total cases)
— 3.2% more cases per 100k residents than Alabama
– Cumulative deaths per 100k: 464 (170 total deaths)
— 16.6% more deaths per 100k residents than Alabama
– Population that is fully vaccinated: 36.5% (13,378 fully vaccinated)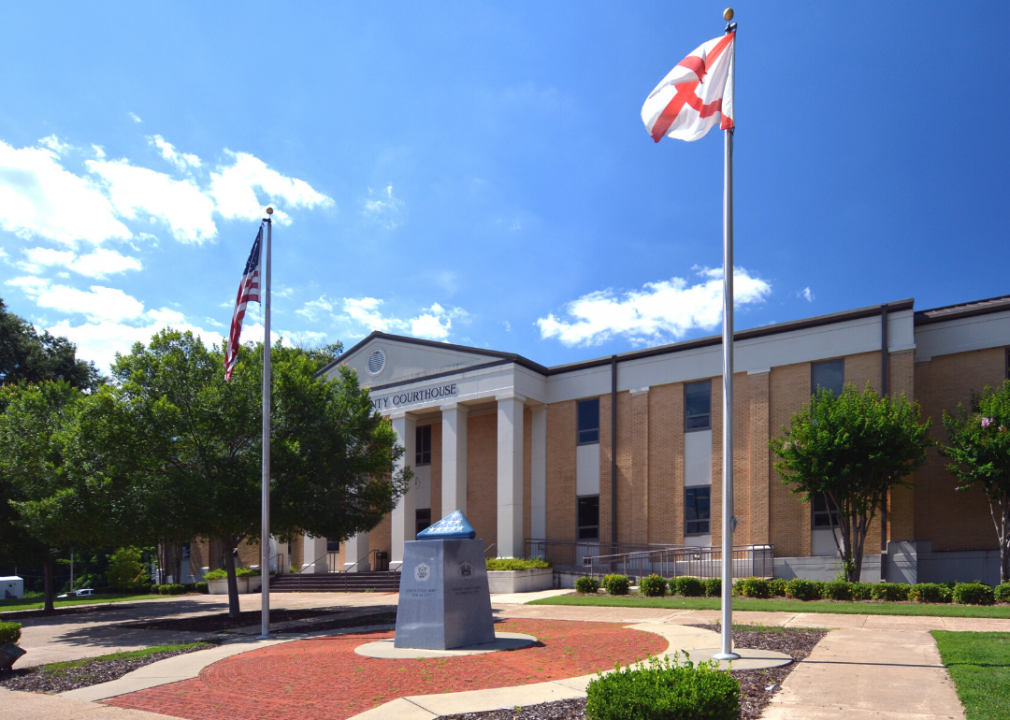 Canva
#45. Marengo County, AL
– New cases per 100k in the past week: 16 (3 new cases, 0% change from previous week)
– Cumulative cases per 100k: 27,504 (5,188 total cases)
— 3.9% more cases per 100k residents than Alabama
– Cumulative deaths per 100k: 573 (108 total deaths)
— 44.0% more deaths per 100k residents than Alabama
– Population that is fully vaccinated: 54.3% (10,250 fully vaccinated)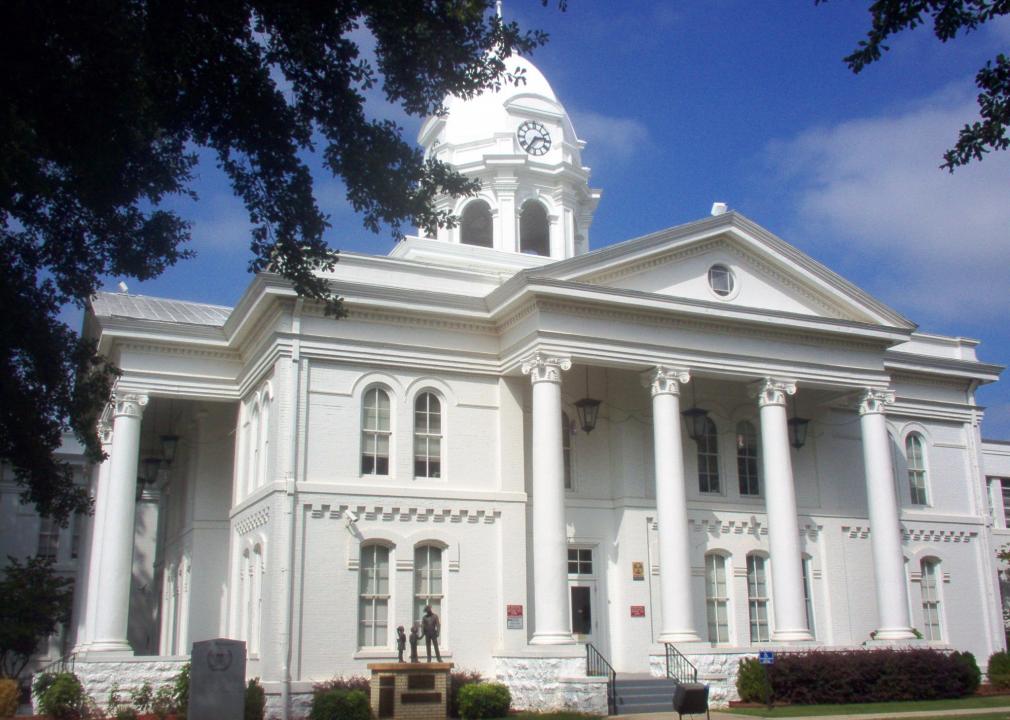 Dailynetworks // Wikimedia Commons
#44. Colbert County, AL
– New cases per 100k in the past week: 16 (9 new cases, -44% change from previous week)
– Cumulative cases per 100k: 29,549 (16,323 total cases)
— 11.6% more cases per 100k residents than Alabama
– Cumulative deaths per 100k: 471 (260 total deaths)
— 18.3% more deaths per 100k residents than Alabama
– Population that is fully vaccinated: 48.0% (26,521 fully vaccinated)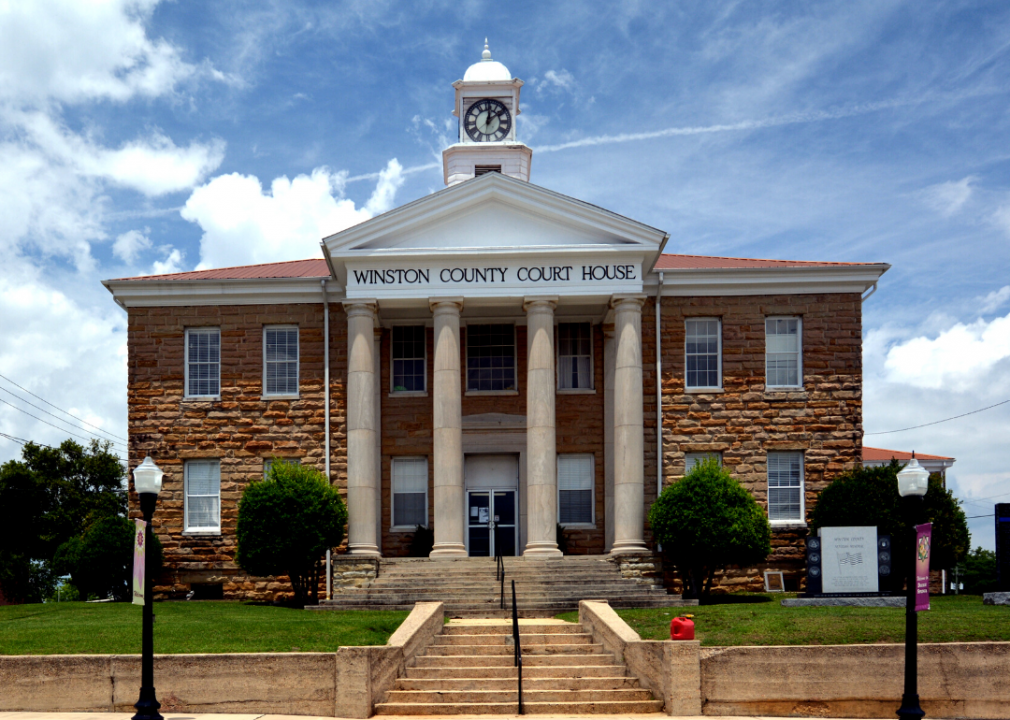 Canva
#43. Winston County, AL
– New cases per 100k in the past week: 17 (4 new cases, 0% change from previous week)
– Cumulative cases per 100k: 32,024 (7,567 total cases)
— 20.9% more cases per 100k residents than Alabama
– Cumulative deaths per 100k: 550 (130 total deaths)
— 38.2% more deaths per 100k residents than Alabama
– Population that is fully vaccinated: 22.0% (5,196 fully vaccinated)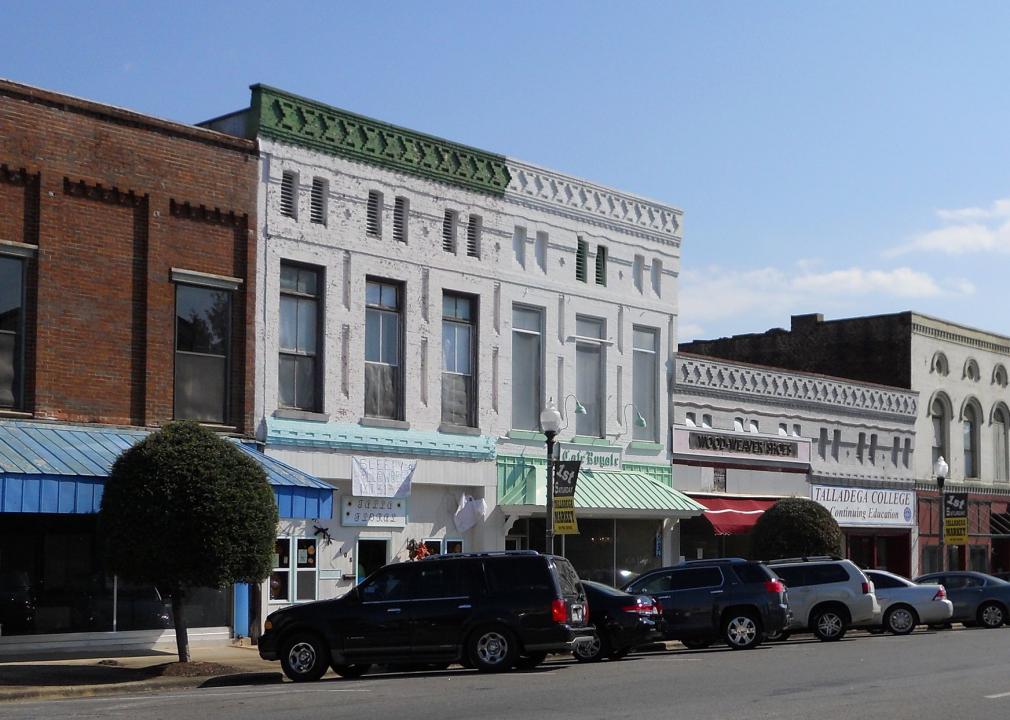 Rivers Langley; SaveRivers // Wikimedia Commons
#42. Talladega County, AL
– New cases per 100k in the past week: 18 (14 new cases, -22% change from previous week)
– Cumulative cases per 100k: 27,913 (22,324 total cases)
— 5.4% more cases per 100k residents than Alabama
– Cumulative deaths per 100k: 470 (376 total deaths)
— 18.1% more deaths per 100k residents than Alabama
– Population that is fully vaccinated: 36.6% (29,233 fully vaccinated)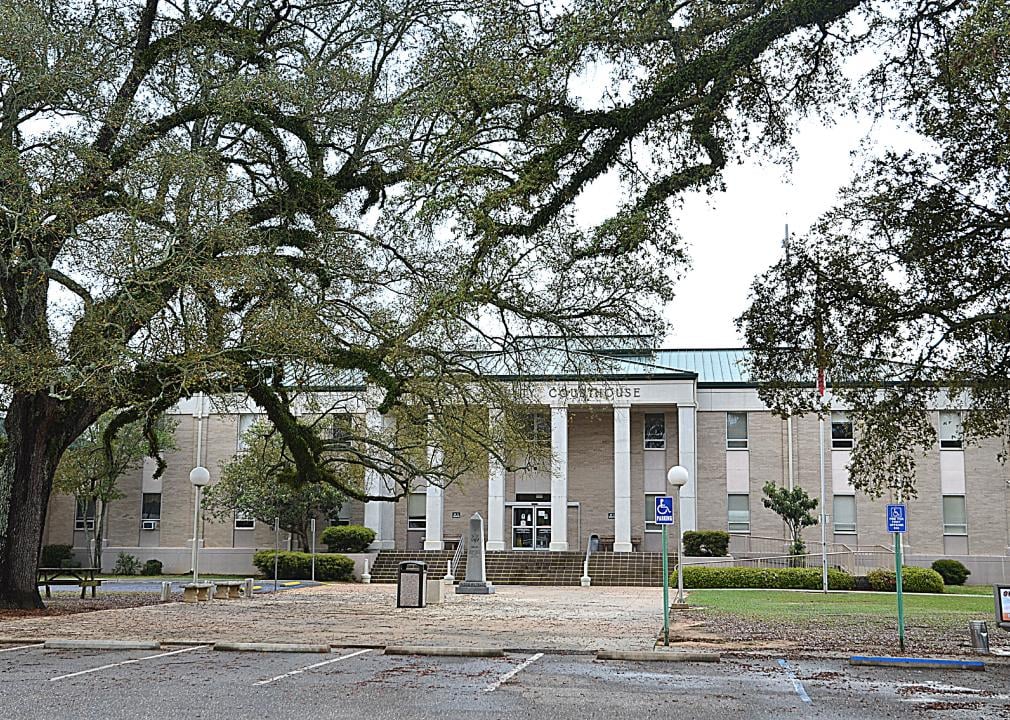 Wmr36104 // Wikimedia Commons
#41. Geneva County, AL
– New cases per 100k in the past week: 19 (5 new cases, +150% change from previous week)
– Cumulative cases per 100k: 24,613 (6,466 total cases)
— 7.1% less cases per 100k residents than Alabama
– Cumulative deaths per 100k: 620 (163 total deaths)
— 55.8% more deaths per 100k residents than Alabama
– Population that is fully vaccinated: 40.3% (10,584 fully vaccinated)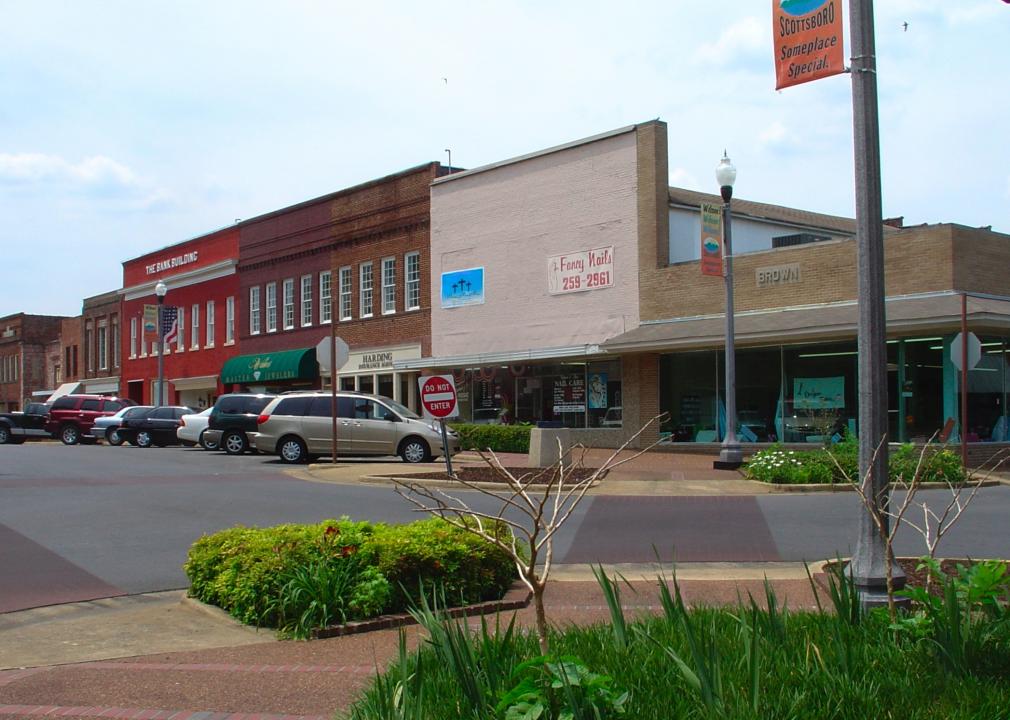 Springfieldohio // Wikimedia Commons
#40. Jackson County, AL
– New cases per 100k in the past week: 19 (10 new cases, +233% change from previous week)
– Cumulative cases per 100k: 29,113 (15,030 total cases)
— 9.9% more cases per 100k residents than Alabama
– Cumulative deaths per 100k: 467 (241 total deaths)
— 17.3% more deaths per 100k residents than Alabama
– Population that is fully vaccinated: 49.4% (25,485 fully vaccinated)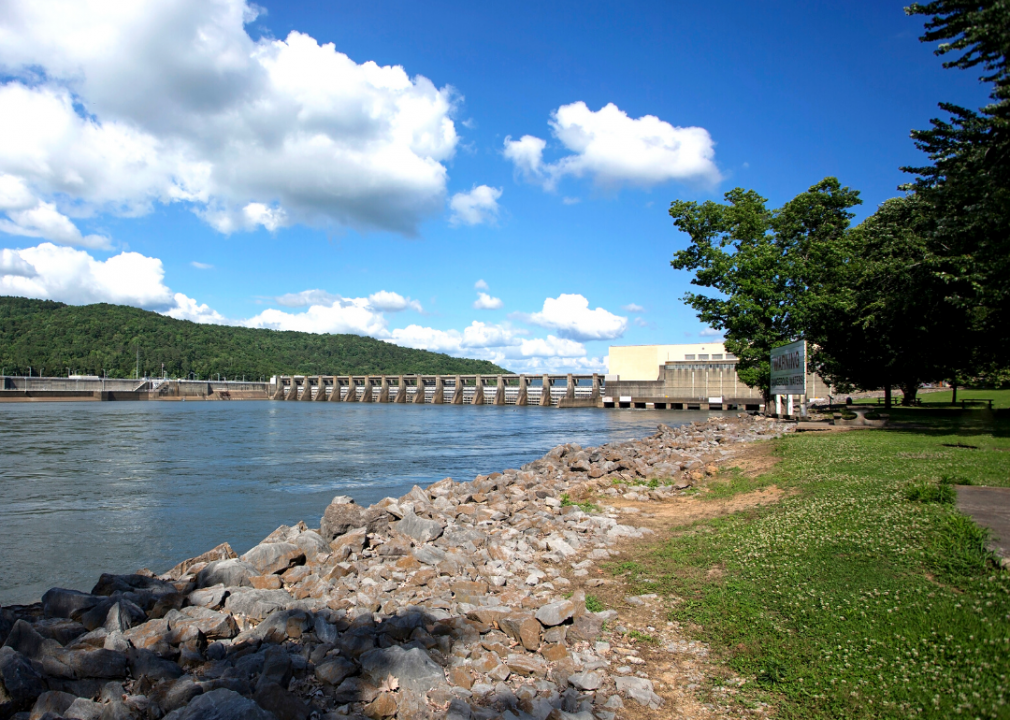 Canva
#39. Marshall County, AL
– New cases per 100k in the past week: 21 (20 new cases, +900% change from previous week)
– Cumulative cases per 100k: 28,274 (27,362 total cases)
— 6.8% more cases per 100k residents than Alabama
– Cumulative deaths per 100k: 403 (390 total deaths)
— 1.3% more deaths per 100k residents than Alabama
– Population that is fully vaccinated: 45.7% (44,182 fully vaccinated)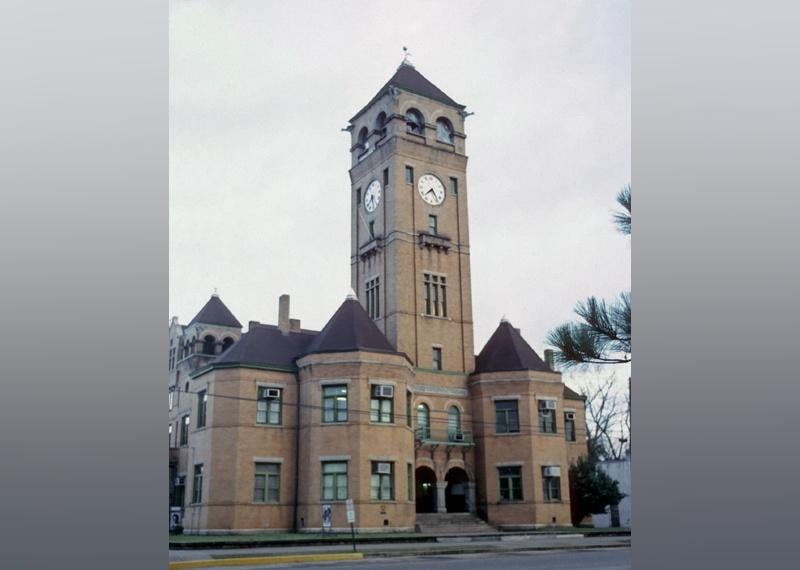 Mccallk69 // Shutterstock
#38. Macon County, AL
– New cases per 100k in the past week: 22 (4 new cases, -20% change from previous week)
– Cumulative cases per 100k: 21,402 (3,867 total cases)
— 19.2% less cases per 100k residents than Alabama
– Cumulative deaths per 100k: 465 (84 total deaths)
— 16.8% more deaths per 100k residents than Alabama
– Population that is fully vaccinated: 47.9% (8,660 fully vaccinated)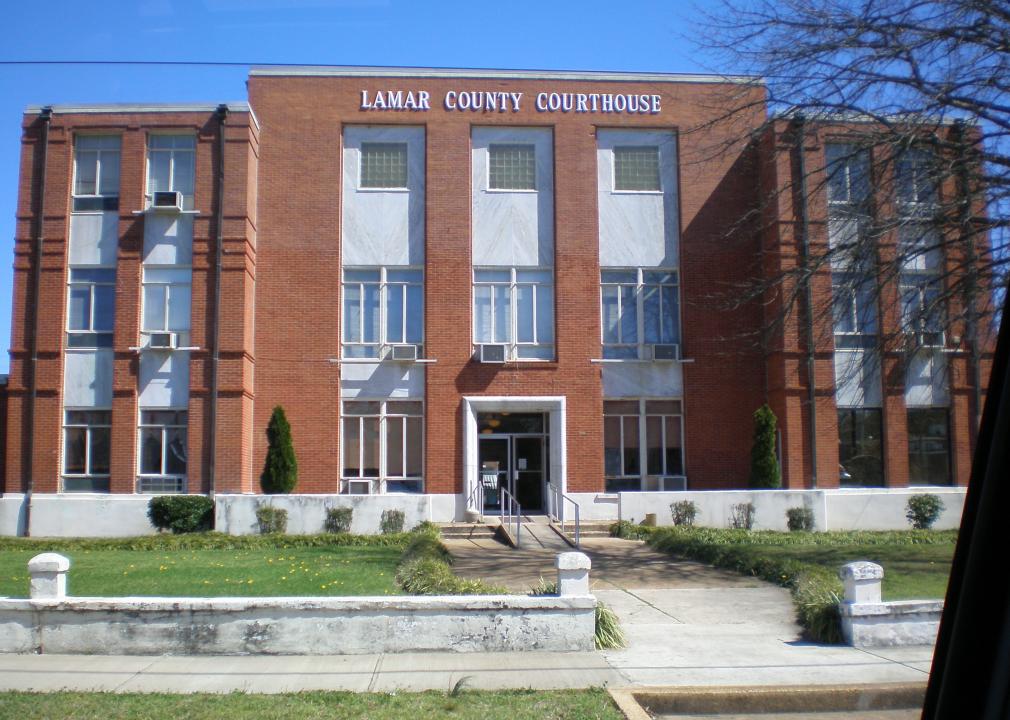 Myself – Nathon Morris // Wikimedia Commons
#37. Lamar County, AL
– New cases per 100k in the past week: 22 (3 new cases, +200% change from previous week)
– Cumulative cases per 100k: 26,997 (3,727 total cases)
— 1.9% more cases per 100k residents than Alabama
– Cumulative deaths per 100k: 464 (64 total deaths)
— 16.6% more deaths per 100k residents than Alabama
– Population that is fully vaccinated: 43.9% (6,067 fully vaccinated)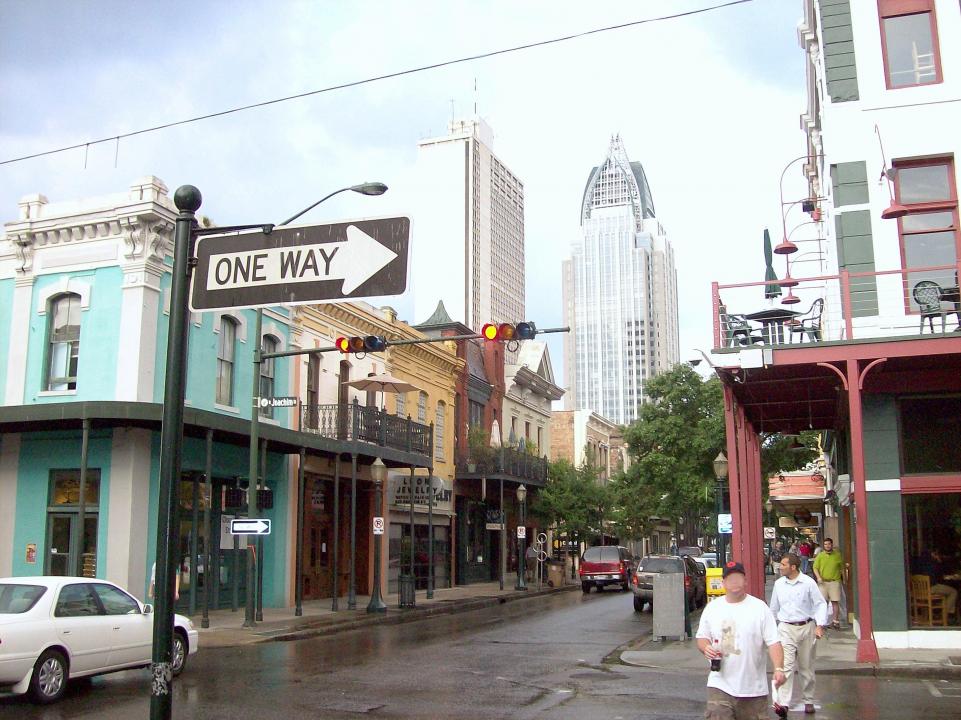 Altairisfar // Wikicommons
#36. Mobile County, AL
– New cases per 100k in the past week: 22 (90 new cases, 0% change from previous week)
– Cumulative cases per 100k: 27,397 (113,207 total cases)
— 3.5% more cases per 100k residents than Alabama
– Cumulative deaths per 100k: 398 (1,645 total deaths)
— 0.0% less deaths per 100k residents than Alabama
– Population that is fully vaccinated: 49.9% (206,183 fully vaccinated)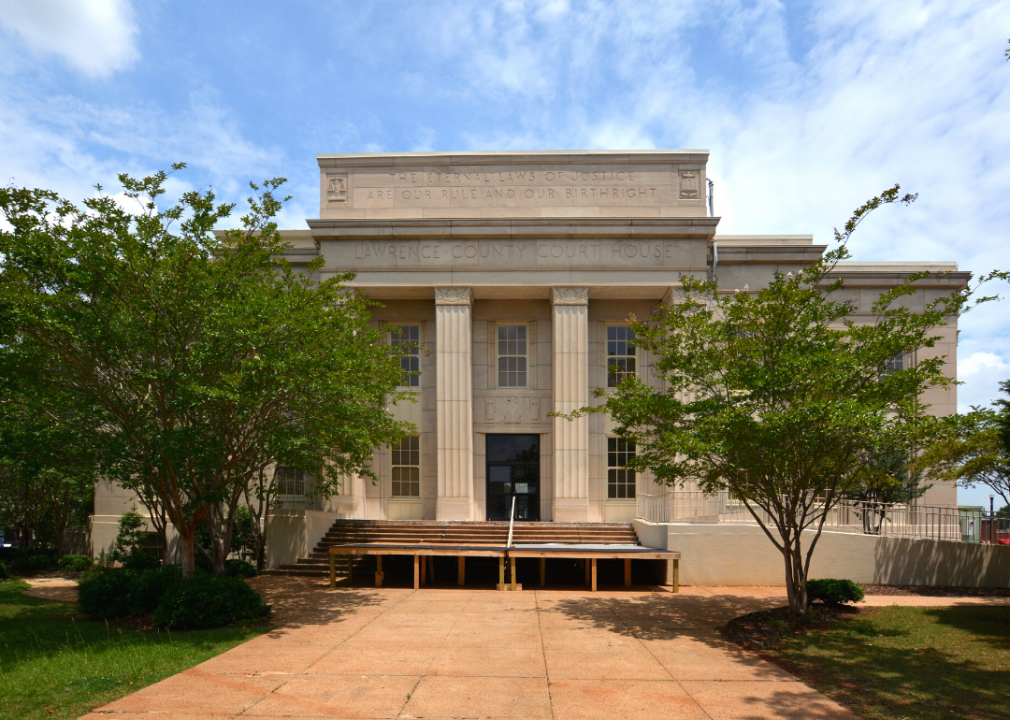 Canva
#35. Lawrence County, AL
– New cases per 100k in the past week: 24 (8 new cases, +33% change from previous week)
– Cumulative cases per 100k: 23,290 (7,668 total cases)
— 12.1% less cases per 100k residents than Alabama
– Cumulative deaths per 100k: 480 (158 total deaths)
— 20.6% more deaths per 100k residents than Alabama
– Population that is fully vaccinated: 47.1% (15,506 fully vaccinated)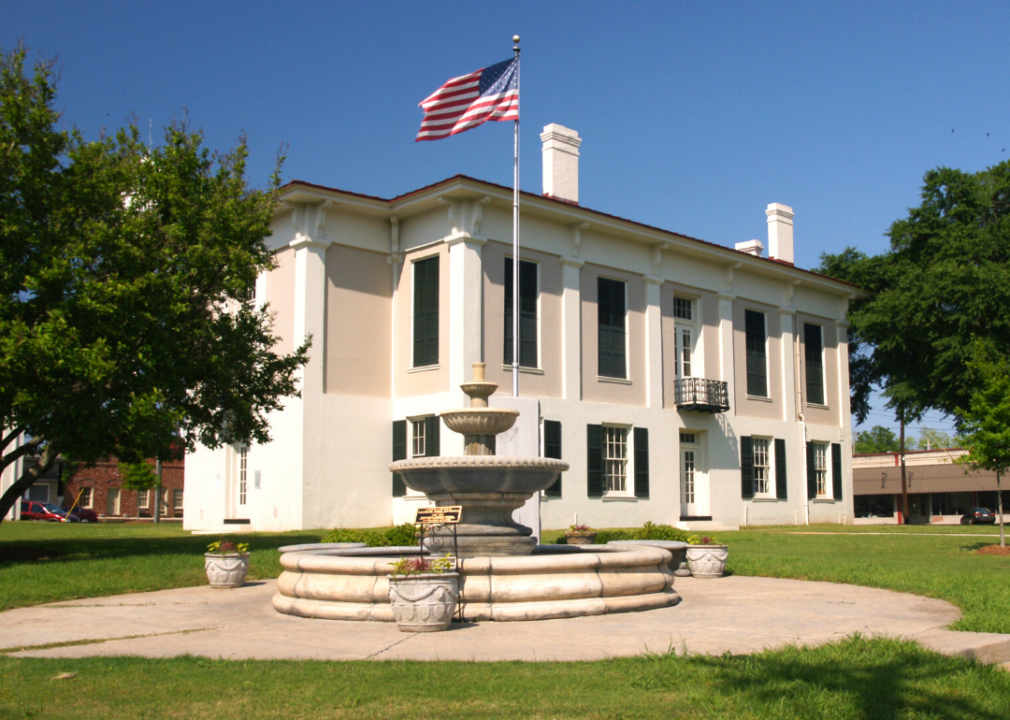 Canva
#34. Greene County, AL
– New cases per 100k in the past week: 25 (2 new cases, +100% change from previous week)
– Cumulative cases per 100k: 23,067 (1,871 total cases)
— 12.9% less cases per 100k residents than Alabama
– Cumulative deaths per 100k: 592 (48 total deaths)
— 48.7% more deaths per 100k residents than Alabama
– Population that is fully vaccinated: 50.7% (4,116 fully vaccinated)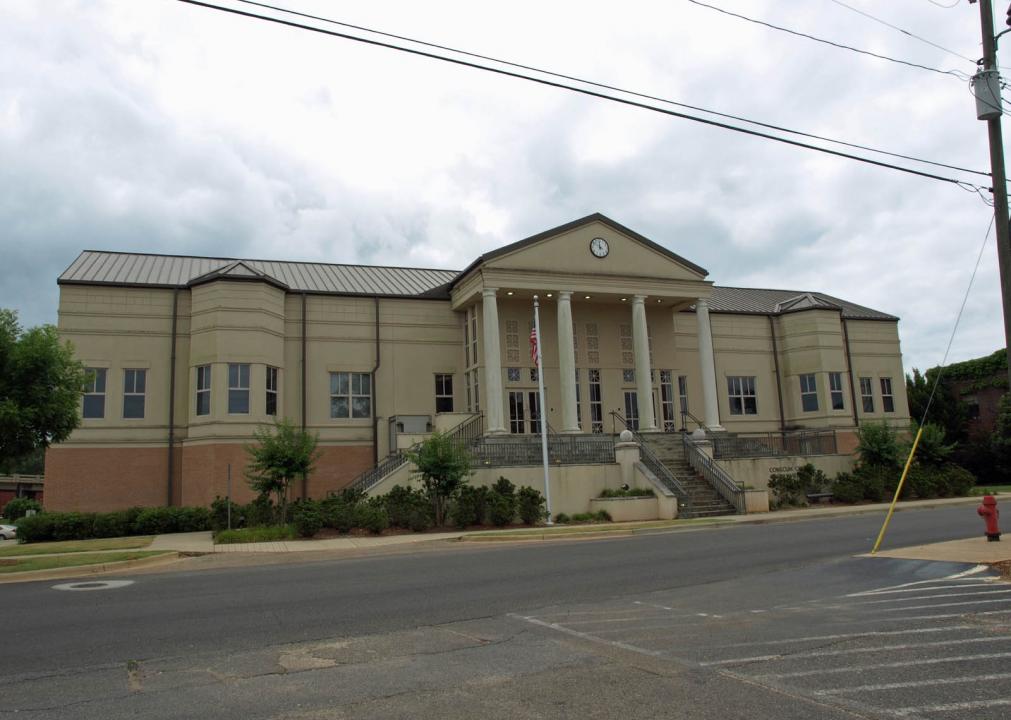 Chris Pruitt // Wikimedia Commons
#33. Conecuh County, AL
– New cases per 100k in the past week: 25 (3 new cases, -40% change from previous week)
– Cumulative cases per 100k: 23,726 (2,863 total cases)
— 10.4% less cases per 100k residents than Alabama
– Cumulative deaths per 100k: 588 (71 total deaths)
— 47.7% more deaths per 100k residents than Alabama
– Population that is fully vaccinated: 43.6% (5,264 fully vaccinated)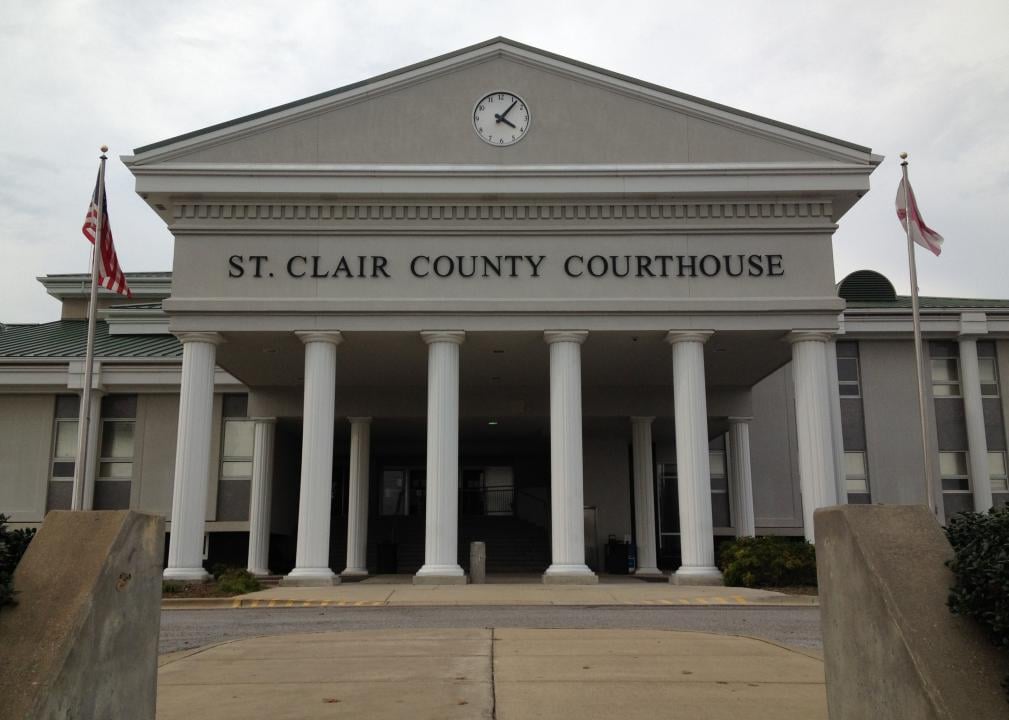 Rudi Weikard // Wikimedia Commons
#32. St. Clair County, AL
– New cases per 100k in the past week: 25 (22 new cases, +10% change from previous week)
– Cumulative cases per 100k: 28,239 (25,277 total cases)
— 6.6% more cases per 100k residents than Alabama
– Cumulative deaths per 100k: 463 (414 total deaths)
— 16.3% more deaths per 100k residents than Alabama
– Population that is fully vaccinated: 39.1% (34,994 fully vaccinated)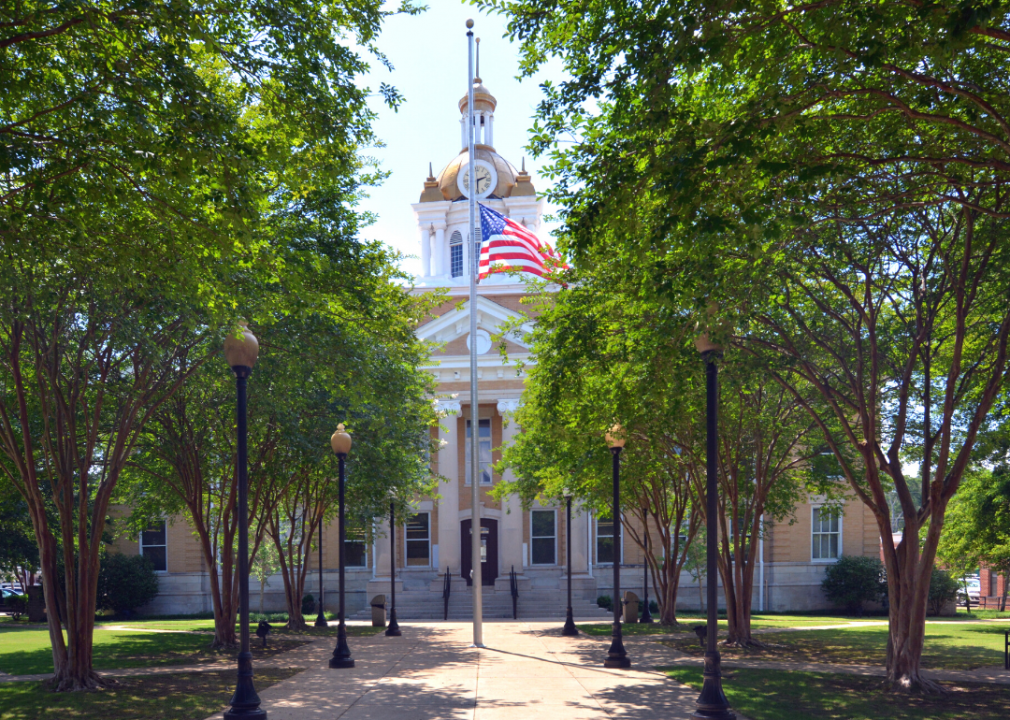 Canva
#31. Fayette County, AL
– New cases per 100k in the past week: 25 (4 new cases, +100% change from previous week)
– Cumulative cases per 100k: 30,555 (4,981 total cases)
— 15.4% more cases per 100k residents than Alabama
– Cumulative deaths per 100k: 589 (96 total deaths)
— 48.0% more deaths per 100k residents than Alabama
– Population that is fully vaccinated: 35.0% (5,703 fully vaccinated)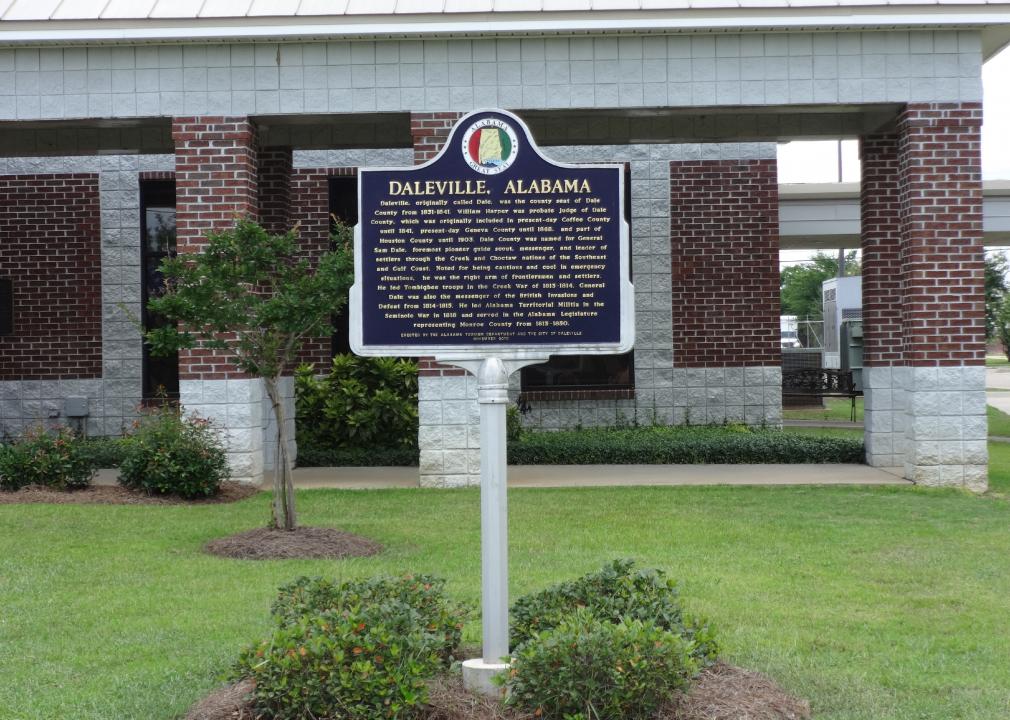 Michael Rivera // Wikimedia Commons
#30. Dale County, AL
– New cases per 100k in the past week: 26 (13 new cases, +550% change from previous week)
– Cumulative cases per 100k: 26,186 (12,876 total cases)
— 1.1% less cases per 100k residents than Alabama
– Cumulative deaths per 100k: 470 (231 total deaths)
— 18.1% more deaths per 100k residents than Alabama
– Population that is fully vaccinated: 47.9% (23,560 fully vaccinated)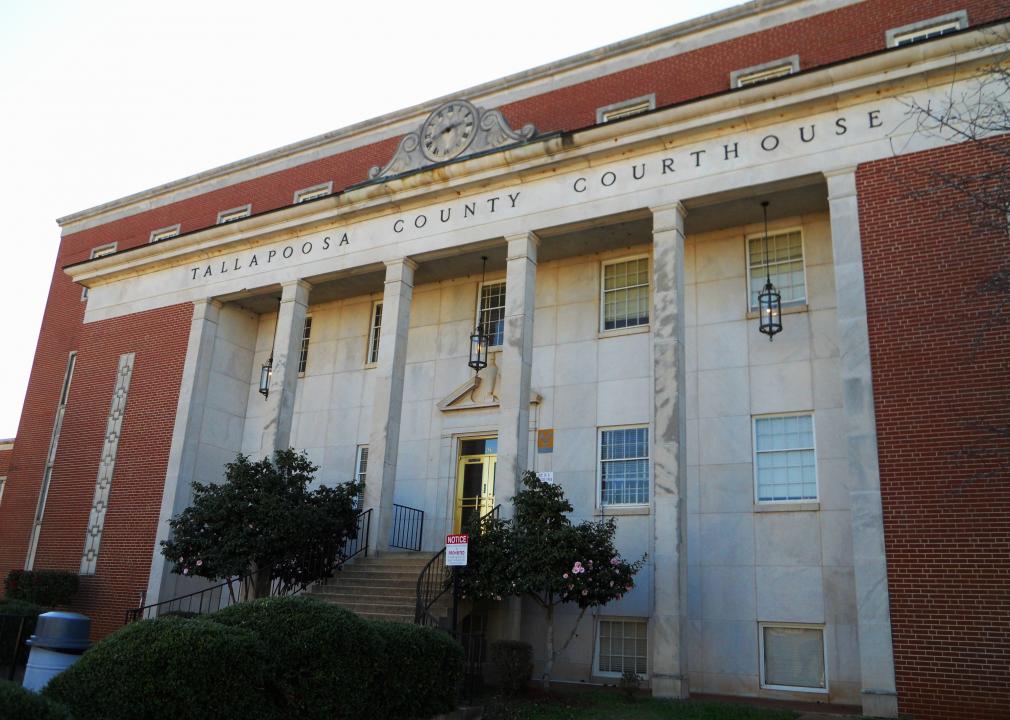 Rivers A. Langley; SaveRivers // Wikimedia Commons
#29. Tallapoosa County, AL
– New cases per 100k in the past week: 27 (11 new cases, +10% change from previous week)
– Cumulative cases per 100k: 28,238 (11,399 total cases)
— 6.6% more cases per 100k residents than Alabama
– Cumulative deaths per 100k: 580 (234 total deaths)
— 45.7% more deaths per 100k residents than Alabama
– Population that is fully vaccinated: 38.5% (15,553 fully vaccinated)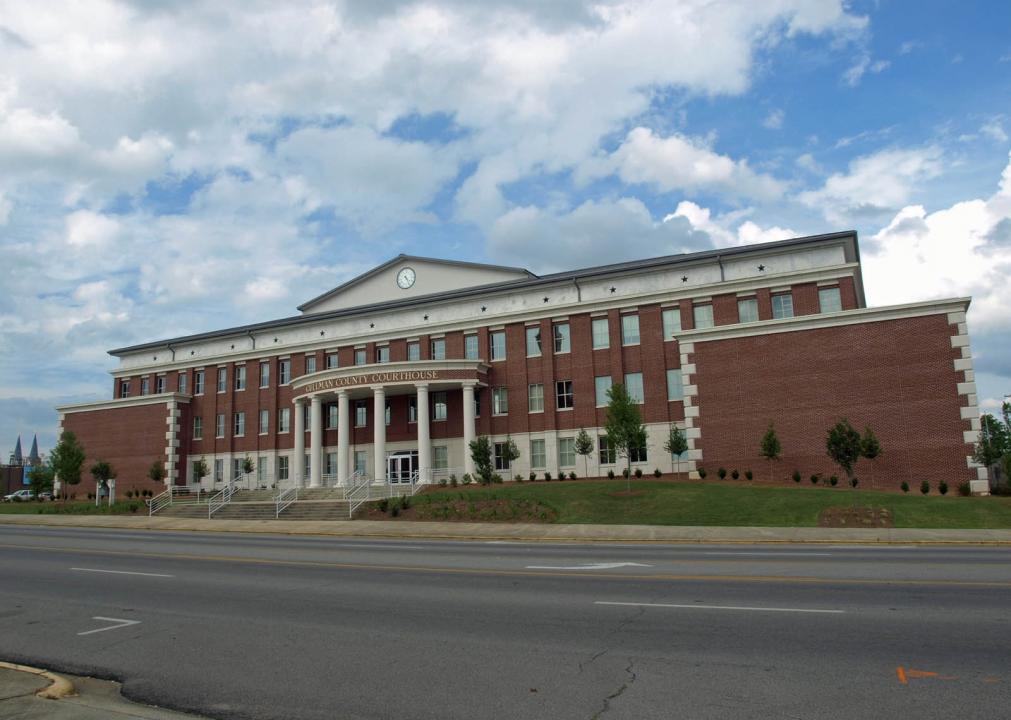 Chris Pruitt // Wikimedia Commons
#28. Cullman County, AL
– New cases per 100k in the past week: 27 (23 new cases, +15% change from previous week)
– Cumulative cases per 100k: 29,300 (24,544 total cases)
— 10.6% more cases per 100k residents than Alabama
– Cumulative deaths per 100k: 436 (365 total deaths)
— 9.5% more deaths per 100k residents than Alabama
– Population that is fully vaccinated: 38.2% (32,011 fully vaccinated)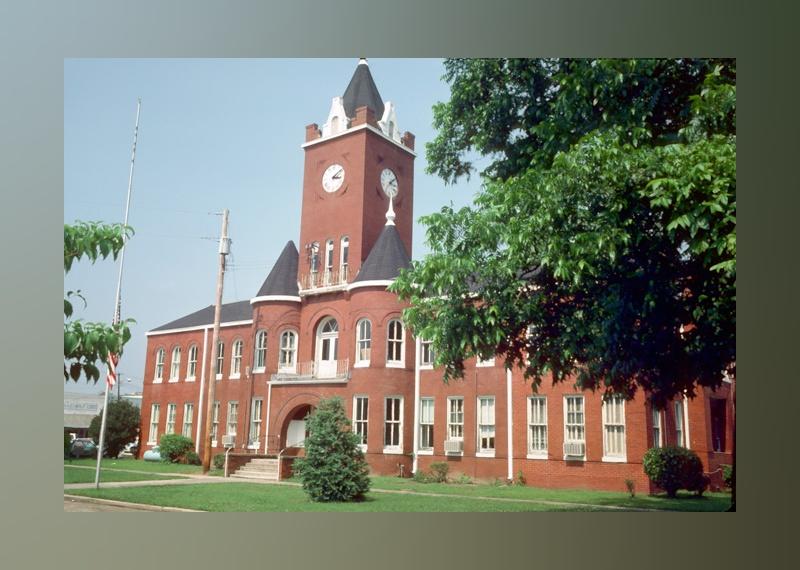 Calvin Beale // Wikimedia Commons
#27. Coffee County, AL
– New cases per 100k in the past week: 29 (15 new cases, +150% change from previous week)
– Cumulative cases per 100k: 25,947 (13,581 total cases)
— 2.0% less cases per 100k residents than Alabama
– Cumulative deaths per 100k: 441 (231 total deaths)
— 10.8% more deaths per 100k residents than Alabama
– Population that is fully vaccinated: 47.3% (24,733 fully vaccinated)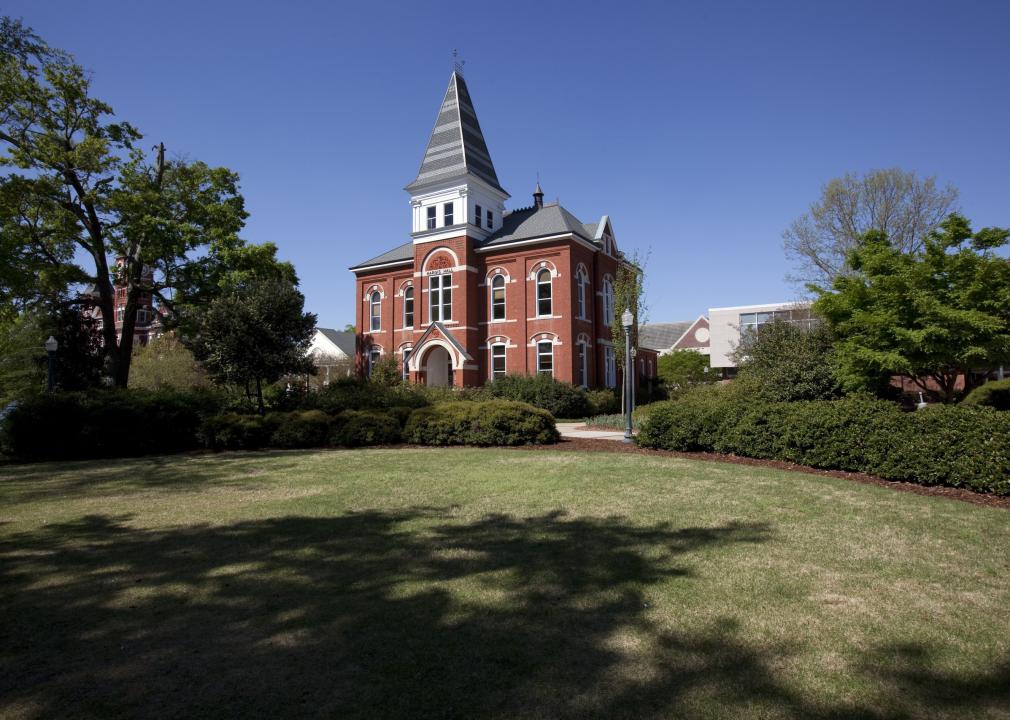 Library of Congress
#26. Lee County, AL
– New cases per 100k in the past week: 30 (49 new cases, +206% change from previous week)
– Cumulative cases per 100k: 22,911 (37,699 total cases)
— 13.5% less cases per 100k residents than Alabama
– Cumulative deaths per 100k: 205 (338 total deaths)
— 48.5% less deaths per 100k residents than Alabama
– Population that is fully vaccinated: 40.2% (66,073 fully vaccinated)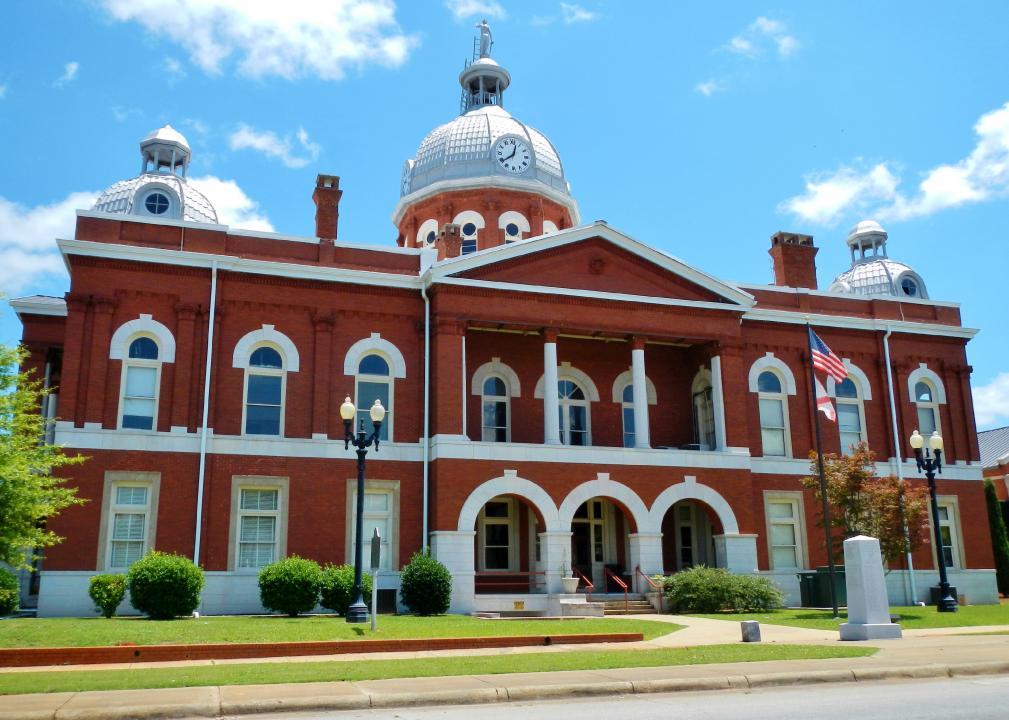 Rivers Langley; SaveRivers // Wikimedia Commons
#25. Chambers County, AL
– New cases per 100k in the past week: 30 (10 new cases, +100% change from previous week)
– Cumulative cases per 100k: 25,513 (8,484 total cases)
— 3.7% less cases per 100k residents than Alabama
– Cumulative deaths per 100k: 487 (162 total deaths)
— 22.4% more deaths per 100k residents than Alabama
– Population that is fully vaccinated: 31.4% (10,456 fully vaccinated)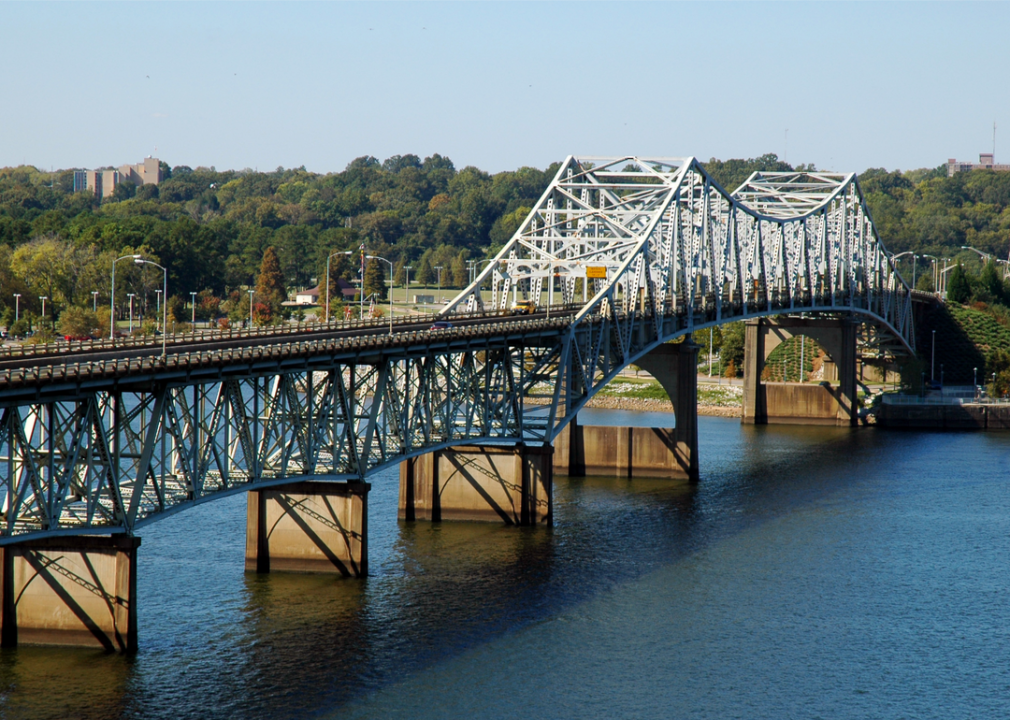 Wayne James // Shutterstock
#24. Lauderdale County, AL
– New cases per 100k in the past week: 30 (28 new cases, +27% change from previous week)
– Cumulative cases per 100k: 26,017 (24,125 total cases)
— 1.8% less cases per 100k residents than Alabama
– Cumulative deaths per 100k: 423 (392 total deaths)
— 6.3% more deaths per 100k residents than Alabama
– Population that is fully vaccinated: 46.6% (43,182 fully vaccinated)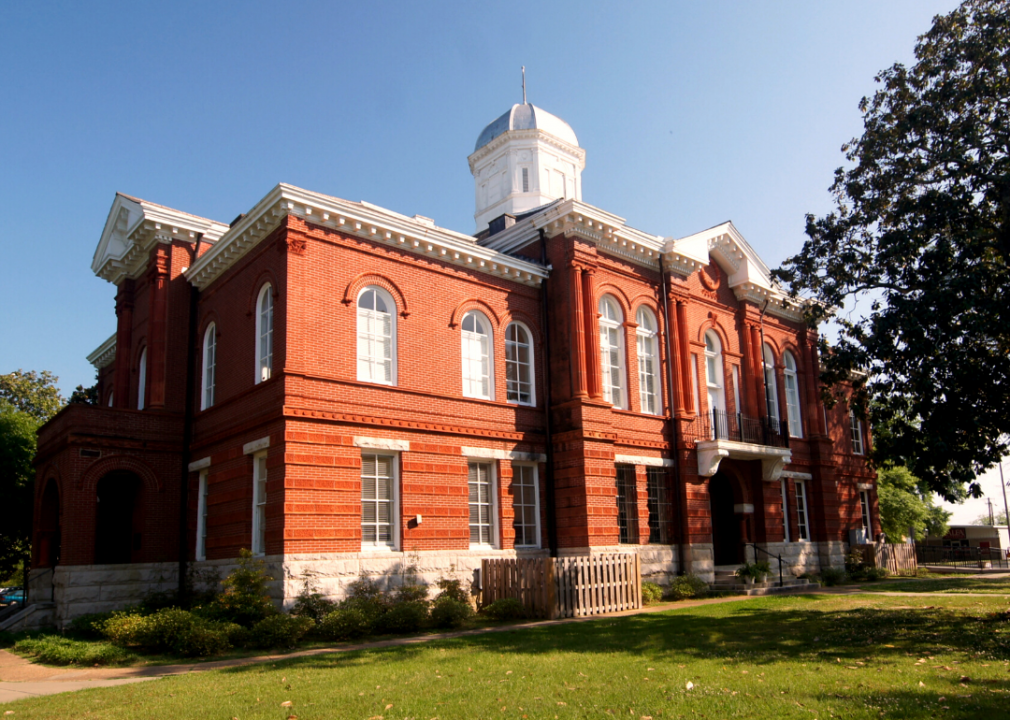 Canva
#23. Sumter County, AL
– New cases per 100k in the past week: 32 (4 new cases, +300% change from previous week)
– Cumulative cases per 100k: 20,753 (2,579 total cases)
— 21.6% less cases per 100k residents than Alabama
– Cumulative deaths per 100k: 410 (51 total deaths)
— 3.0% more deaths per 100k residents than Alabama
– Population that is fully vaccinated: 51.3% (6,379 fully vaccinated)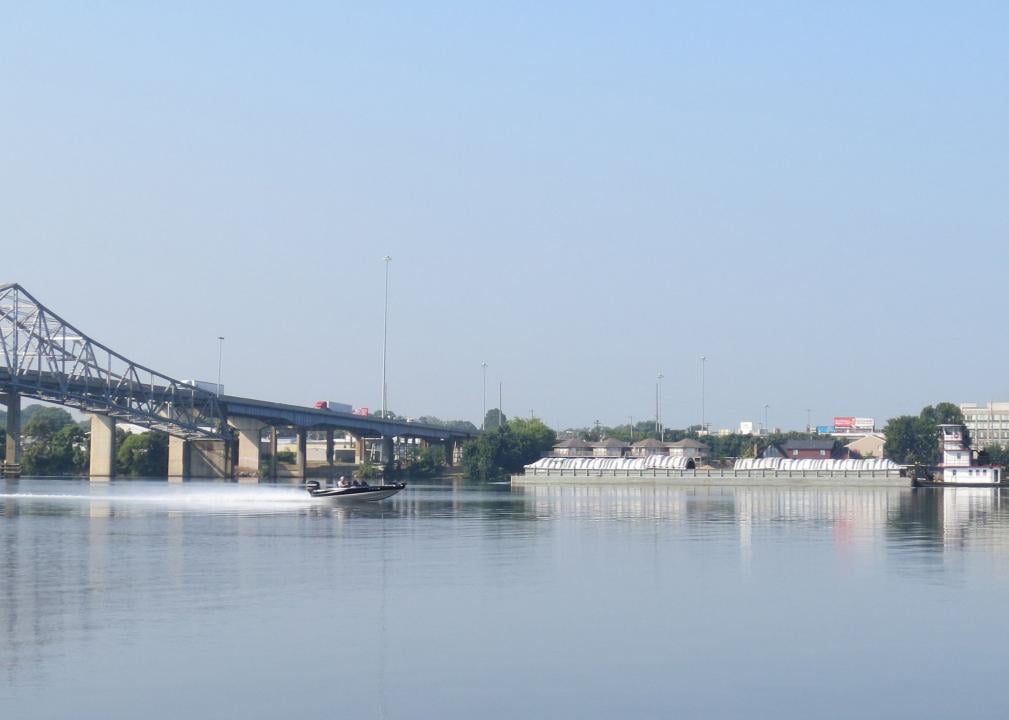 MPearsallArt // Wikimedia Commons
#22. Morgan County, AL
– New cases per 100k in the past week: 32 (38 new cases, +46% change from previous week)
– Cumulative cases per 100k: 30,130 (36,059 total cases)
— 13.8% more cases per 100k residents than Alabama
– Cumulative deaths per 100k: 429 (514 total deaths)
— 7.8% more deaths per 100k residents than Alabama
– Population that is fully vaccinated: 43.6% (52,177 fully vaccinated)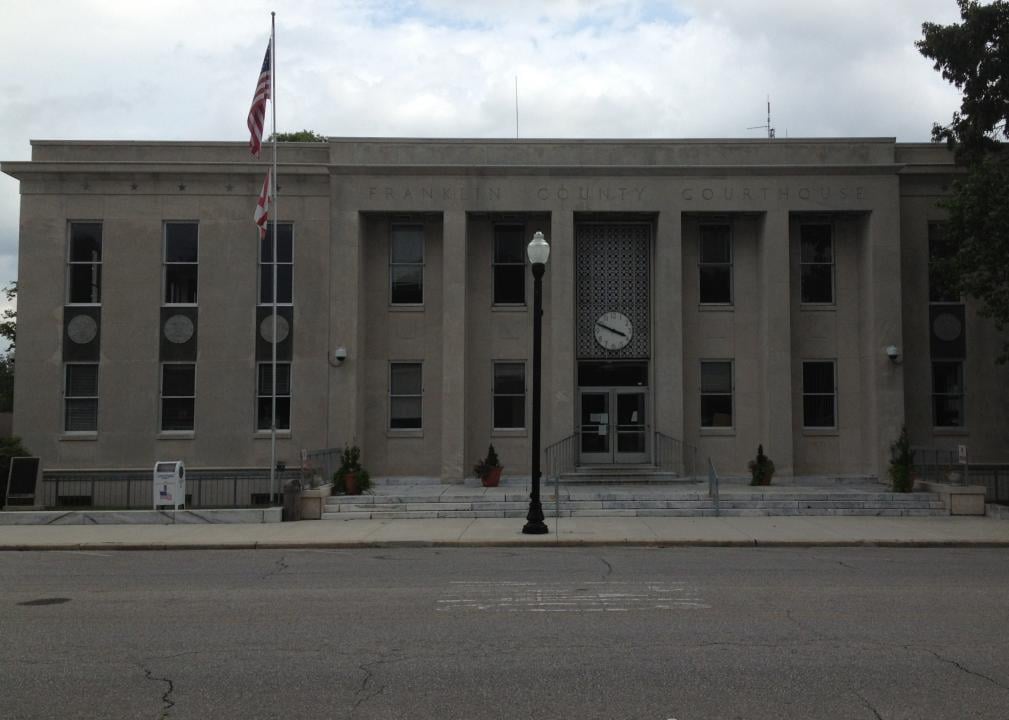 Rudi Weikard // Wikimedia Commons
#21. Franklin County, AL
– New cases per 100k in the past week: 32 (10 new cases, +233% change from previous week)
– Cumulative cases per 100k: 31,462 (9,867 total cases)
— 18.8% more cases per 100k residents than Alabama
– Cumulative deaths per 100k: 440 (138 total deaths)
— 10.6% more deaths per 100k residents than Alabama
– Population that is fully vaccinated: 43.6% (13,674 fully vaccinated)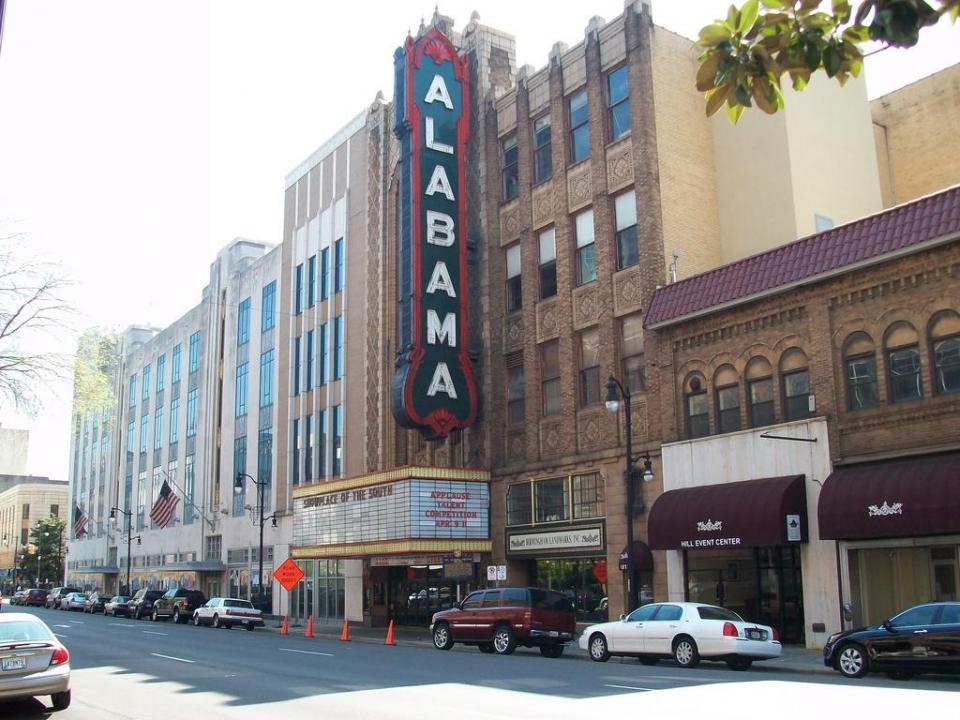 M Floyd // Flickr
#20. Jefferson County, AL
– New cases per 100k in the past week: 35 (231 new cases, +40% change from previous week)
– Cumulative cases per 100k: 28,070 (184,859 total cases)
— 6.0% more cases per 100k residents than Alabama
– Cumulative deaths per 100k: 357 (2,349 total deaths)
— 10.3% less deaths per 100k residents than Alabama
– Population that is fully vaccinated: 58.1% (382,934 fully vaccinated)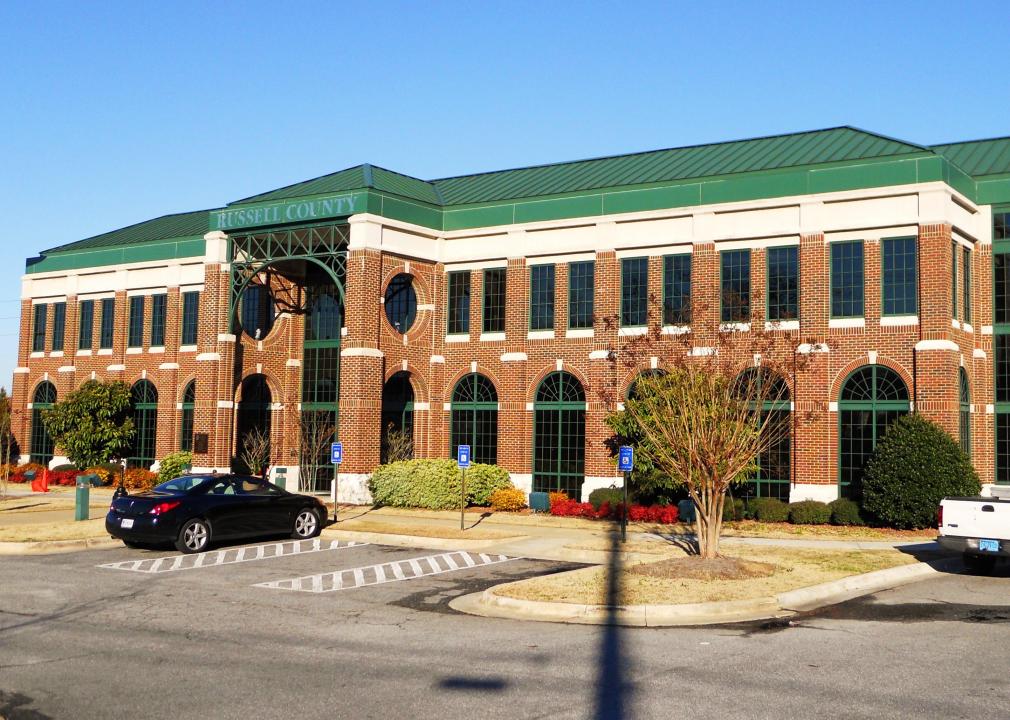 Rivers Langley SaveRivers // Wikimedia Commons
#19. Russell County, AL
– New cases per 100k in the past week: 36 (21 new cases, +40% change from previous week)
– Cumulative cases per 100k: 17,388 (10,078 total cases)
— 34.3% less cases per 100k residents than Alabama
– Cumulative deaths per 100k: 157 (91 total deaths)
— 60.6% less deaths per 100k residents than Alabama
– Population that is fully vaccinated: 41.1% (23,844 fully vaccinated)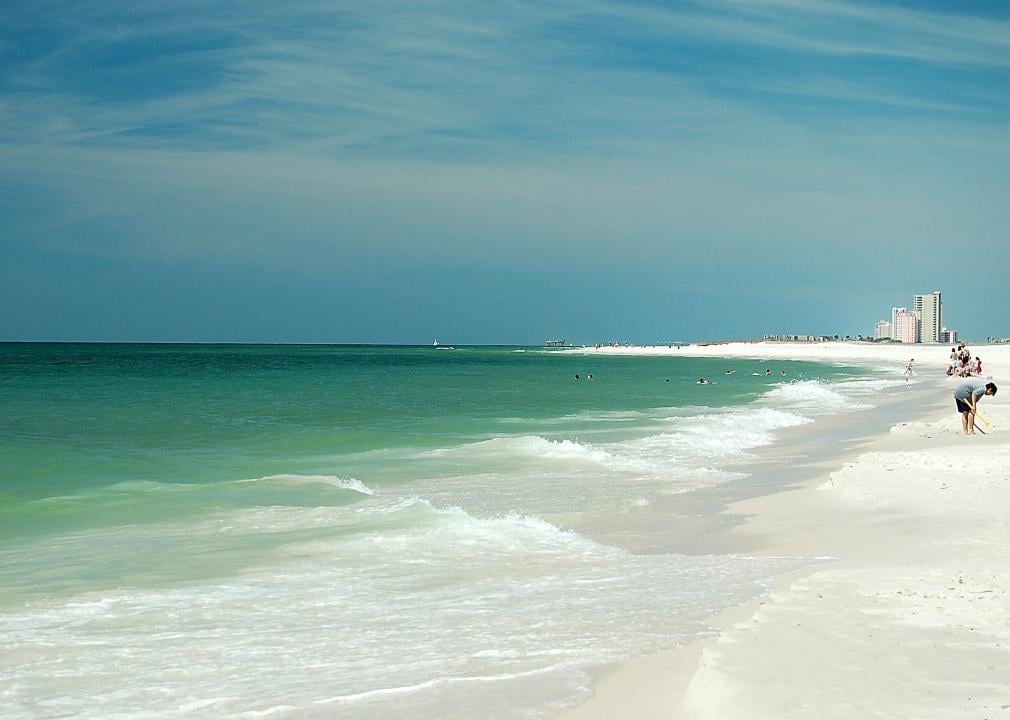 Jodybwiki // Wikimedia Commons
#18. Baldwin County, AL
– New cases per 100k in the past week: 36 (80 new cases, +18% change from previous week)
– Cumulative cases per 100k: 24,897 (55,579 total cases)
— 6.0% less cases per 100k residents than Alabama
– Cumulative deaths per 100k: 304 (679 total deaths)
— 23.6% less deaths per 100k residents than Alabama
– Population that is fully vaccinated: 50.8% (113,431 fully vaccinated)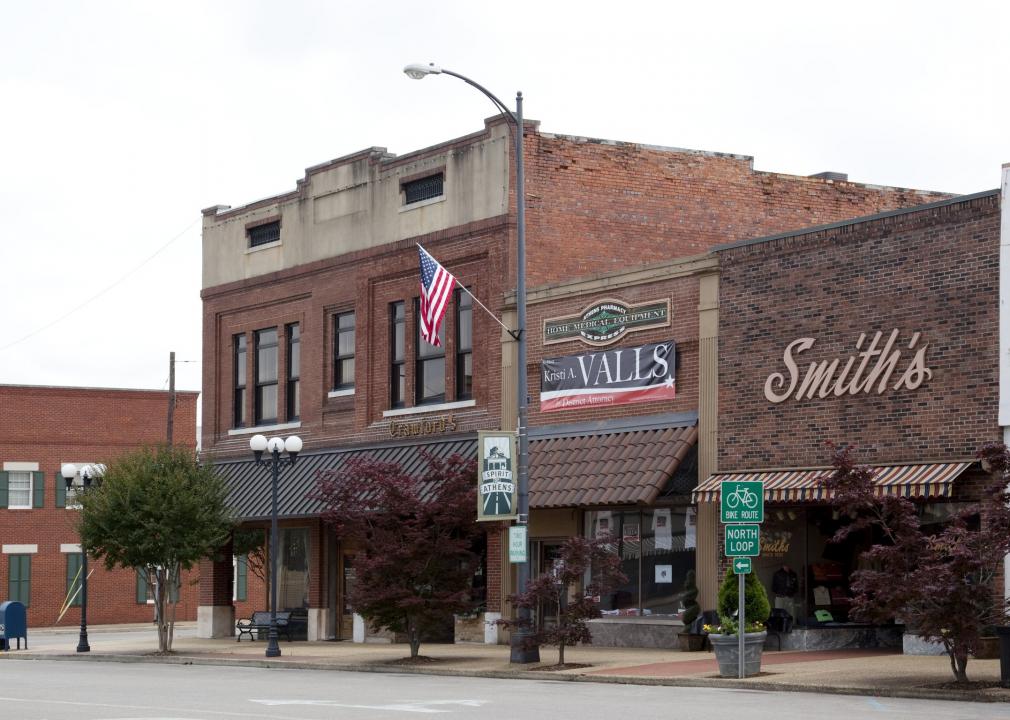 Carol M. Highsmith // Wikimedia Commons
#17. Limestone County, AL
– New cases per 100k in the past week: 36 (36 new cases, +89% change from previous week)
– Cumulative cases per 100k: 25,195 (24,922 total cases)
— 4.9% less cases per 100k residents than Alabama
– Cumulative deaths per 100k: 295 (292 total deaths)
— 25.9% less deaths per 100k residents than Alabama
– Population that is fully vaccinated: 39.0% (38,563 fully vaccinated)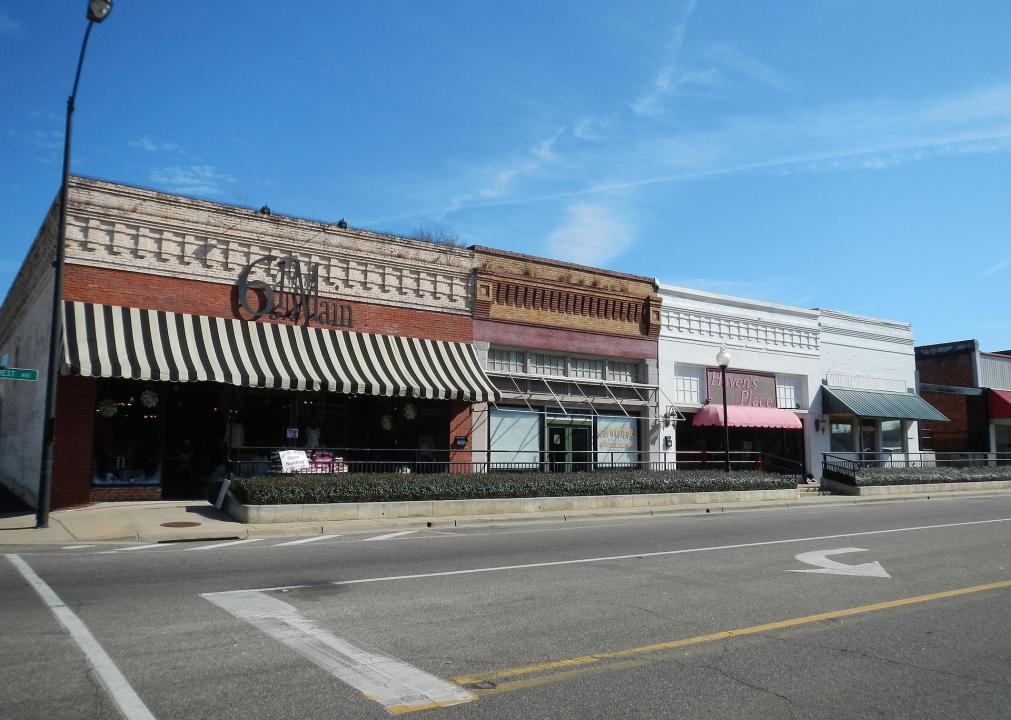 Rivers Langley; SaveRivers // Wikimedia Commons
#16. Crenshaw County, AL
– New cases per 100k in the past week: 36 (5 new cases, +150% change from previous week)
– Cumulative cases per 100k: 27,621 (3,804 total cases)
— 4.3% more cases per 100k residents than Alabama
– Cumulative deaths per 100k: 719 (99 total deaths)
— 80.7% more deaths per 100k residents than Alabama
– Population that is fully vaccinated: 34.4% (4,738 fully vaccinated)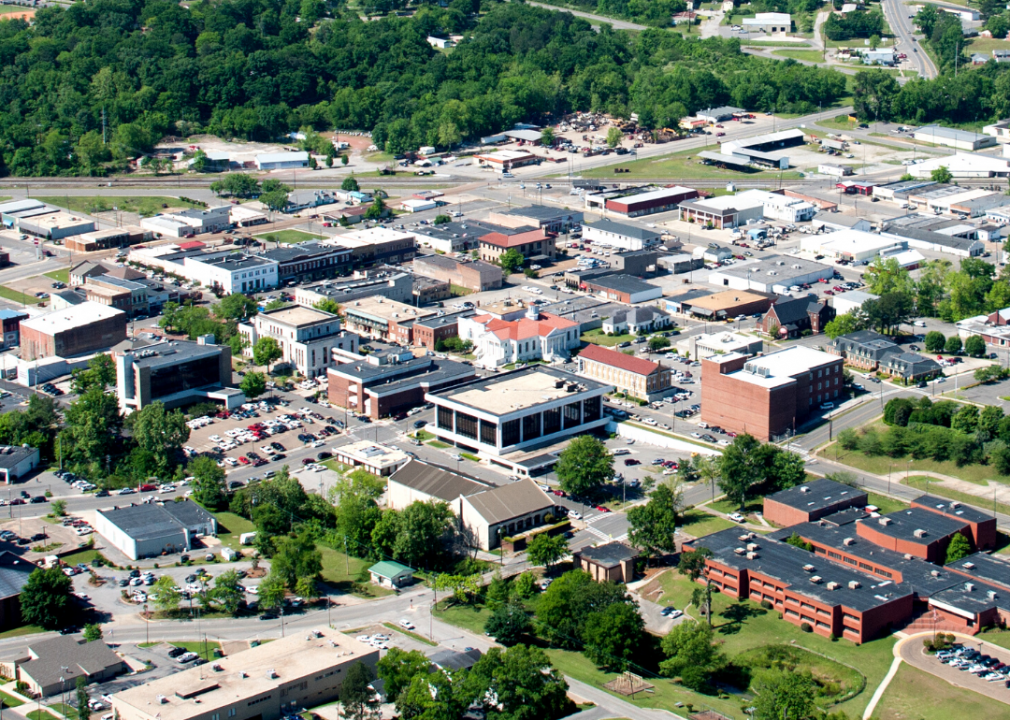 Canva
#15. Walker County, AL
– New cases per 100k in the past week: 38 (24 new cases, -27% change from previous week)
– Cumulative cases per 100k: 29,404 (18,678 total cases)
— 11.0% more cases per 100k residents than Alabama
– Cumulative deaths per 100k: 697 (443 total deaths)
— 75.1% more deaths per 100k residents than Alabama
– Population that is fully vaccinated: 47.2% (29,990 fully vaccinated)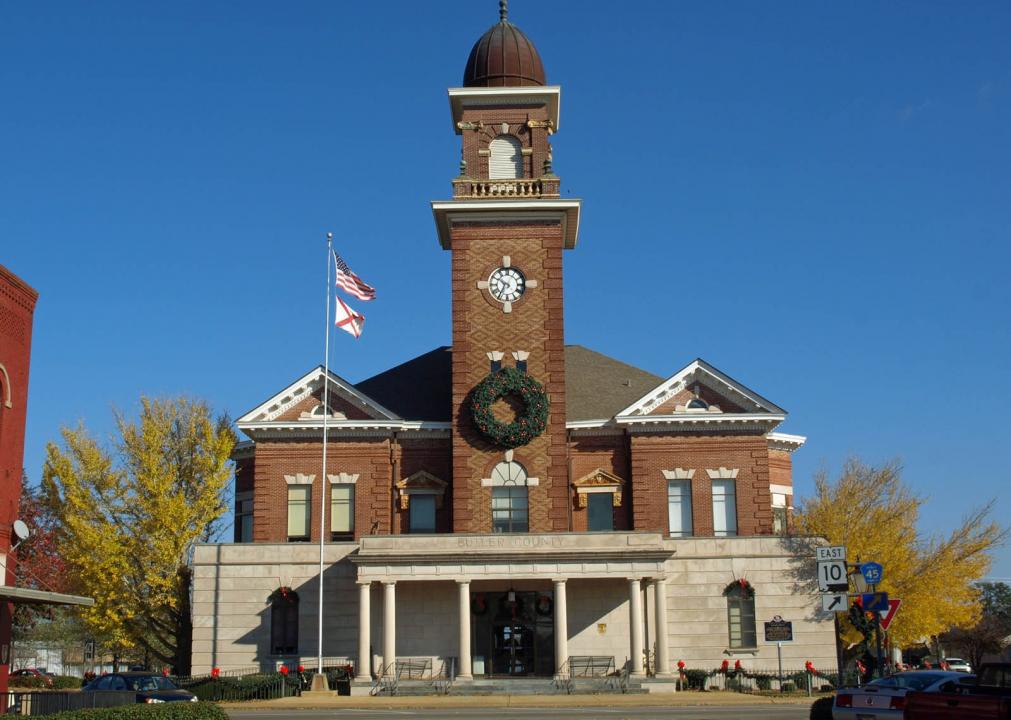 Chris Pruitt // Wikimedia Commons
#14. Butler County, AL
– New cases per 100k in the past week: 41 (8 new cases, +700% change from previous week)
– Cumulative cases per 100k: 26,018 (5,060 total cases)
— 1.8% less cases per 100k residents than Alabama
– Cumulative deaths per 100k: 663 (129 total deaths)
— 66.6% more deaths per 100k residents than Alabama
– Population that is fully vaccinated: 39.4% (7,665 fully vaccinated)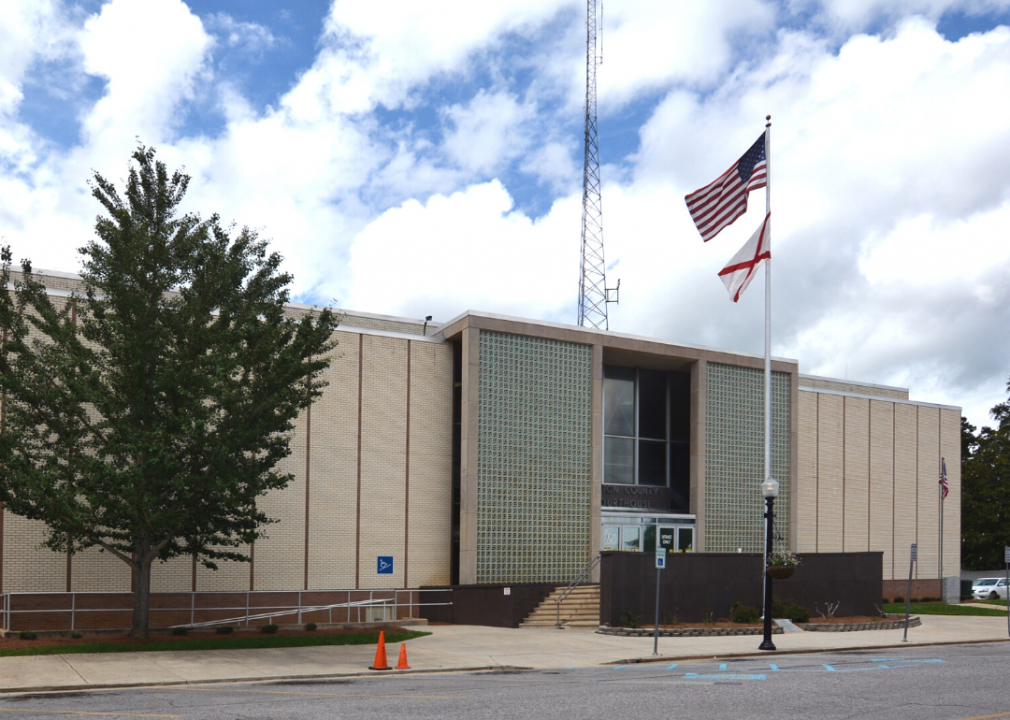 Canva
#13. Chilton County, AL
– New cases per 100k in the past week: 43 (19 new cases, -27% change from previous week)
– Cumulative cases per 100k: 24,962 (11,090 total cases)
— 5.7% less cases per 100k residents than Alabama
– Cumulative deaths per 100k: 466 (207 total deaths)
— 17.1% more deaths per 100k residents than Alabama
– Population that is fully vaccinated: 36.3% (16,132 fully vaccinated)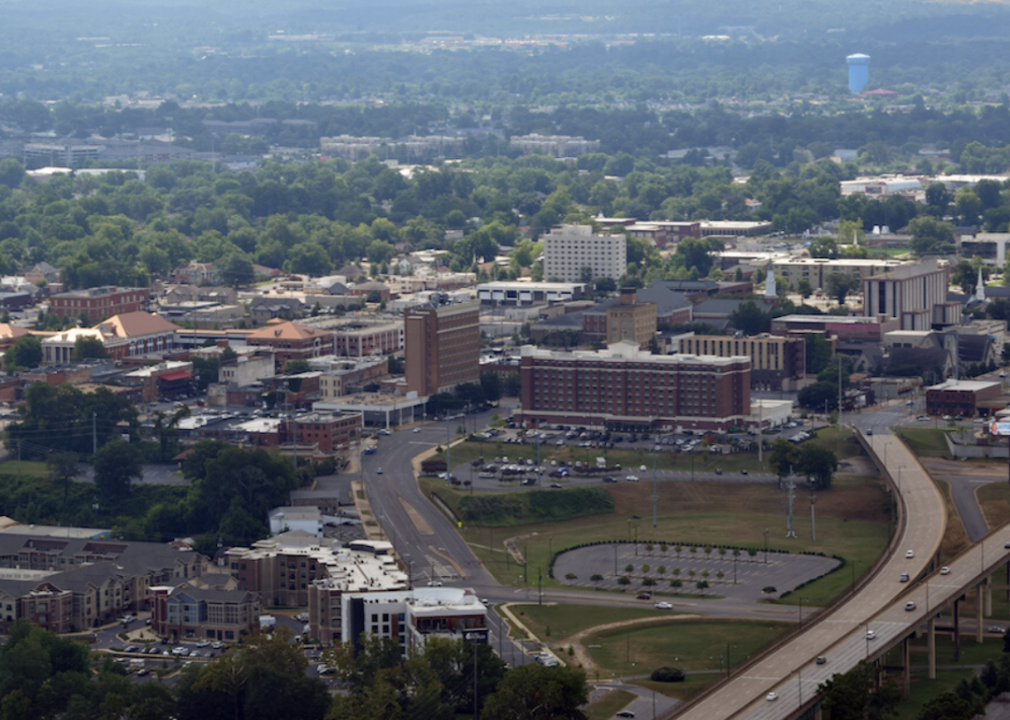 Tracy Burroughs Brown // Shutterstock
#12. Tuscaloosa County, AL
– New cases per 100k in the past week: 43 (89 new cases, -14% change from previous week)
– Cumulative cases per 100k: 26,773 (56,051 total cases)
— 1.1% more cases per 100k residents than Alabama
– Cumulative deaths per 100k: 373 (781 total deaths)
— 6.3% less deaths per 100k residents than Alabama
– Population that is fully vaccinated: 43.7% (91,437 fully vaccinated)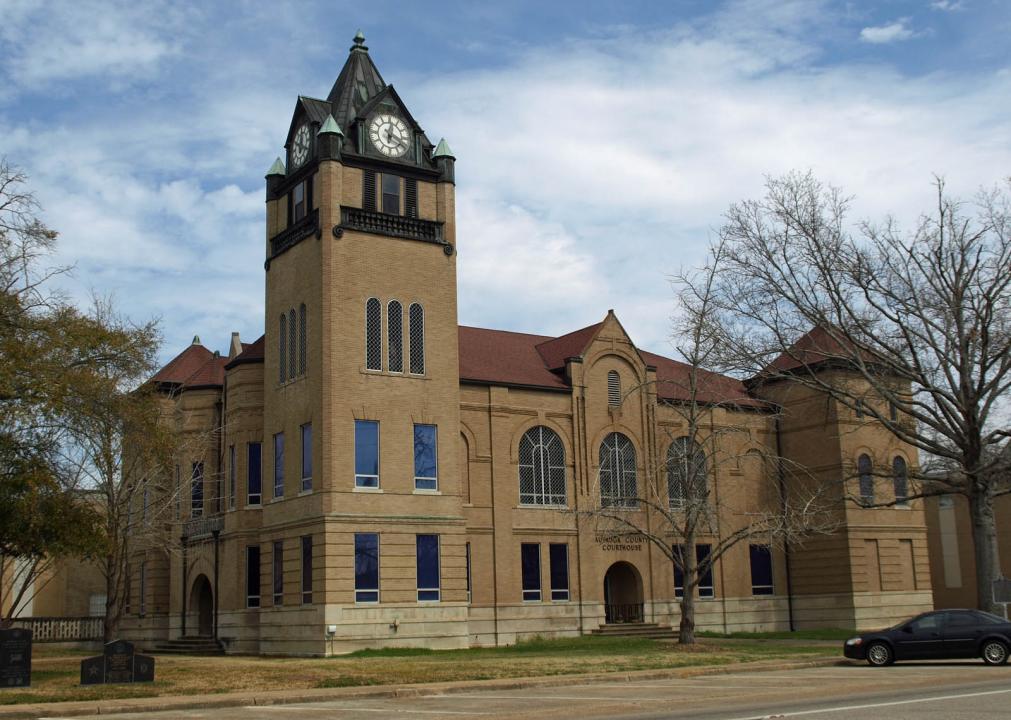 Chris Pruitt // Wikimedia Commons
#11. Autauga County, AL
– New cases per 100k in the past week: 43 (24 new cases, -59% change from previous week)
– Cumulative cases per 100k: 28,229 (15,771 total cases)
— 6.6% more cases per 100k residents than Alabama
– Cumulative deaths per 100k: 385 (215 total deaths)
— 3.3% less deaths per 100k residents than Alabama
– Population that is fully vaccinated: 44.1% (24,652 fully vaccinated)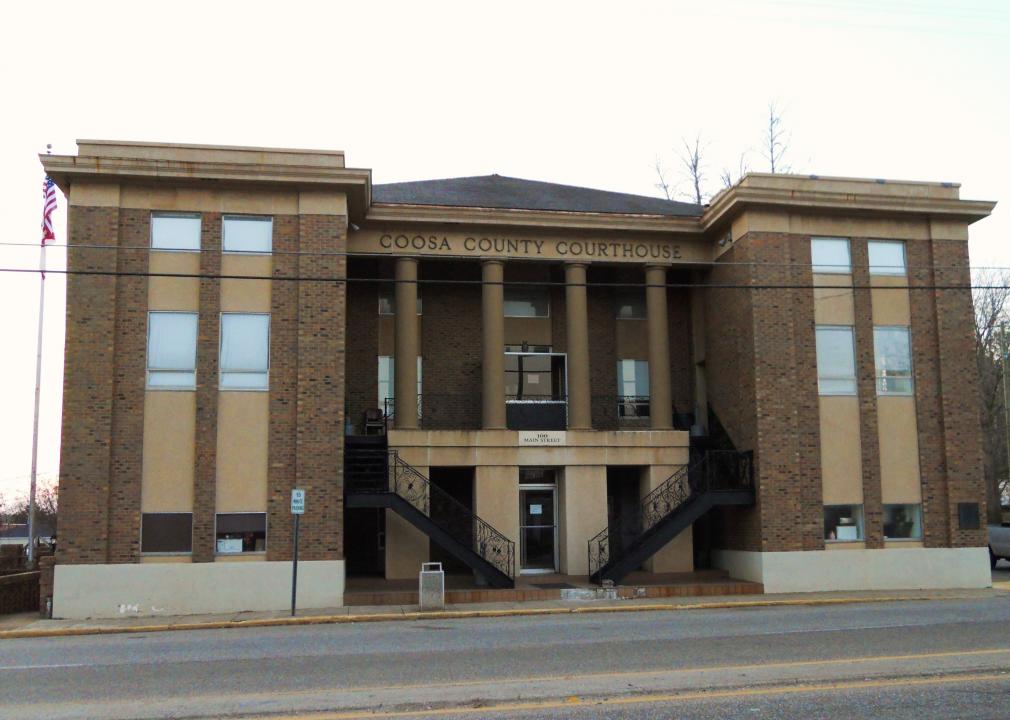 Rivers A. Langley; SaveRivers // Wikimedia Commons
#10. Coosa County, AL
– New cases per 100k in the past week: 47 (5 new cases, +150% change from previous week)
– Cumulative cases per 100k: 27,797 (2,964 total cases)
— 5.0% more cases per 100k residents than Alabama
– Cumulative deaths per 100k: 544 (58 total deaths)
— 36.7% more deaths per 100k residents than Alabama
– Population that is fully vaccinated: 40.6% (4,330 fully vaccinated)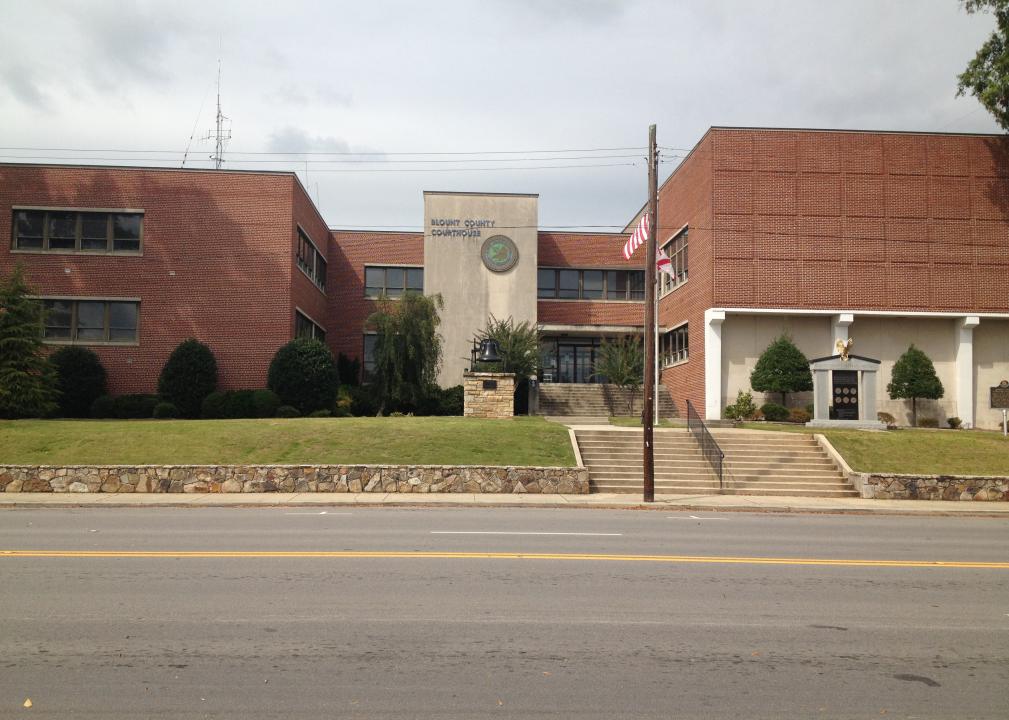 Rudi Weikard // Wikimedia Commons
#9. Blount County, AL
– New cases per 100k in the past week: 50 (29 new cases, -9% change from previous week)
– Cumulative cases per 100k: 25,876 (14,963 total cases)
— 2.3% less cases per 100k residents than Alabama
– Cumulative deaths per 100k: 420 (243 total deaths)
— 5.5% more deaths per 100k residents than Alabama
– Population that is fully vaccinated: 31.7% (18,319 fully vaccinated)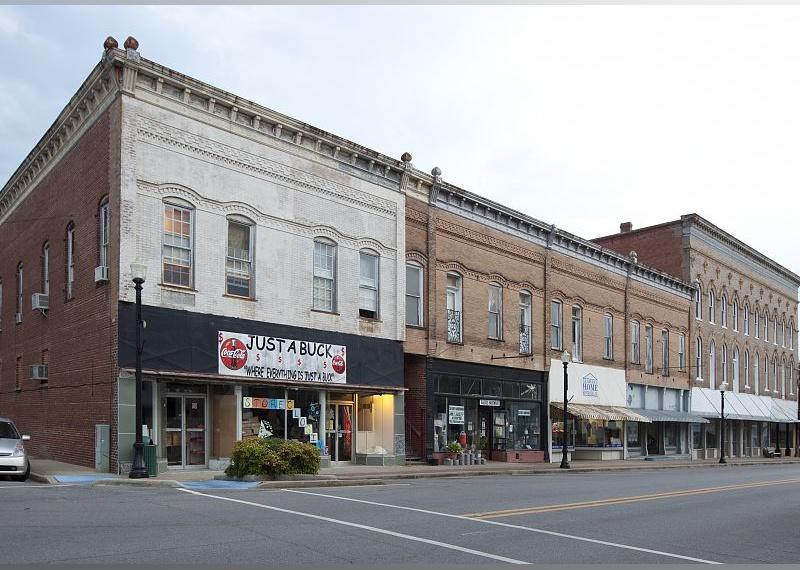 Carol M. Highsmith // Wikimedia Commons
#8. Hale County, AL
– New cases per 100k in the past week: 55 (8 new cases, +33% change from previous week)
– Cumulative cases per 100k: 32,230 (4,722 total cases)
— 21.7% more cases per 100k residents than Alabama
– Cumulative deaths per 100k: 724 (106 total deaths)
— 81.9% more deaths per 100k residents than Alabama
– Population that is fully vaccinated: 61.4% (8,989 fully vaccinated)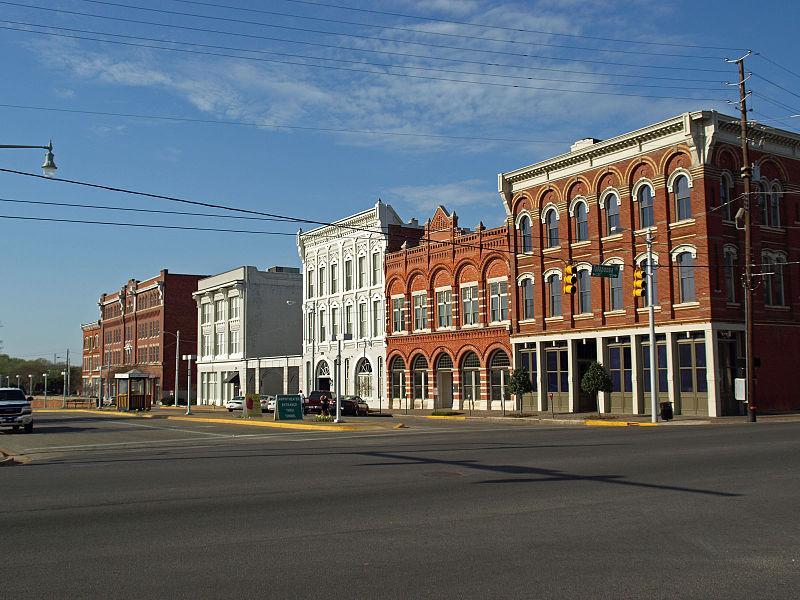 Chris Pruitt // wikicommons
#7. Montgomery County, AL
– New cases per 100k in the past week: 61 (138 new cases, +182% change from previous week)
– Cumulative cases per 100k: 24,245 (54,911 total cases)
— 8.4% less cases per 100k residents than Alabama
– Cumulative deaths per 100k: 417 (945 total deaths)
— 4.8% more deaths per 100k residents than Alabama
– Population that is fully vaccinated: 52.1% (118,057 fully vaccinated)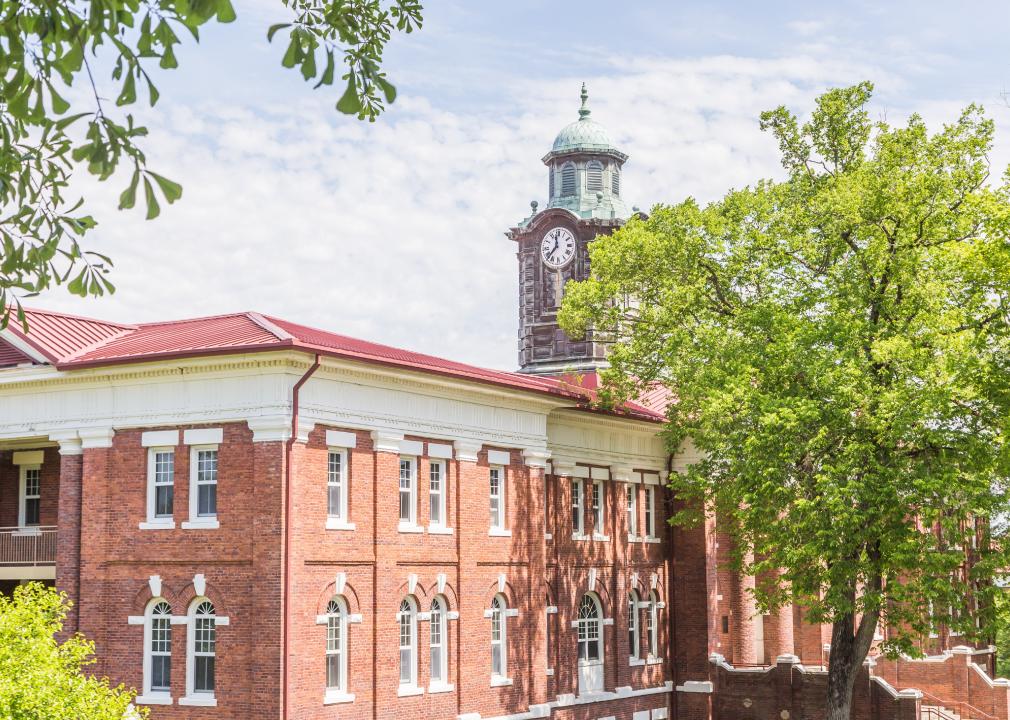 Altairisfar // Wikimedia Commons
#6. Lowndes County, AL
– New cases per 100k in the past week: 62 (6 new cases, +500% change from previous week)
– Cumulative cases per 100k: 26,887 (2,615 total cases)
— 1.5% more cases per 100k residents than Alabama
– Cumulative deaths per 100k: 781 (76 total deaths)
— 96.2% more deaths per 100k residents than Alabama
– Population that is fully vaccinated: 51.0% (4,963 fully vaccinated)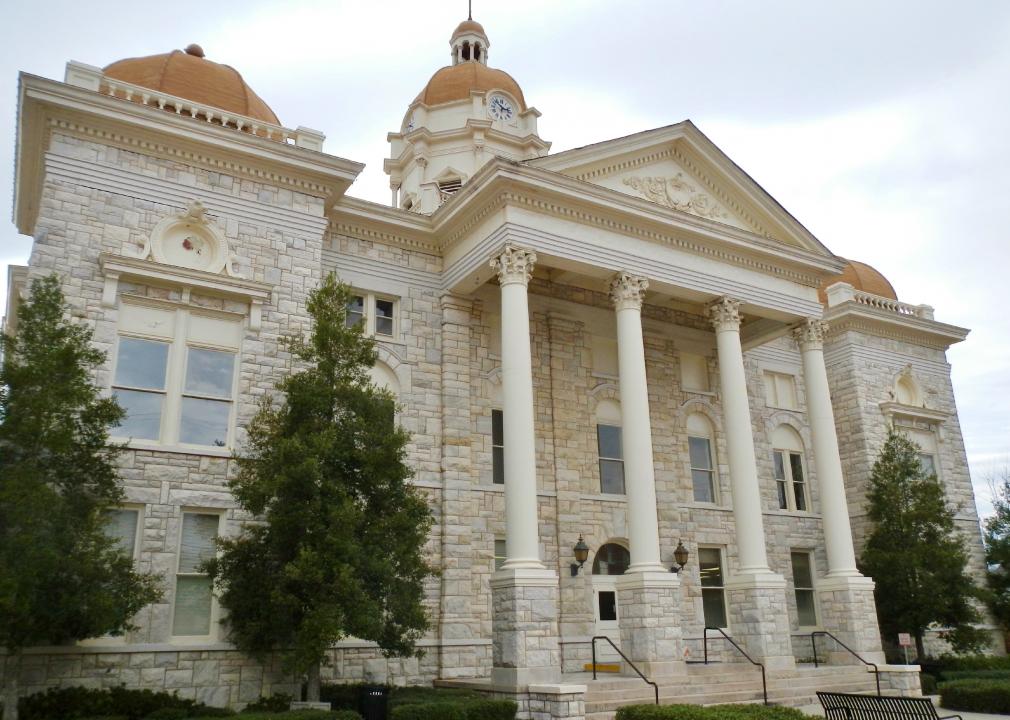 Rivers Langley; SaveRivers // Wikimedia Commons
#5. Shelby County, AL
– New cases per 100k in the past week: 67 (146 new cases, +74% change from previous week)
– Cumulative cases per 100k: 27,926 (60,795 total cases)
— 5.5% more cases per 100k residents than Alabama
– Cumulative deaths per 100k: 206 (449 total deaths)
— 48.2% less deaths per 100k residents than Alabama
– Population that is fully vaccinated: 36.2% (78,844 fully vaccinated)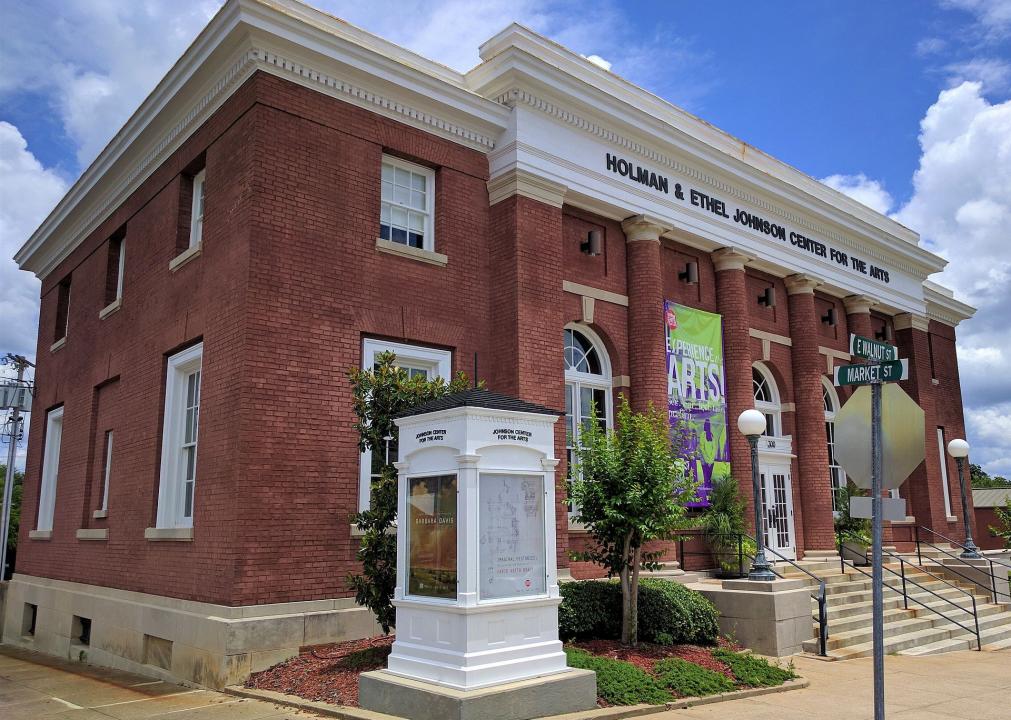 Kreeder13 // Wikimedia Commons
#4. Pike County, AL
– New cases per 100k in the past week: 75 (25 new cases, 0% change from previous week)
– Cumulative cases per 100k: 22,616 (7,489 total cases)
— 14.6% less cases per 100k residents than Alabama
– Cumulative deaths per 100k: 405 (134 total deaths)
— 1.8% more deaths per 100k residents than Alabama
– Population that is fully vaccinated: 42.1% (13,948 fully vaccinated)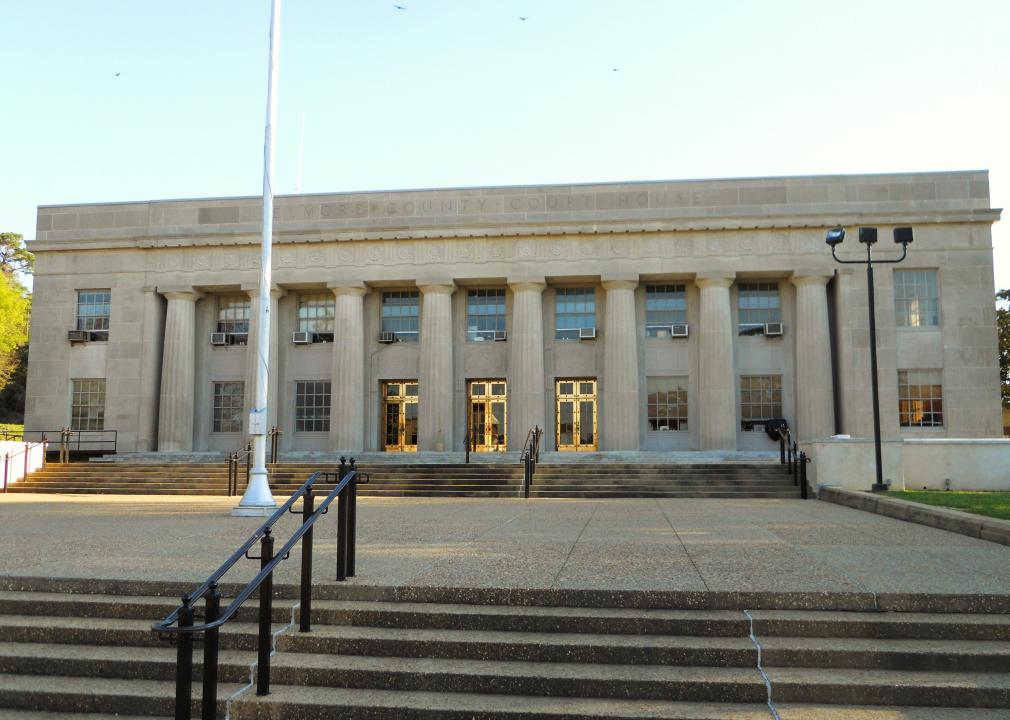 Rivers A. Langley; SaveRivers // Wikimedia Commons
#3. Elmore County, AL
– New cases per 100k in the past week: 80 (65 new cases, -27% change from previous week)
– Cumulative cases per 100k: 28,698 (23,305 total cases)
— 8.4% more cases per 100k residents than Alabama
– Cumulative deaths per 100k: 426 (346 total deaths)
— 7.0% more deaths per 100k residents than Alabama
– Population that is fully vaccinated: 46.4% (37,666 fully vaccinated)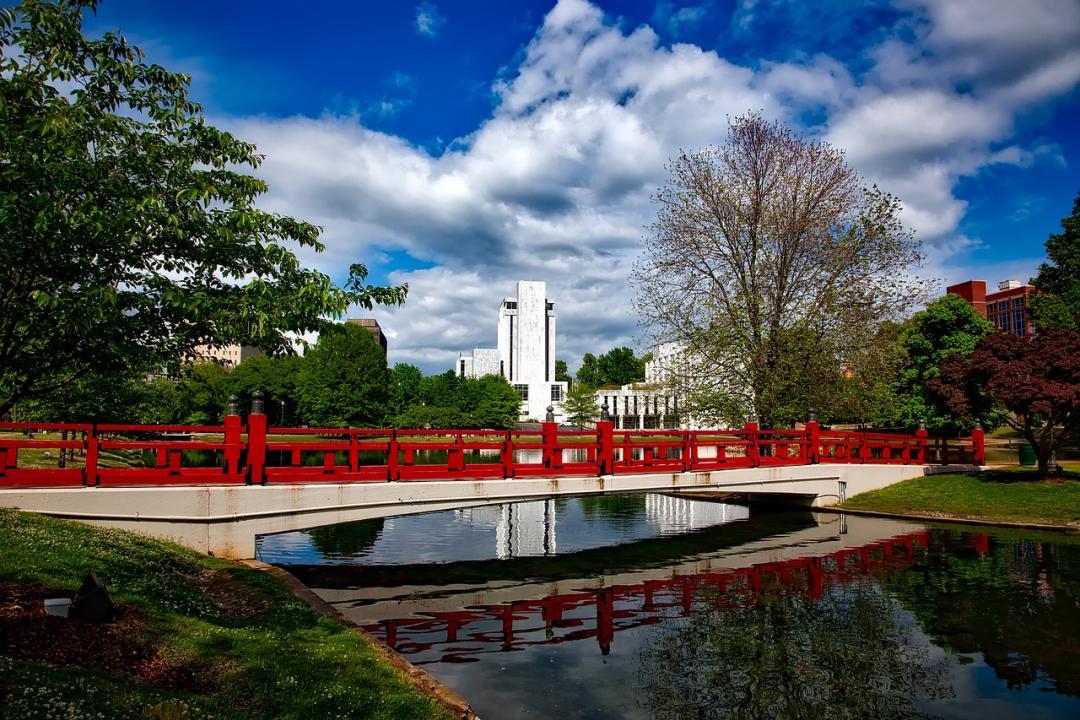 Pixabay
#2. Madison County, AL
– New cases per 100k in the past week: 89 (333 new cases, +128% change from previous week)
– Cumulative cases per 100k: 24,023 (89,584 total cases)
— 9.3% less cases per 100k residents than Alabama
– Cumulative deaths per 100k: 257 (958 total deaths)
— 35.4% less deaths per 100k residents than Alabama
– Population that is fully vaccinated: 62.1% (231,669 fully vaccinated)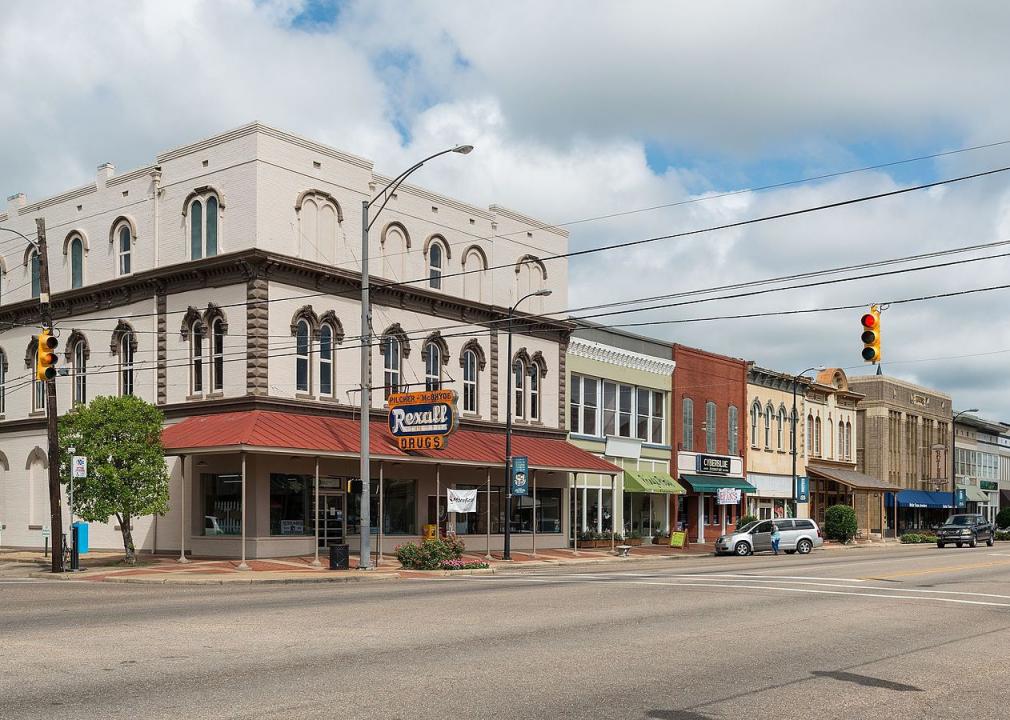 DXR // Wikimedia Commons
#1. Dallas County, AL
– New cases per 100k in the past week: 94 (35 new cases, +483% change from previous week)
– Cumulative cases per 100k: 22,656 (8,427 total cases)
— 14.4% less cases per 100k residents than Alabama
– Cumulative deaths per 100k: 653 (243 total deaths)
— 64.1% more deaths per 100k residents than Alabama
– Population that is fully vaccinated: 45.4% (16,893 fully vaccinated)
More Stacker