Counties with the lowest hospital bed capacity in Alabama
Published 1:10 pm Friday, February 4, 2022

Rudi Weikard // Wikimedia Commons
Counties with the lowest hospital bed capacity in Alabama
The vaccine deployment in December 2020 signaled a turning point in the COVID-19 pandemic. By the end of May 2021, 40% of the U.S. population was fully vaccinated. But as vaccination rates lagged over the summer, new surges of COVID-19 came, including Delta in the summer of 2021, and now the Omicron variant, which comprises the majority of cases in the U.S.
Researchers around the world have reported that Omicron is more transmissible than Delta, making breakthrough and repeat infections more likely. Early research suggests this strain may cause less severe illness than Delta and the original virus, however, health officials have warned an Omicron-driven surge could still increase hospitalization and death rates—especially in areas with less vaccinated populations.
The United States as of Feb. 3 reached 895,801 COVID-19-related deaths and nearly 75.8 million COVID-19 cases, according to Johns Hopkins University. Currently, 63.9% of the population is fully vaccinated, and 41.8% have received booster doses.
Stacker compiled a list of the counties with the lowest in-patient bed capacity in Alabama using data from the U.S. Department of Health & Human Services and vaccination data from Covid Act Now. Counties are ranked by the percent of in-patient hospital beds filled as of Feb. 2, with the percent of hospital beds filled by COVID-19 patients serving as a tiebreaker. Hospitalization data was available for about 77% of counties in the U.S. Keep reading to see what hospital capacity looks like in your county.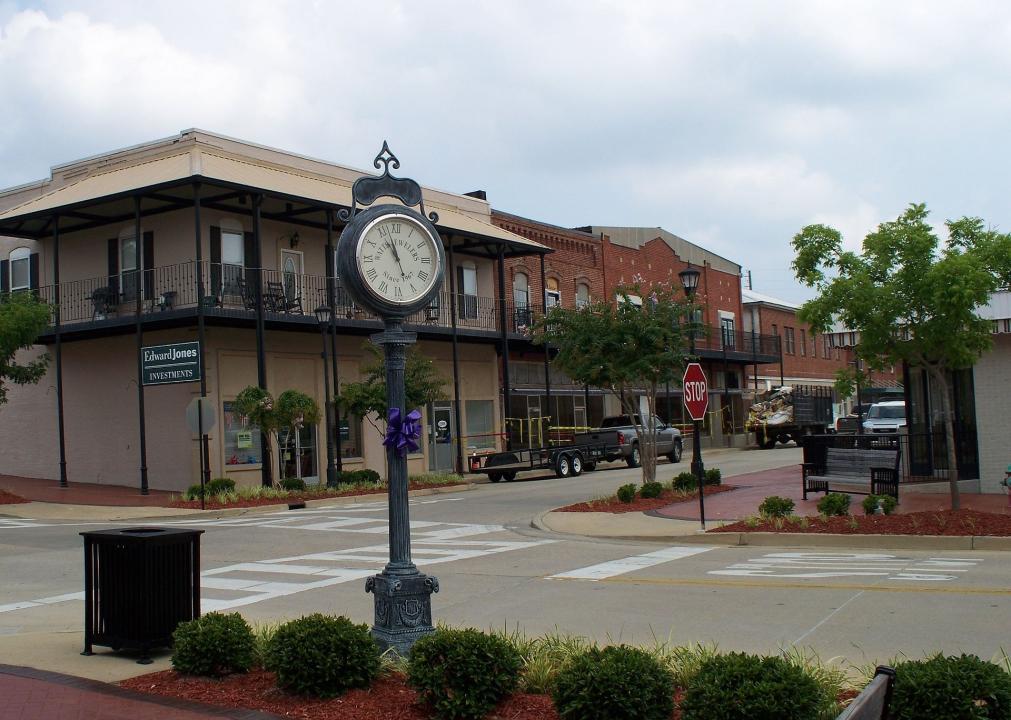 Altairisfar // Wikimedia Commons
#50. Clarke County, AL
– Inpatient beds occupied: 36.0% (14.0% by COVID-19 patients)
— 54.4% more availability than Alabama overall
– ICU beds occupied: data not available
— 93% full in Alabama overall
– Cases per 100k in last 7 days: 1,405 (332 cases)
– Population that is fully vaccinated: 50.0% (11,806 fully vaccinated)
— 1.0% higher vaccination rate than Alabama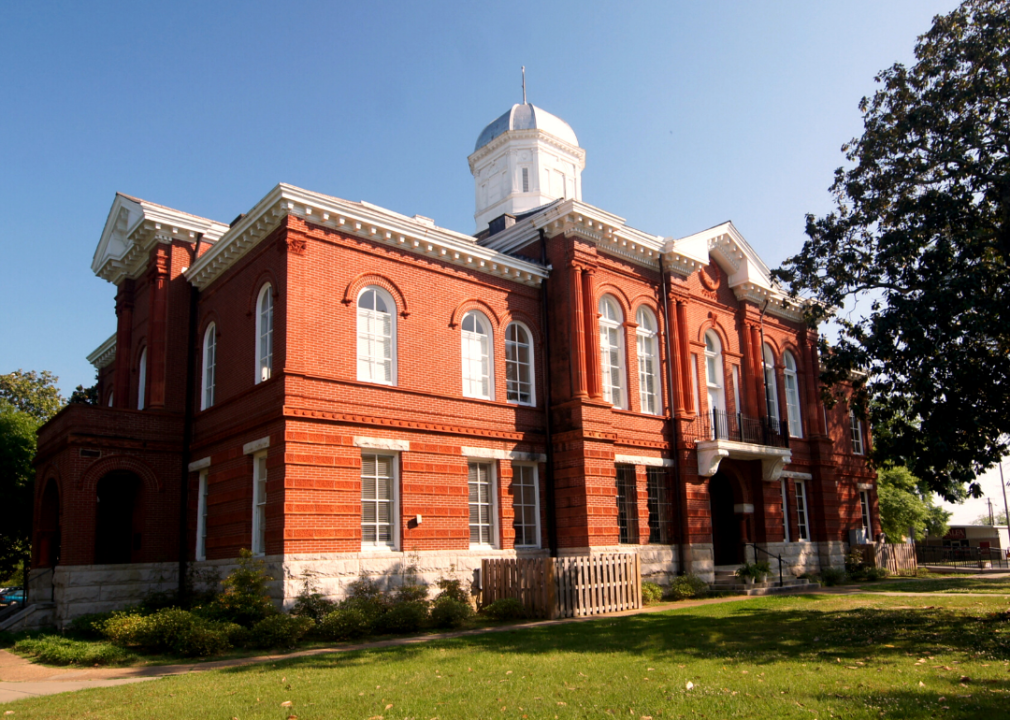 Canva
#49. Sumter County, AL
– Inpatient beds occupied: 40.0% (6.0% by COVID-19 patients)
— 49.4% more availability than Alabama overall
– ICU beds occupied: data not available
— 93% full in Alabama overall
– Cases per 100k in last 7 days: 1,070 (133 cases)
– Population that is fully vaccinated: 49.2% (6,109 fully vaccinated)
— -0.6% lower vaccination rate than Alabama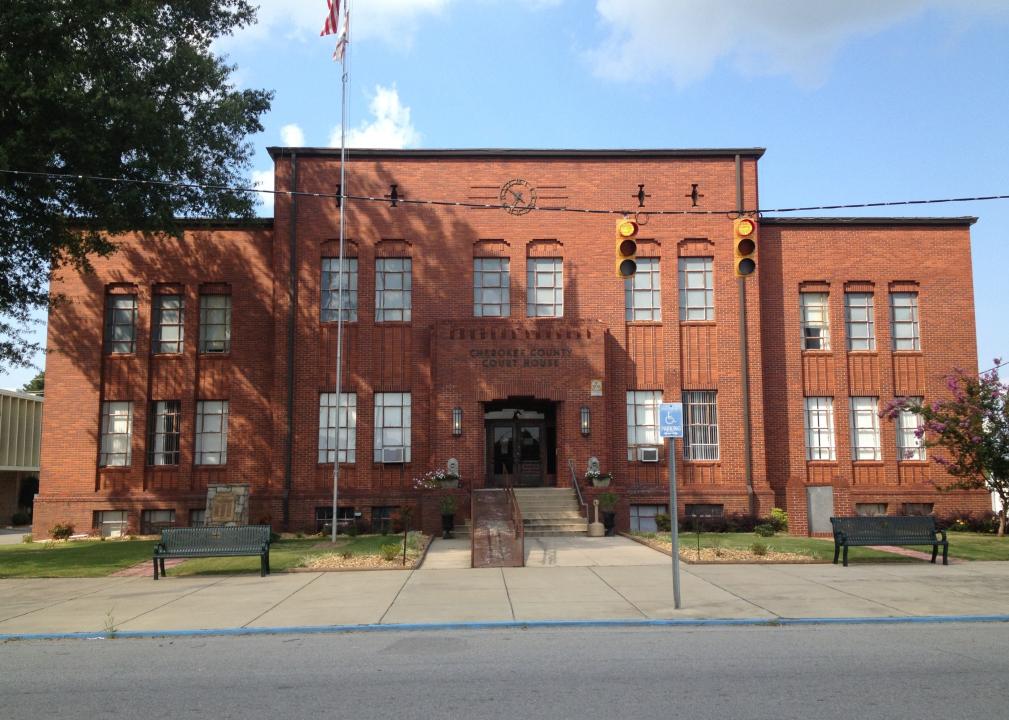 Rudi Weikard // Wikimedia Commons
#48. Cherokee County, AL
– Inpatient beds occupied: 41.0% (6.0% by COVID-19 patients)
— 48.1% more availability than Alabama overall
– ICU beds occupied: data not available
— 93% full in Alabama overall
– Cases per 100k in last 7 days: 1,065 (279 cases)
– Population that is fully vaccinated: 30.0% (7,859 fully vaccinated)
— -39.4% lower vaccination rate than Alabama
Canva
#47. Escambia County, AL
– Inpatient beds occupied: 44.0% (15.0% by COVID-19 patients)
— 44.3% more availability than Alabama overall
– ICU beds occupied: 51.0% (34.0% by COVID-19 patients)
— 45.2% more availability than Alabama overall
– Cases per 100k in last 7 days: 934 (342 cases)
– Population that is fully vaccinated: 35.4% (12,968 fully vaccinated)
— -28.5% lower vaccination rate than Alabama
Rivers A. Langley; SaveRivers // Wikimedia Commons
#46. Randolph County, AL
– Inpatient beds occupied: 46.0% (12.0% by COVID-19 patients)
— 41.8% more availability than Alabama overall
– ICU beds occupied: data not available
— 93% full in Alabama overall
– Cases per 100k in last 7 days: 827 (188 cases)
– Population that is fully vaccinated: 32.0% (7,261 fully vaccinated)
— -35.4% lower vaccination rate than Alabama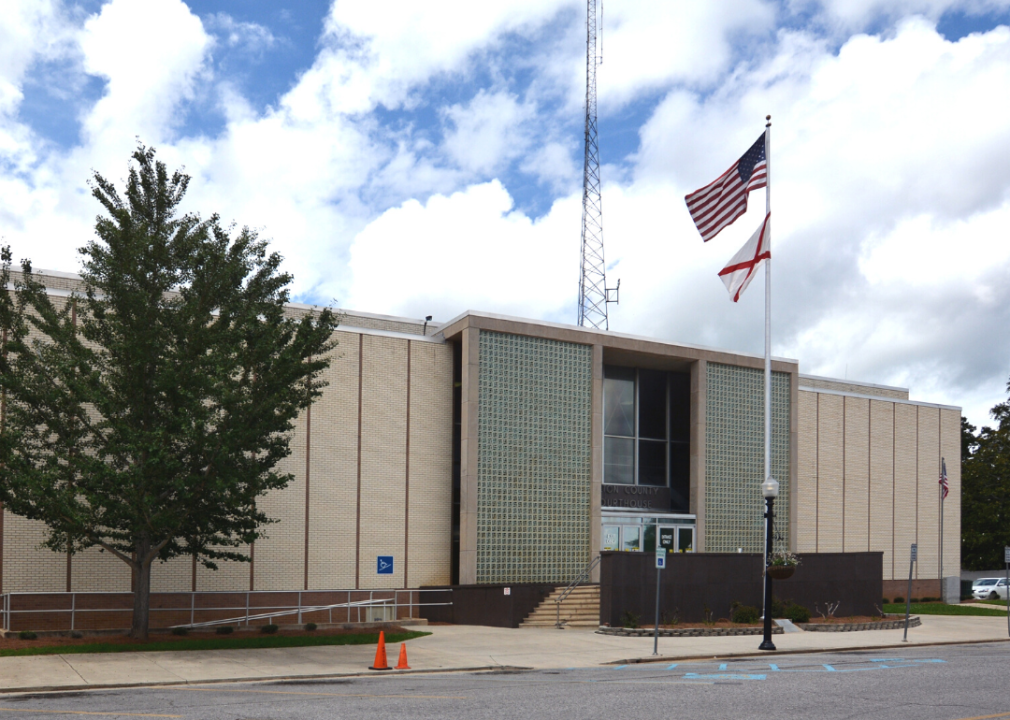 Canva
#45. Chilton County, AL
– Inpatient beds occupied: 47.0% (21.0% by COVID-19 patients)
— 40.5% more availability than Alabama overall
– ICU beds occupied: 50.0% (40.0% by COVID-19 patients)
— 46.2% more availability than Alabama overall
– Cases per 100k in last 7 days: 1,222 (543 cases)
– Population that is fully vaccinated: 35.4% (15,723 fully vaccinated)
— -28.5% lower vaccination rate than Alabama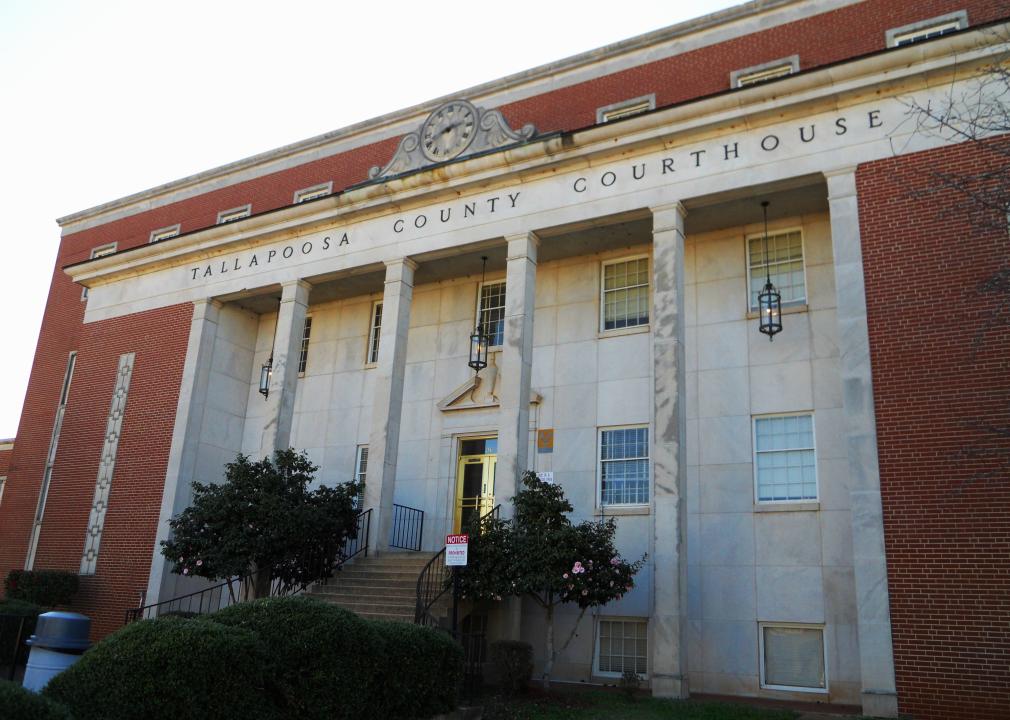 Rivers A. Langley; SaveRivers // Wikimedia Commons
#44. Tallapoosa County, AL
– Inpatient beds occupied: 51.0% (25.0% by COVID-19 patients)
— 35.4% more availability than Alabama overall
– ICU beds occupied: 83.0% (77.0% by COVID-19 patients)
— 10.8% more availability than Alabama overall
– Cases per 100k in last 7 days: 1,214 (490 cases)
– Population that is fully vaccinated: 37.7% (15,217 fully vaccinated)
— -23.8% lower vaccination rate than Alabama
Carol M. Highsmith // Wikimedia Commons
#43. Hale County, AL
– Inpatient beds occupied: 52.0% (30.0% by COVID-19 patients)
— 34.2% more availability than Alabama overall
– ICU beds occupied: data not available
— 93% full in Alabama overall
– Cases per 100k in last 7 days: 1,058 (155 cases)
– Population that is fully vaccinated: 59.7% (8,741 fully vaccinated)
— 20.6% higher vaccination rate than Alabama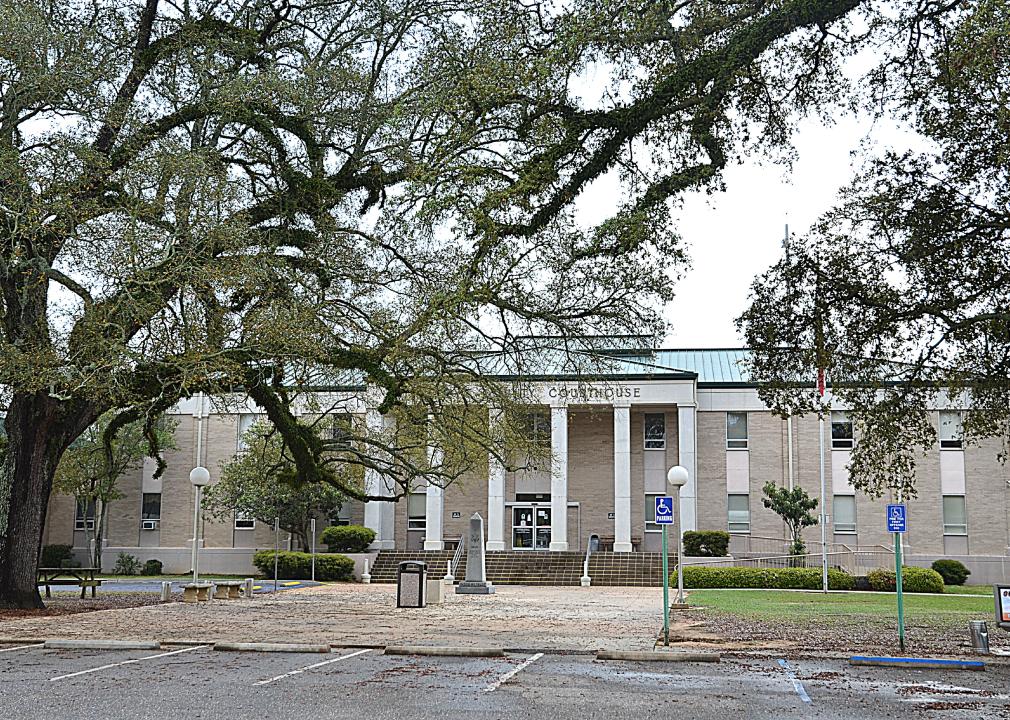 Wmr36104 // Wikimedia Commons
#42. Geneva County, AL
– Inpatient beds occupied: 53.0% (13.0% by COVID-19 patients)
— 32.9% more availability than Alabama overall
– ICU beds occupied: 60.0% (5.0% by COVID-19 patients)
— 35.5% more availability than Alabama overall
– Cases per 100k in last 7 days: 990 (260 cases)
– Population that is fully vaccinated: 39.4% (10,354 fully vaccinated)
— -20.4% lower vaccination rate than Alabama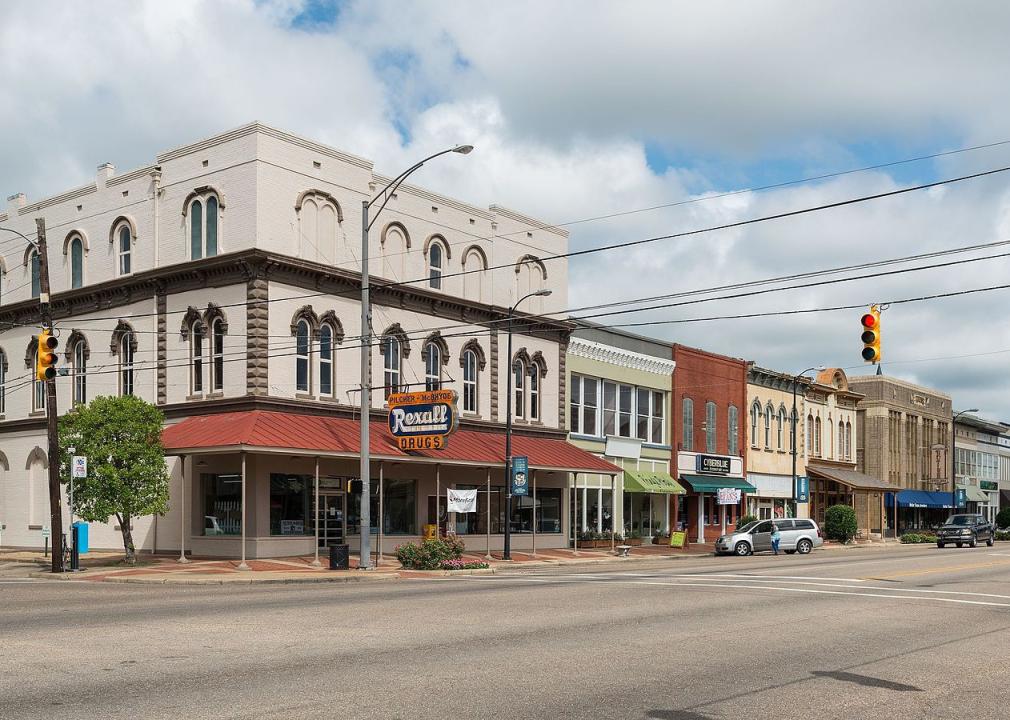 DXR // Wikimedia Commons
#41. Dallas County, AL
– Inpatient beds occupied: 53.0% (22.0% by COVID-19 patients)
— 32.9% more availability than Alabama overall
– ICU beds occupied: 81.0% (53.0% by COVID-19 patients)
— 12.9% more availability than Alabama overall
– Cases per 100k in last 7 days: 1,199 (446 cases)
– Population that is fully vaccinated: 43.8% (16,278 fully vaccinated)
— -11.5% lower vaccination rate than Alabama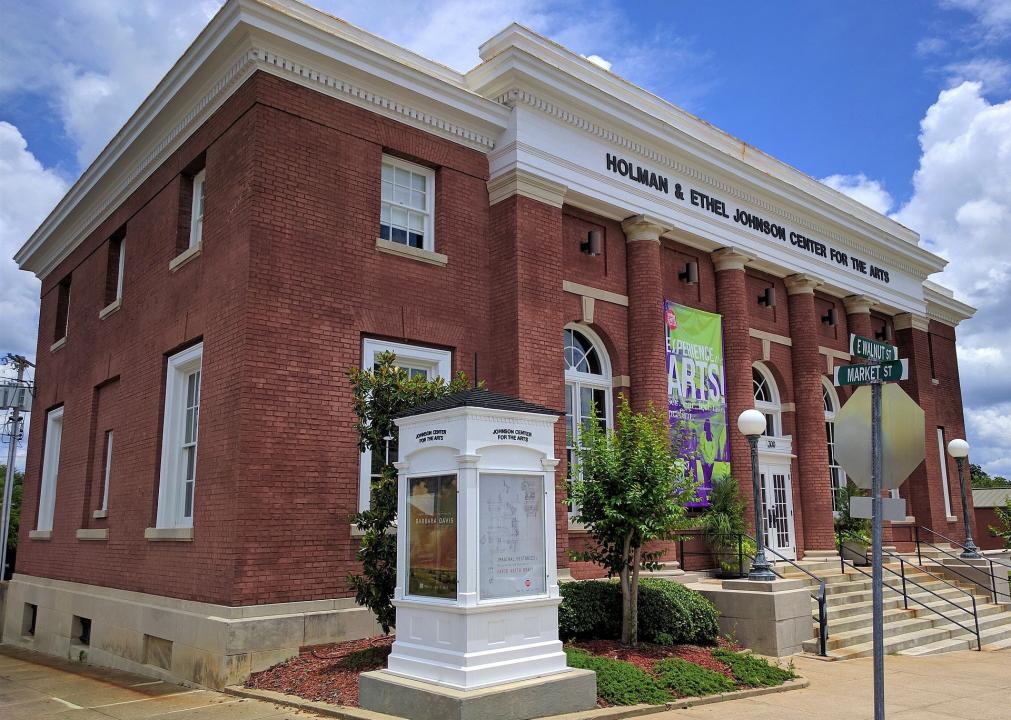 Kreeder13 // Wikimedia Commons
#40. Pike County, AL
– Inpatient beds occupied: 55.0% (3.0% by COVID-19 patients)
— 30.4% more availability than Alabama overall
– ICU beds occupied: 68.0% (11.0% by COVID-19 patients)
— 26.9% more availability than Alabama overall
– Cases per 100k in last 7 days: 1,190 (394 cases)
– Population that is fully vaccinated: 40.8% (13,496 fully vaccinated)
— -17.6% lower vaccination rate than Alabama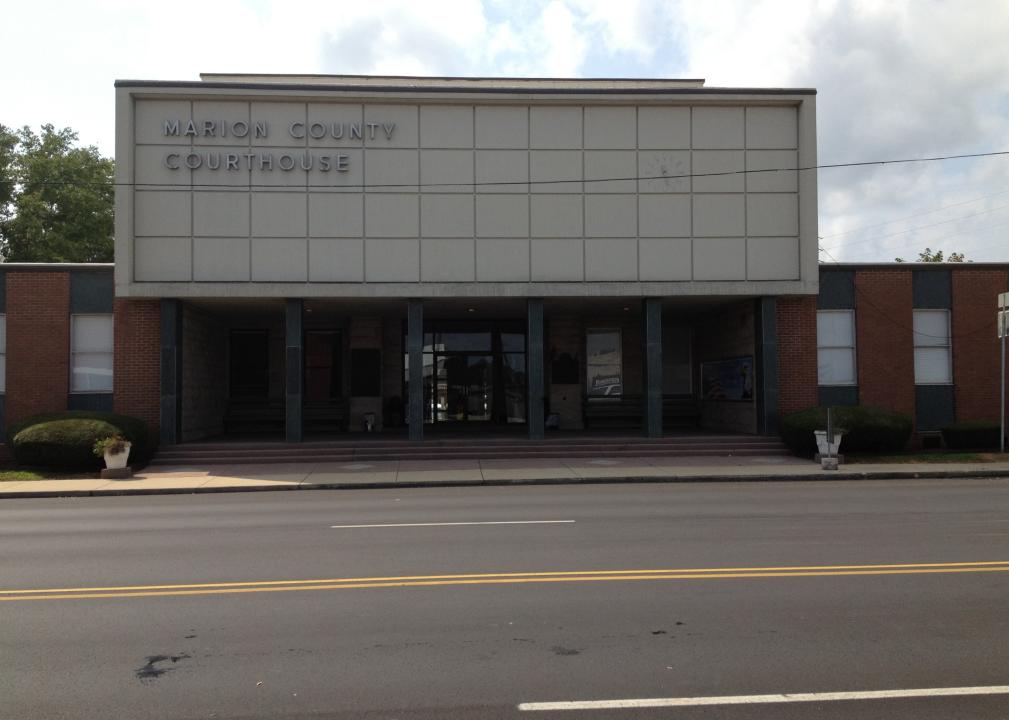 Rudi Weikard // Wikimedia Commons
#39. Marion County, AL
– Inpatient beds occupied: 55.0% (12.0% by COVID-19 patients)
— 30.4% more availability than Alabama overall
– ICU beds occupied: 93.0% (50.0% by COVID-19 patients)
— 0.0% more availability than Alabama overall
– Cases per 100k in last 7 days: 1,373 (408 cases)
– Population that is fully vaccinated: 35.6% (10,567 fully vaccinated)
— -28.1% lower vaccination rate than Alabama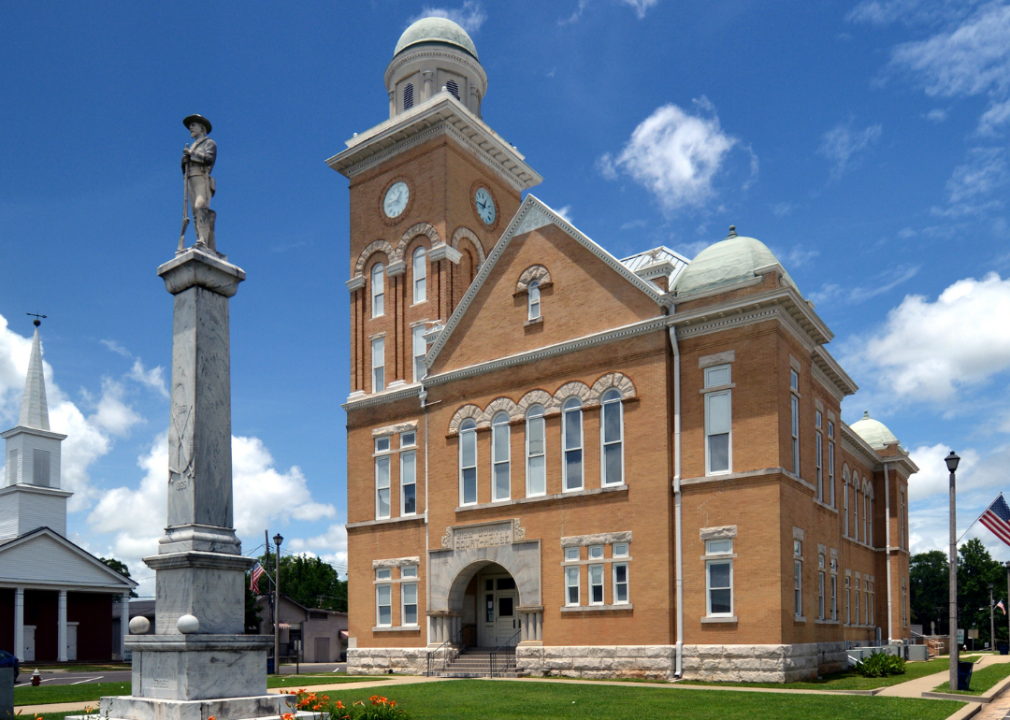 Canva
#38. Bibb County, AL
– Inpatient beds occupied: 58.0% (10.0% by COVID-19 patients)
— 26.6% more availability than Alabama overall
– ICU beds occupied: data not available
— 93% full in Alabama overall
– Cases per 100k in last 7 days: 1,353 (303 cases)
– Population that is fully vaccinated: 33.8% (7,572 fully vaccinated)
— -31.7% lower vaccination rate than Alabama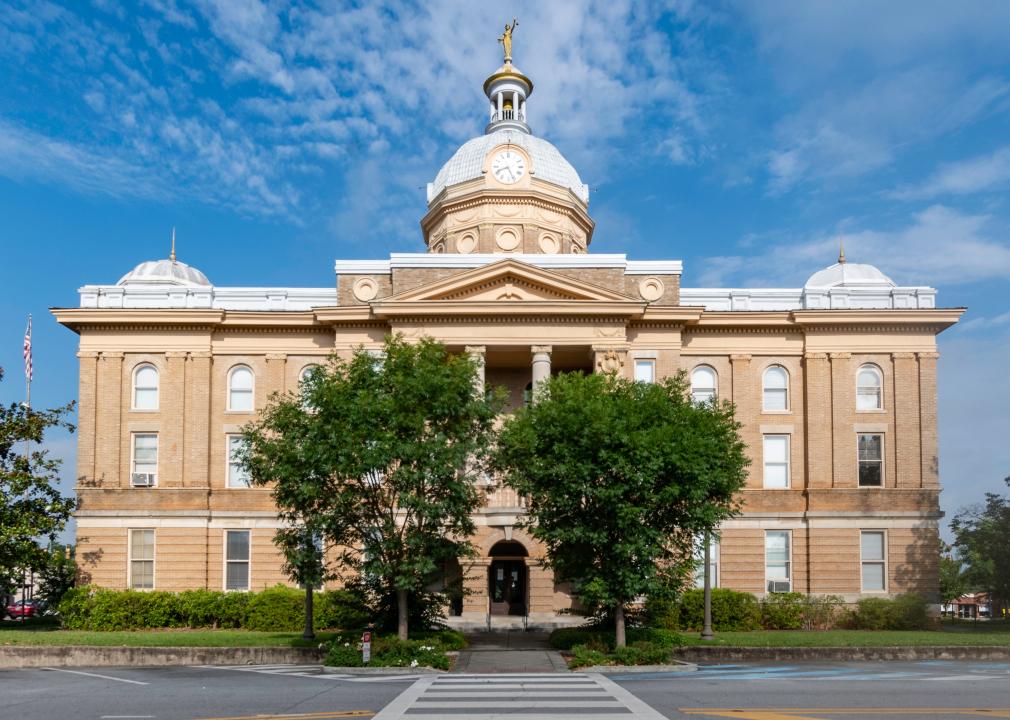 JNix // Shutterstock
#37. Clay County, AL
– Inpatient beds occupied: 59.0% (13.0% by COVID-19 patients)
— 25.3% more availability than Alabama overall
– ICU beds occupied: 150.0% (140.0% by COVID-19 patients)
— 61.3% more full than Alabama overall
– Cases per 100k in last 7 days: 2,048 (271 cases)
– Population that is fully vaccinated: 40.9% (5,407 fully vaccinated)
— -17.4% lower vaccination rate than Alabama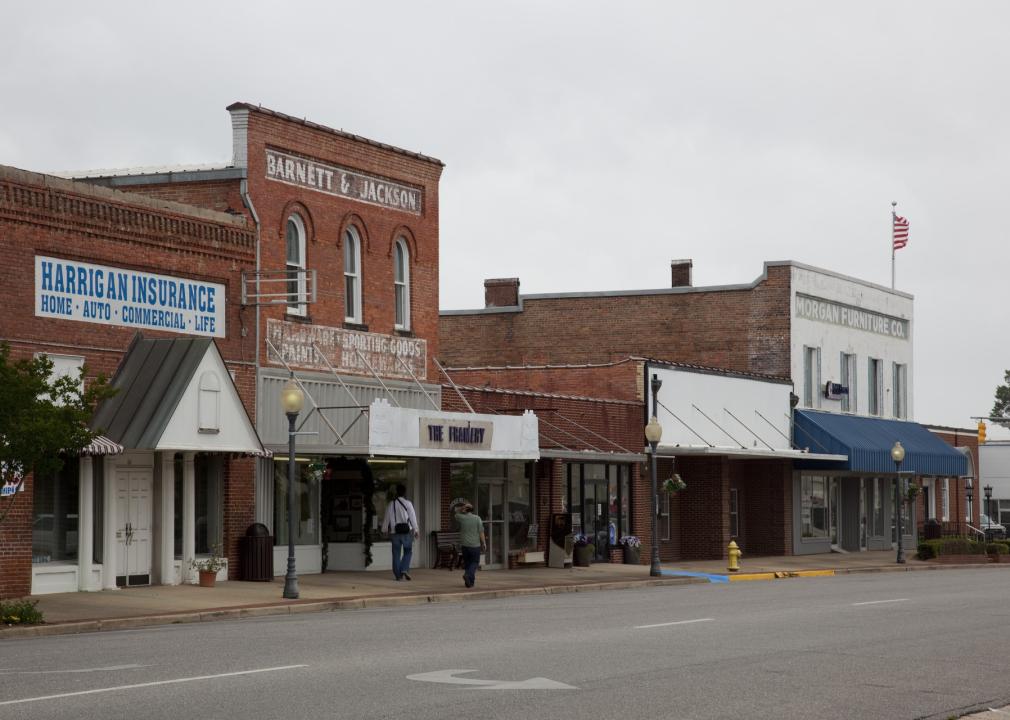 Carol M. Highsmith // Wikimedia Commons
#36. Monroe County, AL
– Inpatient beds occupied: 62.0% (25.0% by COVID-19 patients)
— 21.5% more availability than Alabama overall
– ICU beds occupied: 79.0% (66.0% by COVID-19 patients)
— 15.1% more availability than Alabama overall
– Cases per 100k in last 7 days: 1,215 (252 cases)
– Population that is fully vaccinated: 42.6% (8,827 fully vaccinated)
— -13.9% lower vaccination rate than Alabama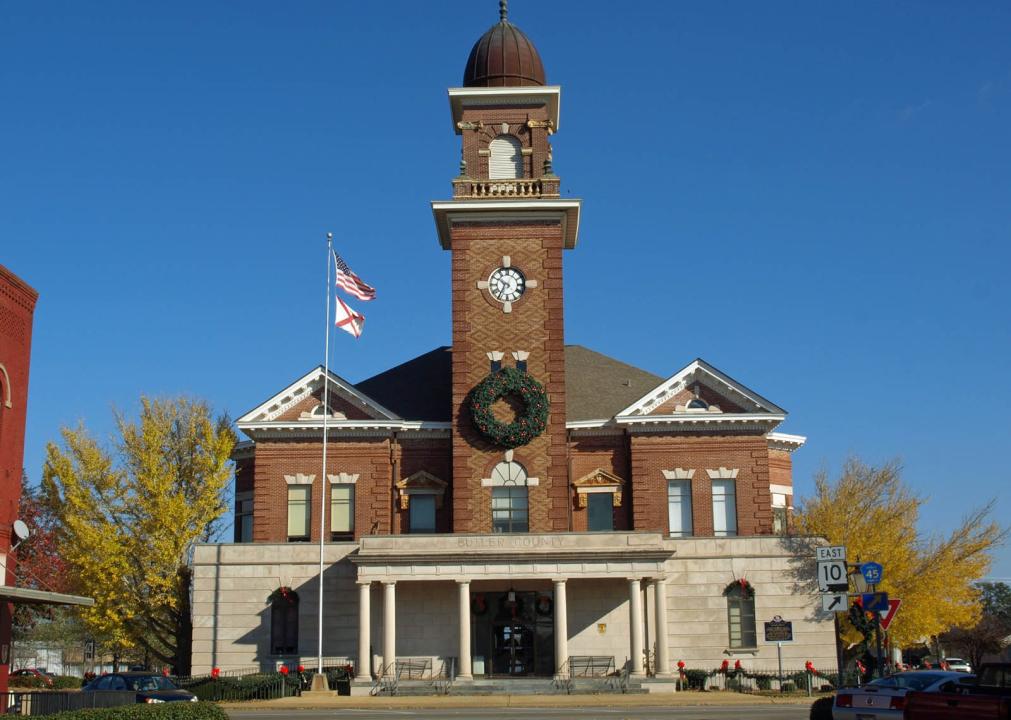 Chris Pruitt // Wikimedia Commons
#35. Butler County, AL
– Inpatient beds occupied: 62.0% (29.0% by COVID-19 patients)
— 21.5% more availability than Alabama overall
– ICU beds occupied: 94.0% (0.0% by COVID-19 patients)
— 1.1% more full than Alabama overall
– Cases per 100k in last 7 days: 1,347 (262 cases)
– Population that is fully vaccinated: 38.4% (7,463 fully vaccinated)
— -22.4% lower vaccination rate than Alabama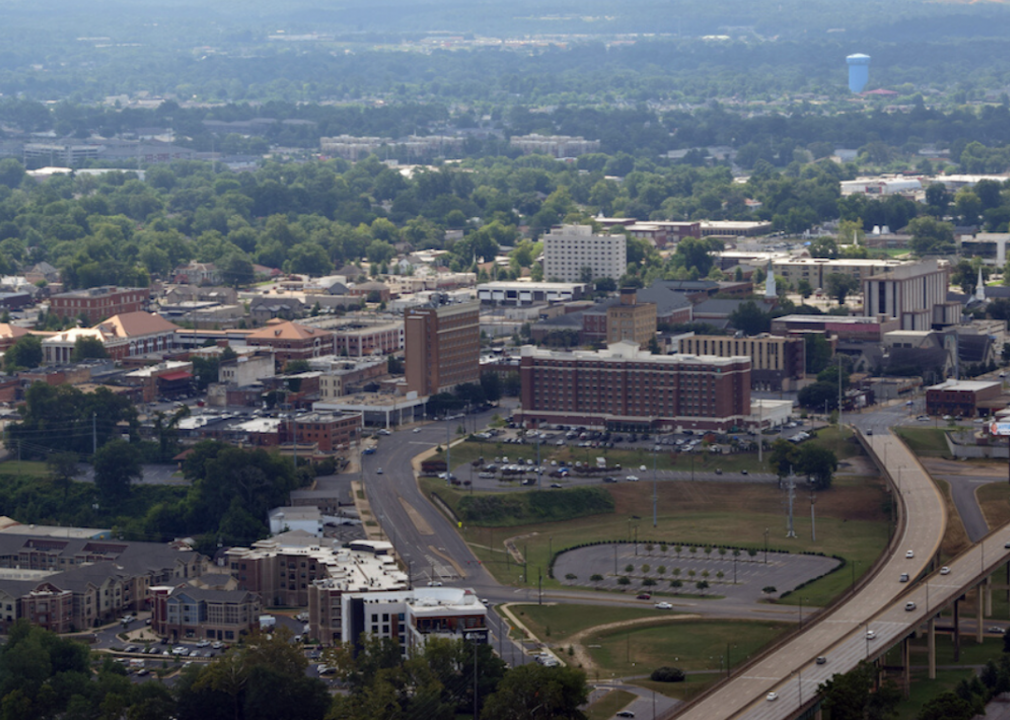 Tracy Burroughs Brown // Shutterstock
#34. Tuscaloosa County, AL
– Inpatient beds occupied: 64.0% (21.0% by COVID-19 patients)
— 19.0% more availability than Alabama overall
– ICU beds occupied: 95.0% (39.0% by COVID-19 patients)
— 2.2% more full than Alabama overall
– Cases per 100k in last 7 days: 922 (1,931 cases)
– Population that is fully vaccinated: 42.5% (88,983 fully vaccinated)
— -14.1% lower vaccination rate than Alabama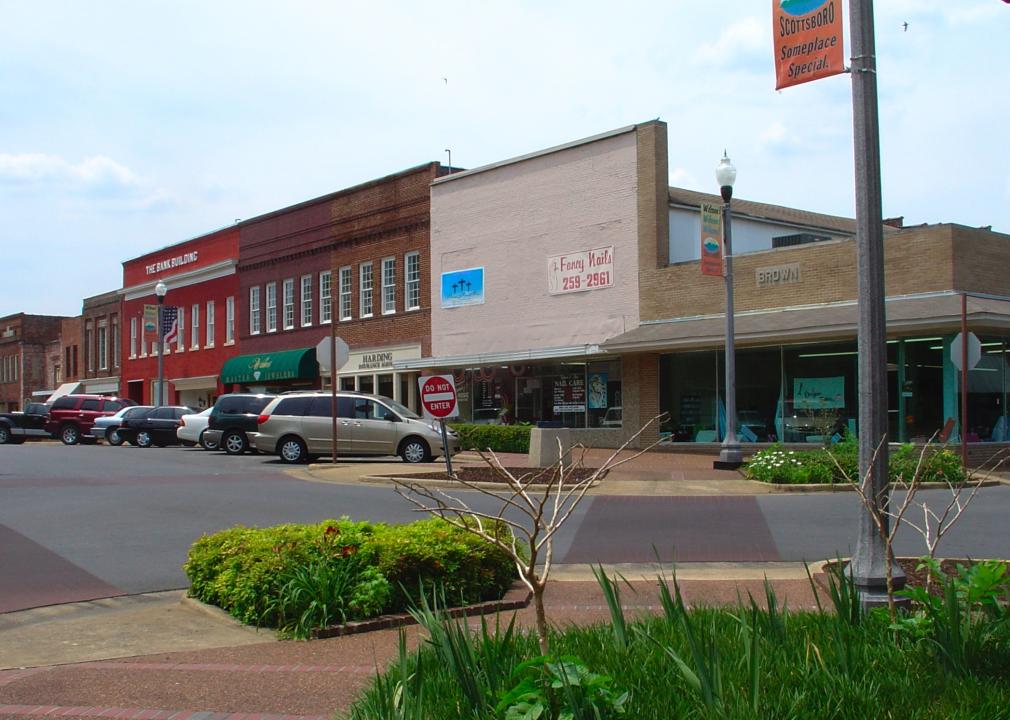 Springfieldohio // Wikimedia Commons
#33. Jackson County, AL
– Inpatient beds occupied: 66.0% (18.0% by COVID-19 patients)
— 16.5% more availability than Alabama overall
– ICU beds occupied: 69.0% (33.0% by COVID-19 patients)
— 25.8% more availability than Alabama overall
– Cases per 100k in last 7 days: 1,720 (888 cases)
– Population that is fully vaccinated: 47.8% (24,666 fully vaccinated)
— -3.4% lower vaccination rate than Alabama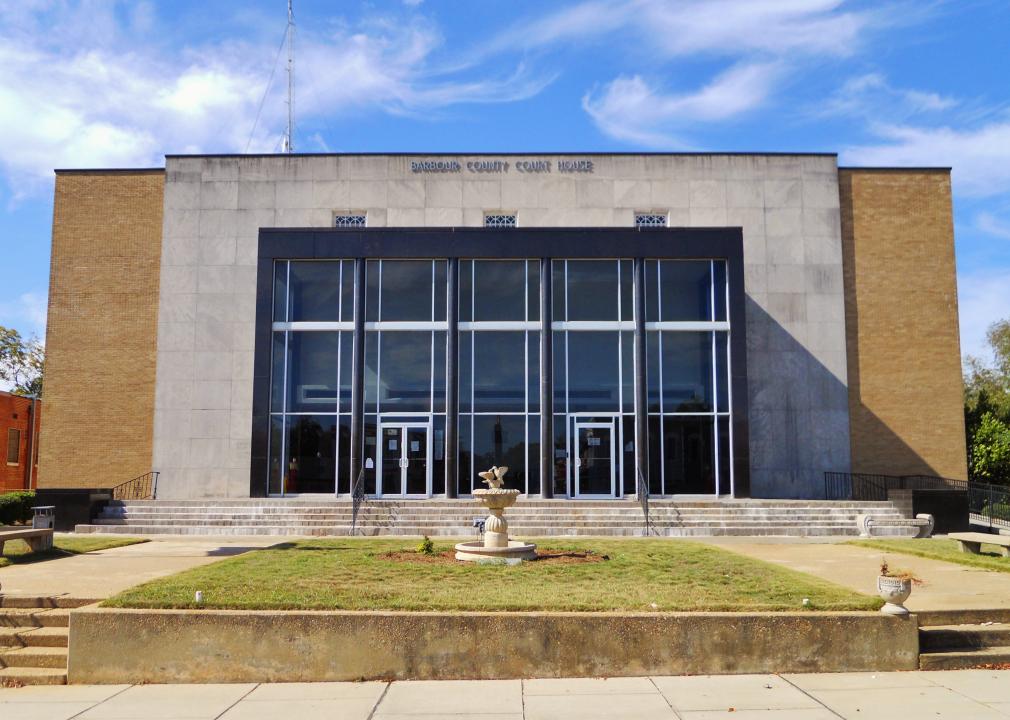 Rivers Langley; SaveRivers // Wikimedia Commons
#32. Barbour County, AL
– Inpatient beds occupied: 66.0% (21.0% by COVID-19 patients)
— 16.5% more availability than Alabama overall
– ICU beds occupied: 89.0% (26.0% by COVID-19 patients)
— 4.3% more availability than Alabama overall
– Cases per 100k in last 7 days: 899 (222 cases)
– Population that is fully vaccinated: 43.8% (10,801 fully vaccinated)
— -11.5% lower vaccination rate than Alabama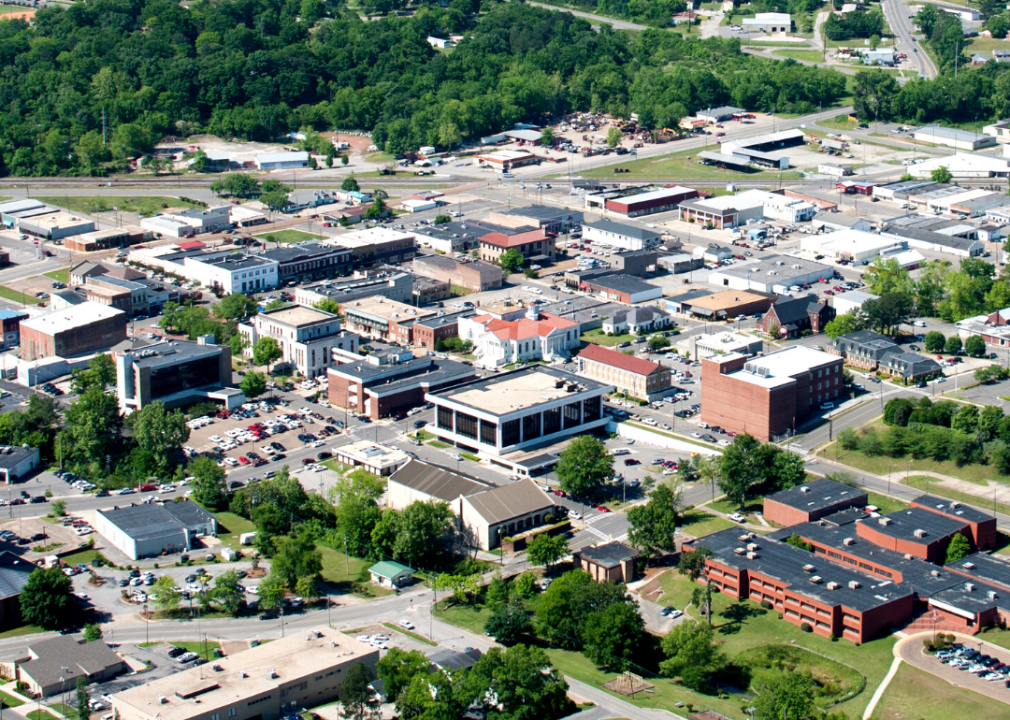 Canva
#31. Walker County, AL
– Inpatient beds occupied: 66.0% (22.0% by COVID-19 patients)
— 16.5% more availability than Alabama overall
– ICU beds occupied: 98.0% (37.0% by COVID-19 patients)
— 5.4% more full than Alabama overall
– Cases per 100k in last 7 days: 2,311 (1,468 cases)
– Population that is fully vaccinated: 46.2% (29,332 fully vaccinated)
— -6.7% lower vaccination rate than Alabama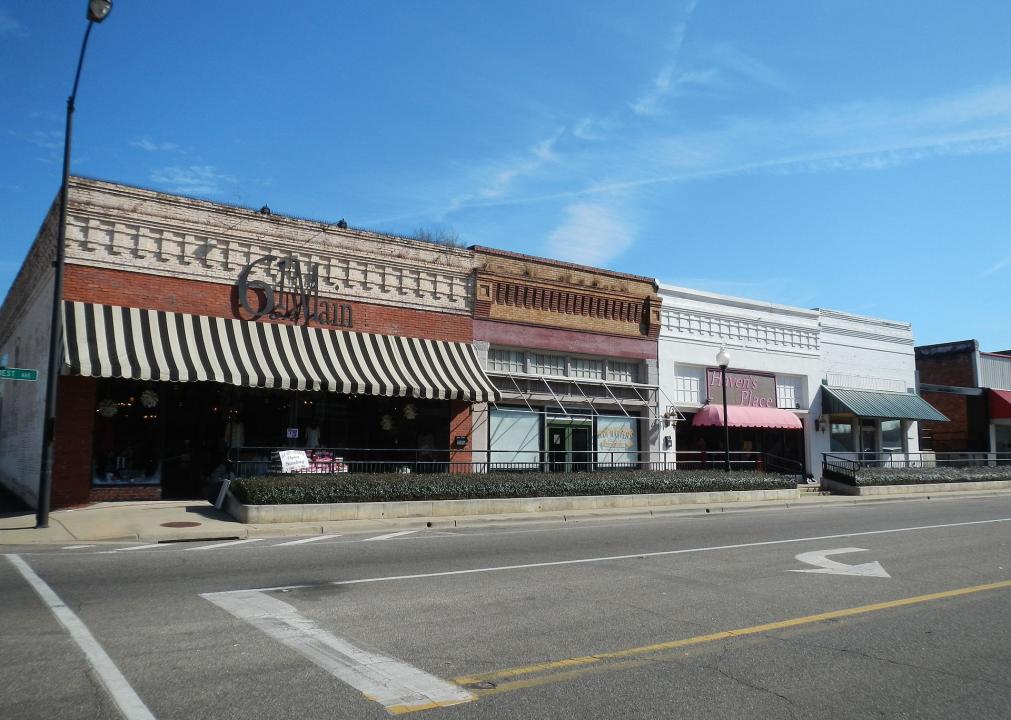 Rivers Langley; SaveRivers // Wikimedia Commons
#30. Crenshaw County, AL
– Inpatient beds occupied: 66.0% (19.0% by COVID-19 patients)
— 16.5% more availability than Alabama overall
– ICU beds occupied: data not available
— 93% full in Alabama overall
– Cases per 100k in last 7 days: 1,510 (208 cases)
– Population that is fully vaccinated: 33.6% (4,622 fully vaccinated)
— -32.1% lower vaccination rate than Alabama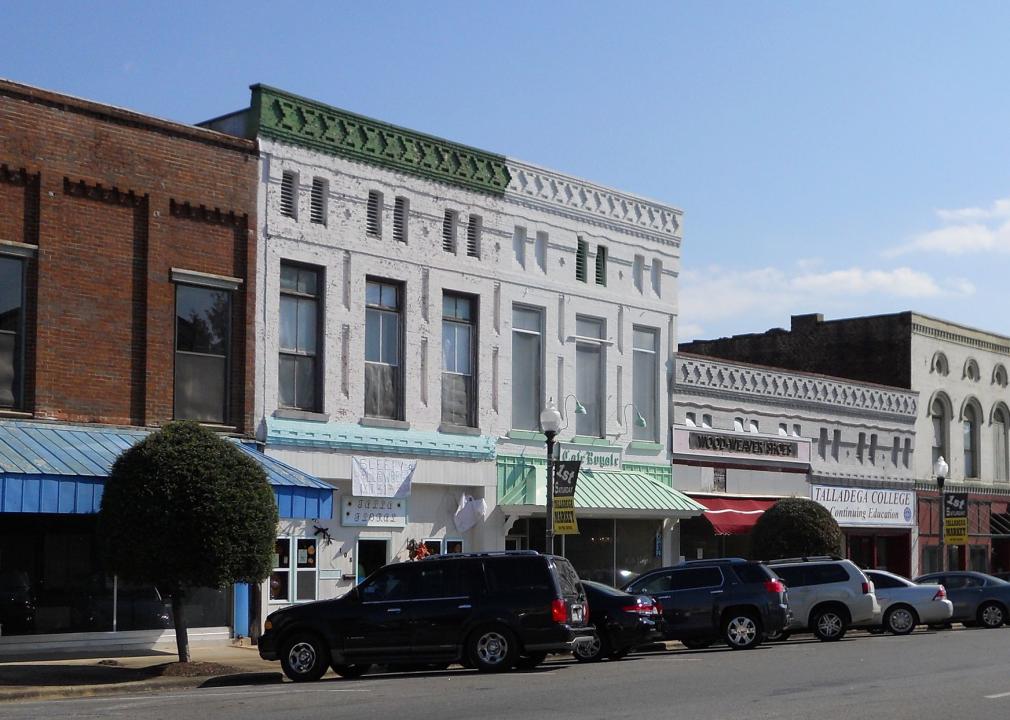 Rivers Langley; SaveRivers // Wikimedia Commons
#29. Talladega County, AL
– Inpatient beds occupied: 67.0% (20.0% by COVID-19 patients)
— 15.2% more availability than Alabama overall
– ICU beds occupied: 80.0% (52.0% by COVID-19 patients)
— 14.0% more availability than Alabama overall
– Cases per 100k in last 7 days: 1,580 (1,264 cases)
– Population that is fully vaccinated: 35.8% (28,600 fully vaccinated)
— -27.7% lower vaccination rate than Alabama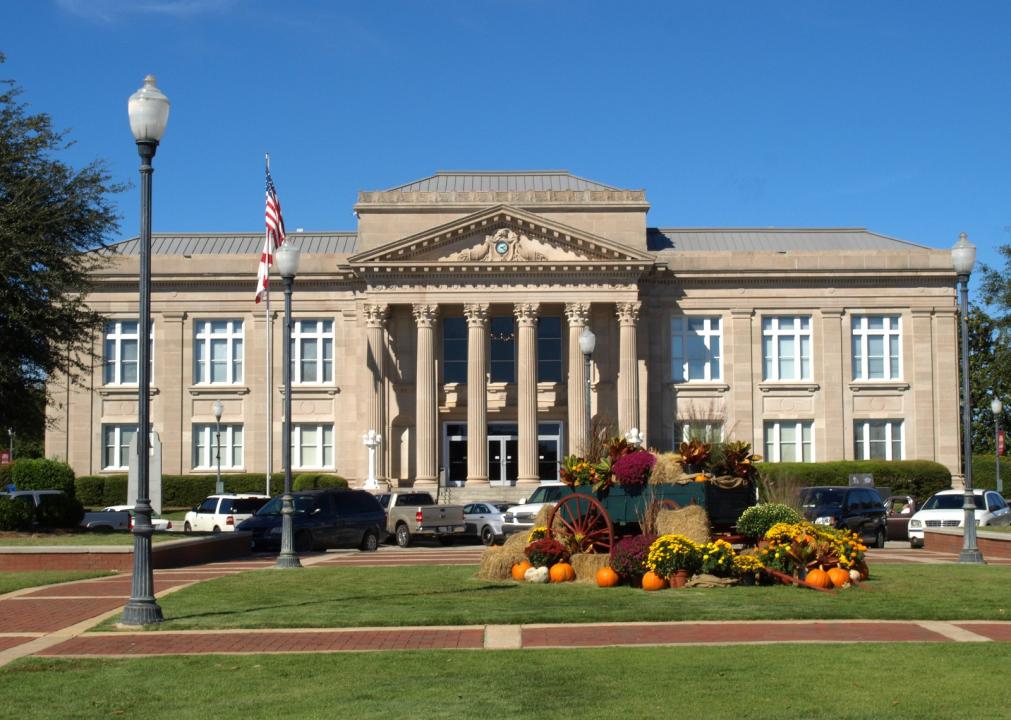 Chris Pruitt // Wikimedia Commons
#28. Covington County, AL
– Inpatient beds occupied: 71.0% (20.0% by COVID-19 patients)
— 10.1% more availability than Alabama overall
– ICU beds occupied: 90.0% (36.0% by COVID-19 patients)
— 3.2% more availability than Alabama overall
– Cases per 100k in last 7 days: 972 (360 cases)
– Population that is fully vaccinated: 37.3% (13,810 fully vaccinated)
— -24.6% lower vaccination rate than Alabama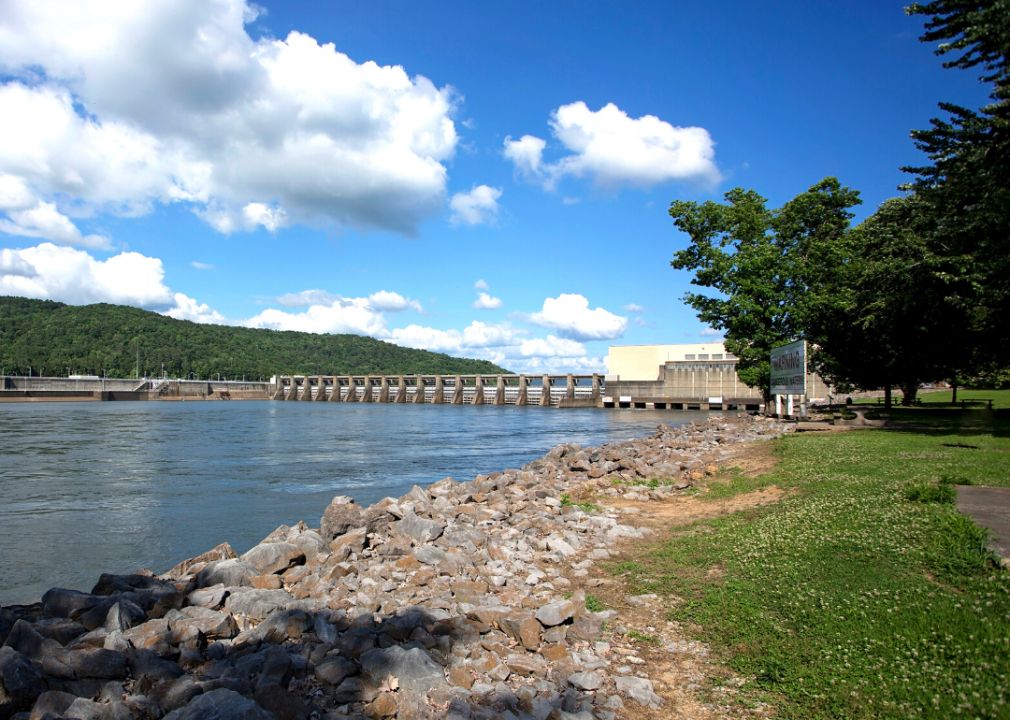 Canva
#27. Marshall County, AL
– Inpatient beds occupied: 72.0% (22.0% by COVID-19 patients)
— 8.9% more availability than Alabama overall
– ICU beds occupied: 75.0% (35.0% by COVID-19 patients)
— 19.4% more availability than Alabama overall
– Cases per 100k in last 7 days: 1,776 (1,719 cases)
– Population that is fully vaccinated: 44.5% (43,028 fully vaccinated)
— -10.1% lower vaccination rate than Alabama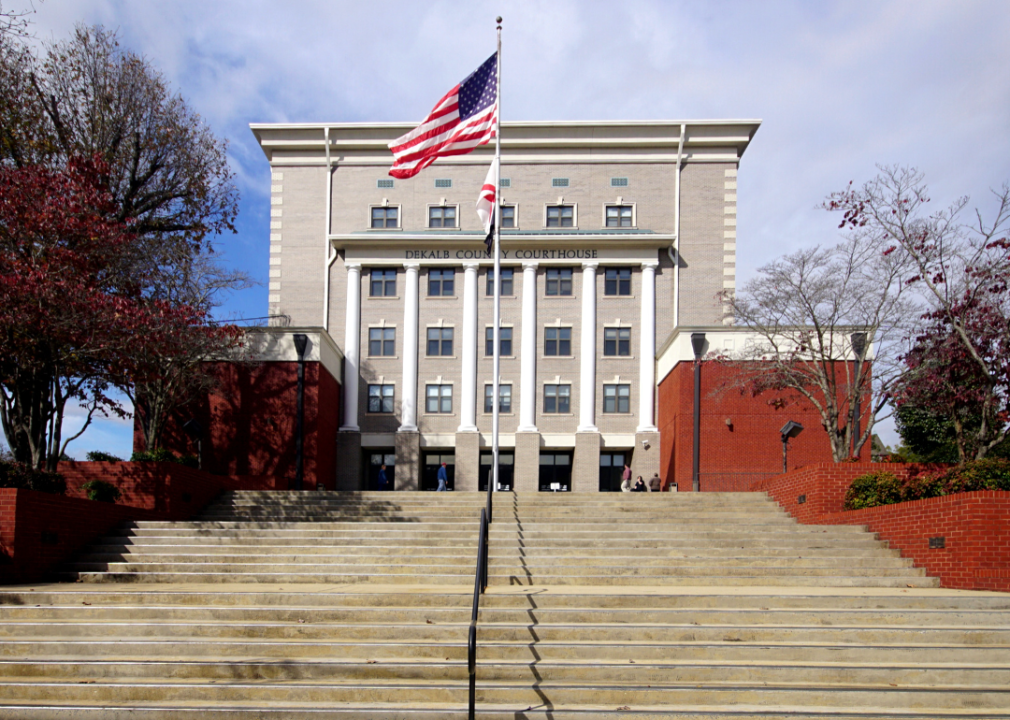 Canva
#26. DeKalb County, AL
– Inpatient beds occupied: 72.0% (22.0% by COVID-19 patients)
— 8.9% more availability than Alabama overall
– ICU beds occupied: 94.0% (59.0% by COVID-19 patients)
— 1.1% more full than Alabama overall
– Cases per 100k in last 7 days: 1,207 (863 cases)
– Population that is fully vaccinated: 32.9% (23,505 fully vaccinated)
— -33.5% lower vaccination rate than Alabama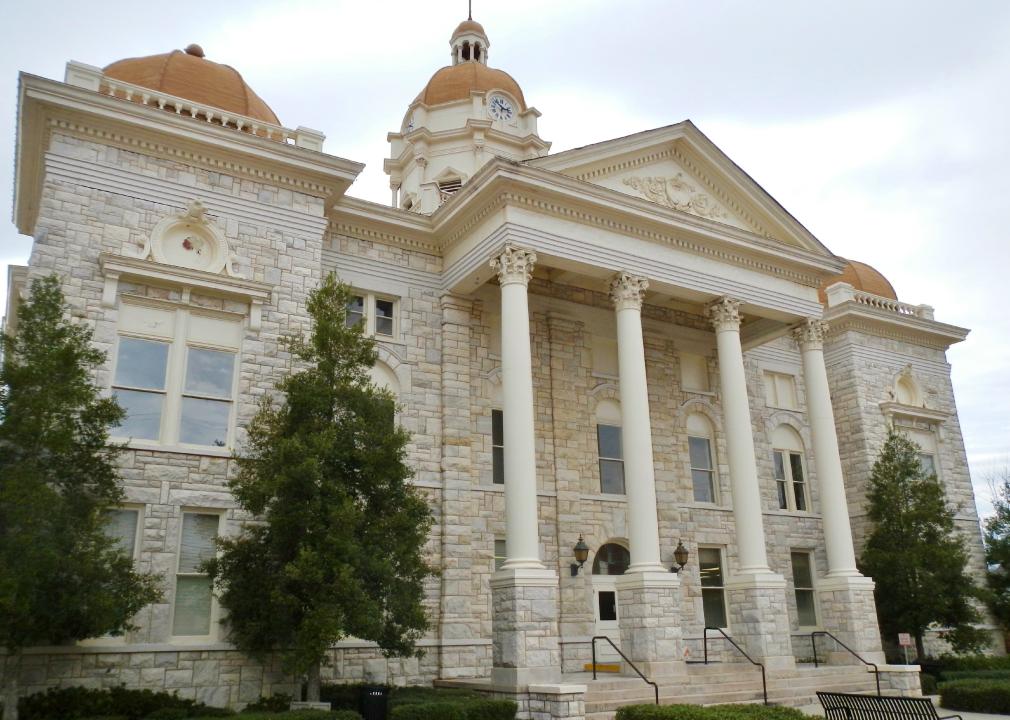 Rivers Langley; SaveRivers // Wikimedia Commons
#25. Shelby County, AL
– Inpatient beds occupied: 74.0% (30.0% by COVID-19 patients)
— 6.3% more availability than Alabama overall
– ICU beds occupied: 75.0% (44.0% by COVID-19 patients)
— 19.4% more availability than Alabama overall
– Cases per 100k in last 7 days: 1,359 (2,958 cases)
– Population that is fully vaccinated: 35.3% (76,868 fully vaccinated)
— -28.7% lower vaccination rate than Alabama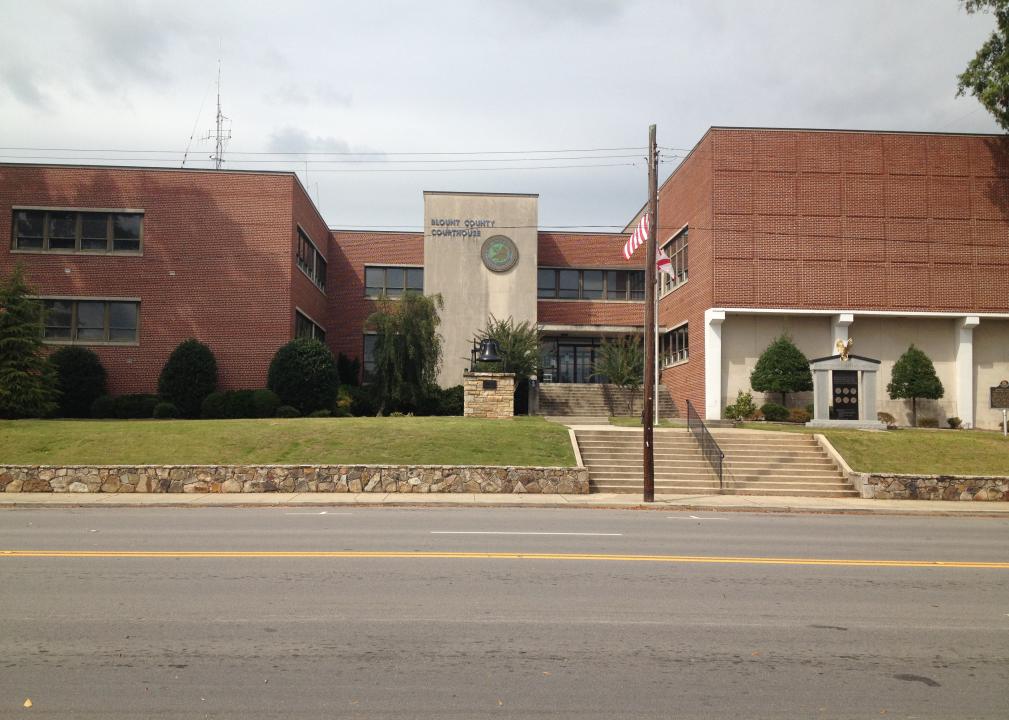 Rudi Weikard // Wikimedia Commons
#24. Blount County, AL
– Inpatient beds occupied: 74.0% (22.0% by COVID-19 patients)
— 6.3% more availability than Alabama overall
– ICU beds occupied: 100.0% (83.0% by COVID-19 patients)
— 7.5% more full than Alabama overall
– Cases per 100k in last 7 days: 1,057 (611 cases)
– Population that is fully vaccinated: 30.8% (17,832 fully vaccinated)
— -37.8% lower vaccination rate than Alabama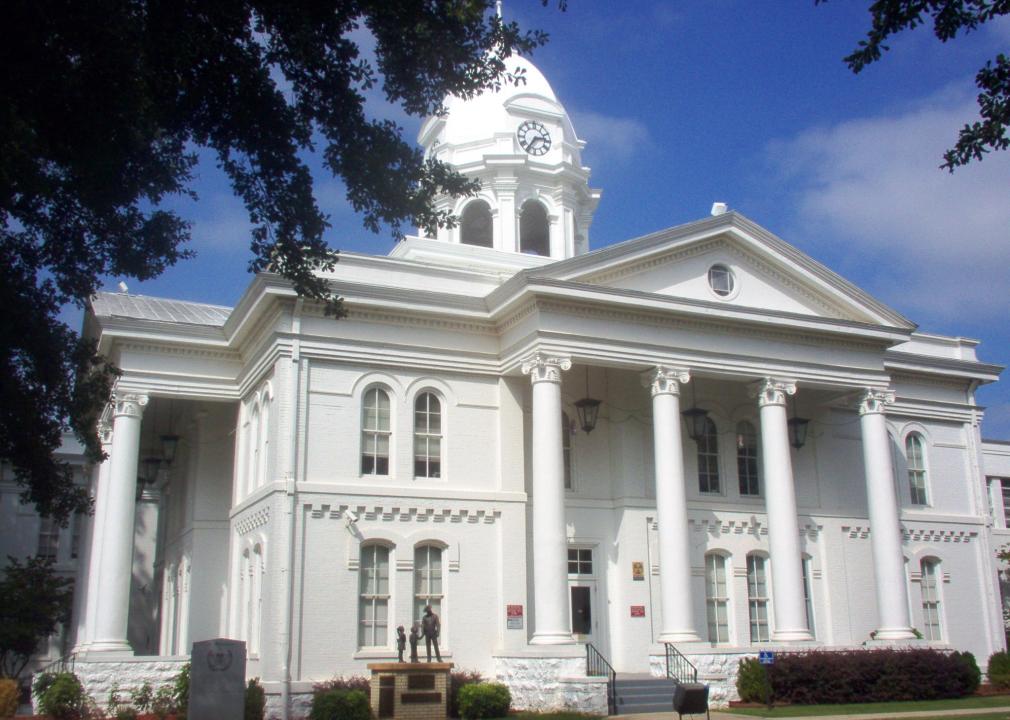 Dailynetworks // Wikimedia Commons
#23. Colbert County, AL
– Inpatient beds occupied: 74.0% (25.0% by COVID-19 patients)
— 6.3% more availability than Alabama overall
– ICU beds occupied: 100.0% (100.0% by COVID-19 patients)
— 7.5% more full than Alabama overall
– Cases per 100k in last 7 days: 1,673 (924 cases)
– Population that is fully vaccinated: 46.9% (25,916 fully vaccinated)
— -5.3% lower vaccination rate than Alabama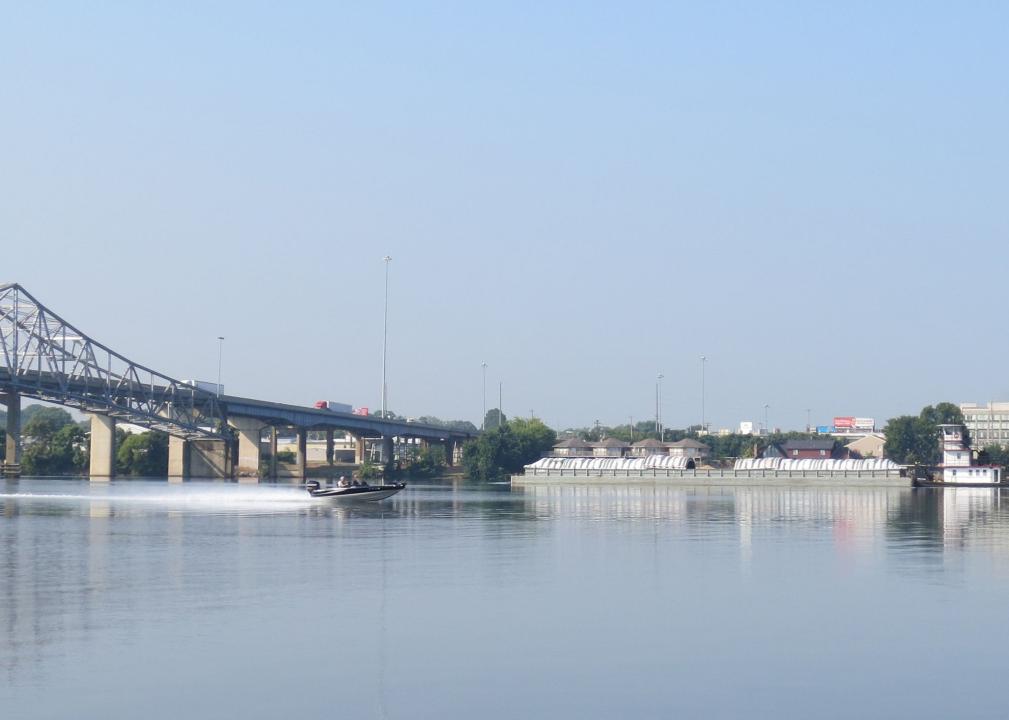 MPearsallArt // Wikimedia Commons
#22. Morgan County, AL
– Inpatient beds occupied: 75.0% (29.0% by COVID-19 patients)
— 5.1% more availability than Alabama overall
– ICU beds occupied: 100.0% (44.0% by COVID-19 patients)
— 7.5% more full than Alabama overall
– Cases per 100k in last 7 days: 1,652 (1,977 cases)
– Population that is fully vaccinated: 42.6% (50,983 fully vaccinated)
— -13.9% lower vaccination rate than Alabama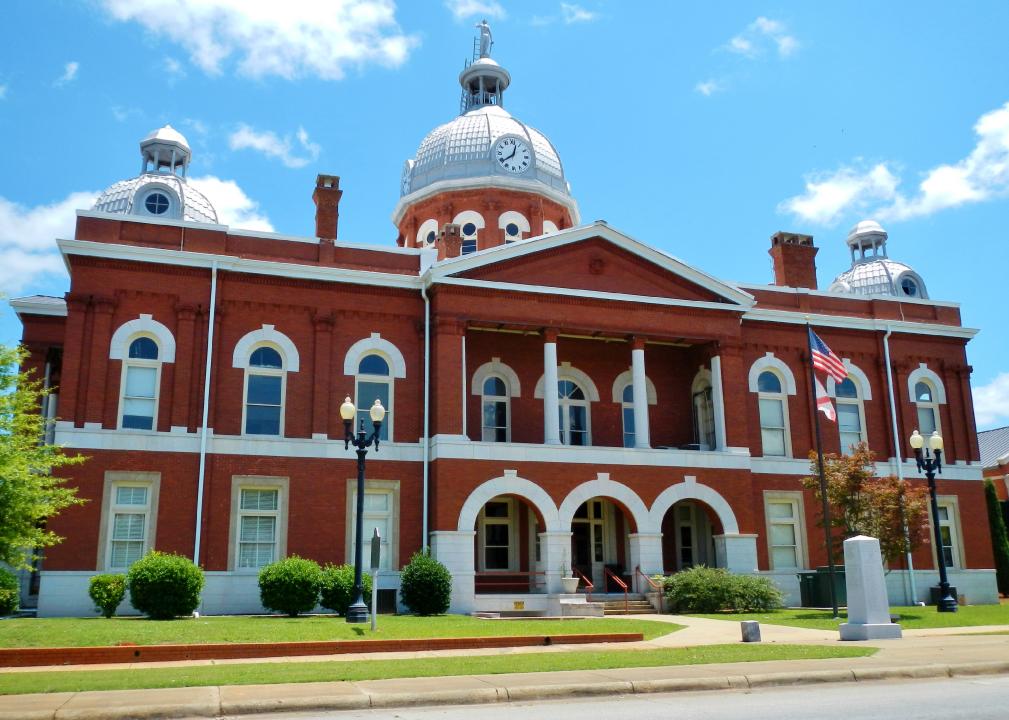 Rivers Langley; SaveRivers // Wikimedia Commons
#21. Chambers County, AL
– Inpatient beds occupied: 75.0% (15.0% by COVID-19 patients)
— 5.1% more availability than Alabama overall
– ICU beds occupied: data not available
— 93% full in Alabama overall
– Cases per 100k in last 7 days: 899 (299 cases)
– Population that is fully vaccinated: 30.4% (10,101 fully vaccinated)
— -38.6% lower vaccination rate than Alabama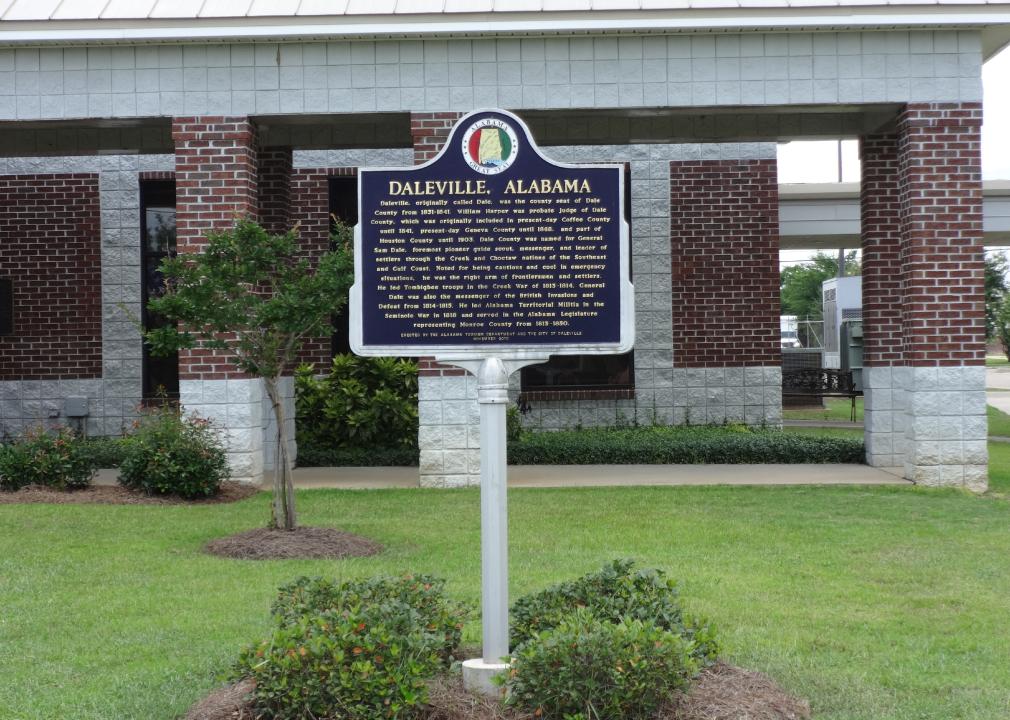 Michael Rivera // Wikimedia Commons
#20. Dale County, AL
– Inpatient beds occupied: 76.0% (31.0% by COVID-19 patients)
— 3.8% more availability than Alabama overall
– ICU beds occupied: 77.0% (54.0% by COVID-19 patients)
— 17.2% more availability than Alabama overall
– Cases per 100k in last 7 days: 852 (419 cases)
– Population that is fully vaccinated: 46.4% (22,794 fully vaccinated)
— -6.3% lower vaccination rate than Alabama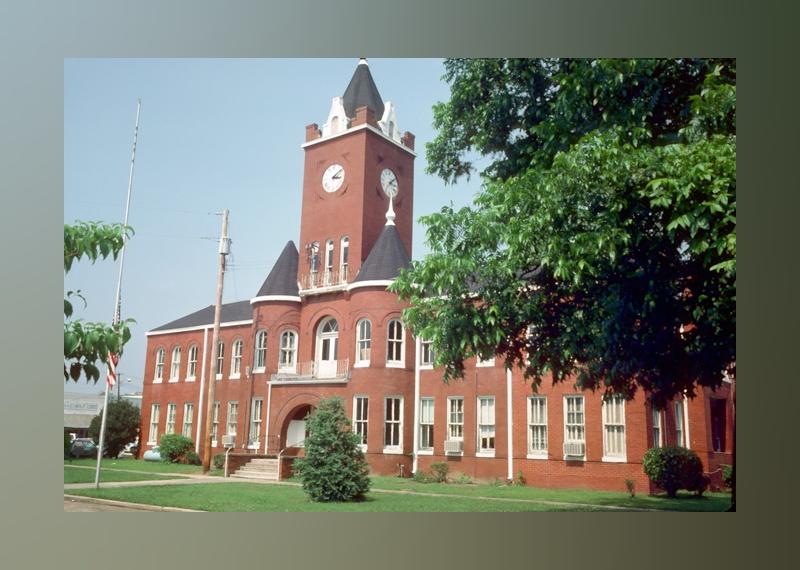 Calvin Beale // Wikimedia Commons
#19. Coffee County, AL
– Inpatient beds occupied: 76.0% (32.0% by COVID-19 patients)
— 3.8% more availability than Alabama overall
– ICU beds occupied: 84.0% (73.0% by COVID-19 patients)
— 9.7% more availability than Alabama overall
– Cases per 100k in last 7 days: 992 (519 cases)
– Population that is fully vaccinated: 45.8% (23,981 fully vaccinated)
— -7.5% lower vaccination rate than Alabama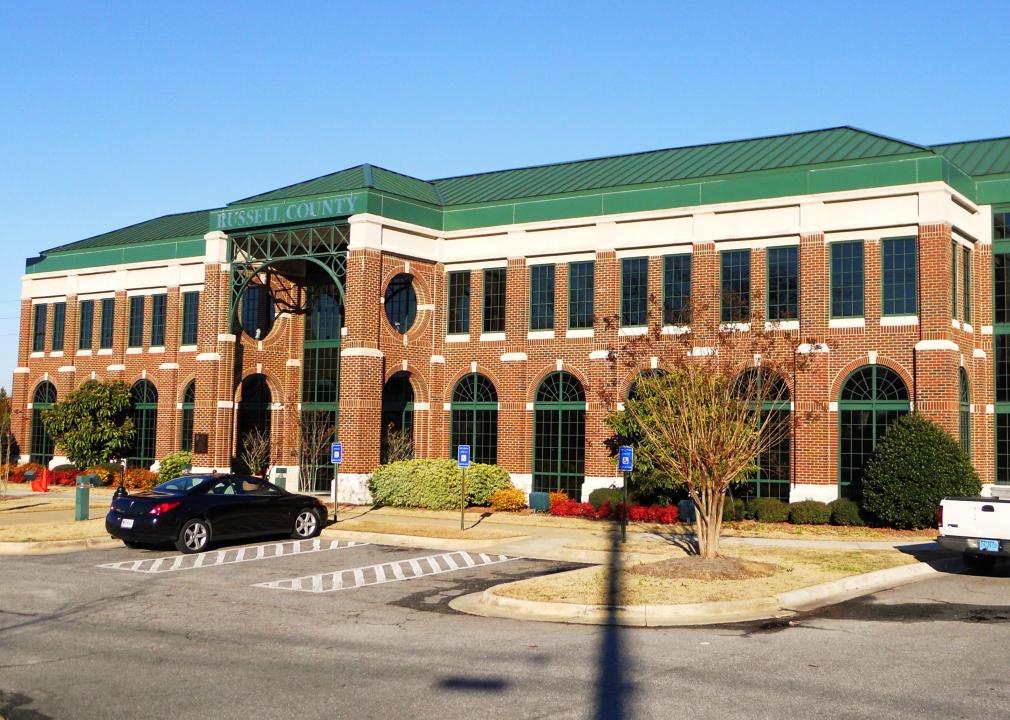 Rivers Langley SaveRivers // Wikimedia Commons
#18. Russell County, AL
– Inpatient beds occupied: 76.0% (11.0% by COVID-19 patients)
— 3.8% more availability than Alabama overall
– ICU beds occupied: 93.0% (21.0% by COVID-19 patients)
— 0.0% more availability than Alabama overall
– Cases per 100k in last 7 days: 661 (383 cases)
– Population that is fully vaccinated: 39.1% (22,667 fully vaccinated)
— -21.0% lower vaccination rate than Alabama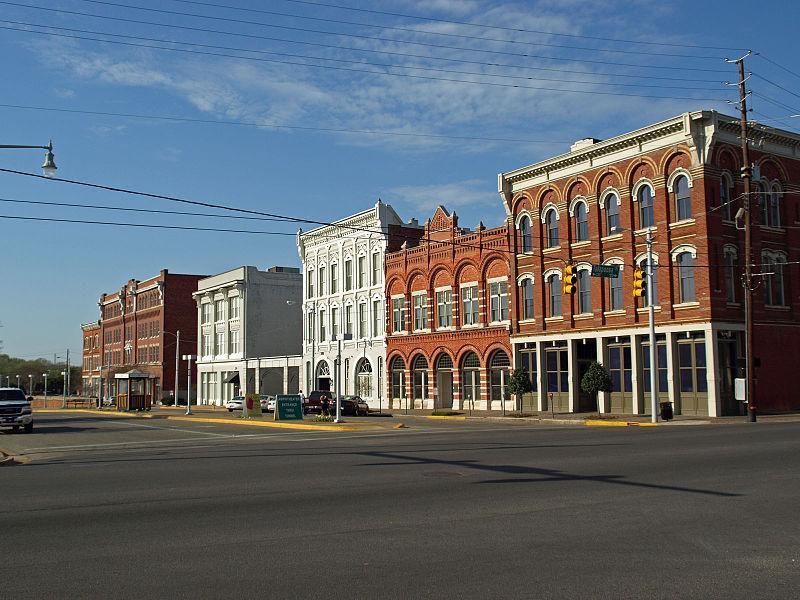 Chris Pruitt // wikicommons
#17. Montgomery County, AL
– Inpatient beds occupied: 77.0% (23.0% by COVID-19 patients)
— 2.5% more availability than Alabama overall
– ICU beds occupied: 98.0% (45.0% by COVID-19 patients)
— 5.4% more full than Alabama overall
– Cases per 100k in last 7 days: 1,587 (3,594 cases)
– Population that is fully vaccinated: 50.3% (113,894 fully vaccinated)
— 1.6% higher vaccination rate than Alabama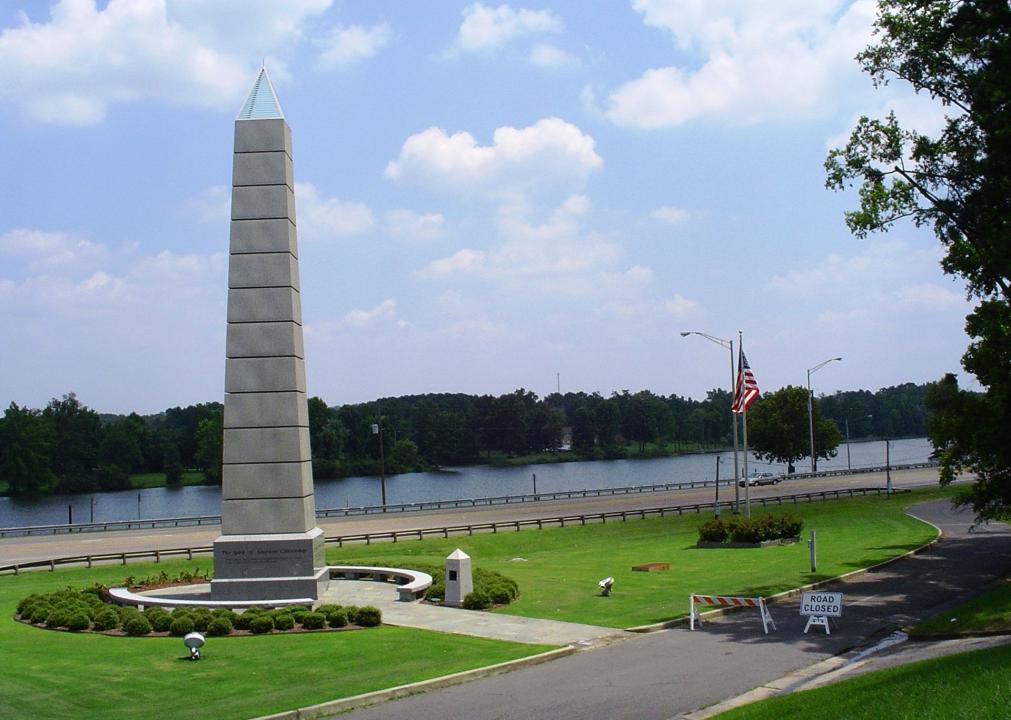 Prestinian // Wikimedia Commons
#16. Etowah County, AL
– Inpatient beds occupied: 80.0% (30.0% by COVID-19 patients)
— 1.3% more full than Alabama overall
– ICU beds occupied: 100.0% (38.0% by COVID-19 patients)
— 7.5% more full than Alabama overall
– Cases per 100k in last 7 days: 1,283 (1,312 cases)
– Population that is fully vaccinated: 40.1% (41,013 fully vaccinated)
— -19.0% lower vaccination rate than Alabama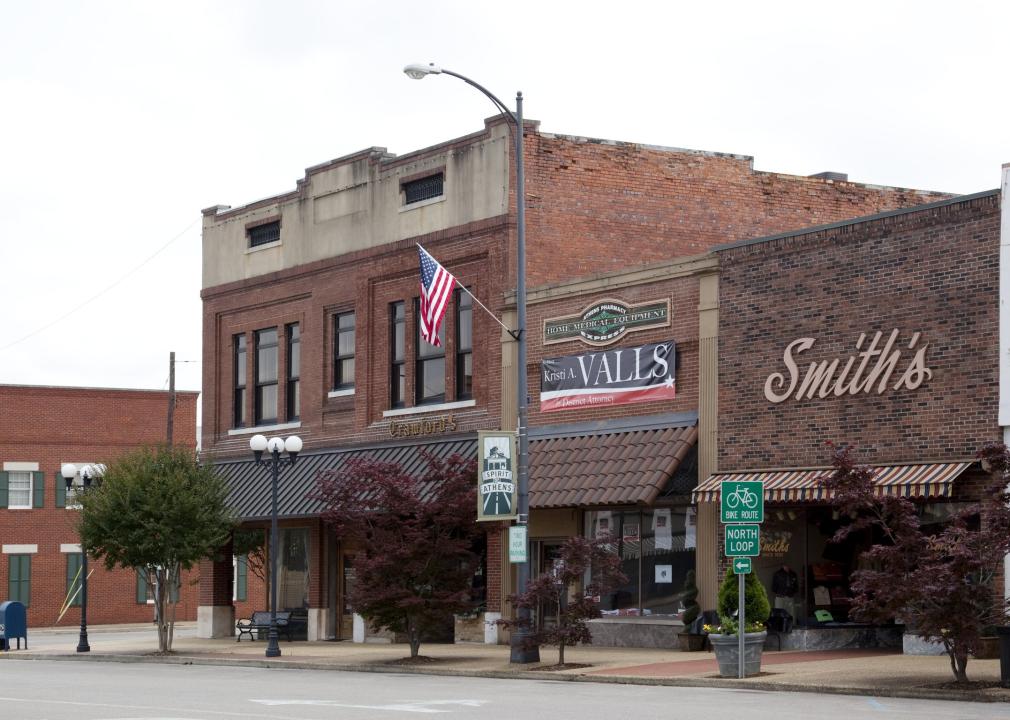 Carol M. Highsmith // Wikimedia Commons
#15. Limestone County, AL
– Inpatient beds occupied: 81.0% (23.0% by COVID-19 patients)
— 2.5% more full than Alabama overall
– ICU beds occupied: 99.0% (57.0% by COVID-19 patients)
— 6.5% more full than Alabama overall
– Cases per 100k in last 7 days: 1,188 (1,175 cases)
– Population that is fully vaccinated: 37.9% (37,501 fully vaccinated)
— -23.4% lower vaccination rate than Alabama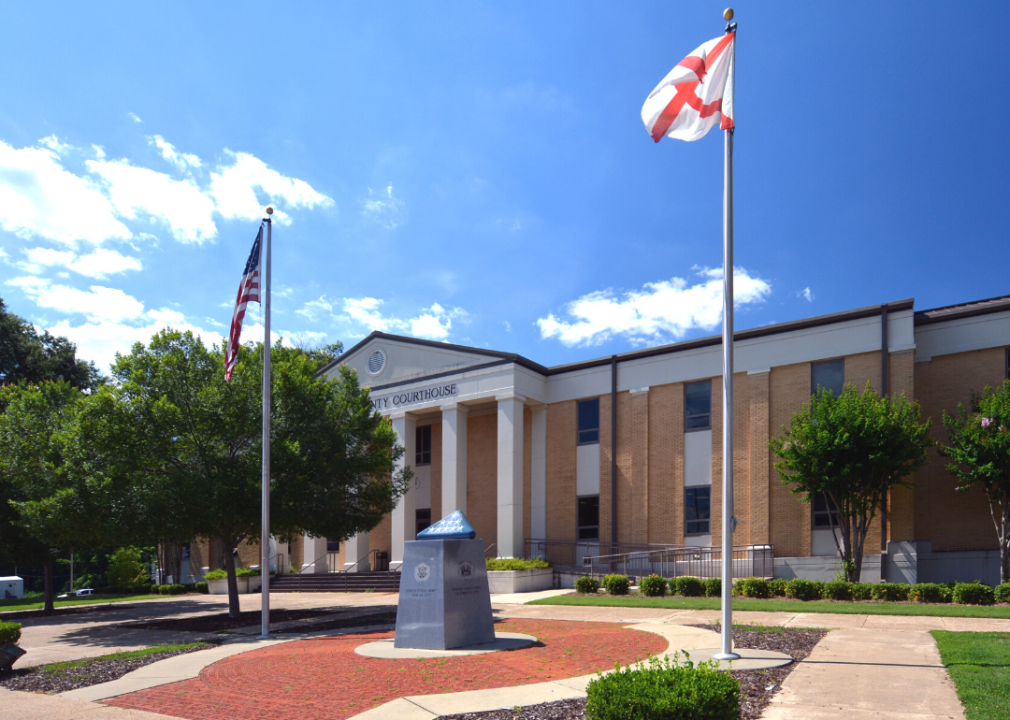 Canva
#14. Marengo County, AL
– Inpatient beds occupied: 81.0% (30.0% by COVID-19 patients)
— 2.5% more full than Alabama overall
– ICU beds occupied: 140.0% (87.0% by COVID-19 patients)
— 50.5% more full than Alabama overall
– Cases per 100k in last 7 days: 816 (154 cases)
– Population that is fully vaccinated: 53.1% (10,015 fully vaccinated)
— 7.3% higher vaccination rate than Alabama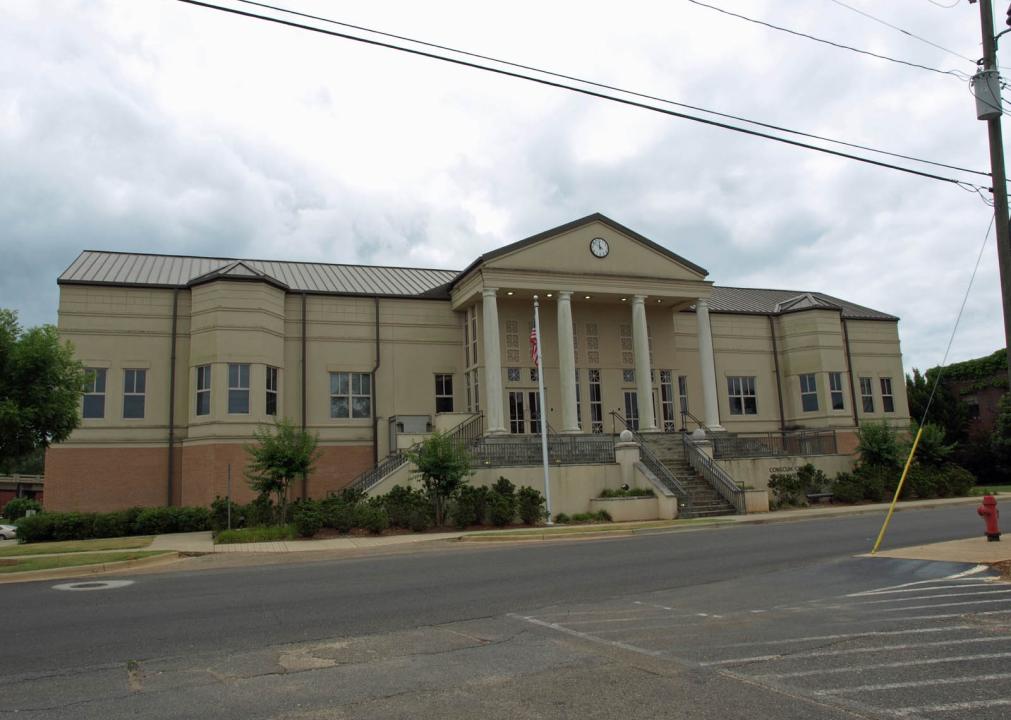 Chris Pruitt // Wikimedia Commons
#13. Conecuh County, AL
– Inpatient beds occupied: 81.0% (31.0% by COVID-19 patients)
— 2.5% more full than Alabama overall
– ICU beds occupied: data not available
— 93% full in Alabama overall
– Cases per 100k in last 7 days: 1,094 (132 cases)
– Population that is fully vaccinated: 42.4% (5,122 fully vaccinated)
— -14.3% lower vaccination rate than Alabama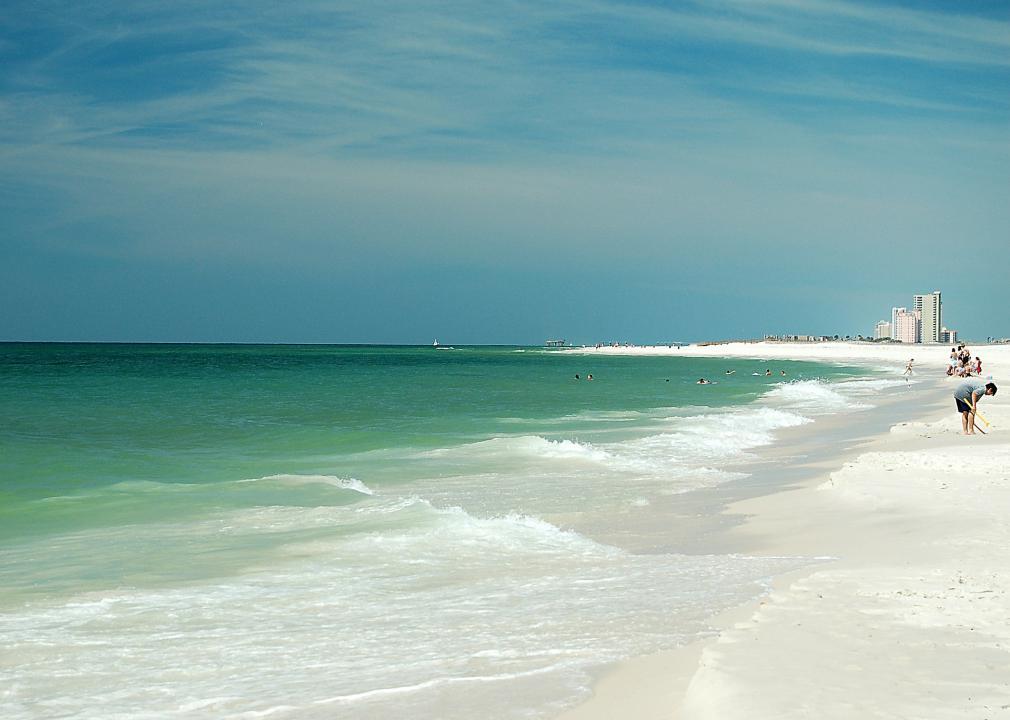 Jodybwiki // Wikimedia Commons
#12. Baldwin County, AL
– Inpatient beds occupied: 82.0% (20.0% by COVID-19 patients)
— 3.8% more full than Alabama overall
– ICU beds occupied: 99.0% (40.0% by COVID-19 patients)
— 6.5% more full than Alabama overall
– Cases per 100k in last 7 days: 995 (2,221 cases)
– Population that is fully vaccinated: 49.5% (110,597 fully vaccinated)
— 0.0% lower vaccination rate than Alabama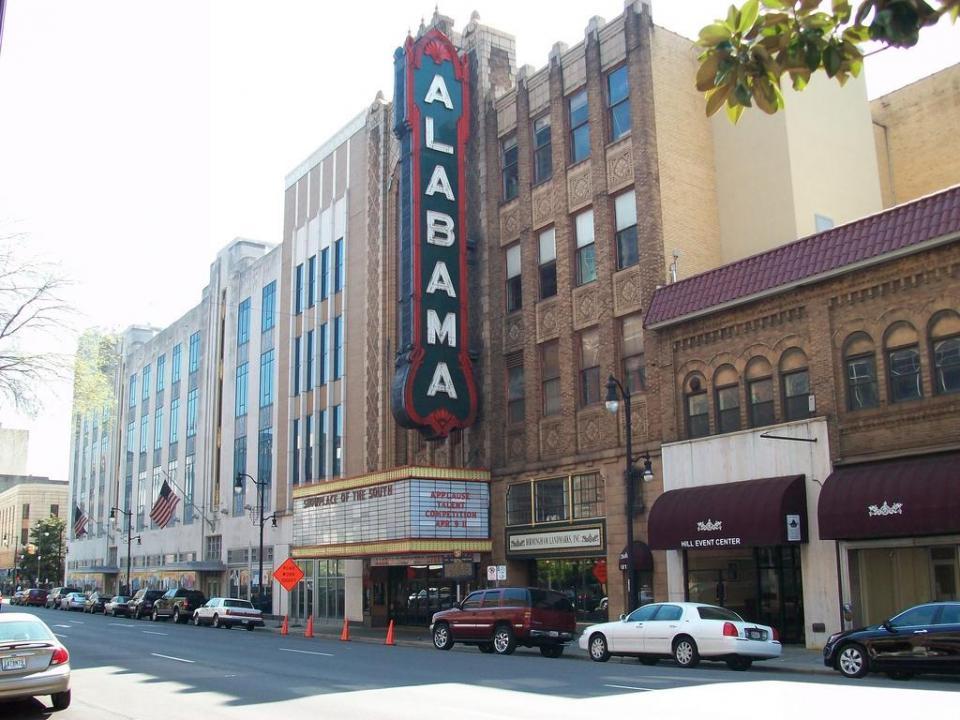 M Floyd // Flickr
#11. Jefferson County, AL
– Inpatient beds occupied: 84.0% (17.0% by COVID-19 patients)
— 6.3% more full than Alabama overall
– ICU beds occupied: 94.0% (30.0% by COVID-19 patients)
— 1.1% more full than Alabama overall
– Cases per 100k in last 7 days: 1,252 (8,243 cases)
– Population that is fully vaccinated: 56.3% (370,657 fully vaccinated)
— 13.7% higher vaccination rate than Alabama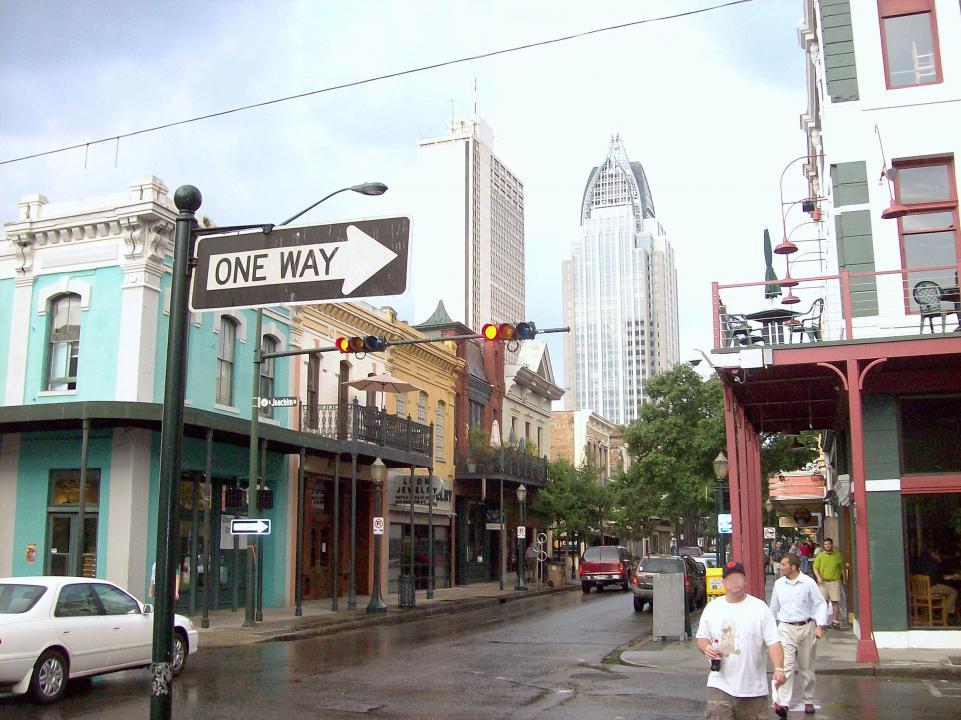 Altairisfar // Wikicommons
#10. Mobile County, AL
– Inpatient beds occupied: 87.0% (19.0% by COVID-19 patients)
— 10.1% more full than Alabama overall
– ICU beds occupied: 91.0% (32.0% by COVID-19 patients)
— 2.2% more availability than Alabama overall
– Cases per 100k in last 7 days: 934 (3,858 cases)
– Population that is fully vaccinated: 48.2% (199,369 fully vaccinated)
— -2.6% lower vaccination rate than Alabama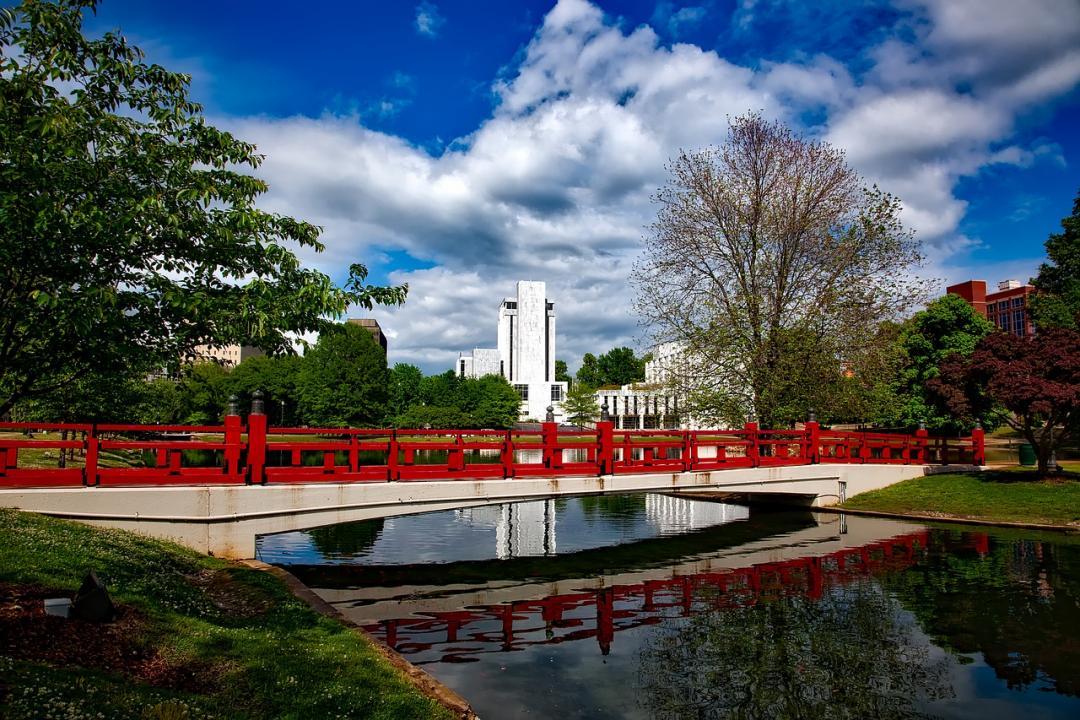 Pixabay
#9. Madison County, AL
– Inpatient beds occupied: 88.0% (23.0% by COVID-19 patients)
— 11.4% more full than Alabama overall
– ICU beds occupied: 95.0% (43.0% by COVID-19 patients)
— 2.2% more full than Alabama overall
– Cases per 100k in last 7 days: 1,296 (4,832 cases)
– Population that is fully vaccinated: 60.1% (224,206 fully vaccinated)
— 21.4% higher vaccination rate than Alabama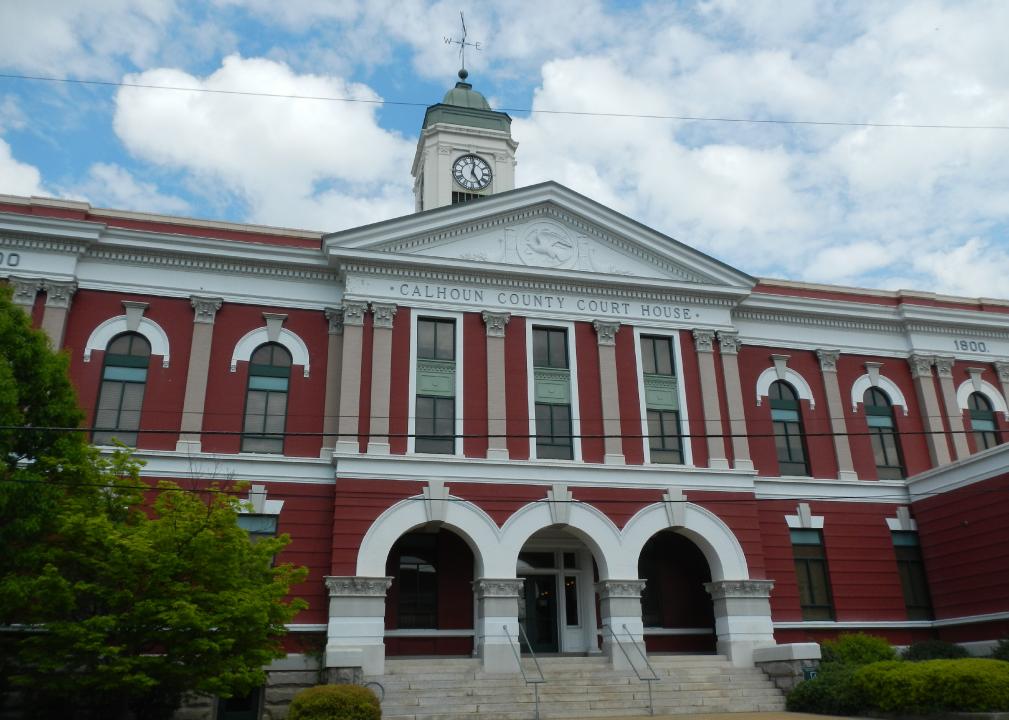 Rivers Langley; SaveRivers // Wikimedia Commons
#8. Calhoun County, AL
– Inpatient beds occupied: 88.0% (16.0% by COVID-19 patients)
— 11.4% more full than Alabama overall
– ICU beds occupied: 101.0% (26.0% by COVID-19 patients)
— 8.6% more full than Alabama overall
– Cases per 100k in last 7 days: 1,387 (1,576 cases)
– Population that is fully vaccinated: 45.7% (51,969 fully vaccinated)
— -7.7% lower vaccination rate than Alabama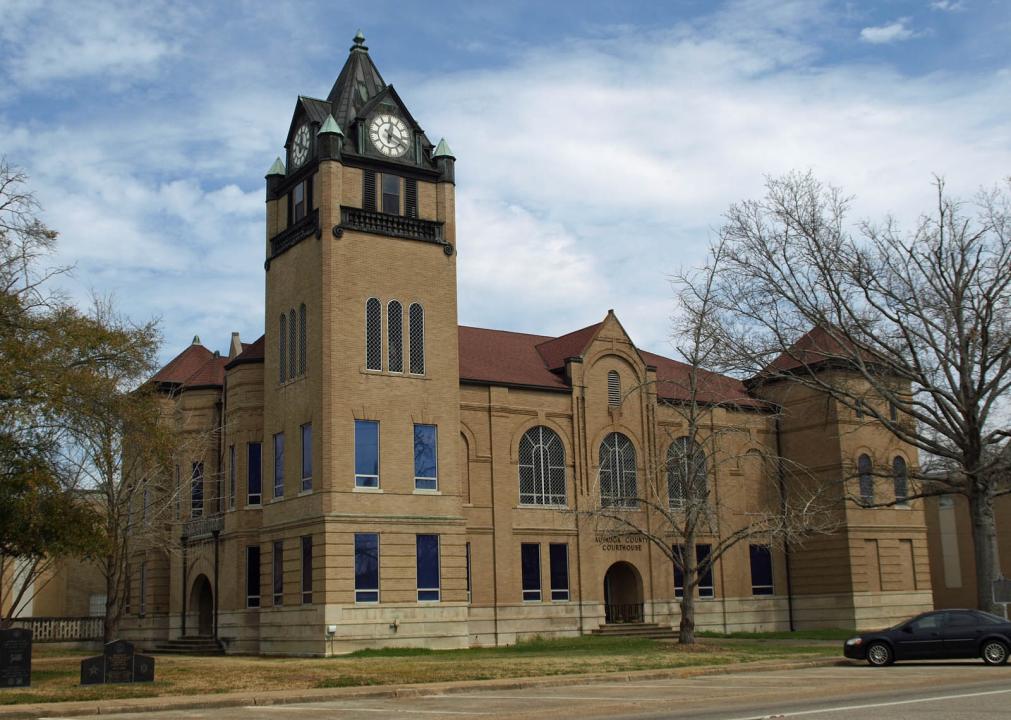 Chris Pruitt // Wikimedia Commons
#7. Autauga County, AL
– Inpatient beds occupied: 88.0% (38.0% by COVID-19 patients)
— 11.4% more full than Alabama overall
– ICU beds occupied: 129.0% (75.0% by COVID-19 patients)
— 38.7% more full than Alabama overall
– Cases per 100k in last 7 days: 2,617 (1,462 cases)
– Population that is fully vaccinated: 42.5% (23,767 fully vaccinated)
— -14.1% lower vaccination rate than Alabama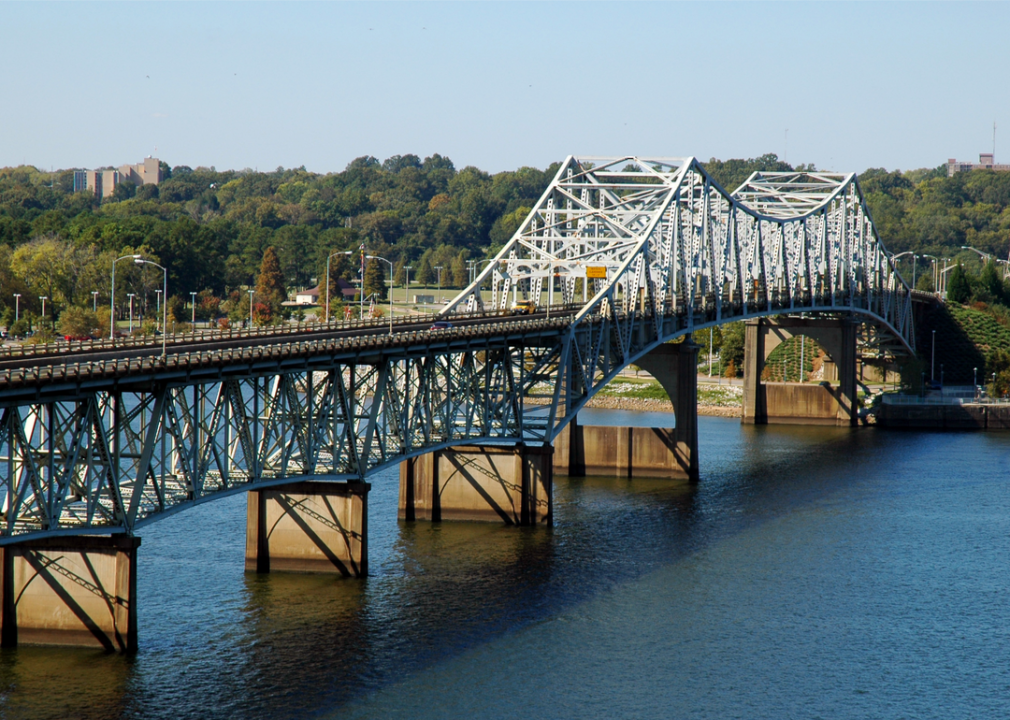 Wayne James // Shutterstock
#6. Lauderdale County, AL
– Inpatient beds occupied: 89.0% (26.0% by COVID-19 patients)
— 12.7% more full than Alabama overall
– ICU beds occupied: 74.0% (25.0% by COVID-19 patients)
— 20.4% more availability than Alabama overall
– Cases per 100k in last 7 days: 1,417 (1,314 cases)
– Population that is fully vaccinated: 45.2% (41,875 fully vaccinated)
— -8.7% lower vaccination rate than Alabama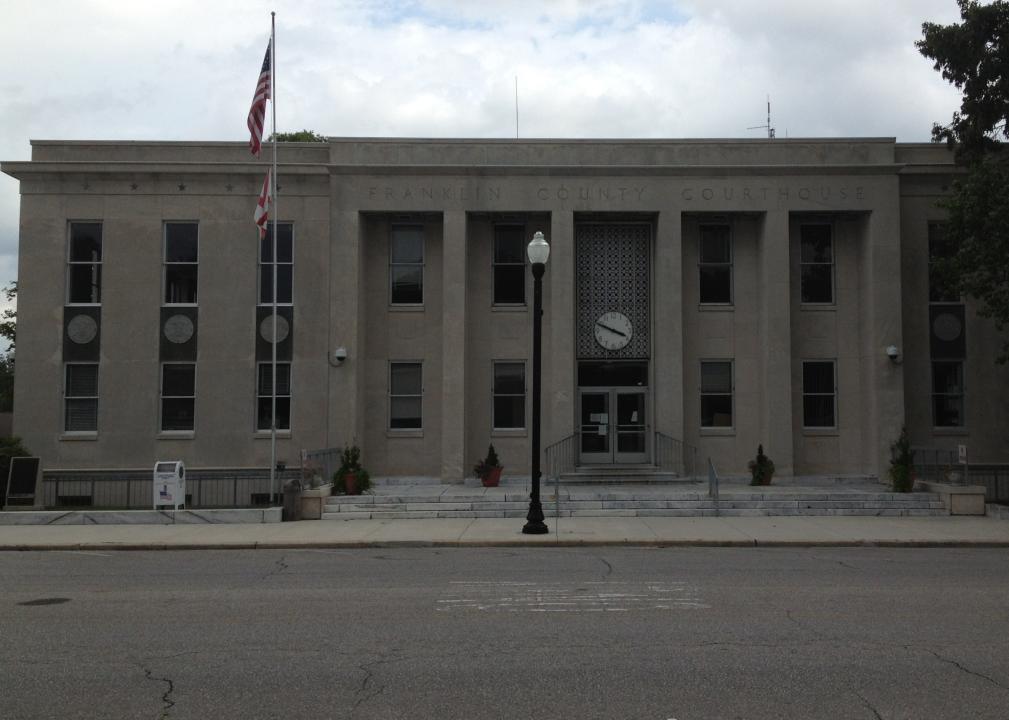 Rudi Weikard // Wikimedia Commons
#5. Franklin County, AL
– Inpatient beds occupied: 93.0% (28.0% by COVID-19 patients)
— 17.7% more full than Alabama overall
– ICU beds occupied: 90.0% (26.0% by COVID-19 patients)
— 3.2% more availability than Alabama overall
– Cases per 100k in last 7 days: 1,709 (536 cases)
– Population that is fully vaccinated: 42.6% (13,359 fully vaccinated)
— -13.9% lower vaccination rate than Alabama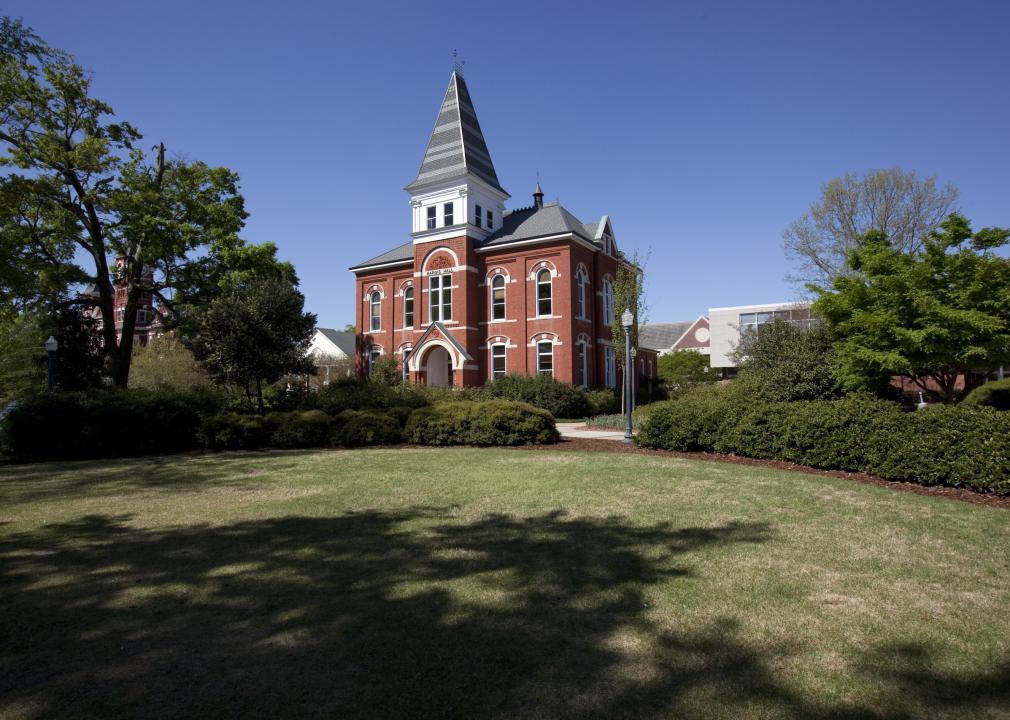 Library of Congress
#4. Lee County, AL
– Inpatient beds occupied: 93.0% (26.0% by COVID-19 patients)
— 17.7% more full than Alabama overall
– ICU beds occupied: 95.0% (45.0% by COVID-19 patients)
— 2.2% more full than Alabama overall
– Cases per 100k in last 7 days: 929 (1,528 cases)
– Population that is fully vaccinated: 39.0% (64,170 fully vaccinated)
— -21.2% lower vaccination rate than Alabama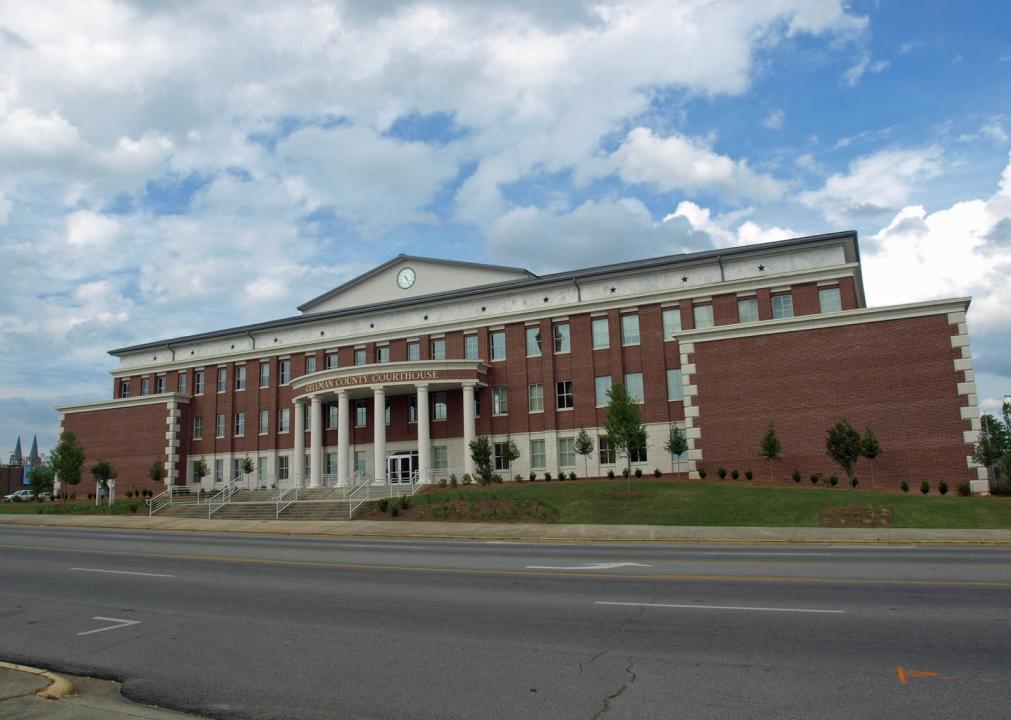 Chris Pruitt // Wikimedia Commons
#3. Cullman County, AL
– Inpatient beds occupied: 93.0% (40.0% by COVID-19 patients)
— 17.7% more full than Alabama overall
– ICU beds occupied: 104.0% (73.0% by COVID-19 patients)
— 11.8% more full than Alabama overall
– Cases per 100k in last 7 days: 1,721 (1,442 cases)
– Population that is fully vaccinated: 37.5% (31,374 fully vaccinated)
— -24.2% lower vaccination rate than Alabama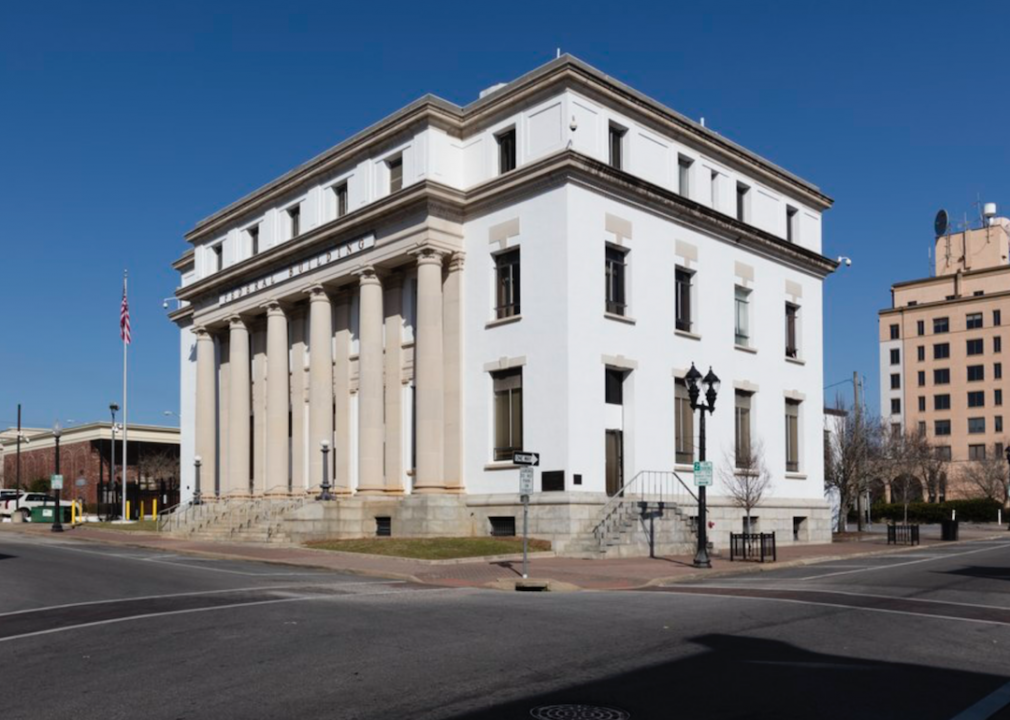 Carol M. Highsmith/Library of Congress // Wikimedia Commons
#2. Houston County, AL
– Inpatient beds occupied: 96.0% (25.0% by COVID-19 patients)
— 21.5% more full than Alabama overall
– ICU beds occupied: 101.0% (34.0% by COVID-19 patients)
— 8.6% more full than Alabama overall
– Cases per 100k in last 7 days: 901 (954 cases)
– Population that is fully vaccinated: 42.1% (44,548 fully vaccinated)
— -14.9% lower vaccination rate than Alabama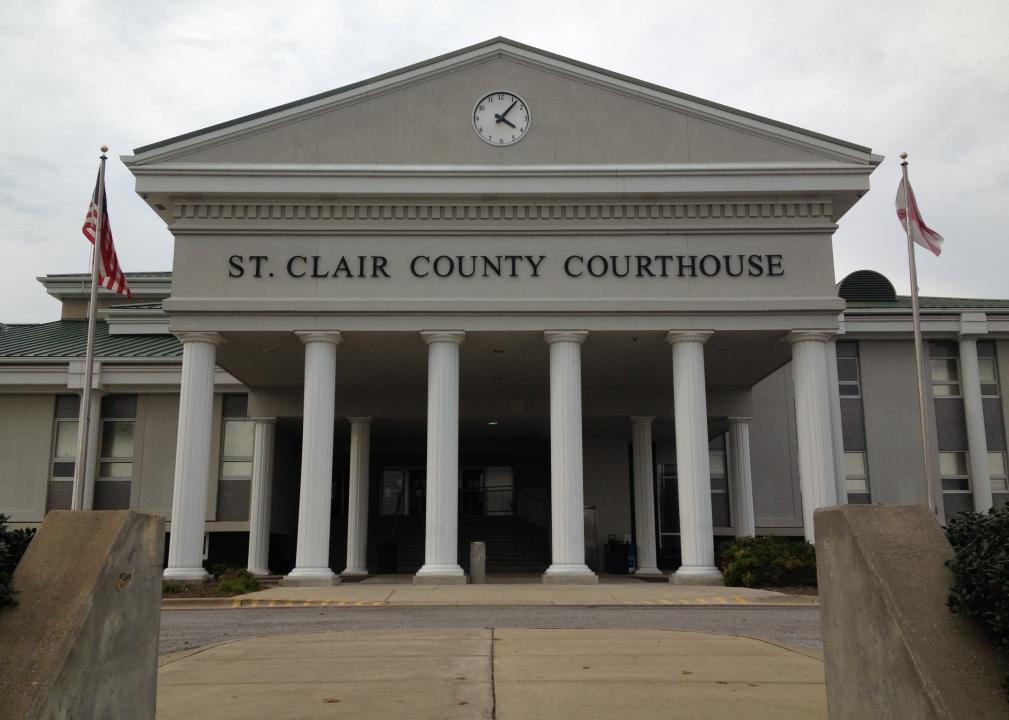 Rudi Weikard // Wikimedia Commons
#1. St. Clair County, AL
– Inpatient beds occupied: 102.0% (57.0% by COVID-19 patients)
— 29.1% more full than Alabama overall
– ICU beds occupied: 107.0% (73.0% by COVID-19 patients)
— 15.1% more full than Alabama overall
– Cases per 100k in last 7 days: 1,052 (942 cases)
– Population that is fully vaccinated: 38.2% (34,186 fully vaccinated)
— -22.8% lower vaccination rate than Alabama