Counties with the highest COVID-19 death rate in Alabama
Published 2:36 pm Thursday, January 27, 2022

Altairisfar // Wikimedia Commons
Counties with the highest COVID-19 death rate in Alabama
The vaccine deployment in December 2020 signaled a turning point in the COVID-19 pandemic. By the end of May 2021, 40% of the U.S. population was fully vaccinated. But as vaccination rates lagged over the summer, new surges of COVID-19 came, including Delta in the summer of 2021, and now the Omicron variant, which comprises the majority of cases in the U.S.
Researchers around the world have reported that Omicron is more transmissible than Delta, making breakthrough and repeat infections more likely. Early research suggests this strain may cause less severe illness than Delta and the original virus, however, health officials have warned an Omicron-driven surge could still increase hospitalization and death rates—especially in areas with less vaccinated populations.
The United States as of Jan. 26 reached 874,510 COVID-19-related deaths and nearly 72.5 million COVID-19 cases, according to Johns Hopkins University. Currently, 63.5% of the population is fully vaccinated, and 40.3% have received booster doses.
Stacker compiled a list of the counties with highest cumulative COVID-19 death rates in Alabama using data from the U.S. Department of Health & Human Services. Counties are ranked by the highest death rate per 100,000 residents as of Jan. 25, 2021.
Keep reading to see whether your county ranks among the highest COVID-19 death rates in your state.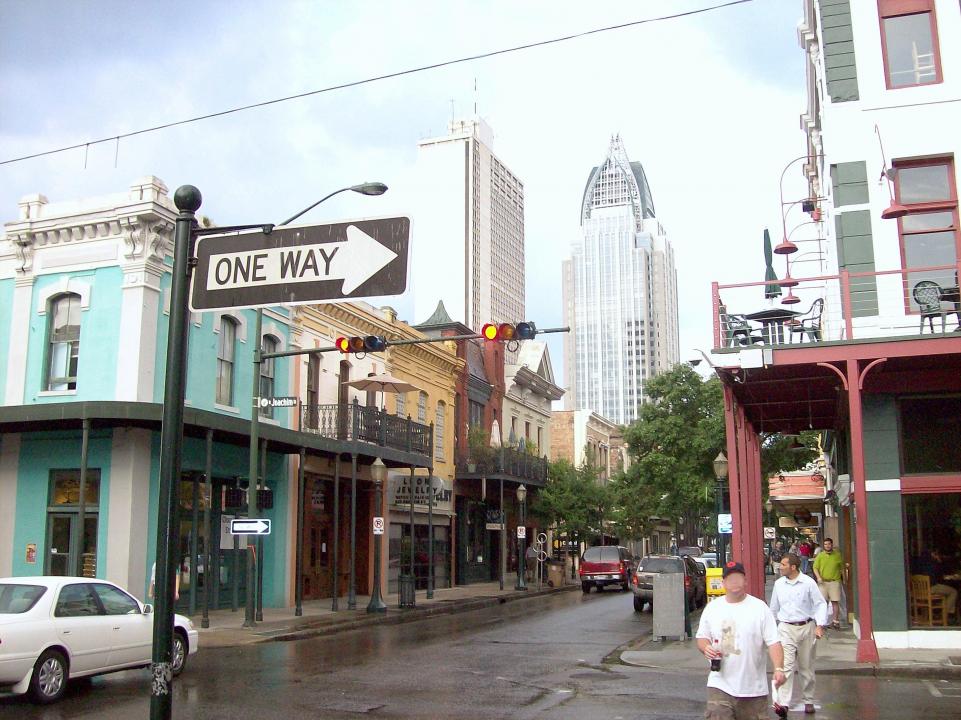 Altairisfar // Wikicommons
#50. Mobile County
– Cumulative deaths per 100k: 346 (1,428 total deaths)
— 0.3% more deaths per 100k residents than Alabama
— #1,250 highest rate among all counties nationwide
– New deaths per 100k in the past week: 4.4 (18 new deaths, +100% change from previous week)
– Cumulative cases per 100k: 24,956 (103,122 total cases)
— 5.3% more cases per 100k residents than Alabama
– New cases per 100k in the past week: 1,603 (6,623 new cases, -17% change from previous week)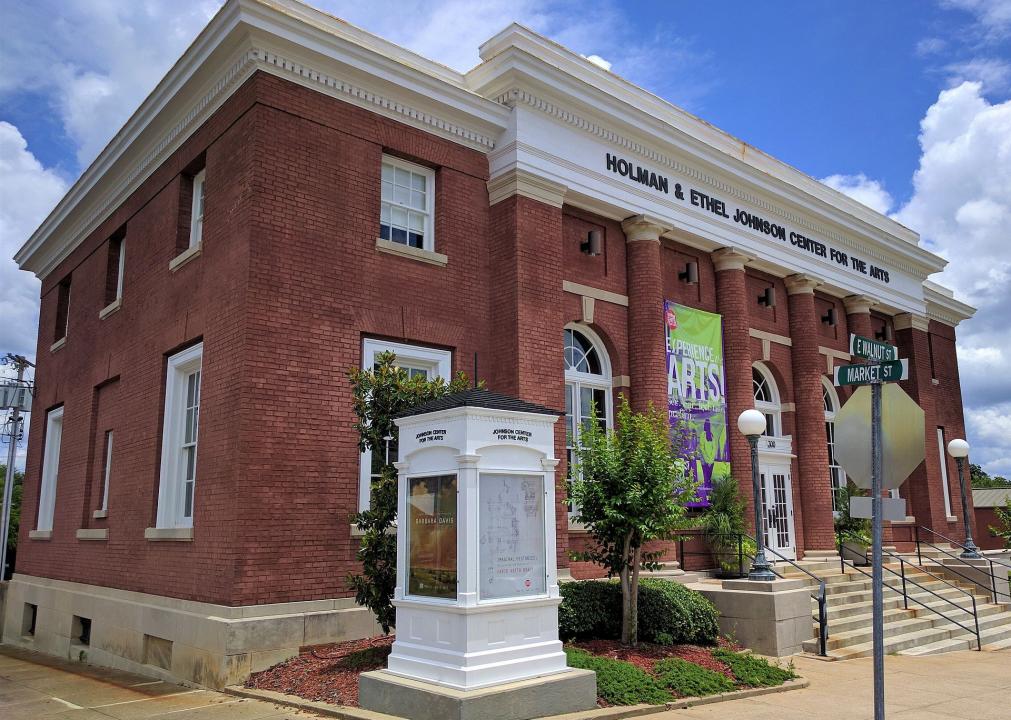 Kreeder13 // Wikimedia Commons
#49. Pike County
– Cumulative deaths per 100k: 347 (115 total deaths)
— 0.6% more deaths per 100k residents than Alabama
— #1,243 highest rate among all counties nationwide
– New deaths per 100k in the past week: 0.0 (0 new deaths, -100% change from previous week)
– Cumulative cases per 100k: 20,022 (6,630 total cases)
— 15.5% less cases per 100k residents than Alabama
– New cases per 100k in the past week: 1,380 (457 new cases, +55% change from previous week)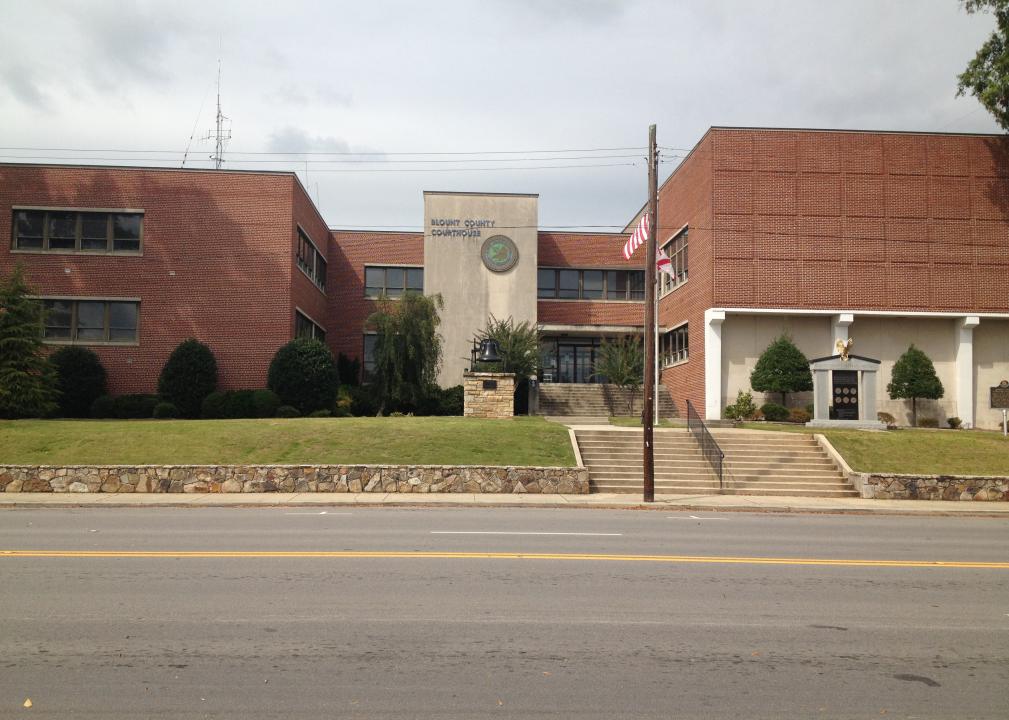 Rudi Weikard // Wikimedia Commons
#48. Blount County
– Cumulative deaths per 100k: 353 (204 total deaths)
— 2.3% more deaths per 100k residents than Alabama
— #1,201 highest rate among all counties nationwide
– New deaths per 100k in the past week: 1.7 (1 new deaths, 0% change from previous week)
– Cumulative cases per 100k: 23,220 (13,427 total cases)
— 2.0% less cases per 100k residents than Alabama
– New cases per 100k in the past week: 1,466 (848 new cases, +24% change from previous week)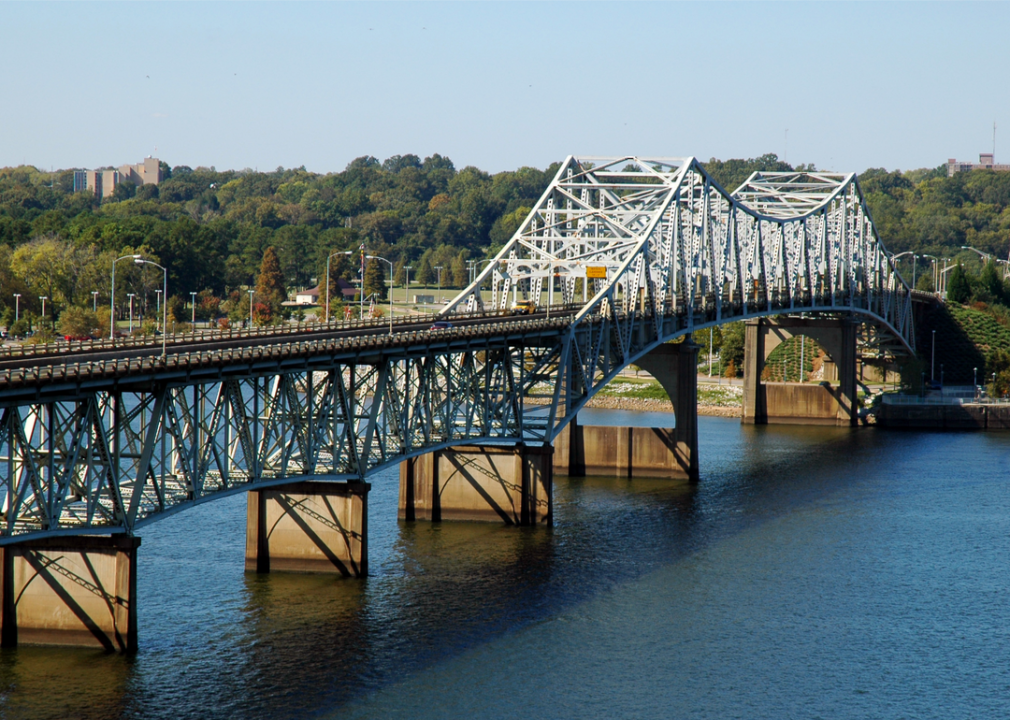 Wayne James // Shutterstock
#47. Lauderdale County
– Cumulative deaths per 100k: 355 (329 total deaths)
— 2.9% more deaths per 100k residents than Alabama
— #1,174 highest rate among all counties nationwide
– New deaths per 100k in the past week: 4.3 (4 new deaths, -20% change from previous week)
– Cumulative cases per 100k: 22,783 (21,126 total cases)
— 3.9% less cases per 100k residents than Alabama
– New cases per 100k in the past week: 2,271 (2,106 new cases, +21% change from previous week)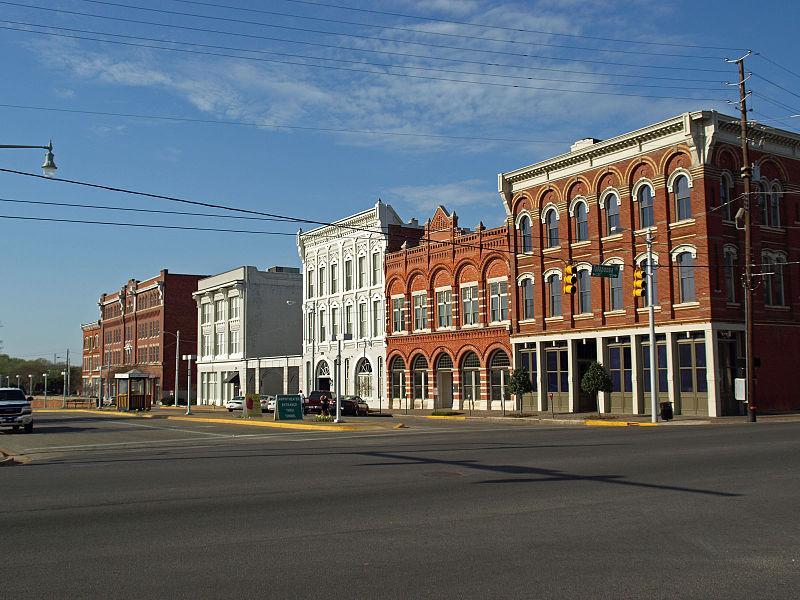 Chris Pruitt // wikicommons
#46. Montgomery County
– Cumulative deaths per 100k: 357 (808 total deaths)
— 3.5% more deaths per 100k residents than Alabama
— #1,155 highest rate among all counties nationwide
– New deaths per 100k in the past week: 0.4 (1 new deaths, -80% change from previous week)
– Cumulative cases per 100k: 21,513 (48,723 total cases)
— 9.2% less cases per 100k residents than Alabama
– New cases per 100k in the past week: 941 (2,132 new cases, -27% change from previous week)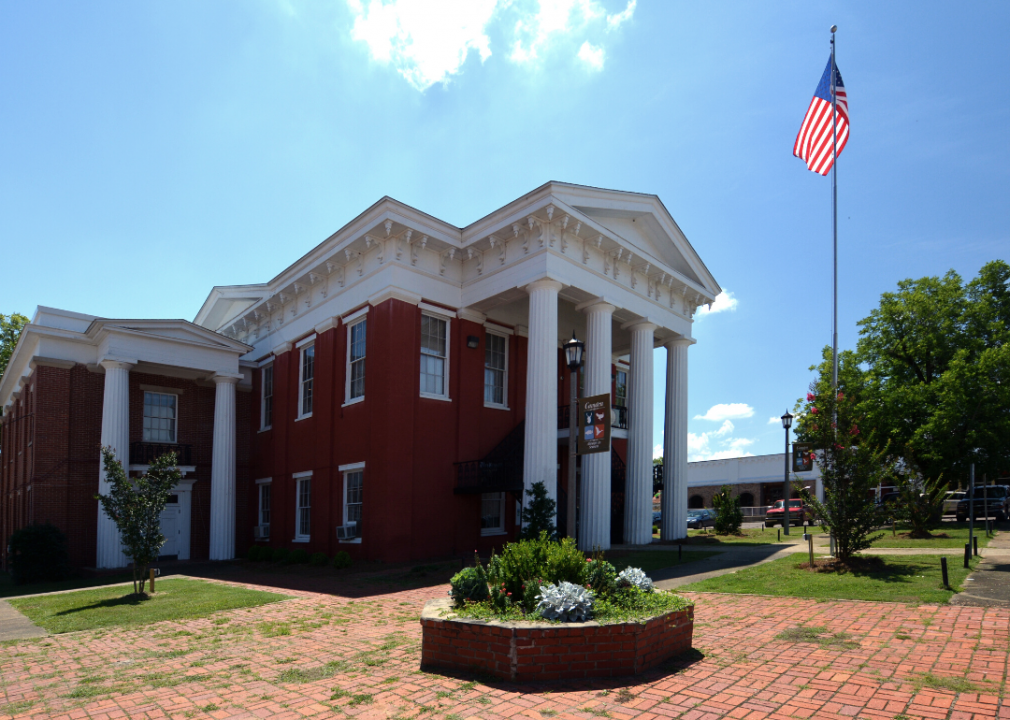 Canva
#45. Wilcox County
– Cumulative deaths per 100k: 366 (38 total deaths)
— 6.1% more deaths per 100k residents than Alabama
— #1,097 highest rate among all counties nationwide
– New deaths per 100k in the past week: 0.0 (0 new deaths, 0% change from previous week)
– Cumulative cases per 100k: 24,197 (2,510 total cases)
— 2.1% more cases per 100k residents than Alabama
– New cases per 100k in the past week: 1,967 (204 new cases, -29% change from previous week)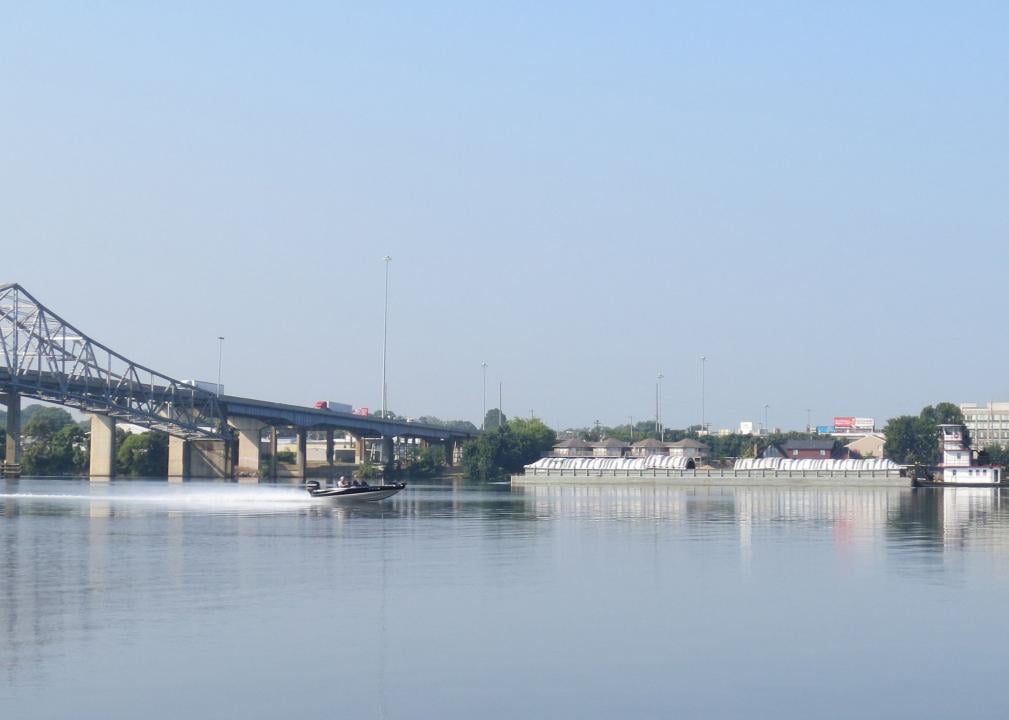 MPearsallArt // Wikimedia Commons
#44. Morgan County
– Cumulative deaths per 100k: 366 (438 total deaths)
— 6.1% more deaths per 100k residents than Alabama
— #1,091 highest rate among all counties nationwide
– New deaths per 100k in the past week: 0.8 (1 new deaths, -83% change from previous week)
– Cumulative cases per 100k: 26,545 (31,769 total cases)
— 12.0% more cases per 100k residents than Alabama
– New cases per 100k in the past week: 2,768 (3,313 new cases, +29% change from previous week)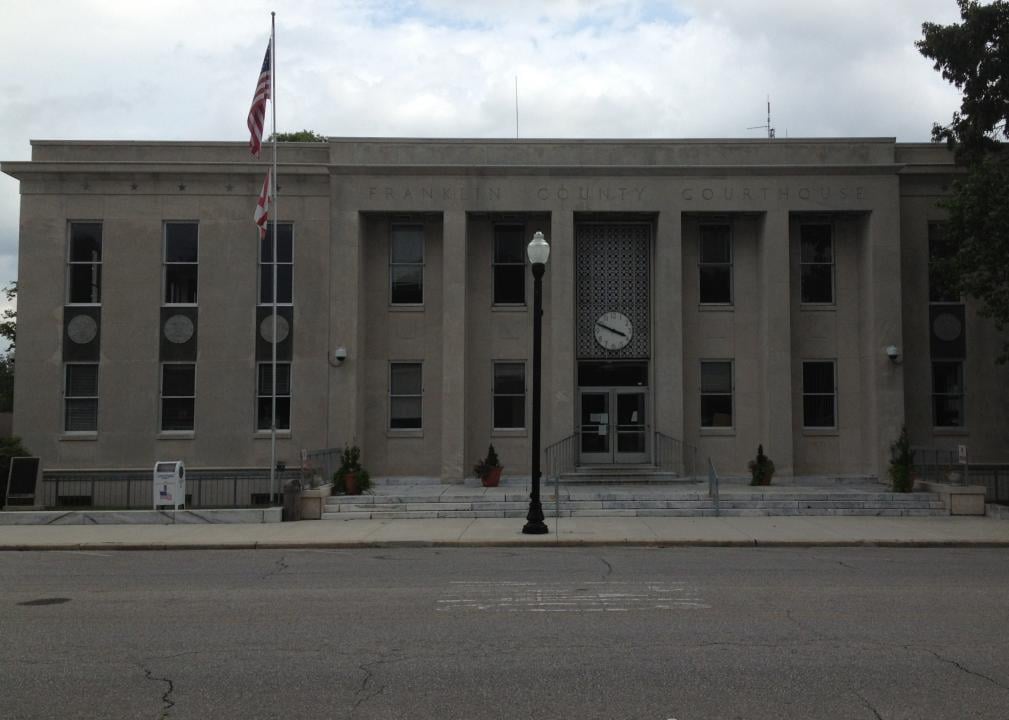 Rudi Weikard // Wikimedia Commons
#43. Franklin County
– Cumulative deaths per 100k: 370 (116 total deaths)
— 7.2% more deaths per 100k residents than Alabama
— #1,061 highest rate among all counties nationwide
– New deaths per 100k in the past week: 0.0 (0 new deaths, -100% change from previous week)
– Cumulative cases per 100k: 27,310 (8,565 total cases)
— 15.2% more cases per 100k residents than Alabama
– New cases per 100k in the past week: 3,102 (973 new cases, +43% change from previous week)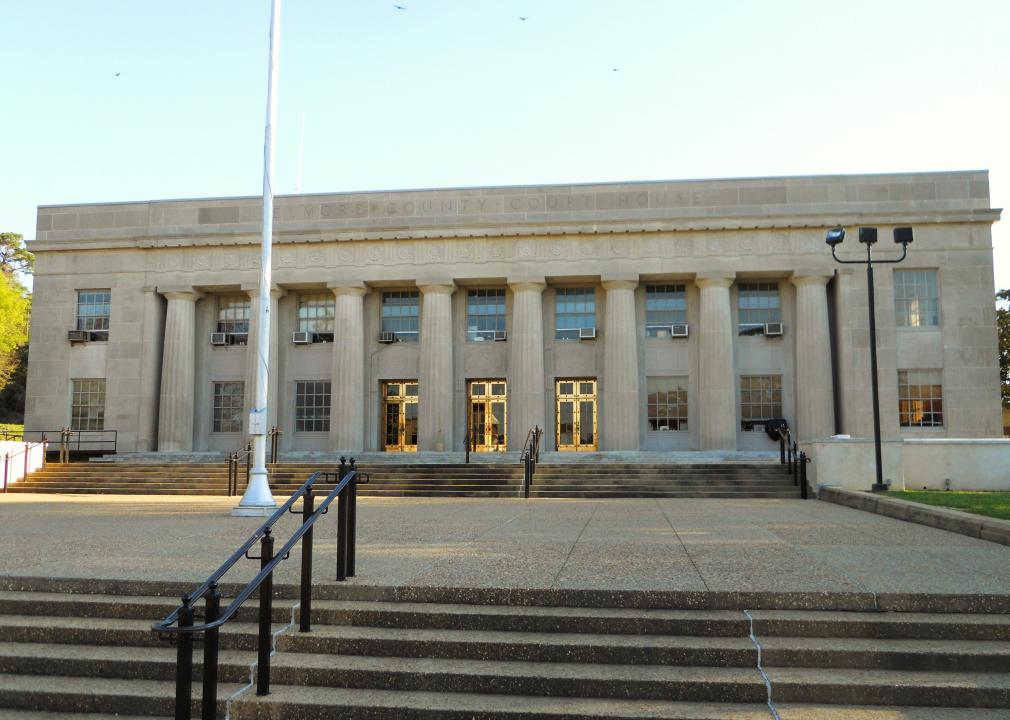 Rivers A. Langley; SaveRivers // Wikimedia Commons
#42. Elmore County
– Cumulative deaths per 100k: 372 (302 total deaths)
— 7.8% more deaths per 100k residents than Alabama
— #1,039 highest rate among all counties nationwide
– New deaths per 100k in the past week: 1.2 (1 new deaths, 0% change from previous week)
– Cumulative cases per 100k: 25,167 (20,438 total cases)
— 6.2% more cases per 100k residents than Alabama
– New cases per 100k in the past week: 1,608 (1,306 new cases, +18% change from previous week)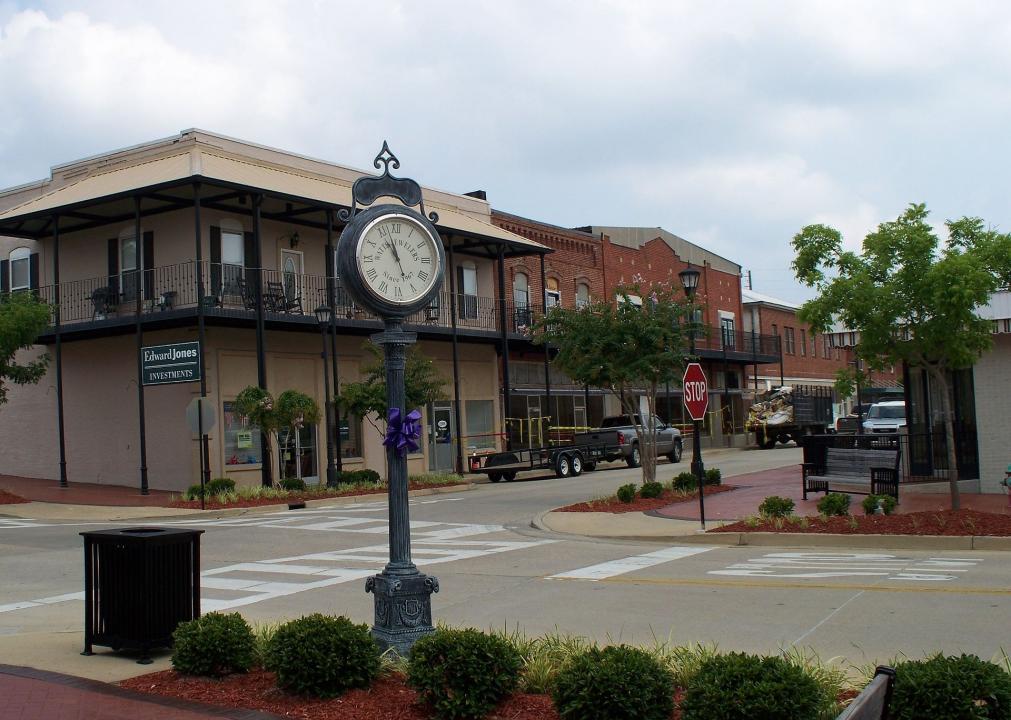 Altairisfar // Wikimedia Commons
#41. Clarke County
– Cumulative deaths per 100k: 377 (89 total deaths)
— 9.3% more deaths per 100k residents than Alabama
— #1,007 highest rate among all counties nationwide
– New deaths per 100k in the past week: 0.0 (0 new deaths, 0% change from previous week)
– Cumulative cases per 100k: 27,157 (6,415 total cases)
— 14.6% more cases per 100k residents than Alabama
– New cases per 100k in the past week: 2,299 (543 new cases, -2% change from previous week)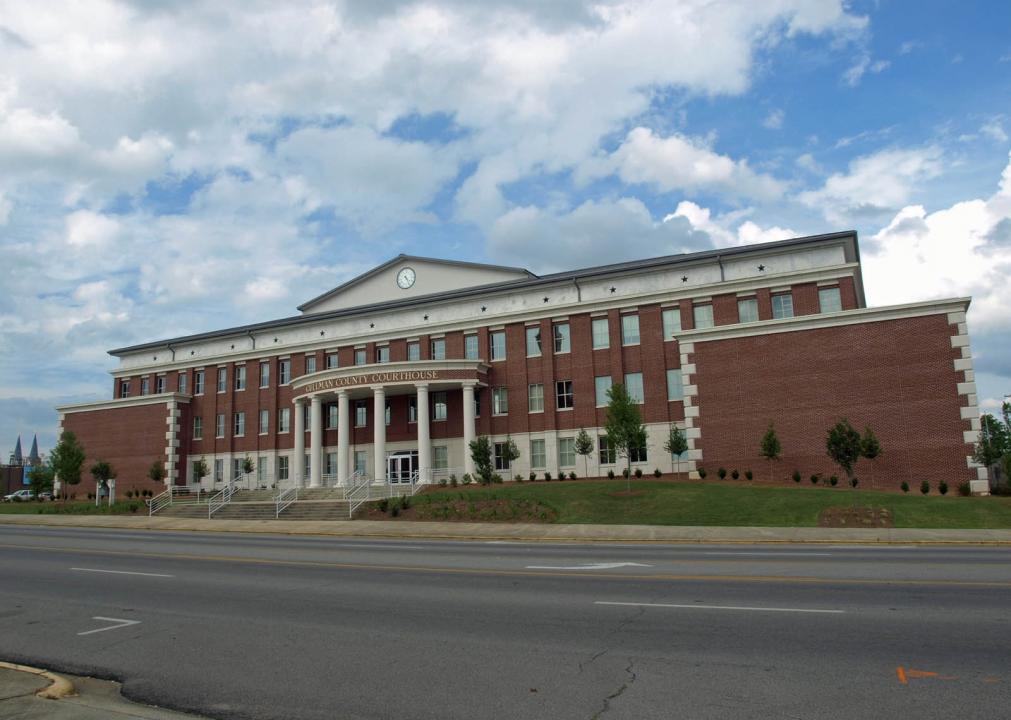 Chris Pruitt // Wikimedia Commons
#40. Cullman County
– Cumulative deaths per 100k: 381 (319 total deaths)
— 10.4% more deaths per 100k residents than Alabama
— #979 highest rate among all counties nationwide
– New deaths per 100k in the past week: 0.0 (0 new deaths, -100% change from previous week)
– Cumulative cases per 100k: 25,714 (21,540 total cases)
— 8.5% more cases per 100k residents than Alabama
– New cases per 100k in the past week: 2,354 (1,972 new cases, +43% change from previous week)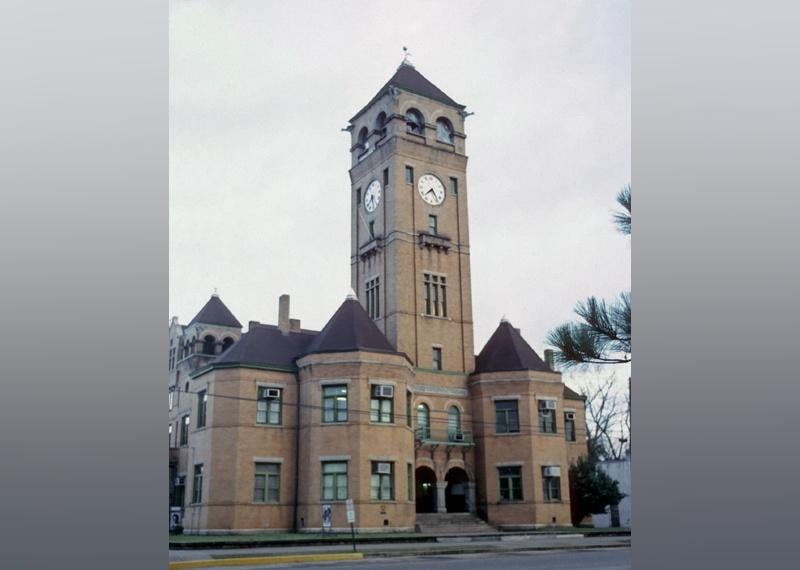 Mccallk69 // Shutterstock
#39. Macon County
– Cumulative deaths per 100k: 382 (69 total deaths)
— 10.7% more deaths per 100k residents than Alabama
— #973 highest rate among all counties nationwide
– New deaths per 100k in the past week: 0.0 (0 new deaths, 0% change from previous week)
– Cumulative cases per 100k: 19,183 (3,466 total cases)
— 19.1% less cases per 100k residents than Alabama
– New cases per 100k in the past week: 1,124 (203 new cases, -26% change from previous week)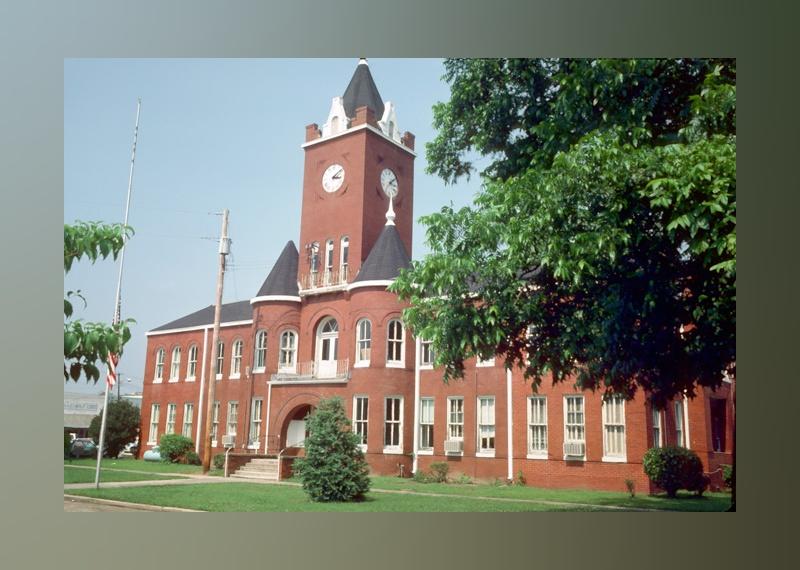 Calvin Beale // Wikimedia Commons
#38. Coffee County
– Cumulative deaths per 100k: 384 (201 total deaths)
— 11.3% more deaths per 100k residents than Alabama
— #958 highest rate among all counties nationwide
– New deaths per 100k in the past week: 0.0 (0 new deaths, 0% change from previous week)
– Cumulative cases per 100k: 23,297 (12,194 total cases)
— 1.7% less cases per 100k residents than Alabama
– New cases per 100k in the past week: 1,752 (917 new cases, +22% change from previous week)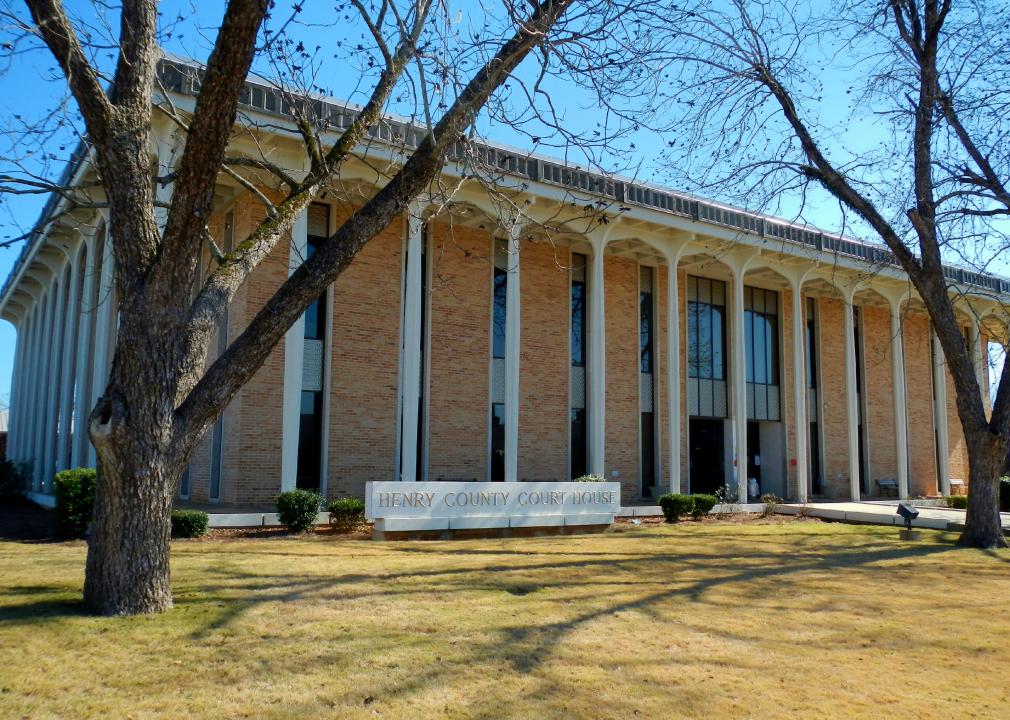 Rivers Langley; SaveRivers // Wikimedia Commons
#37. Henry County
– Cumulative deaths per 100k: 389 (67 total deaths)
— 12.8% more deaths per 100k residents than Alabama
— #924 highest rate among all counties nationwide
– New deaths per 100k in the past week: 0.0 (0 new deaths, 0% change from previous week)
– Cumulative cases per 100k: 23,342 (4,016 total cases)
— 1.5% less cases per 100k residents than Alabama
– New cases per 100k in the past week: 1,471 (253 new cases, +1% change from previous week)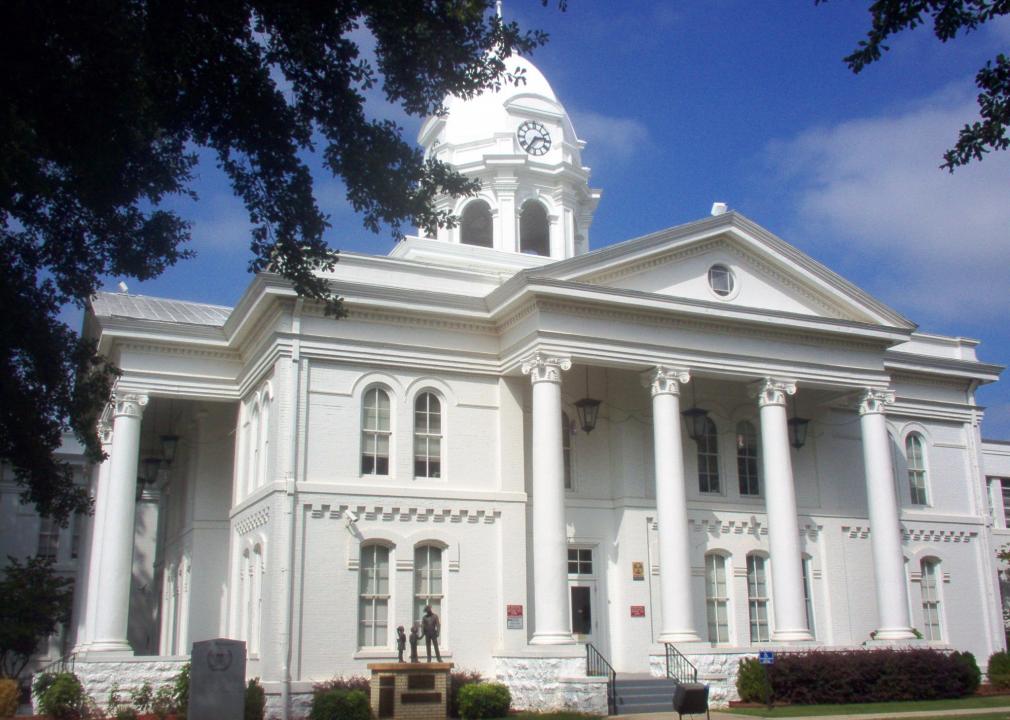 Dailynetworks // Wikimedia Commons
#36. Colbert County
– Cumulative deaths per 100k: 393 (217 total deaths)
— 13.9% more deaths per 100k residents than Alabama
— #895 highest rate among all counties nationwide
– New deaths per 100k in the past week: 0.0 (0 new deaths, 0% change from previous week)
– Cumulative cases per 100k: 25,751 (14,225 total cases)
— 8.7% more cases per 100k residents than Alabama
– New cases per 100k in the past week: 3,485 (1,925 new cases, +31% change from previous week)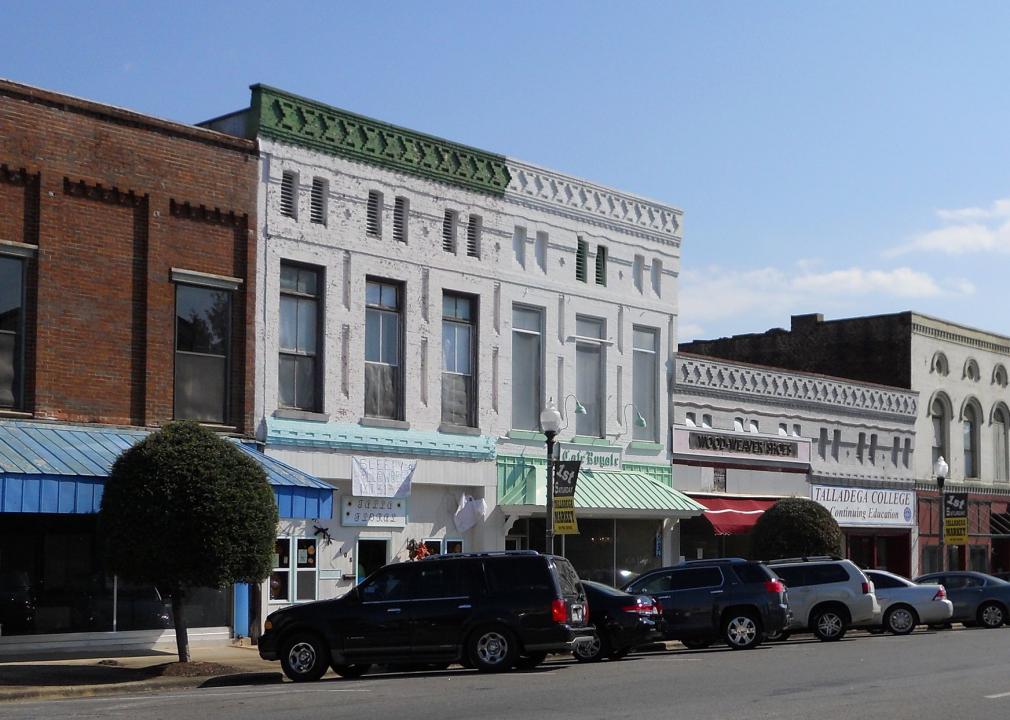 Rivers Langley; SaveRivers // Wikimedia Commons
#35. Talladega County
– Cumulative deaths per 100k: 395 (316 total deaths)
— 14.5% more deaths per 100k residents than Alabama
— #876 highest rate among all counties nationwide
– New deaths per 100k in the past week: 3.8 (3 new deaths, 0% change from previous week)
– Cumulative cases per 100k: 24,424 (19,534 total cases)
— 3.1% more cases per 100k residents than Alabama
– New cases per 100k in the past week: 1,963 (1,570 new cases, +12% change from previous week)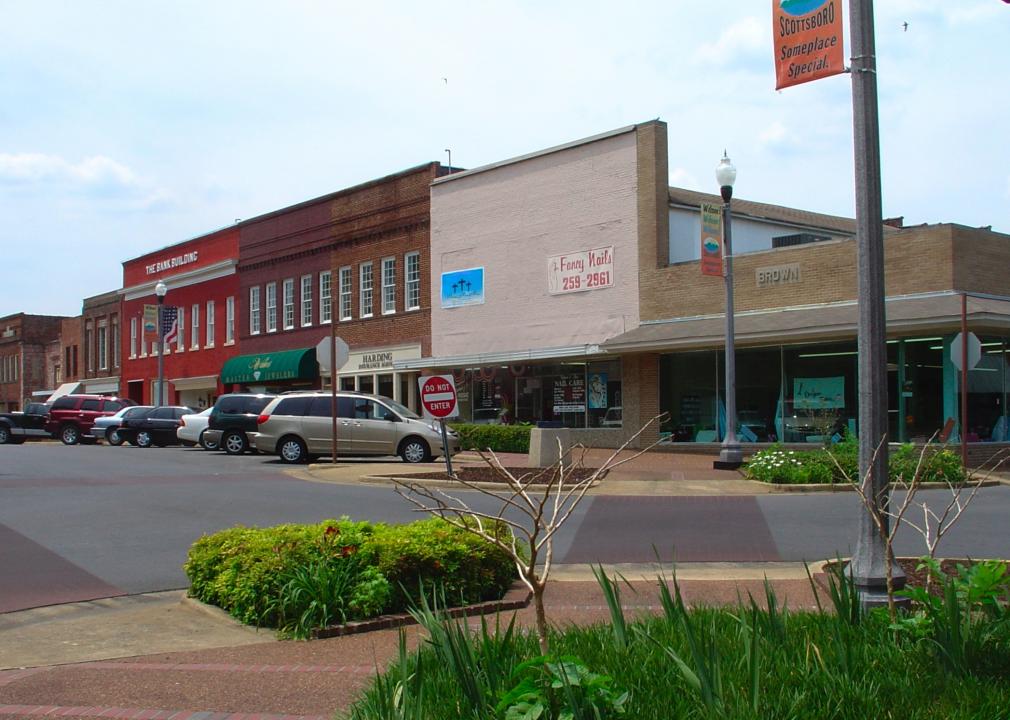 Springfieldohio // Wikimedia Commons
#34. Jackson County
– Cumulative deaths per 100k: 401 (207 total deaths)
— 16.2% more deaths per 100k residents than Alabama
— #832 highest rate among all counties nationwide
– New deaths per 100k in the past week: 0.0 (0 new deaths, -100% change from previous week)
– Cumulative cases per 100k: 25,365 (13,095 total cases)
— 7.0% more cases per 100k residents than Alabama
– New cases per 100k in the past week: 2,398 (1,238 new cases, +73% change from previous week)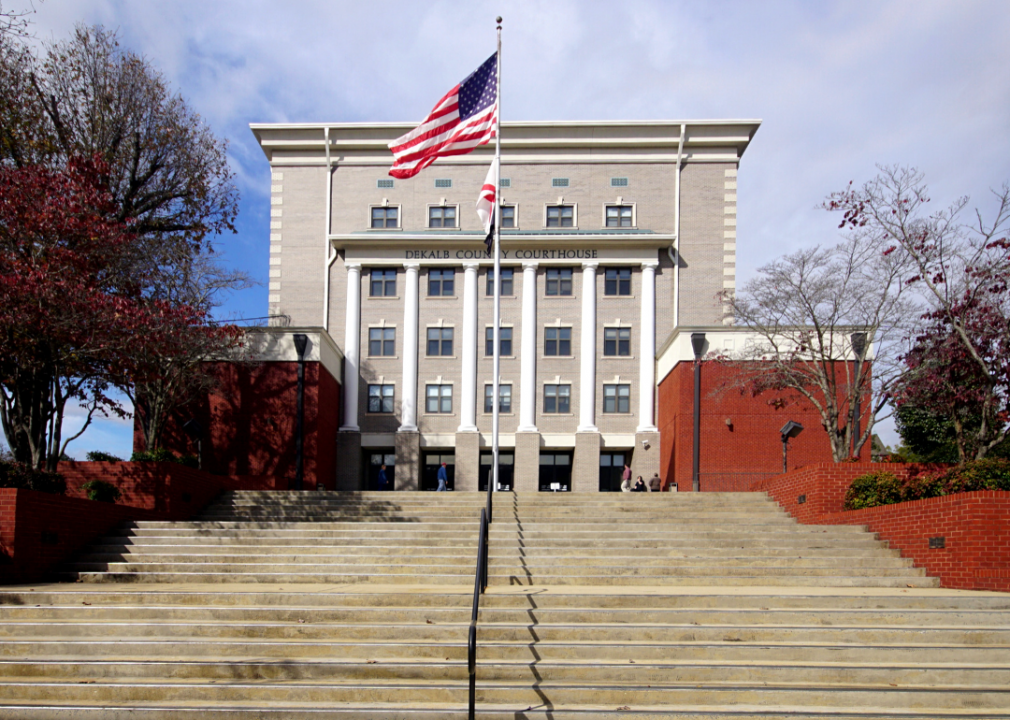 Canva
#33. DeKalb County
– Cumulative deaths per 100k: 401 (287 total deaths)
— 16.2% more deaths per 100k residents than Alabama
— #831 highest rate among all counties nationwide
– New deaths per 100k in the past week: 2.8 (2 new deaths, 0% change from previous week)
– Cumulative cases per 100k: 23,380 (16,720 total cases)
— 1.3% less cases per 100k residents than Alabama
– New cases per 100k in the past week: 2,063 (1,475 new cases, +48% change from previous week)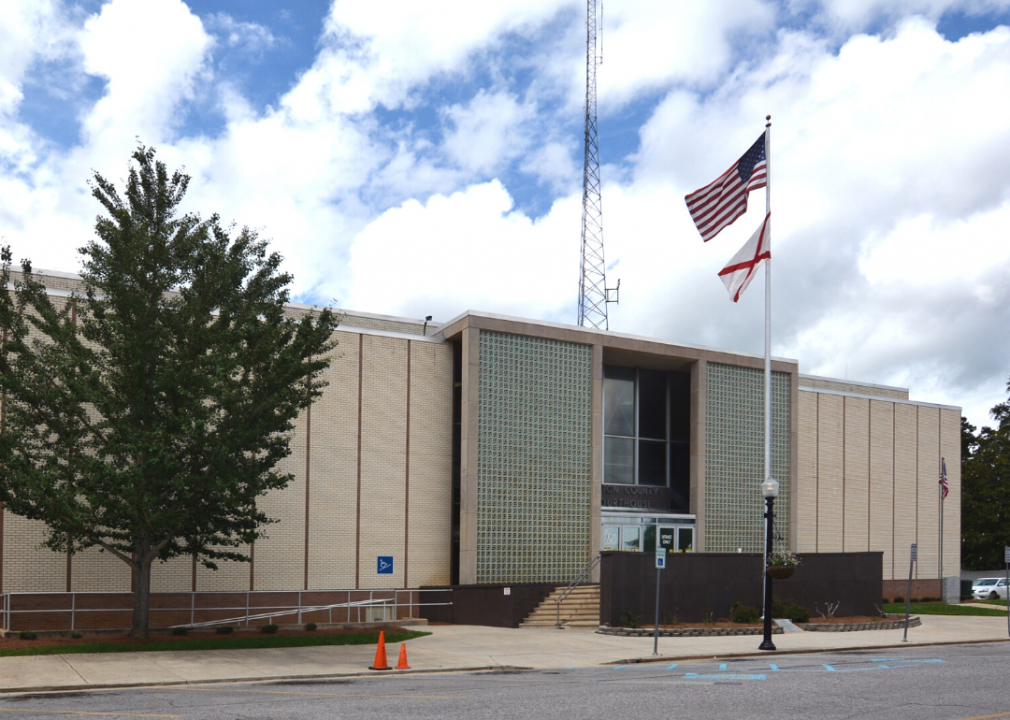 Canva
#32. Chilton County
– Cumulative deaths per 100k: 403 (179 total deaths)
— 16.8% more deaths per 100k residents than Alabama
— #814 highest rate among all counties nationwide
– New deaths per 100k in the past week: 4.5 (2 new deaths, 0% change from previous week)
– Cumulative cases per 100k: 21,178 (9,409 total cases)
— 10.6% less cases per 100k residents than Alabama
– New cases per 100k in the past week: 1,607 (714 new cases, +5% change from previous week)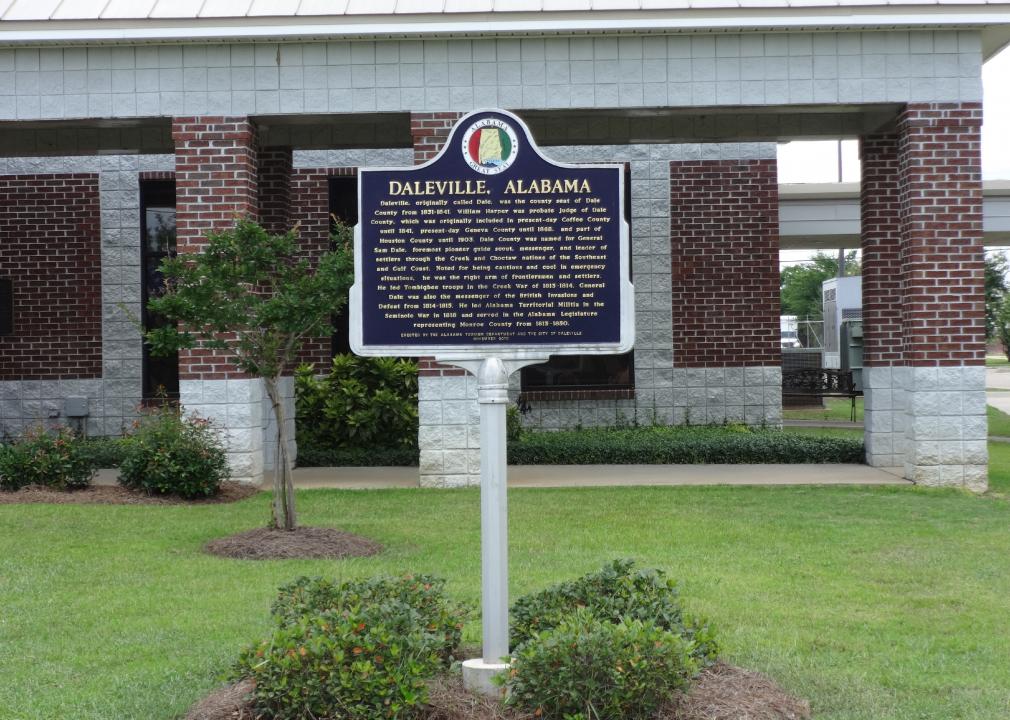 Michael Rivera // Wikimedia Commons
#31. Dale County
– Cumulative deaths per 100k: 407 (200 total deaths)
— 18.0% more deaths per 100k residents than Alabama
— #783 highest rate among all counties nationwide
– New deaths per 100k in the past week: 4.1 (2 new deaths, 0% change from previous week)
– Cumulative cases per 100k: 23,131 (11,374 total cases)
— 2.4% less cases per 100k residents than Alabama
– New cases per 100k in the past week: 1,336 (657 new cases, +2% change from previous week)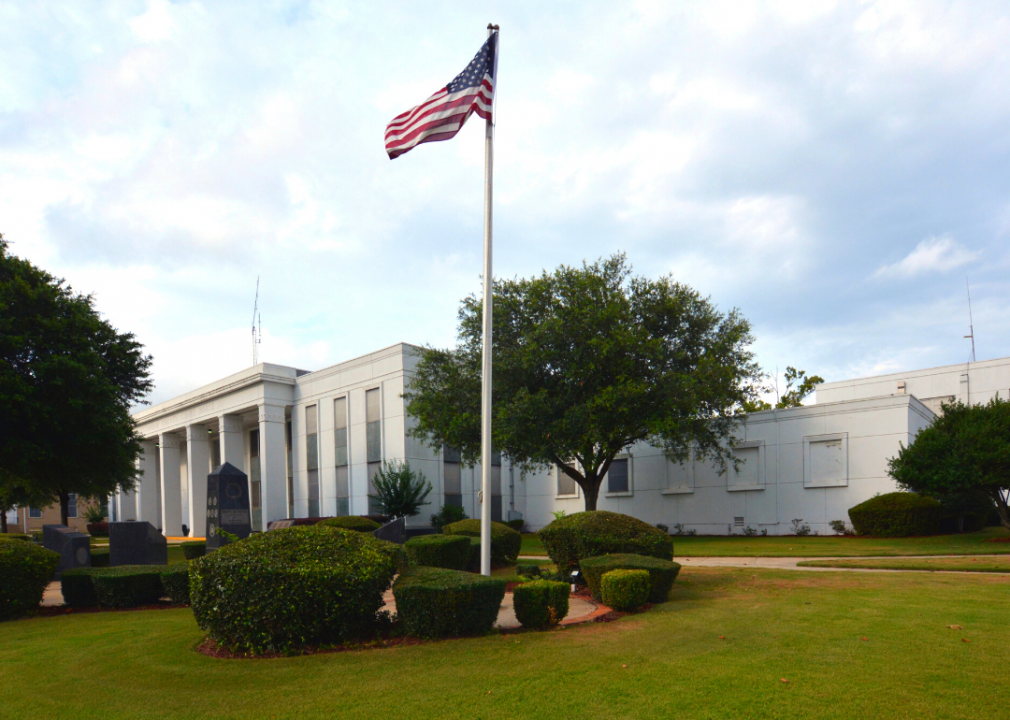 Canva
#30. Escambia County
– Cumulative deaths per 100k: 412 (151 total deaths)
— 19.4% more deaths per 100k residents than Alabama
— #754 highest rate among all counties nationwide
– New deaths per 100k in the past week: 2.7 (1 new deaths, 0% change from previous week)
– Cumulative cases per 100k: 25,111 (9,199 total cases)
— 6.0% more cases per 100k residents than Alabama
– New cases per 100k in the past week: 1,488 (545 new cases, -17% change from previous week)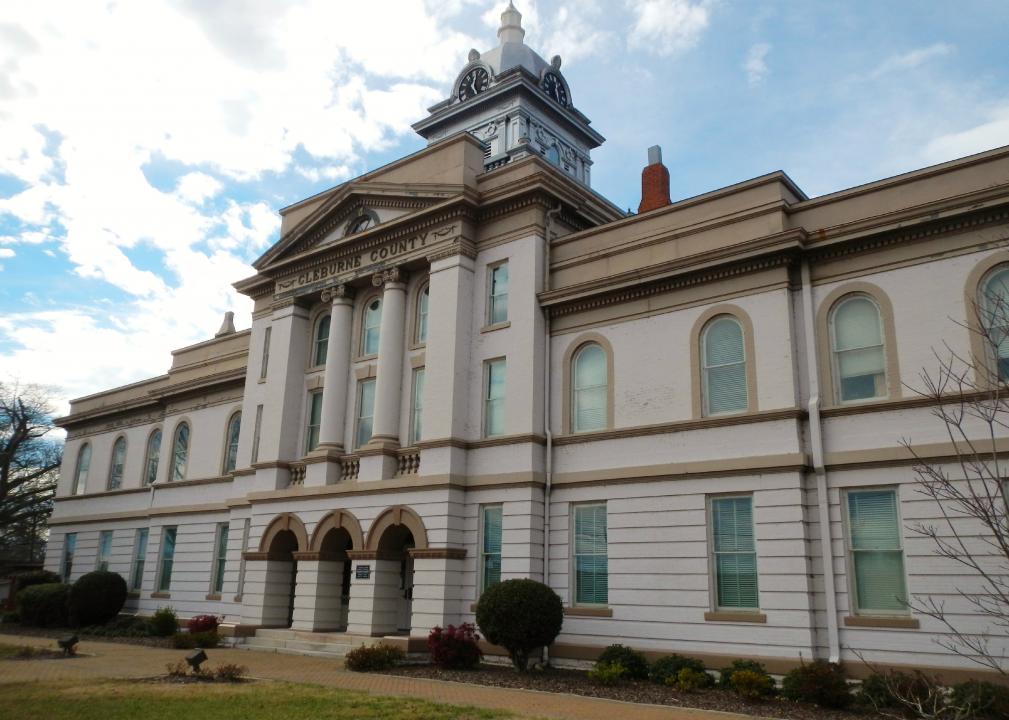 Rivers Langley; SaveRivers // Wikimedia Commons
#29. Cleburne County
– Cumulative deaths per 100k: 416 (62 total deaths)
— 20.6% more deaths per 100k residents than Alabama
— #734 highest rate among all counties nationwide
– New deaths per 100k in the past week: 0.0 (0 new deaths, -100% change from previous week)
– Cumulative cases per 100k: 20,966 (3,126 total cases)
— 11.5% less cases per 100k residents than Alabama
– New cases per 100k in the past week: 1,241 (185 new cases, +13% change from previous week)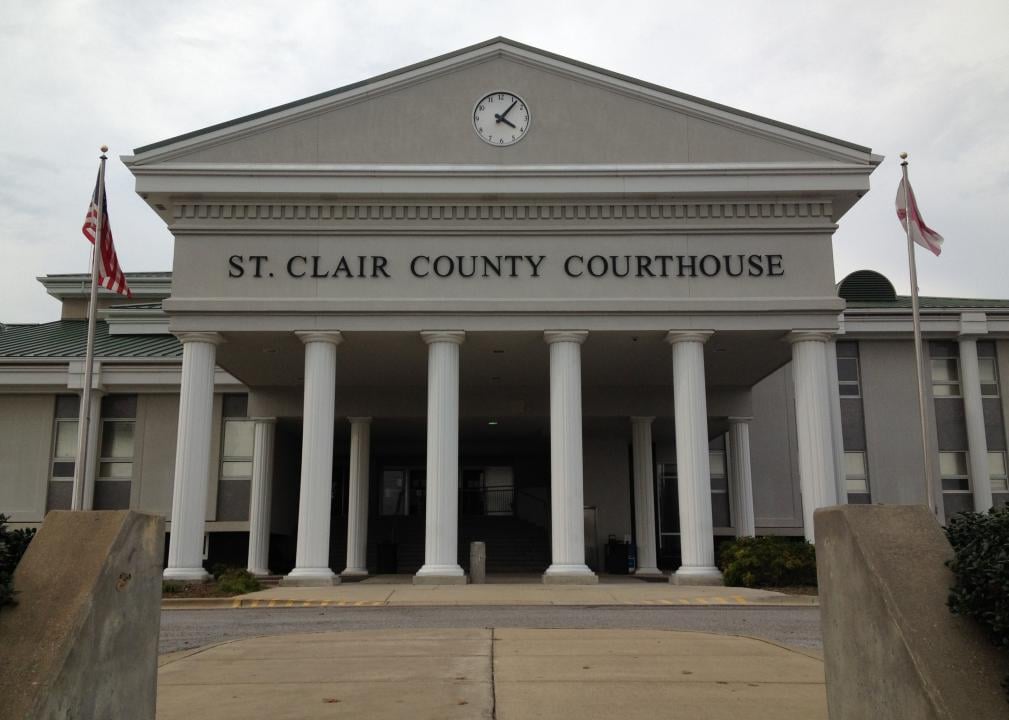 Rudi Weikard // Wikimedia Commons
#28. St. Clair County
– Cumulative deaths per 100k: 416 (372 total deaths)
— 20.6% more deaths per 100k residents than Alabama
— #729 highest rate among all counties nationwide
– New deaths per 100k in the past week: 2.2 (2 new deaths, -33% change from previous week)
– Cumulative cases per 100k: 25,594 (22,910 total cases)
— 8.0% more cases per 100k residents than Alabama
– New cases per 100k in the past week: 1,860 (1,665 new cases, -3% change from previous week)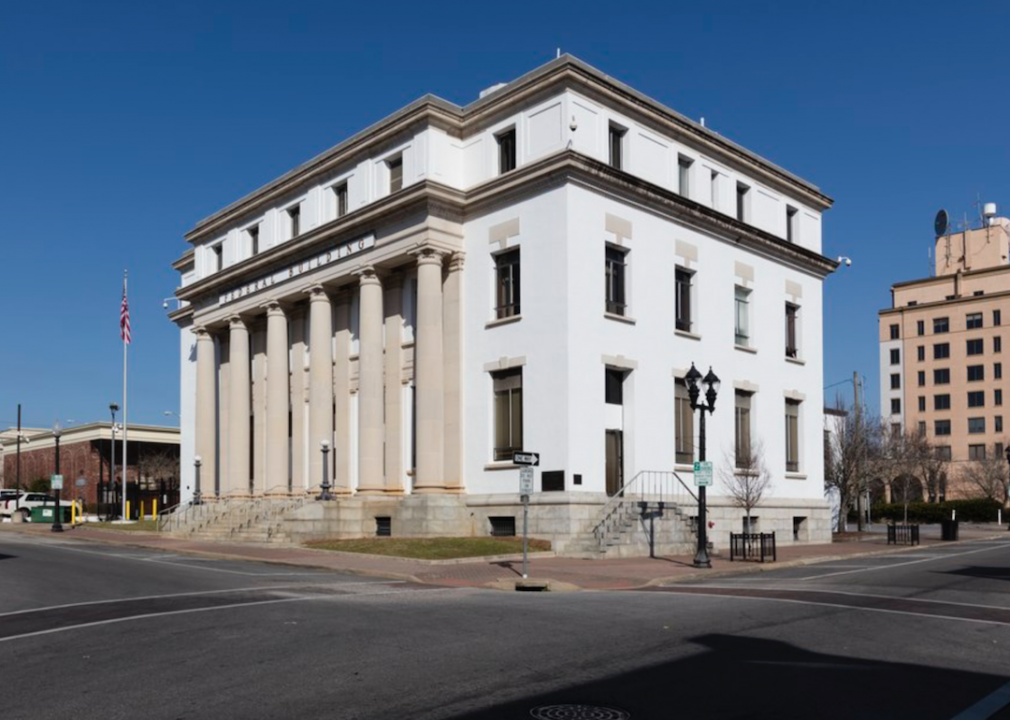 Carol M. Highsmith/Library of Congress // Wikimedia Commons
#27. Houston County
– Cumulative deaths per 100k: 419 (444 total deaths)
— 21.4% more deaths per 100k residents than Alabama
— #707 highest rate among all counties nationwide
– New deaths per 100k in the past week: 1.9 (2 new deaths, -60% change from previous week)
– Cumulative cases per 100k: 21,333 (22,588 total cases)
— 10.0% less cases per 100k residents than Alabama
– New cases per 100k in the past week: 1,314 (1,391 new cases, -3% change from previous week)
Canva
#26. Bibb County
– Cumulative deaths per 100k: 424 (95 total deaths)
— 22.9% more deaths per 100k residents than Alabama
— #672 highest rate among all counties nationwide
– New deaths per 100k in the past week: 0.0 (0 new deaths, 0% change from previous week)
– Cumulative cases per 100k: 25,877 (5,795 total cases)
— 9.2% more cases per 100k residents than Alabama
– New cases per 100k in the past week: 2,201 (493 new cases, +36% change from previous week)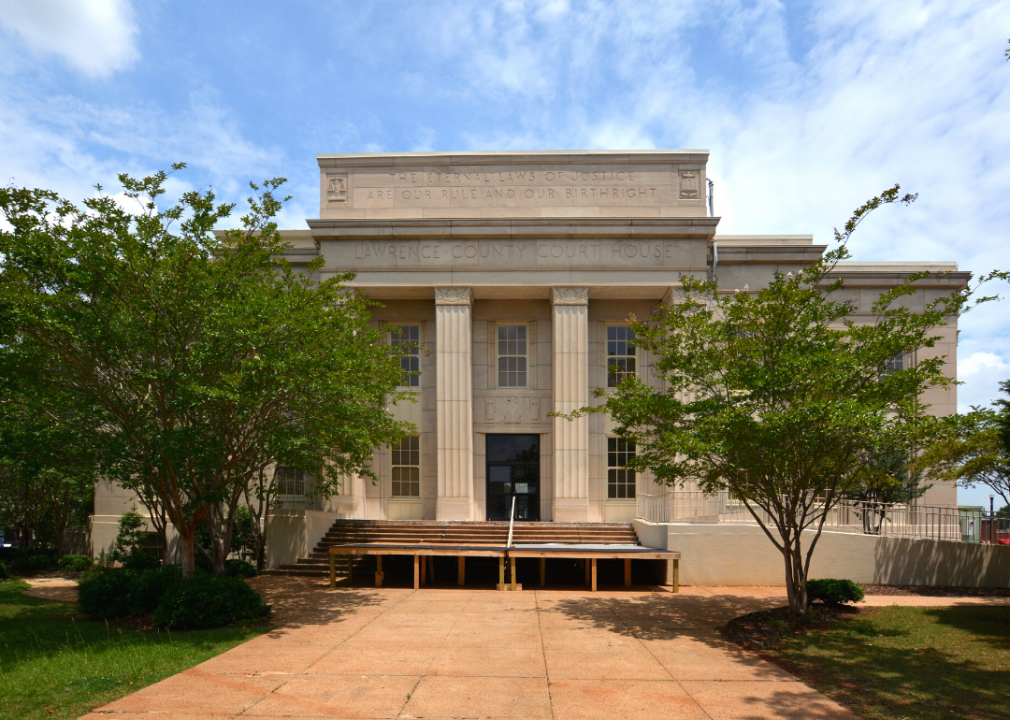 Canva
#25. Lawrence County
– Cumulative deaths per 100k: 425 (140 total deaths)
— 23.2% more deaths per 100k residents than Alabama
— #666 highest rate among all counties nationwide
– New deaths per 100k in the past week: 0.0 (0 new deaths, -100% change from previous week)
– Cumulative cases per 100k: 20,192 (6,648 total cases)
— 14.8% less cases per 100k residents than Alabama
– New cases per 100k in the past week: 2,169 (714 new cases, +50% change from previous week)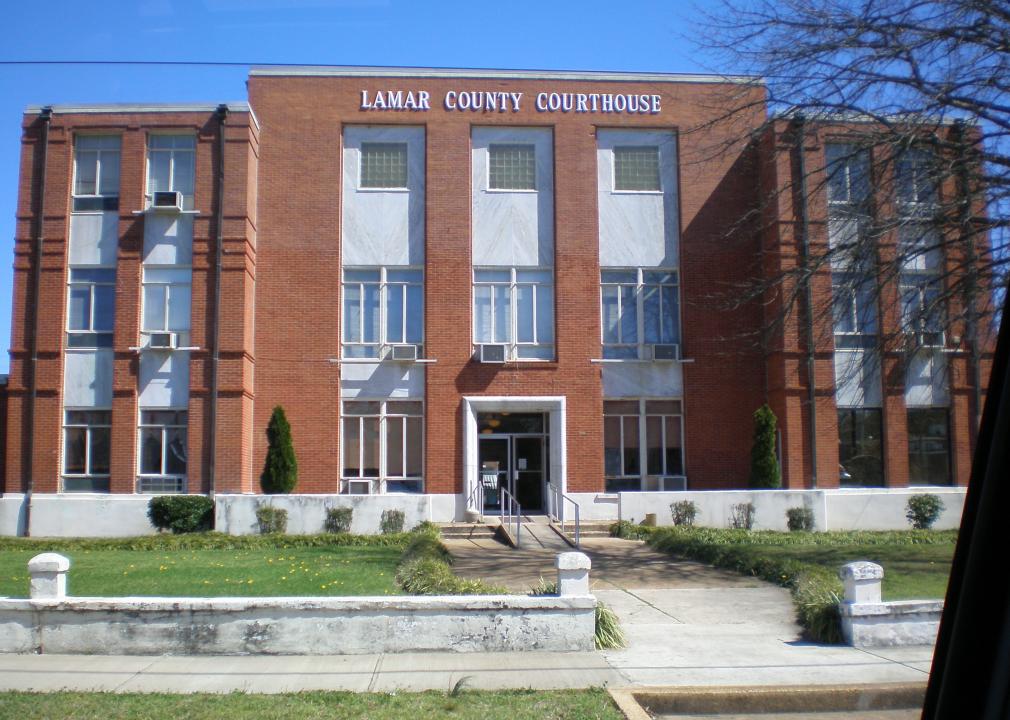 Myself – Nathon Morris // Wikimedia Commons
#24. Lamar County
– Cumulative deaths per 100k: 435 (60 total deaths)
— 26.1% more deaths per 100k residents than Alabama
— #606 highest rate among all counties nationwide
– New deaths per 100k in the past week: 0.0 (0 new deaths, 0% change from previous week)
– Cumulative cases per 100k: 23,339 (3,222 total cases)
— 1.5% less cases per 100k residents than Alabama
– New cases per 100k in the past week: 2,521 (348 new cases, +98% change from previous week)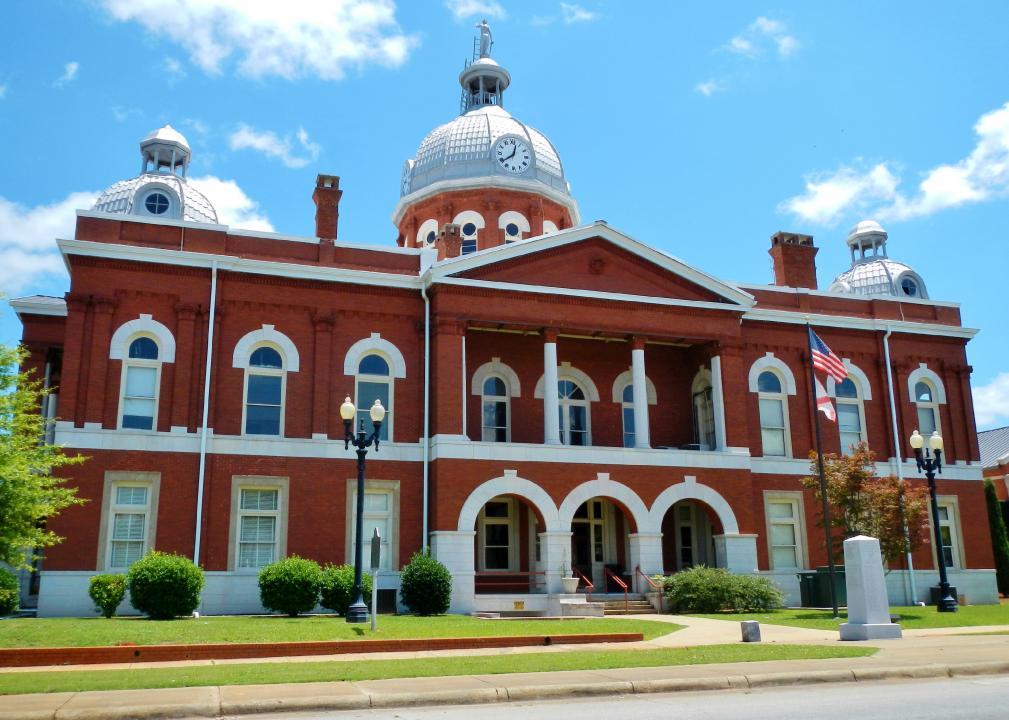 Rivers Langley; SaveRivers // Wikimedia Commons
#23. Chambers County
– Cumulative deaths per 100k: 442 (147 total deaths)
— 28.1% more deaths per 100k residents than Alabama
— #562 highest rate among all counties nationwide
– New deaths per 100k in the past week: 0.0 (0 new deaths, 0% change from previous week)
– Cumulative cases per 100k: 23,702 (7,882 total cases)
— 0.0% more cases per 100k residents than Alabama
– New cases per 100k in the past week: 1,377 (458 new cases, -2% change from previous week)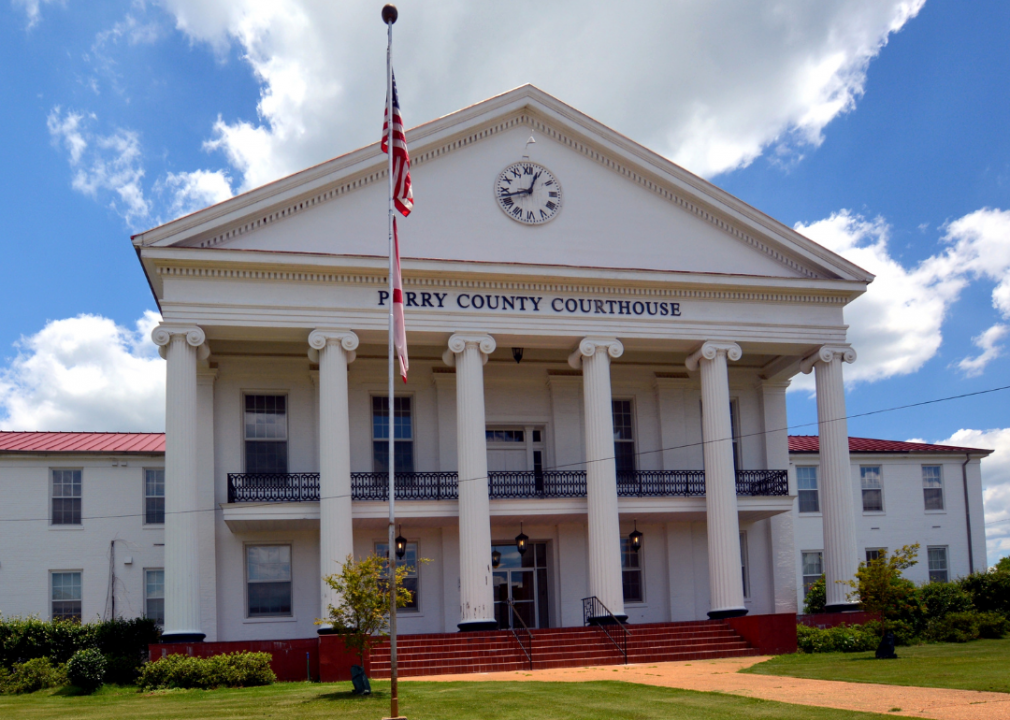 Canva
#22. Perry County
– Cumulative deaths per 100k: 448 (40 total deaths)
— 29.9% more deaths per 100k residents than Alabama
— #532 highest rate among all counties nationwide
– New deaths per 100k in the past week: 0.0 (0 new deaths, 0% change from previous week)
– Cumulative cases per 100k: 20,654 (1,843 total cases)
— 12.8% less cases per 100k residents than Alabama
– New cases per 100k in the past week: 1,289 (115 new cases, +34% change from previous week)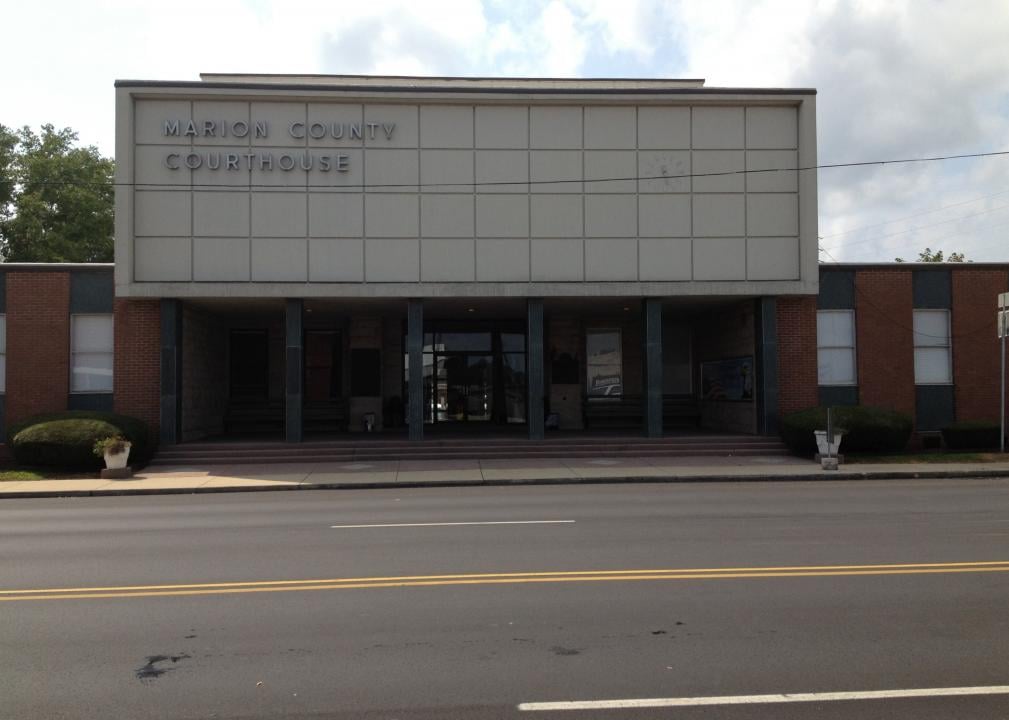 Rudi Weikard // Wikimedia Commons
#21. Marion County
– Cumulative deaths per 100k: 451 (134 total deaths)
— 30.7% more deaths per 100k residents than Alabama
— #520 highest rate among all counties nationwide
– New deaths per 100k in the past week: 0.0 (0 new deaths, -100% change from previous week)
– Cumulative cases per 100k: 23,979 (7,124 total cases)
— 1.2% more cases per 100k residents than Alabama
– New cases per 100k in the past week: 2,575 (765 new cases, +54% change from previous week)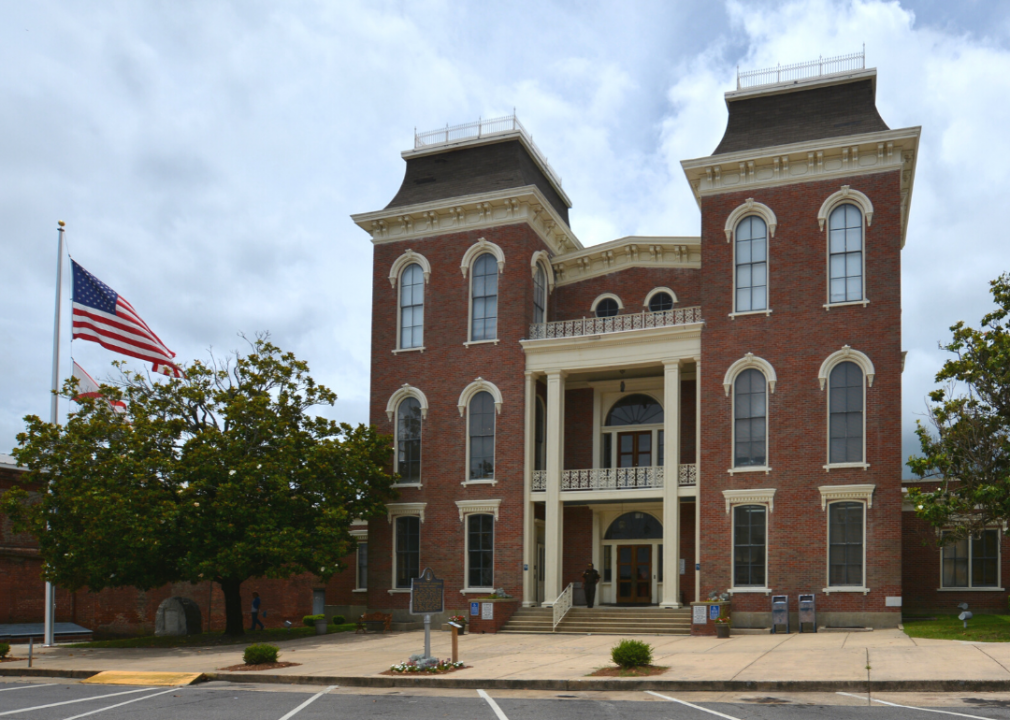 Canva
#20. Bullock County
– Cumulative deaths per 100k: 455 (46 total deaths)
— 31.9% more deaths per 100k residents than Alabama
— #507 highest rate among all counties nationwide
– New deaths per 100k in the past week: 0.0 (0 new deaths, 0% change from previous week)
– Cumulative cases per 100k: 21,275 (2,149 total cases)
— 10.2% less cases per 100k residents than Alabama
– New cases per 100k in the past week: 1,376 (139 new cases, -9% change from previous week)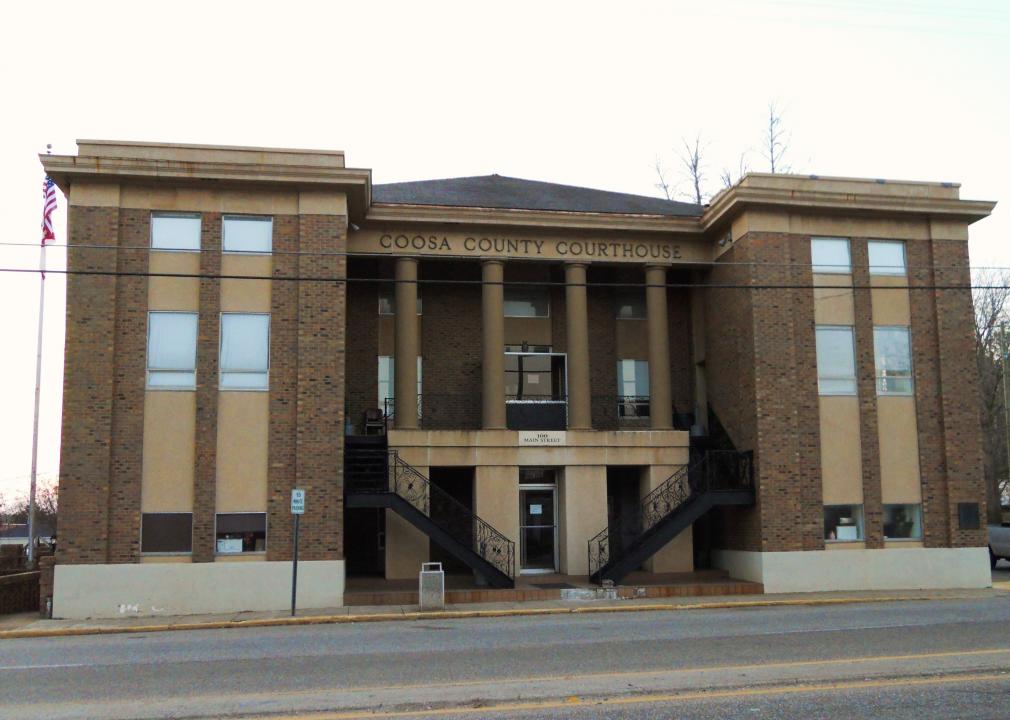 Rivers A. Langley; SaveRivers // Wikimedia Commons
#19. Coosa County
– Cumulative deaths per 100k: 460 (49 total deaths)
— 33.3% more deaths per 100k residents than Alabama
— #476 highest rate among all counties nationwide
– New deaths per 100k in the past week: 9.4 (1 new deaths, 0% change from previous week)
– Cumulative cases per 100k: 24,393 (2,601 total cases)
— 2.9% more cases per 100k residents than Alabama
– New cases per 100k in the past week: 2,448 (261 new cases, +47% change from previous week)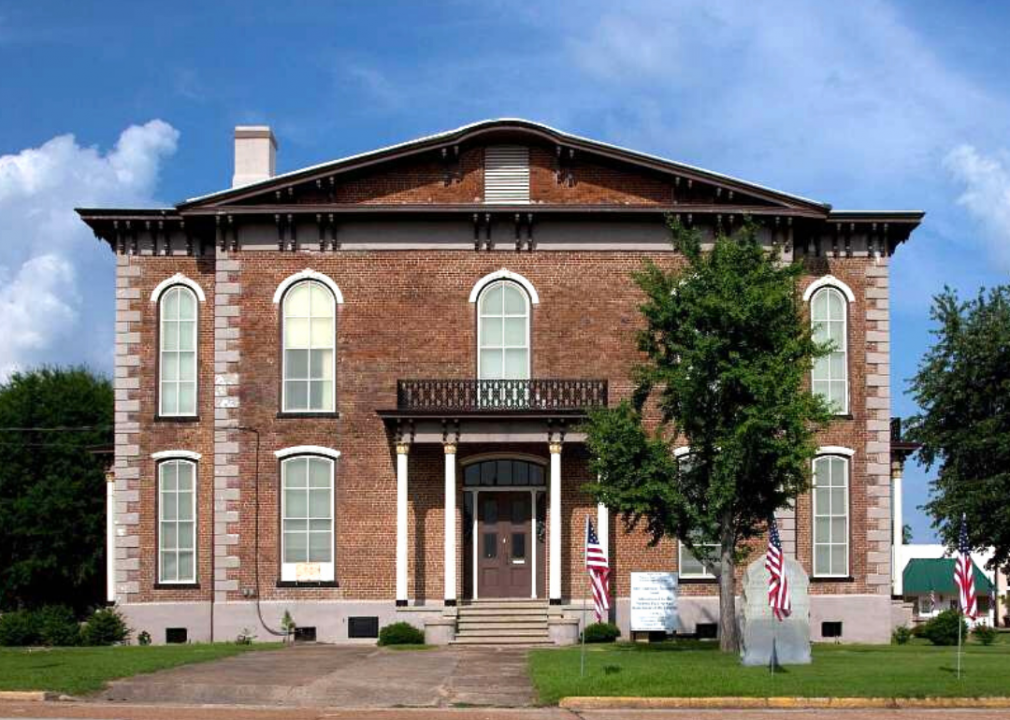 Public Domain
#18. Pickens County
– Cumulative deaths per 100k: 462 (92 total deaths)
— 33.9% more deaths per 100k residents than Alabama
— #467 highest rate among all counties nationwide
– New deaths per 100k in the past week: 0.0 (0 new deaths, 0% change from previous week)
– Cumulative cases per 100k: 23,638 (4,711 total cases)
— 0.3% less cases per 100k residents than Alabama
– New cases per 100k in the past week: 2,574 (513 new cases, +38% change from previous week)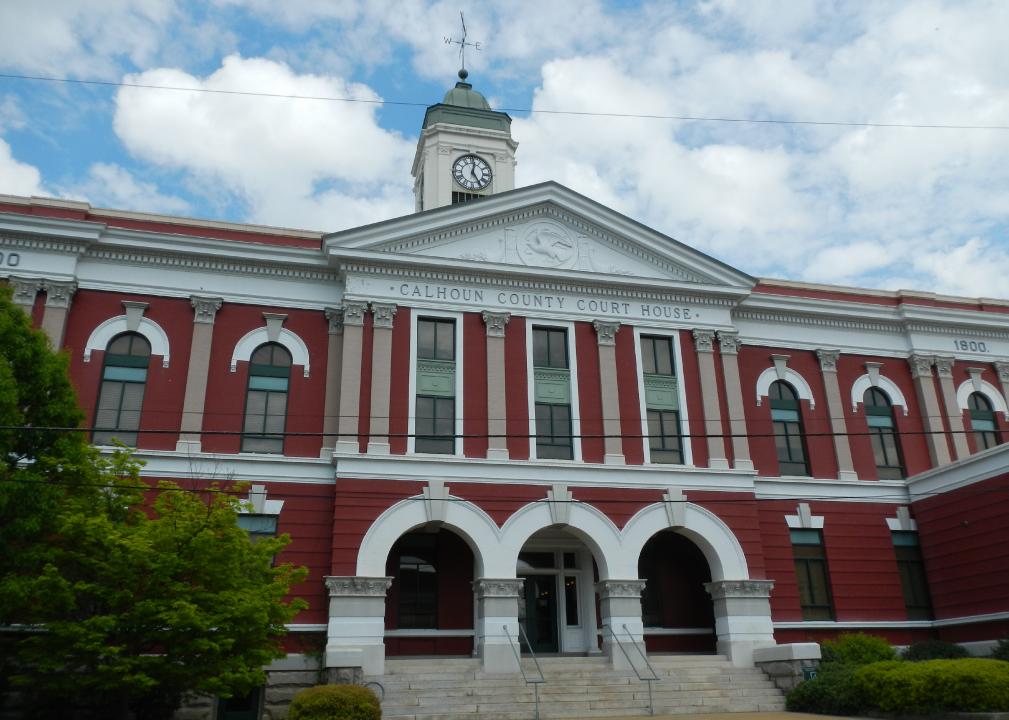 Rivers Langley; SaveRivers // Wikimedia Commons
#17. Calhoun County
– Cumulative deaths per 100k: 479 (544 total deaths)
— 38.8% more deaths per 100k residents than Alabama
— #394 highest rate among all counties nationwide
– New deaths per 100k in the past week: 5.3 (6 new deaths, +100% change from previous week)
– Cumulative cases per 100k: 25,104 (28,519 total cases)
— 5.9% more cases per 100k residents than Alabama
– New cases per 100k in the past week: 1,710 (1,943 new cases, +19% change from previous week)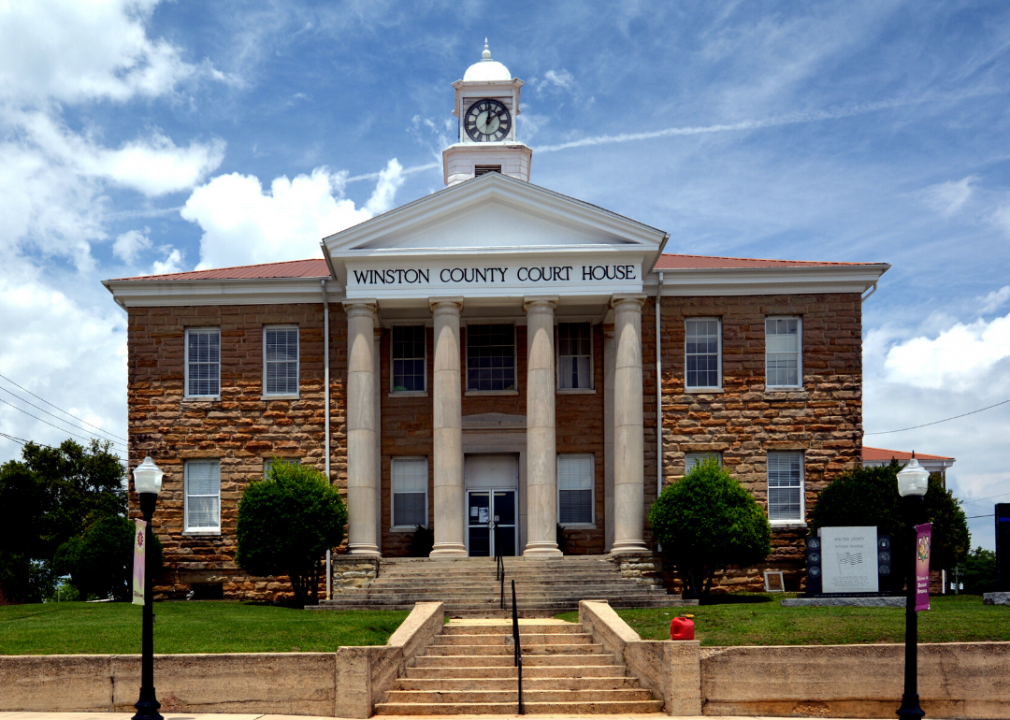 Canva
#16. Winston County
– Cumulative deaths per 100k: 482 (114 total deaths)
— 39.7% more deaths per 100k residents than Alabama
— #387 highest rate among all counties nationwide
– New deaths per 100k in the past week: 0.0 (0 new deaths, 0% change from previous week)
– Cumulative cases per 100k: 26,759 (6,323 total cases)
— 12.9% more cases per 100k residents than Alabama
– New cases per 100k in the past week: 3,271 (773 new cases, +133% change from previous week)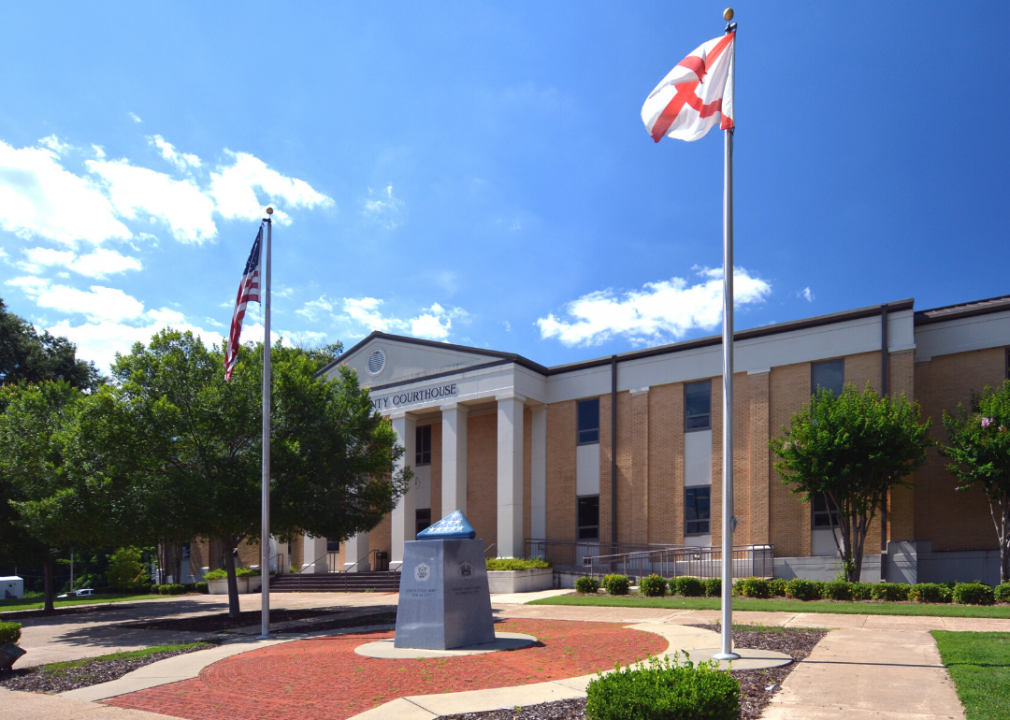 Canva
#15. Marengo County
– Cumulative deaths per 100k: 493 (93 total deaths)
— 42.9% more deaths per 100k residents than Alabama
— #343 highest rate among all counties nationwide
– New deaths per 100k in the past week: 0.0 (0 new deaths, 0% change from previous week)
– Cumulative cases per 100k: 23,178 (4,372 total cases)
— 2.2% less cases per 100k residents than Alabama
– New cases per 100k in the past week: 1,702 (321 new cases, +4% change from previous week)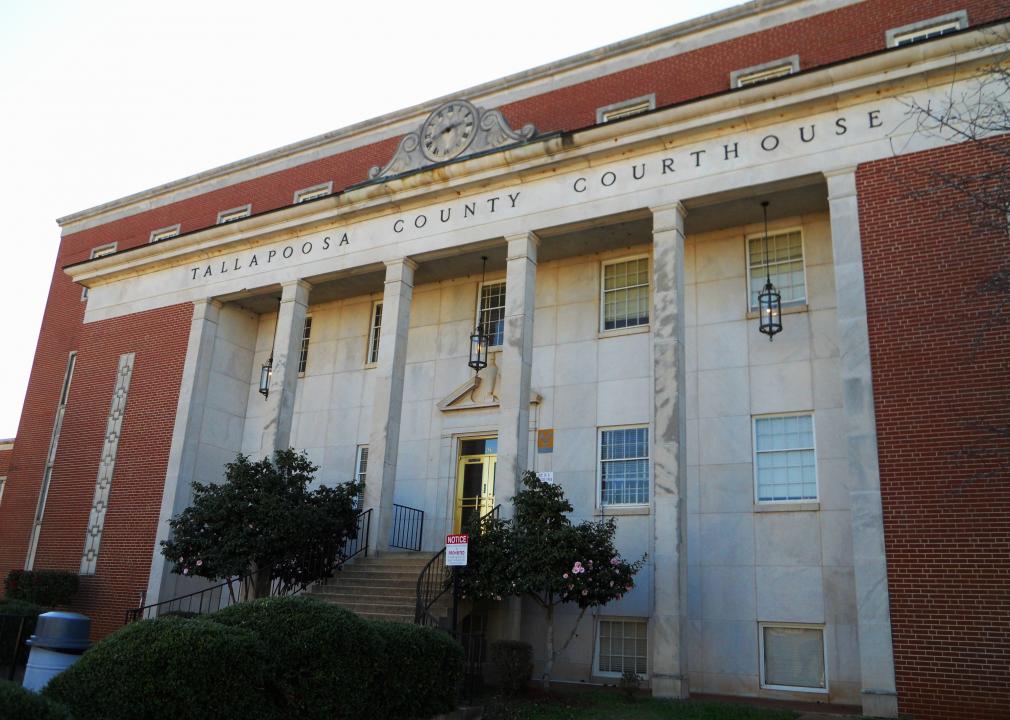 Rivers A. Langley; SaveRivers // Wikimedia Commons
#14. Tallapoosa County
– Cumulative deaths per 100k: 518 (209 total deaths)
— 50.1% more deaths per 100k residents than Alabama
— #268 highest rate among all counties nationwide
– New deaths per 100k in the past week: 2.5 (1 new deaths, 0% change from previous week)
– Cumulative cases per 100k: 25,489 (10,289 total cases)
— 7.6% more cases per 100k residents than Alabama
– New cases per 100k in the past week: 2,334 (942 new cases, +39% change from previous week)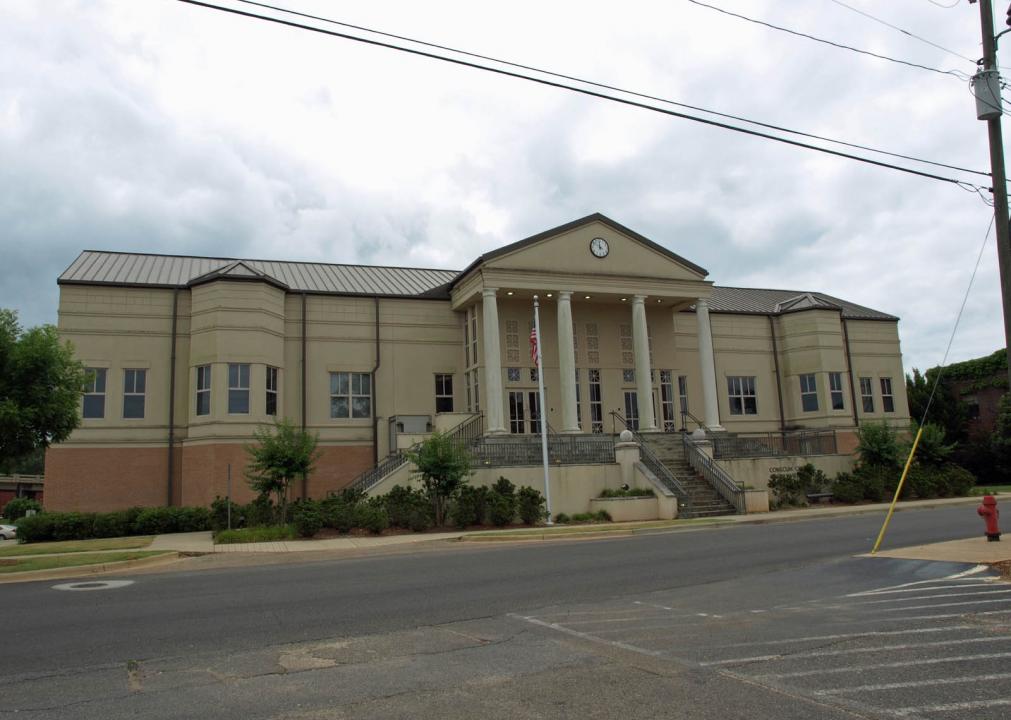 Chris Pruitt // Wikimedia Commons
#13. Conecuh County
– Cumulative deaths per 100k: 522 (63 total deaths)
— 51.3% more deaths per 100k residents than Alabama
— #256 highest rate among all counties nationwide
– New deaths per 100k in the past week: 0.0 (0 new deaths, -100% change from previous week)
– Cumulative cases per 100k: 21,646 (2,612 total cases)
— 8.7% less cases per 100k residents than Alabama
– New cases per 100k in the past week: 1,691 (204 new cases, +6% change from previous week)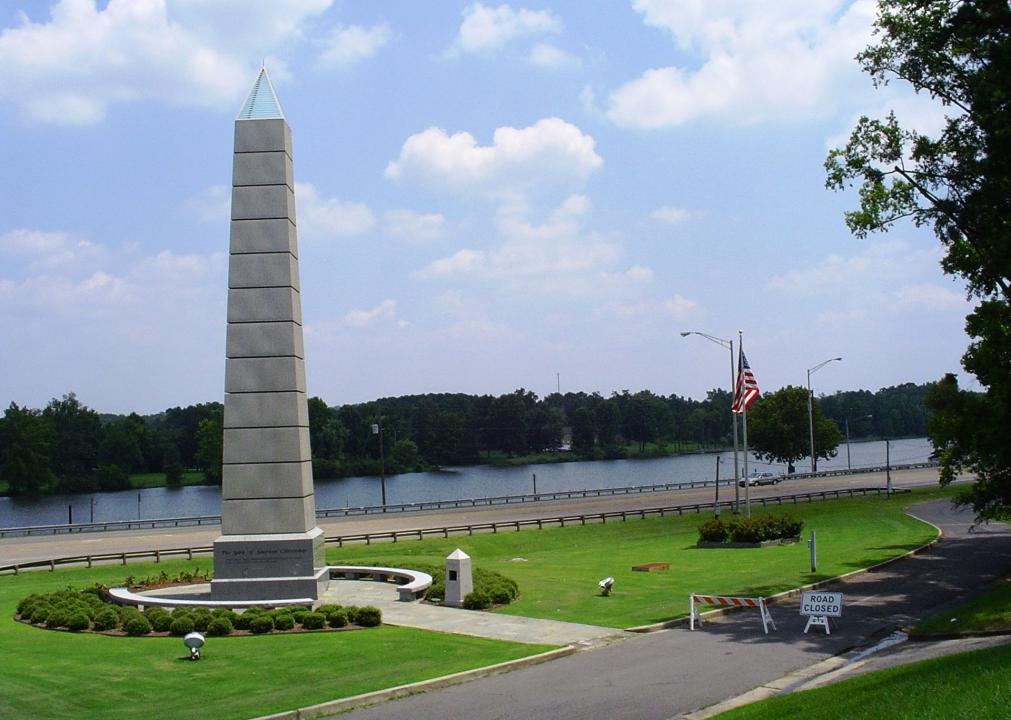 Prestinian // Wikimedia Commons
#12. Etowah County
– Cumulative deaths per 100k: 522 (534 total deaths)
— 51.3% more deaths per 100k residents than Alabama
— #255 highest rate among all counties nationwide
– New deaths per 100k in the past week: 1.0 (1 new deaths, -67% change from previous week)
– Cumulative cases per 100k: 25,105 (25,674 total cases)
— 5.9% more cases per 100k residents than Alabama
– New cases per 100k in the past week: 2,001 (2,046 new cases, +27% change from previous week)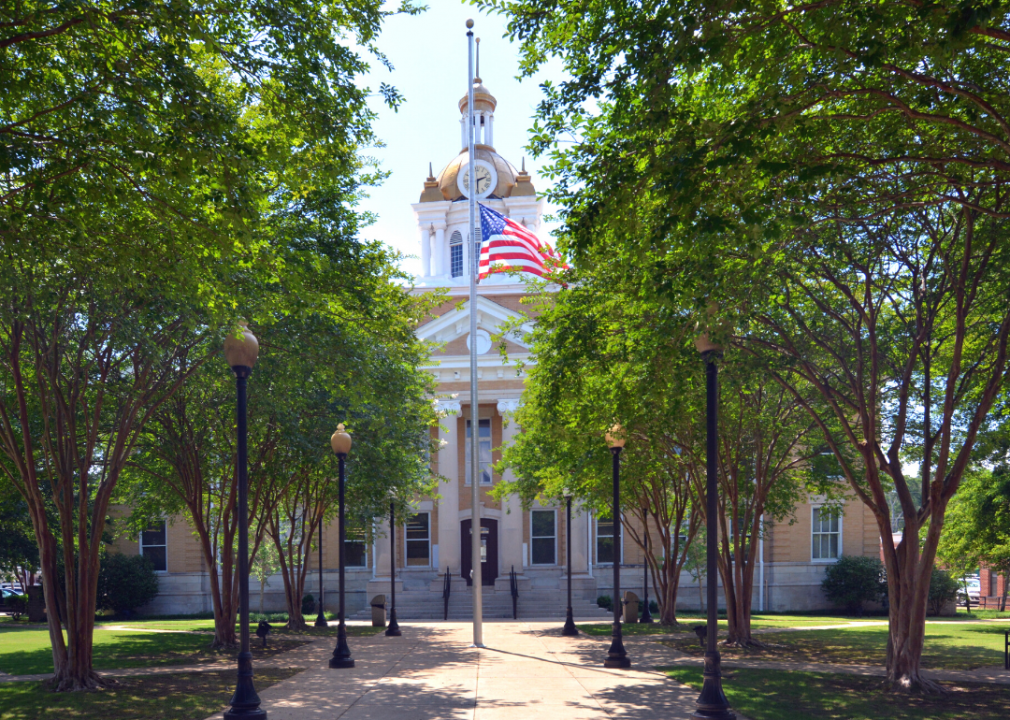 Canva
#11. Fayette County
– Cumulative deaths per 100k: 528 (86 total deaths)
— 53.0% more deaths per 100k residents than Alabama
— #234 highest rate among all counties nationwide
– New deaths per 100k in the past week: 0.0 (0 new deaths, 0% change from previous week)
– Cumulative cases per 100k: 25,524 (4,161 total cases)
— 7.7% more cases per 100k residents than Alabama
– New cases per 100k in the past week: 2,153 (351 new cases, +49% change from previous week)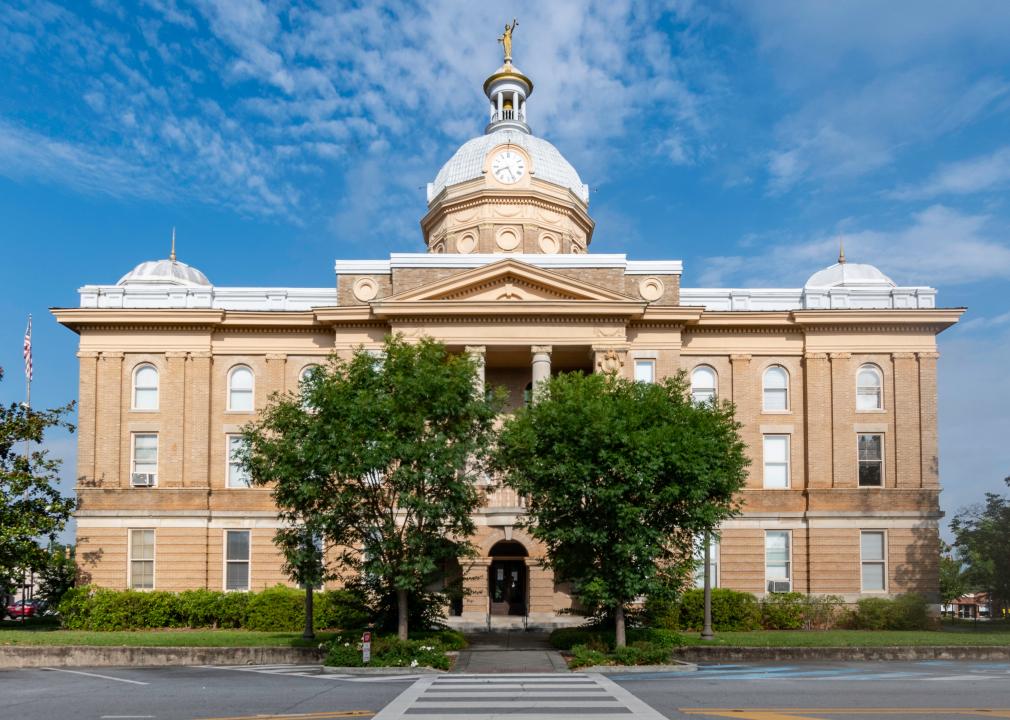 JNix // Shutterstock
#10. Clay County
– Cumulative deaths per 100k: 536 (71 total deaths)
— 55.4% more deaths per 100k residents than Alabama
— #214 highest rate among all counties nationwide
– New deaths per 100k in the past week: 7.6 (1 new deaths, 0% change from previous week)
– Cumulative cases per 100k: 27,352 (3,620 total cases)
— 15.4% more cases per 100k residents than Alabama
– New cases per 100k in the past week: 3,121 (413 new cases, +39% change from previous week)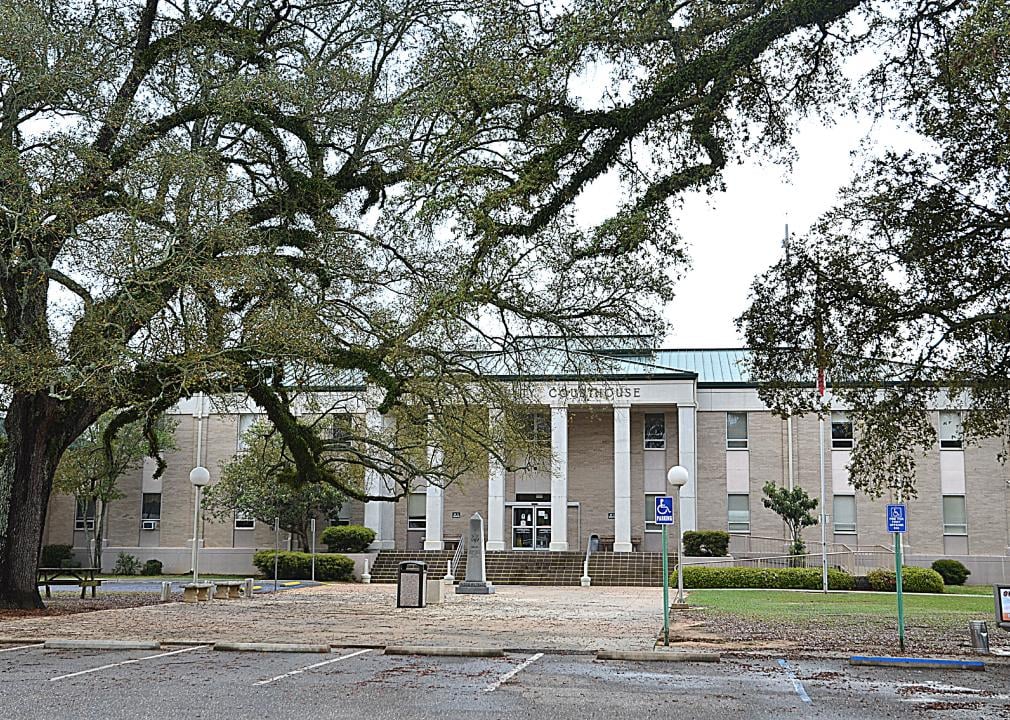 Wmr36104 // Wikimedia Commons
#9. Geneva County
– Cumulative deaths per 100k: 537 (141 total deaths)
— 55.7% more deaths per 100k residents than Alabama
— #209 highest rate among all counties nationwide
– New deaths per 100k in the past week: 3.8 (1 new deaths, -50% change from previous week)
– Cumulative cases per 100k: 21,134 (5,552 total cases)
— 10.8% less cases per 100k residents than Alabama
– New cases per 100k in the past week: 1,545 (406 new cases, +87% change from previous week)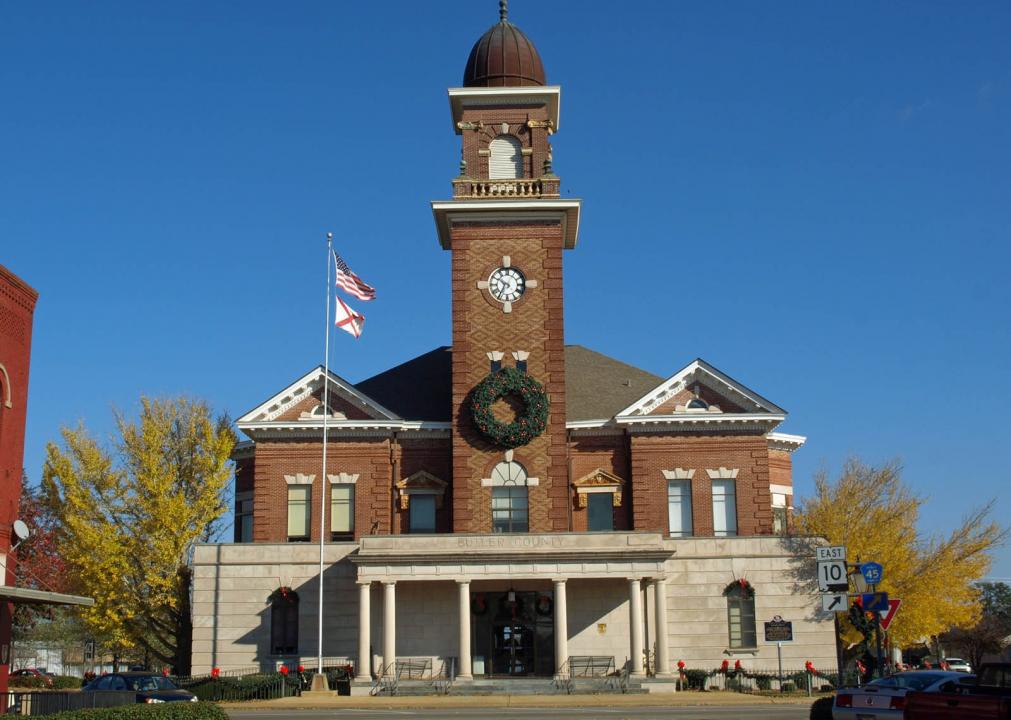 Chris Pruitt // Wikimedia Commons
#8. Butler County
– Cumulative deaths per 100k: 545 (106 total deaths)
— 58.0% more deaths per 100k residents than Alabama
— #194 highest rate among all counties nationwide
– New deaths per 100k in the past week: 20.6 (4 new deaths, 0% change from previous week)
– Cumulative cases per 100k: 23,236 (4,519 total cases)
— 1.9% less cases per 100k residents than Alabama
– New cases per 100k in the past week: 1,321 (257 new cases, +7% change from previous week)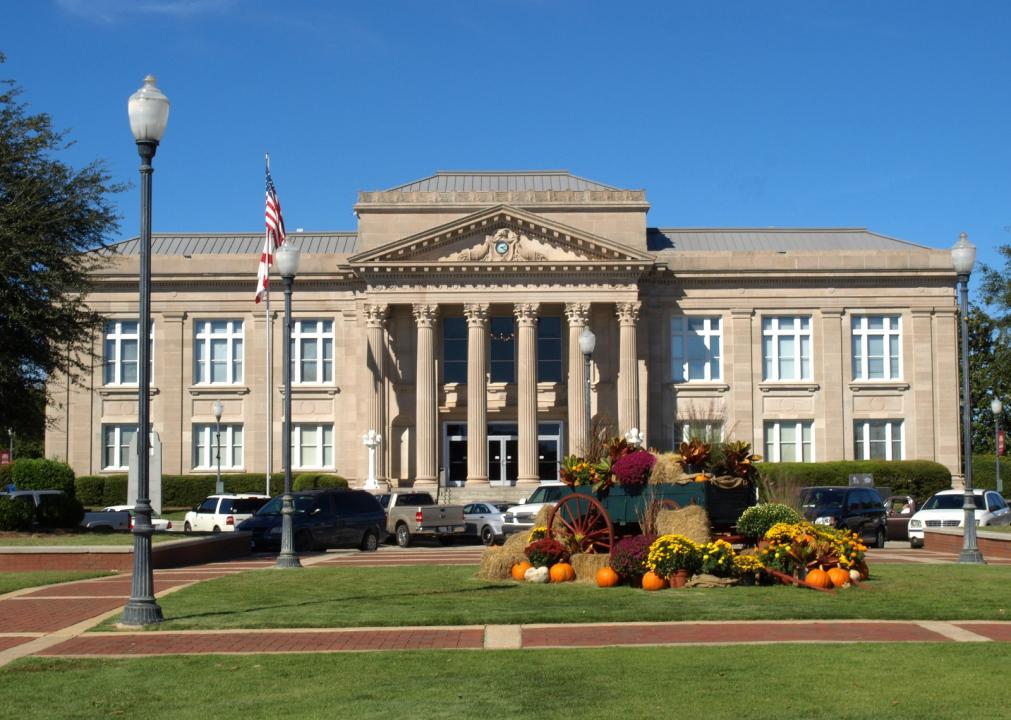 Chris Pruitt // Wikimedia Commons
#7. Covington County
– Cumulative deaths per 100k: 548 (203 total deaths)
— 58.8% more deaths per 100k residents than Alabama
— #189 highest rate among all counties nationwide
– New deaths per 100k in the past week: 0.0 (0 new deaths, 0% change from previous week)
– Cumulative cases per 100k: 23,156 (8,579 total cases)
— 2.3% less cases per 100k residents than Alabama
– New cases per 100k in the past week: 1,509 (559 new cases, +9% change from previous week)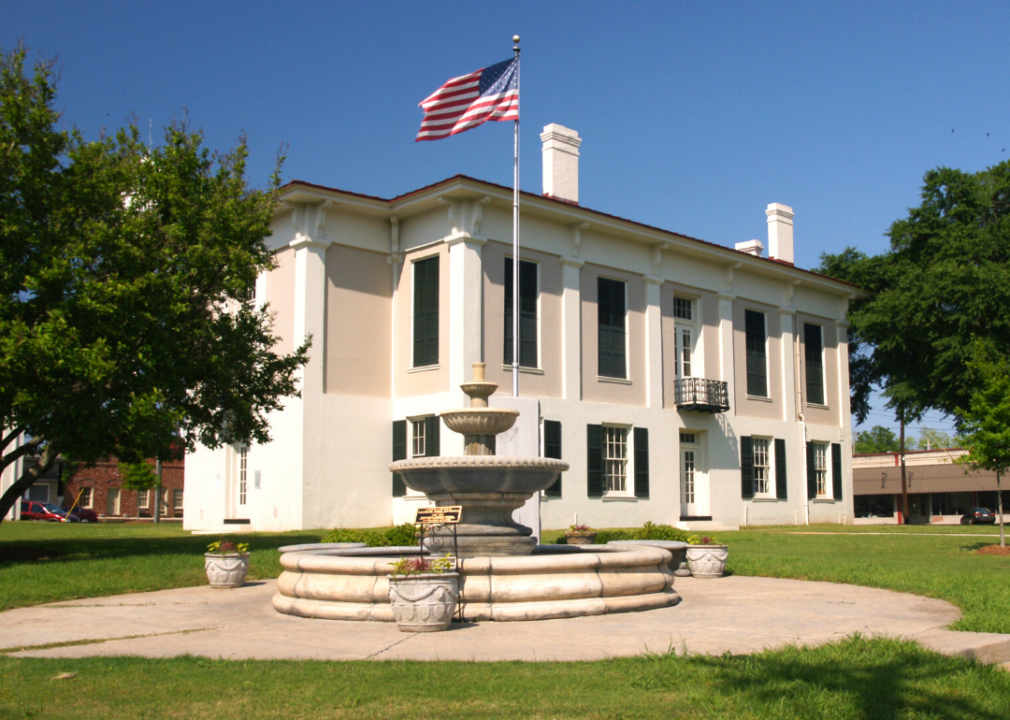 Canva
#6. Greene County
– Cumulative deaths per 100k: 579 (47 total deaths)
— 67.8% more deaths per 100k residents than Alabama
— #152 highest rate among all counties nationwide
– New deaths per 100k in the past week: 0.0 (0 new deaths, 0% change from previous week)
– Cumulative cases per 100k: 20,528 (1,665 total cases)
— 13.4% less cases per 100k residents than Alabama
– New cases per 100k in the past week: 1,196 (97 new cases, -5% change from previous week)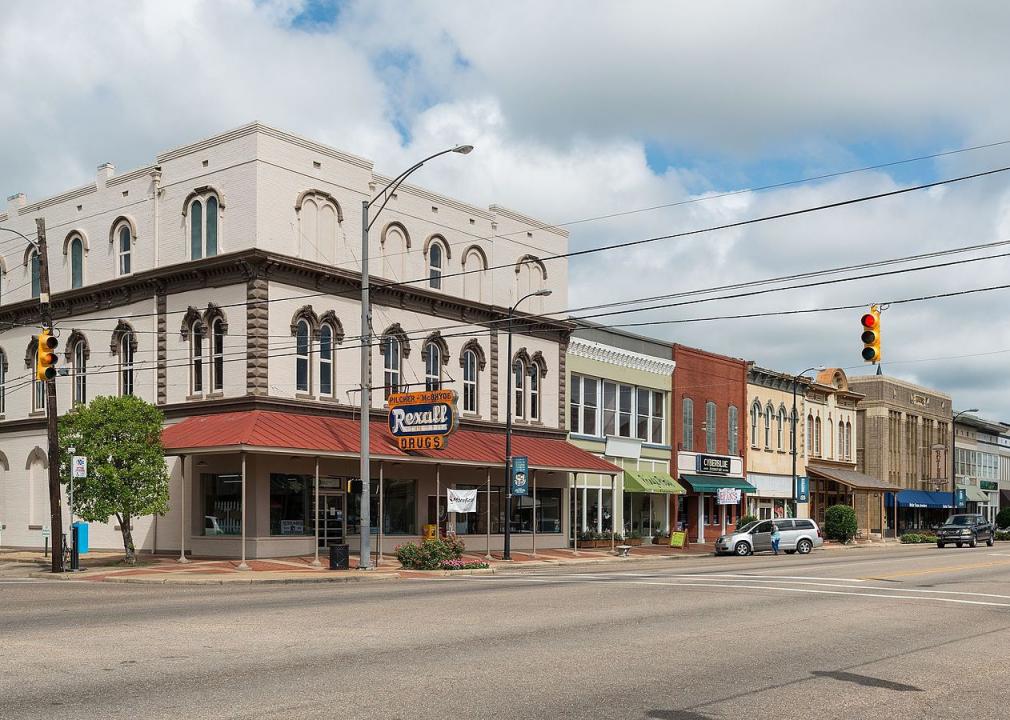 DXR // Wikimedia Commons
#5. Dallas County
– Cumulative deaths per 100k: 586 (218 total deaths)
— 69.9% more deaths per 100k residents than Alabama
— #144 highest rate among all counties nationwide
– New deaths per 100k in the past week: 5.4 (2 new deaths, -33% change from previous week)
– Cumulative cases per 100k: 19,663 (7,314 total cases)
— 17.0% less cases per 100k residents than Alabama
– New cases per 100k in the past week: 1,522 (566 new cases, +16% change from previous week)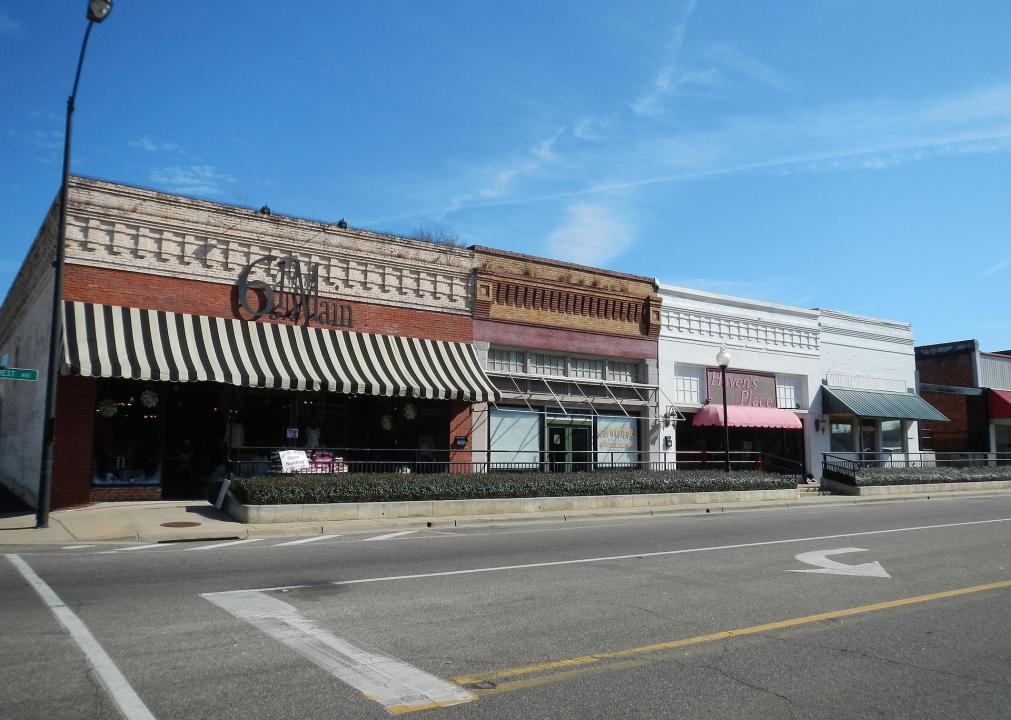 Rivers Langley; SaveRivers // Wikimedia Commons
#4. Crenshaw County
– Cumulative deaths per 100k: 588 (81 total deaths)
— 70.4% more deaths per 100k residents than Alabama
— #143 highest rate among all counties nationwide
– New deaths per 100k in the past week: 7.3 (1 new deaths, 0% change from previous week)
– Cumulative cases per 100k: 24,564 (3,383 total cases)
— 3.7% more cases per 100k residents than Alabama
– New cases per 100k in the past week: 1,423 (196 new cases, +5% change from previous week)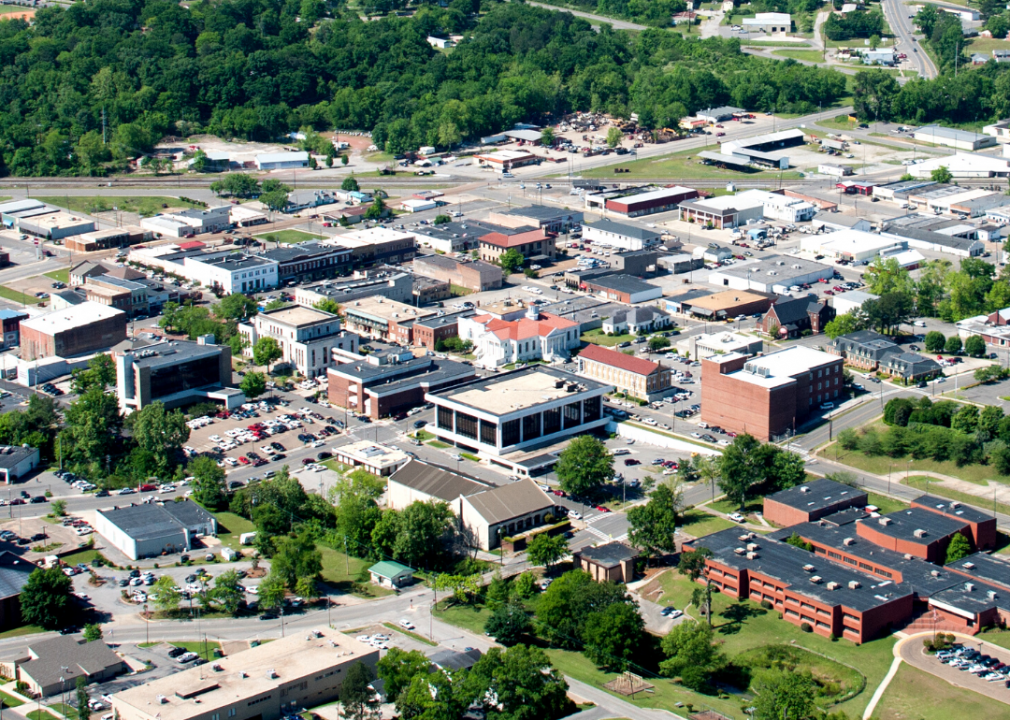 Canva
#3. Walker County
– Cumulative deaths per 100k: 617 (392 total deaths)
— 78.8% more deaths per 100k residents than Alabama
— #107 highest rate among all counties nationwide
– New deaths per 100k in the past week: 0.0 (0 new deaths, 0% change from previous week)
– Cumulative cases per 100k: 24,882 (15,805 total cases)
— 5.0% more cases per 100k residents than Alabama
– New cases per 100k in the past week: 2,599 (1,651 new cases, +118% change from previous week)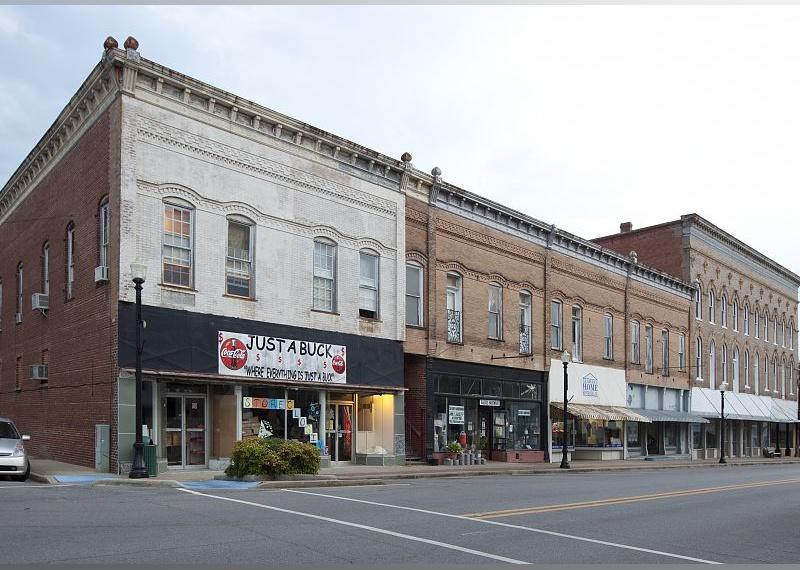 Carol M. Highsmith // Wikimedia Commons
#2. Hale County
– Cumulative deaths per 100k: 642 (94 total deaths)
— 86.1% more deaths per 100k residents than Alabama
— #83 highest rate among all counties nationwide
– New deaths per 100k in the past week: 6.8 (1 new deaths, -50% change from previous week)
– Cumulative cases per 100k: 28,844 (4,226 total cases)
— 21.7% more cases per 100k residents than Alabama
– New cases per 100k in the past week: 1,959 (287 new cases, -12% change from previous week)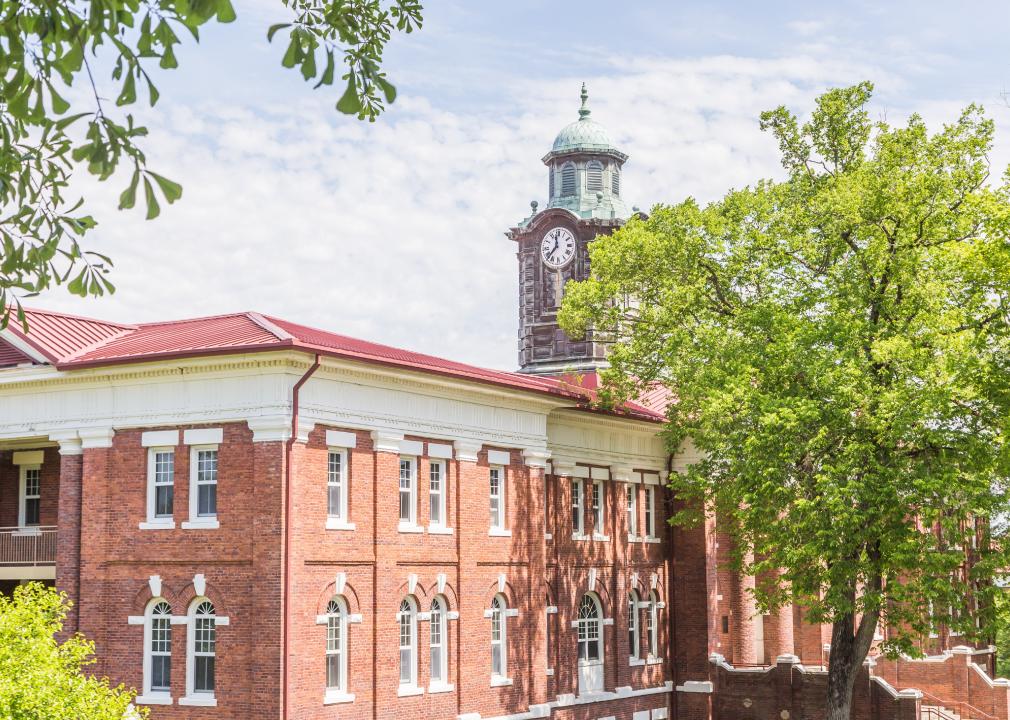 Altairisfar // Wikimedia Commons
#1. Lowndes County
– Cumulative deaths per 100k: 699 (68 total deaths)
— 102.6% more deaths per 100k residents than Alabama
— #48 highest rate among all counties nationwide
– New deaths per 100k in the past week: 0.0 (0 new deaths, 0% change from previous week)
– Cumulative cases per 100k: 24,419 (2,375 total cases)
— 3.0% more cases per 100k residents than Alabama
– New cases per 100k in the past week: 1,100 (107 new cases, -29% change from previous week)